These gluten free orange rolls are filled with a sweet homemade candied orange filling and drizzled with candied orange glaze. 
We had breakfast casserole, raspberry cream cheese coffee cake, french toast bake, rice pudding with fresh berries, and these orange rolls.
My sister took this picture since her skills far exceed mine. You can check out her blog HERE. She is pretty talented.
I love how these orange rolls turned out. Orange overload! Sweet, but not nearly as sweet as I thought they would be. Look at how much icing there is!
I thought they would be almost cloyingly sweet, but they weren't.  There was a nice bitterness from the orange that kept everything nice and balanced. I actually like mine more sugary than these were. I think next time I make these I may tone back the orange by using cream cheese icing instead of the candied orange icing. That would also make them a little bit sweeter.
So help yourself to a good dose of Vitamin C, in the tastiest way imaginable.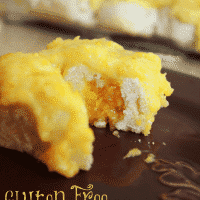 Gluten-Free Orange Rolls
Yield:
about 16 orange rolls, depending on size
Total Time:
2 hours
5 minutes
Ingredients
For the Candied Orange
3 oranges
sugar (1/2 c. for every cup of orange. I had 2 1/2 c. of orange and used 1 1/4 c. of sugar)
For the Rolls
2 1/2 c. gluten-free rice flour blend
1/2 c. tapioca starch
1 pkg. rapid rise yeast (2 1/4 tsp.)
1/4 c. sugar
1/2 tsp. salt
1 tsp. baking powder
1 tsp. xantham gum
4 Tbs. butter
1/2 c. water
1/2 c. + 2Tbs milk
1 egg
For the Icing
6 oz cream cheese, softened
1/2-3/4 c. candied orange
1 c. powdered sugar
3 Tbs. heavy cream (or milk)
Instructions
For the Candied Orange
Halve each orange, cut out the stems, and then cut in to manageable chunks. Put the chunks into your food processor and process until very finely chopped.
Measure your orange into a saucepan and put in 1/2 c. for every 1 c. of orange ( I had 2 1/2 c. of orange, so I used 1 1/4 c. sugar)
Cook stirring often until the peel is tender.
Cool before using. Reserve 1/2-3/4 c. for the icing, use the rest for filling the rolls.
For the Rolls
Combine the flour, starch, yeast, sugar, salt, baking powder, and xantham gum in your mixer.
In an microwave-safe bowl combine the water and butter, and microwave until the butter is melted.
Add the milk and egg to the melted butter mixture and stir. Once it has cooled enough so that it is just warm, pour the mixture into the flour and mix until a soft dough forms, about 2-3 minutes.
Roll the dough into a large rectangle, between two pieces of plastic wrap. Remove the top layer of plastic wrap and spread candied orange over the dough. With the long side of the rectangle closest to your body, use the plastic wrap to roll the dough from the back towards you. Cut the log you have formed into 1 inch slices. Place the rolls in a greased 9x13 pan and cover. Let rise in a warm place until about doubled in size.
Bake in a preheated 350F oven for about 35 minutes. Frost while still warm.
For the Icing
Mix together the cream cheese and reserved candied orange. Add the powdered sugar and mix until smooth. Adjust the consistency by adding cream until it is your desired icing thickness. I used about 3Tbs.
Nutrition Information
Yield

16
Serving Size

1 orange roll
Amount Per Serving
Calories

340
Total Fat

9g
Saturated Fat

5g
Trans Fat

0g
Unsaturated Fat

3g
Cholesterol

33mg
Sodium

181mg
Carbohydrates

63g
Fiber

1g
Sugar

33g
Protein

3g
All nutrition info is a guestimate and will vary depending on the ingredients you use.