The BEST Gluten-Free  Mini Chocolate Cupcakes EVER! (filled with Salted Caramel and topped with Salted Caramel French Buttercream) are a fun way to celebrate a special event. 
This weekend I made the very best chocolate cupcakes. Perfect texture (I mean PERFECT!) Not at all the crumbly gluten-free sawdust I first made when going gluten-free. It brought me back to those days filled with easy glutenous cakes made from a Betty Crocker mix. That good! But gluten-free! (Sorry, I am really enthused about these cupcakes right now.)
I LOVE Alton Brown. If I were to meet any Food Network Star I would want it to be him. There was no one happier than I when episodes of Good Eats became available online. I love learning the science behind the technique.
I based my recipe off of AB's Devil of a Cake recipe. You can watch his video HERE.
He used mostly weight measurements because they are more accurate and will produce the most consistent results. I noted the amounts using normal cups and spoons but if you have a kitchen scale this is the perfect time to use it.
Just to go over the top, I filled my minis with salted caramel and frosted them with salted caramel french buttercream. French buttercream is made using egg yolks instead of whites like in an Italian or Swiss meringue buttercream. Light and airy, but so rich and smooth. LOVE buttercream!
If you want to make a meringue buttercream instead you can use the extra whites left over from making the cake. I had extra yolks in the fridge and wanted to try French buttercream since I had never made it before.
To make your life easier, you can everything ahead of time. I would suggest waiting to fill and frost the cupcakes until shortly before you want to eat them. To use buttercream that you have made ahead, bring the buttercream to room temp and then whip with your stand mixer.
So to sum everything up, these cupcakes are AMAZING! Enjoy.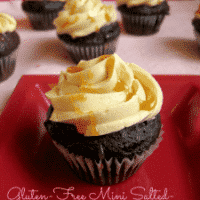 The BEST Gluten-Free Mini Chocolate Cupcakes EVER! (filled with Salted Caramel and topped with Salted Caramel French Buttercream)
The best gluten free mini chocolate cupcakes filled with salted caramel and frosted with salted caramel french buttercream.
Ingredients
For the Cake
1 c. boiling water
4 oz cocoa (about 1 ¼ c.)
10 ½ oz brown sugar (about 2 c. UNPACKED)
½ tsp. xantham gum
1 tsp. baking soda
½ tsp. salt
1 c. vegetable or other oil
4 ½ oz sour cream (about ½ c.)
2 whole eggs
2 egg yolks
Himalyan Pink Salt, Fleur de sel, or other fancy sea salt for garnish, optional
For the Salted Caramel
1 c. sugar
¼ c. water
¾ c. heavy cream
2 Tbs. butter
½ tsp. salt+
For the Salted Caramel Buttercream
½ c. Salted Caramel, hot
3 egg yolks
¾ c. + 2 Tbs. butter, softened (1 stick plus 6 Tbs.)
Instructions
For the Cake
Preheat the oven to 325F.
In a small bowl stir together the cocoa and boiling water until smooth. Set aside.
In the bowl of your stand mixer mix together the brown sugar, flour, xantham gum,
baking soda, and salt.
In another bowl or large glass measuring cup mix together the oil, sour cream, eggs, and egg yolks.
Add the cocoa mixture to the other liquids and mix until well combined.
Add the liquids to the dry ingredients and mix until just combined. Scrape down the bowl and mix for a few more seconds.
Scoop the batter into lined mini-cupcake tins, about 1 ½-2 Tbs. per mini-cupcake, or until almost full.
Bake in the preheated oven until a toothpick comes out mostly clean with only a few crumbs, 15-20 minutes. Cool.
Core out a little of the middle of the mini-cupcake and fill with cooled Salted Caramel. Frost with Salted-Caramel Buttercream and drizzle with more cooled Salted Caramel. Sprinkle with a bit of himalayan pink salt, fleur de sel, or other fancy sea salt if desired.
For the Salted Caramel
Heat the sugar and water in a heavy-bottomed sauce-pan until the sugar start to turn amber in color. Swirl the mixture to prevent it from scorching but DO NOT STIR.
Once the sugar has turned amber add the butter and heavy cream. Stir and heat over low heat until there are no chunks of undissolved caramel. Add ½ tsp. salt, taste and then add more salt as desired, ¼ tsp. at a time.
For the Salted-Caramel Buttercream
Whip the egg yolks in a stand mixer (or with electric beaters) until very light in color.
While you continue to beat, slowly stream in the HOT caramel. (It is important that it is hot because it "cooks" the egg yolks.)
Continue to beat until the mixture is cooled to room temp (about 80F.)
Add the butter 1 Tbs. at a time until it is all incorporated, waiting for each piece to be incorporated before adding the next.
Continue to beat until the buttercream is smooth. (It could look curdled but should smooth out as you continue to beat it. If it does not smooth out after you beat it for a considerable amount of time, like 10 minutes, you can pull it together by adding a little bit of powdered sugar.)
Nutrition Information
Yield

48
Serving Size

1
Amount Per Serving
Calories

118
Total Fat

4g
Saturated Fat

2g
Trans Fat

0g
Unsaturated Fat

2g
Cholesterol

36mg
Sodium

100mg
Carbohydrates

19g
Fiber

1g
Sugar

12g
Protein

2g
All nutrition info is a guestimate and will vary depending on the ingredients you use.