These gluten free Peanut Butter Banana Blondies are the perfect way to use up your ripe bananas.
Bananas are sitting on the counter. Yesterday they were just yellow but today they are covered in dozens of brown spots. You know that their days/hours are numbered. You don't want them to go to waste but don't know what to do with them.
I think we have all been there.
You could make banana bread, but that is what you made the last dozen times you were in this situation. Do you really want to make plain old banana bread again? (I'm not dissing banana bread. I love banana bread, especially smeared with cream cheese.)
I, like I'm sure many of you, was in this situation recently. I was over-optimistic in how many bananas I could persuade our now 10 month old baby E to eat and had bought too many and they were going bad. Instead of turning to good old faithful banana bread I pulled out this recipe that was given to my mom years ago by one of my little sister's friend's mom, Mrs. Smith. I modified it to make it gluten-free, and they were even yummier than I remember from last I ate them (a decade ago?)
I cut down on the sugar in the original recipe, and they were plenty sweet.
So next time you have a counter full of ripe bananas, make these.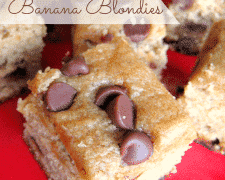 Yield:

16 blondies
Gluten free Peanut Butter Banana Blondies
These gluten free Peanut Butter Banana Blondies are the perfect way to use up your ripe bananas.
Ingredients
1 c.
rice flour blend
1 1/2 tsp. baking powder
1/4 tsp. salt
1/2 tsp. xantham gum
1/3 c. butter, softened
1/2 c. all natural peanut butter
1/2 - 3/4 c. mashed banana (about 2 bananas)
1/2 c. brown sugar
1/4 c. white sugar
2 eggs
3/4 c. chocolate chips
Instructions
Line an 8x8 baking pan with parchment paper, or lightly grease with cooking spray or butter.
Preheat the oven to 350F.
Sift together the flour, baking powder, salt, and xantham gum.
Cream together the butter, peanut butter, and banana. Add the sugar and eggs and mix until combined.
Add the sifted flour mix and mix until combined. Stir in the chocolate chips.
Bake for 35-40 minutes or until a toothpick inserted in the middle of the pan comes out clean with only a few crumbs. Don't overbake!
Cool, cut, enjoy!