One of my favorite parts of the holidays has always been cookies. I remember when I was a little girl the longest hour of my life was the hour it took for the gingerbread dough to chill before my mom would help my sister and I roll the gingerbread cookie dough out and cut it into little people, trees and stars. I still love making gingerbread-men, they are one of my favorite Christmas cookies.
Until this summer I had never heard of chess pie, but then I saw this recipe for Snickerdoodle Chess Pie from Something Swanky. Since then I have seen chess pies all over the web. I'm so glad I gave chess pie a shot, because it is AMAZING!
Chess pie is basically brown sugar, butter, and eggs all mixed together and smothering whatever delicious thing you want it too. Pecan pie is chess filling poured all over some nice toasty pecans. Chess pie really is genius! Dump it all over cookies, nuts, chocolate, BACON! It really is the most amazing invention!
Basically all I did was coarsely chop up my favorite gluten-free gingerbread men and dump the filling on them. Super easy! (Also, I devised a recipe WITHOUT corn-syrup, in case that is a concern for you.)
This pie, is by far my favorite. The gingerbread cookies soak up the sweet, buttery filling and become something truly amazing. Without any more delay…eat this pie!
Gluten-Free Gingerbread Chess Pie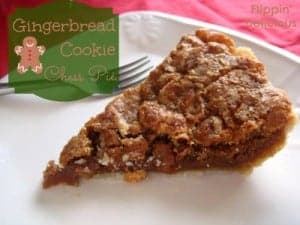 by Flippin' Delicious
1 1/2-2 dozen gluten-free gingerbread cookies (just enough to fill up the pie pan, how many depends on the size and thickness of your cookies. It took me just shy of 1 1/2 dozen, but my cookies were really big.)
1 c. brown sugar
1/4 c. white sugar
1/2 c. butter
2 eggs
1 tsp. vanilla
2 Tbs. milk
1 gluten-free pie crust (I use this recipe or your favorite. I've also used the Pillsbury gluten-free pie dough with great results.)
Instructions
Preheat your oven to 350F.
Roll out your pie crust and line your 9inch pie pan with it. Crimp the edges if you are so inclined.
Coarsely chop, break or crumble your cookies so that they fill the pie pan all the way up.
Melt the butter (either in a small saucepan over medium heat OR microwave in a microwave safe bowl) and mix all the remaining ingredients.
Dump the filling over the top of the cookies and bake for 45-55 minutes or until the edges are set and the very center jiggles just a tiny bit.
Cool. Slice. Eat.