Gluten Free Hazelnut Snickerdoodle Cupcakes put a fun spin of flavor on the classic cookie. Cinnamon, sugar, nutmeg, and hazelnuts all topped with fluffy marshmallow 7-minute frosting!
I love turning my favorite cookies into cupcakes. I don't know exactly why, maybe because frosting is awesome? One of my very first posts was cranberry oatmeal cookie cupcakes. They were soooooo good. These Snickerdoodle Cupcakes are reminiscent of the traditional cookie, but with a hint of nutmeg and the nuttiness and crunch of ground hazelnuts. Yup, hazelnuts. I love the flavor and texture that the hazelnuts bring. Don't forget to toast them to bring out all the flavors!
Also, 7-minute frosting is my new favorite! And the sprinkle of hazelnuts, cinnamon and nutmeg on top. Perfections!

Miss E LOVES to bake with me. More than a dozen times a day she will push a chair from the kitchen table over to the island to see if there is something tasty on the counter top. Usually there is. I've had to start to get creative in hiding cookies. Today she climbed into the pantry and pulled a bag of caramel bits from the 3rd or 4th shelf and started eating them. One of her favorite words is "cookie." She pronounces it "dookie." It is her all-purpose word for cookies, cupcakes, muffins, cake, or anything sweet around the house. We've had to start restricting her cookie consumption (hence the having to get creative in hiding the cookies as mentioned above) because she has been eating too many. She is so good at asking nicely, she signs please and everything.
When I made these we immediately had the neighbors over to share them with us. I guess the only way to keep my little girl (or myself) from eating the whole pan is to get rid of it.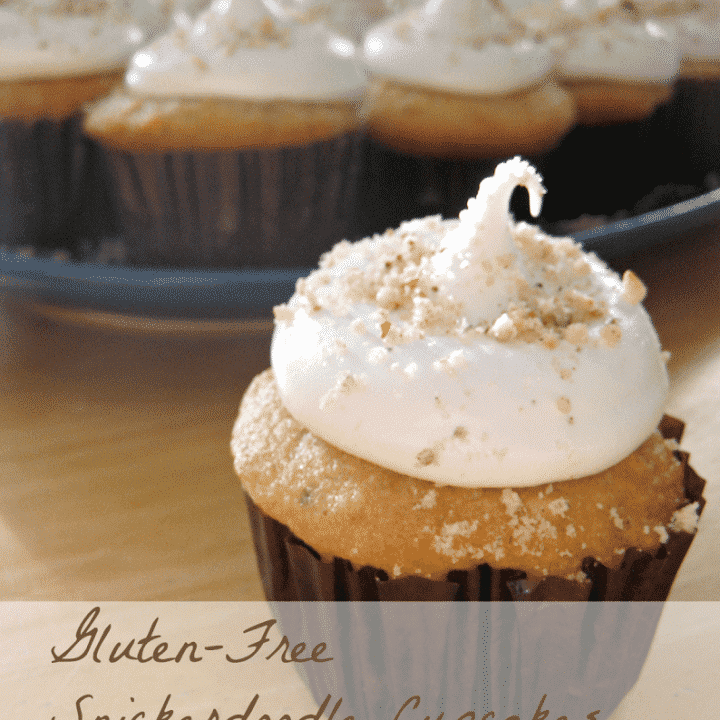 Gluten Free Hazelnut Snickerdoodle Cupcakes
Yield: 1 ½ dozen

Prep Time: 30 minutes

Cook Time: 25 minutes

Total Time: 55 minutes

Gluten free snickerdoodle cupcakes with hazelnuts and a fluffy seven minute frosting
Ingredients
For the Cupcakes
9 oz. OR 1.5 c. gluten-free rice flour blend
8 oz. OR 1 c. white sugar
½ tsp. salt
¾ tsp. xanthan gum
1 Tbs. baking powder
½ tsp. cinnamon
¼ tsp. nutmeg
2.5 oz. OR ¼ c. hazelnuts, ground in a food processor
4 fl. oz. OR ½ c. vegetable oil
6 fl. oz. OR ¾ c. milk (or soy or almond milk)
2 eggs
1 tsp. vanilla extract
For the Frosting
¾ c. white sugar
⅓ c. water
1 Tbs. light corn syrup
4 egg whites
For the Ground Hazelnut Sugar Topping
1.25 oz. OR 2 Tbs. hazelnuts, ground in a food processor
2 Tbs. Sugar
½ tsp. cinnamon
¼ tsp. nutmeg
Instructions
For the Cupcakes
Preheat the oven to 350F.
Whisk together the flour, sugar, ground hazelnuts, cinnamon, nutmeg, salt, xanthan gum, and baking powder together.
In a large liquid measuring cup mix together the oil, milk, eggs, and vanilla.
Pour the liquid ingredients into the dry ingredients and mix until combined.
Scoop batter into LINED muffin tins so that they are ⅔-3/4 full.
Bake for 20-25 minutes, or until a toothpick comes out clean with maybe only a few crumbs clinging to it OR when you gently press the top of the cupcake with your finger it springs back.
Cool and then frost with 7-minute frosting and sprinkle with ground hazelnut sugar topping.
For the Frosting
Bring ¾ c. of sugar, the water, and the corn syrup to boil in a saucepan, stirring occasionally until the sugar dissolves. Once the sugar has dissolved stop stirring it and continue to boil until it reaches 230F. (The corn syrup helps to prevent sugar crystals from forming in the syrup. If you are super anti corn syrup, just omit it. I recommend using it though.)
While your sugar is boiling whisk the egg whites in a stand mixer until soft peaks form. Add the remaining Tbs. of sugar and beat to combine.
Once the sugar syrup reaches 230F remove from heat. With the stand mixer on medium-low speed slowly pour the syrup into the whipped egg whites in a thin, steady stream. Turn the speed up to medium-high and beat until the mixture is completely cool (the bowl should no longer be warm to the touch,) about 7 minutes. Hence, 7-minute frosting.
Use right away!
For the Ground Hazelnut Sugar Topping
Mix all ingredients together.
Nutrition Information
Yield 18 Serving Size 1 cupcake
Amount Per Serving Calories 222Total Fat 9gSaturated Fat 1gTrans Fat 0gUnsaturated Fat 7gCholesterol 21mgSodium 172mgCarbohydrates 34gFiber 1gSugar 22gProtein 3g

All nutrition info is a guestimate and will vary depending on the ingredients you use.