If you are ever on pinterest I'm sure you have seen a recipe or two for crispy roasted chickpeas. Such a genius idea! High protein, super snackable, and tons of flavor. I love how the flavors of the rosemary and parmesan play with the chickpeas. It reminds me of a creamy Mediterranean hummus, but crispy, crunchy, and easy to pop in your mouth.


Peeling your chickpeas is optional, but it only takes a few minutes and prevents the skins from popping off as the chickpeas roast and take all the flavor with them.
If you love garlic and chickpeas, I think you'll love this roasted garlic hummus from my friend Katie.
Rosemary Crispy Roasted Chickpeas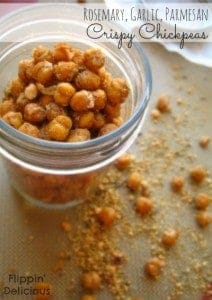 by Brianna Hobbs
1 15oz can chickpeas, rinsed and drained
2 Tbs olive oil
1 tsp garlic powder
1 tsp onion powder
1 tsp dried rosemary
2-3 Tbs grated parmesan
Instructions
Preheat your oven to 400F. Line a baking sheet with parchment paper, foil, or a silicone baking mat.
Peel your chickpeas by gently squeezing each bean to pop the skin off (optional.)
Toss the chickpeas in the oil, garlic powder, onion powder, salt, and rosemary.
Spread the chickpeas in a single layer on your baking sheet and roast for 30-40 minutes, turning every 10-15 minutes.
Sprinkle the chickpeas with the parmesan the last 10 minutes.
Here are some great Roasted Chickpeas recipes from some of my friends and blogging idols: