Gluten free raspberry lemonade bars are the perfect spring or summer bar cookie!
We had an ultrasound earlier this week and got to see our newest addition. And find out if Miss E is getting a baby brother, or a baby sister…
Profile 🙂
Already this baby definitely has a little personality. It is always kicking, and so much harder than Miss E did.

The baby had one of their hands up by their face the entire time.
My hubby was able to feel the baby kick this week too. He couldn't feel miss E kick until I was really far along. She just didn't kick consistently in the same place so as soon as he would put his hand on my belly she would stop.
Cute little foot!
This baby will pound incessantly in the same place, so they are easier to catch in the act.
And it is a…
To celebrate I made a pink. summery treat. On a hot summer day nothing is better than a cool glass or raspberry lemonade (or really any cool sweet drink but I like raspberry lemonade.)
I took my lemon bar recipe from my upcoming cookbook The Essential Gluten-Free Cookie Guide and tweaked it just a bit to include fresh raspberries. I love the original recipe, I did lots of testing and through trial and error created what I feel is the perfect lemon bar. A sweet and butter shortbread crust topped with a creamy, tangy lemon curd.
And they have just the right crust to filling ratio. Not too much of either layer. I can't wait to share my original Lemon Bars, and all the other mouthwatering cookie recipes.
I just love the sweet pink color of the curd in these bars. Each bite just tastes like summer!
So celebrate with me, or celebrate summer. Whatever the occasion these Gluten-Free Raspberry Lemonade Bars are perfect!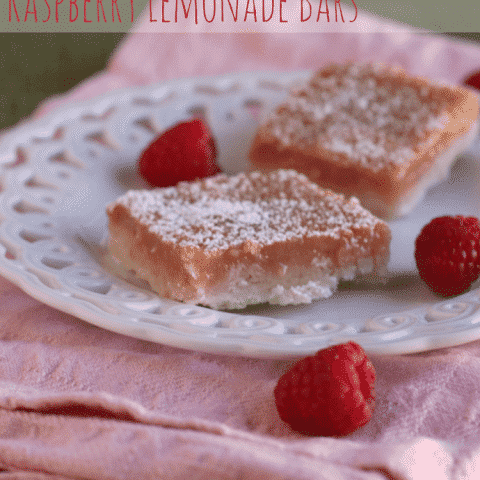 Gluten Free Raspberry Lemonade Bars
Yield: approx 15 3 inch bars

Prep Time: 20 minutes

Cook Time: 45 minutes

Total Time: 1 hour 5 minutes

Gluten free raspberry lemonade bars are the perfect spring bar cookie!
Ingredients
Gluten Free Shortbread Crust:
2 oz (½ c) powdered sugar
4 oz (½ c) butter, softened
1 egg white
¼ tsp xanthan gum (omit if your blend already includes it)
¼ tsp salt
Raspberry Lemon Filling:
6 eggs
16 oz (2 c.) white sugar
1 cup fresh raspberries
Zest and juice from 2 lemons (about 6Tbs. lemon juice)
additional powdered sugar for dusting
Instructions
Preheat the oven to 350F. Line a 9x13 pan with parchment paper, or lightly grease.
Cream together the butter and sugar, mix in the egg white. Add the GF rice flour blend, xanthan gum, and salt and mix until you have a smooth dough.
Press the dough into the bottom of the prepared pan. Bake for 15-20 minutes or until it is set and slightly golden around the edges.
Mash the raspberries in a bowl with a fork and then press the puree through a fine sieve (if you don't press it through a sieve you get a whole bunch of seeds.)
Meanwhile whisk together the eggs and sugar. Add the lemon juice, zest, strained raspberry puree, and GF rice flour blend.
Pour the filling over the baked crust and bake for an additional 20-25 minutes or until the edges are set and the center jiggles slightly if you shake the pan. The cookies will set up more as they cool.
Cut into squares and just before serving dust with powdered sugar.
Nutrition Information
Yield 15 Serving Size 1
Amount Per Serving Calories 157Total Fat 2gSaturated Fat 1gTrans Fat 0gUnsaturated Fat 1gCholesterol 74mgSodium 81mgCarbohydrates 30gFiber 1gSugar 16gProtein 5g

All nutrition info is a guestimate and will vary depending on the ingredients you use.