Gluten Free Chicken Peanut Noodles make a quick and easy weeknight meal!
I love peanut butter cookies just as much as the next gal (maybe even more) but I also love peanut butter in savory applications like these sweet and spicy gluten-free chicken peanut noodles. Tender rice noodles tossed with homemade peanut sauce, bell peppers, green onions, and chicken make a easy, simple gluten-free meal.
This dish comes together in just a few minutes, so you can have dinner on the table in less than half an hour. I love that you don't have to actually boil the rice noodles. Just soak them in really hot water for a few minutes and you are set! I normally use to tea kettle to heat my water up to a boil, pour it over the top and then forget about them until I'm ready to toss them with the peanut sauce. Because you aren't boiling them you don't have to worry about over-cooking them and making noodle mush. I've never had a problem with my noodles getting to soft even when I've let them soak for quite awhile.
I used Thai Kitchen Rice instant rice noodle soups because they seem to be readily available and I love the little spice packets that come with them. If you can't find them just season your noodles with some chili pepper flakes and ginger to give them a little zing.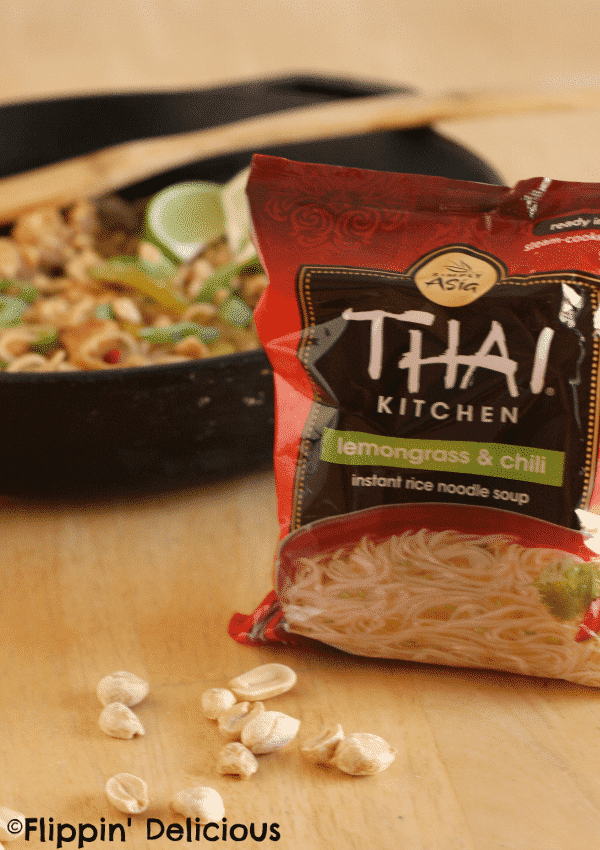 My secret weapon… whole peanuts. It might sound a little funky but whole peanuts add amazing crunch and bite to this gluten-free dinner. As the peanuts simmer in the sauce just before you add the noodles they soften slightly so they aren't too crunchy. They really make the dish!
And don't you dare forget the lime wedges! They add a much needed bright burst of acidity that I think the dish really needs. I like the wedges because then everyone can use as little or as much as they want. I'm the person who uses 2 wedges! You could also sprinkle a few tablespoons of lime juice over the top of the dish, if you'd prefer.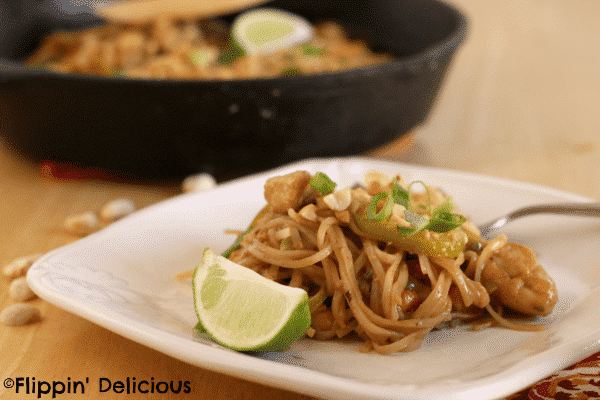 Yield: Serves 4
Gluten-Free Chicken Peanut Noodles
Prep Time: 15 minutes

Cook Time: 15 minutes

Total Time: 30 minutes

Tender rice noodles tossed with homemade sweet and spicy peanut sauce, bell peppers, green onions, and chicken make a easy, simple gluten-free meal.
Ingredients
3 pkg Rice Noodles
2 chicken breasts or 4-5 chicken tenders, cut into bite-sized pieces
1 green or red bell pepper, julienned or diced into bite-size pieces
3 green onions, chopped (keep the whites and the greens separate)
4-5 tablespoons whole roasted or raw peanuts
1/4 cup natural peanut butter
3 tablespoons brown sugar (you could also use honey)
1/4 cup gluten-free soy sauce
1/2 cup water
1 lime, cut into wedges
Instructions
Heat water to boil in a tea kettle or pan. Place the rice noodles in a heat-proof bowl and gently break them in half (so that the noodles are easier to eat.) Pour the boiling water over the noodle and set them aside.
Heat a heavy bottomed skillet and then coat the pan using the little oil packets that came with the noodles OR 1-2 teaspoons of chili oil or olive oil. Add the chicken and cook, stirring occasionally, until the chicken is golden and cooked through.
Add the bell pepper, onion whites, and 4 tablespoons of whole peanuts and cook until the bell peppers just start to soften.
Add the peanut butter, soy sauce, brown sugar, seasoning packets from the rice noodles and water and stir until smooth and bring to a simmer.
Drain the rice noodles and toss to coat.
Garnish with the onion greens, the remaining tablespoon of peanuts- coarsely chopped, and the lime wedges.
Nutrition Information:
Yield:
4
Serving Size:
1

Amount Per Serving:

Calories: 571 Total Fat: 22g Saturated Fat: 4g Trans Fat: 0g Unsaturated Fat: 16g Cholesterol: 72mg Sodium: 1381mg Carbohydrates: 57g Fiber: 5g Sugar: 10g Protein: 37g

All nutrition info is a guestimate and will vary depending on the ingredients you use.



This post wasn't sponsored by Thai Kitchen. I just love their rice noodles and used them one night to throw together this dish. It was so good I HAD to make it a few days later so that I could share it with you.