This gluten free taco salad is a lighter fresh twist on what you normally think of as taco salad.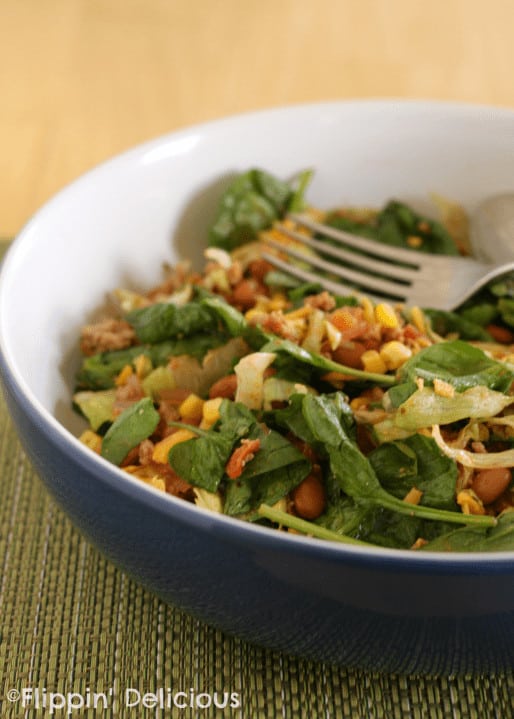 There is this really fun, trendy, local restaurant in Albuquerque named Vinaigrette. It is amazing! I've only been a few times, but everything I've tried is amazing. Just go and look at their menu, even if are never in New Mexico, and never get to sample their amazing salads everything on the menu looks good. So much salad inspiration!
I went with my mom just a few weeks ago. We got our hair cut at a nearby and then had a lunch date. They have an awesome salad titled the "Salacho." The salad nacho! It really is like a dressed up taco salad, but more salad and less taco. One of the best salads I've ever had. I couldn't wait to make my own version!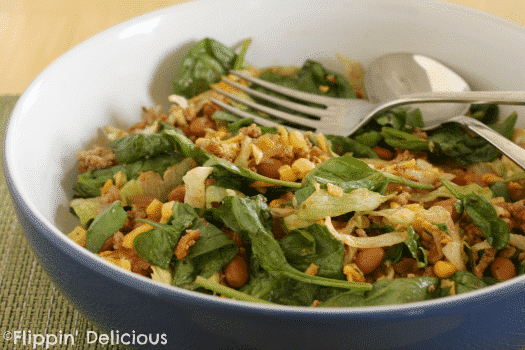 My version is different from the Salacho at Vinaigrette, but every bit as tasty. Ground beef and beans seasoned with salsa, chili powder, cumin, sweet corn kernels, sharp cheddar cheese all tossed with fresh, crisp lettuce. It almost doesn't need any dressing, the salsa in the ground beef coats everything in flavor. I love ranch on my traditional taco salad so like to drizzle just a little ranch on top, but you could easily do without. Or use sour cream instead.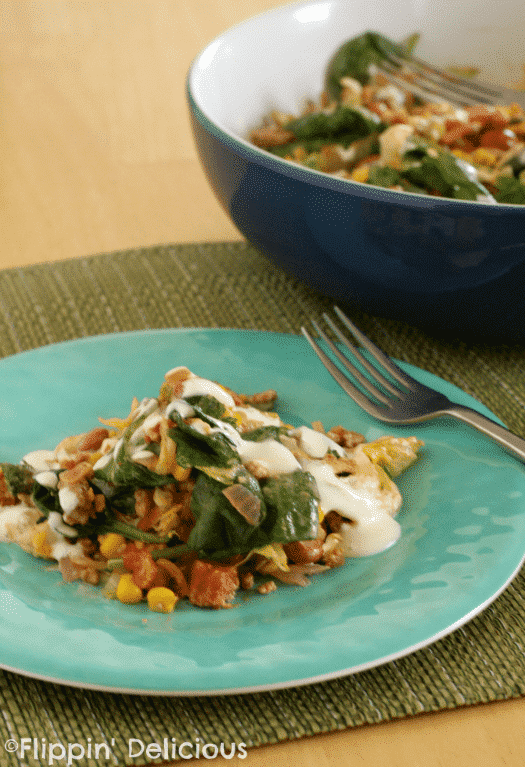 This is the freshest taco salad you will ever eat!
Gluten free Taco Salad
Yield: serves 4

Prep Time: 10 minutes

Cook Time: 10 minutes

Total Time: 20 minutes

This gluten free taco salad is a lighter fresh twist on what you normally think of as taco salad.
Ingredients
For the Taco Meat Mix
½ lb ground beef, or chorizo
1 can (15-16 oz) black or pinto beans, drained and rinsed
1 tablespoon chili powder
2 teaspoons cumin powder
1 teaspoon garlic powder
1 teaspoon onion powder
1 cup of your favorite salsa
To finish the salad
1 cup corn kernels (canned, or frozen-thawed)
1 cup shredded cheddar cheese
8 cups lettuce washed and torn into bite-sized pieces (I used half spinach and half iceberg because that is what I had on hand. Romaine would be great too!)
Ranch dressing, to serve
Tortilla chips, to garnish (optional)
Instructions
Brown the ground beef or chorizo in a skillet over medium-high heat. Remove from the heat and drain off the excess fat. Add the beans, spices, and salsa and stir to combine. Cool before adding to the salad.
In a large bowl toss together the beef mixture, corn, cheese, and lettuce. Garnish with tortilla chips, if desired.
Serve with Ranch dressing or sour cream.
Nutrition Information
Yield 4 Serving Size 1
Amount Per Serving Calories 497Total Fat 28gSaturated Fat 11gTrans Fat 1gUnsaturated Fat 13gCholesterol 87mgSodium 1060mgCarbohydrates 33gFiber 5gSugar 6gProtein 32g

All nutrition info is a guestimate and will vary depending on the ingredients you use.


Linked up at Real Food Recipe Round up, Gluten-Free and DIY Tuesday, and Gluten-Free Friday