The ultimate Mexican gluten Game night menu with 8-layer black bean dip and Gluten-Free Taco Meatballs!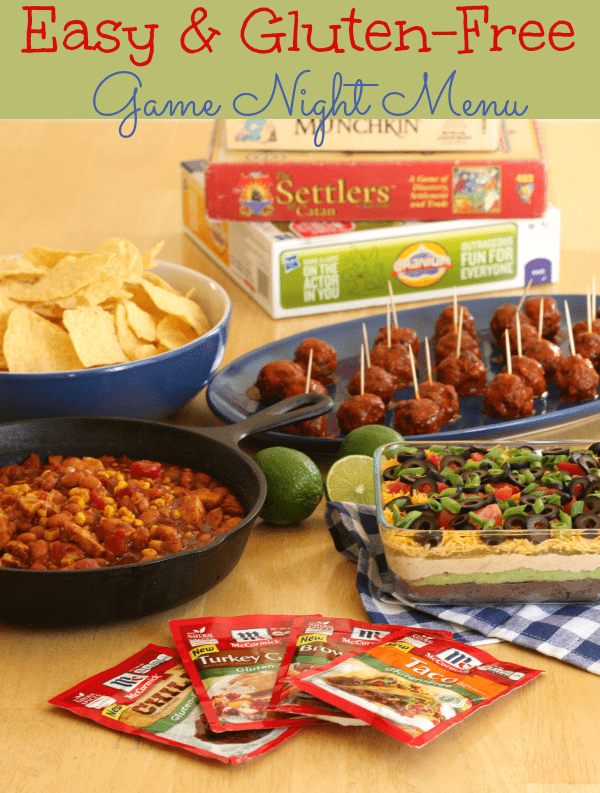 We love getting together with friends or family for a game night on the weekends. A fun menu and some games bring us all together for a fun filled evening! Making food for a crowd can be quite a feat, but it is much easier when you take a few shortcuts, like using McCormick Gluten-Free Recipe Mixes.
I really love McCormick Gluten-Free Recipe Mixes because they take the guesswork out of using spices, have no MSG or other yucky stuff, and they don't cost any more than their non-gluten-free counterparts. My mother-in-law and her fiancée came into town this month and we invited them over for dinner and some games. Even though I am 7 months pregnant, had my 2 year-old hanging on my leg, and had 3 of her friends playing at our house most of the day, dinner prep was a breeze and the resulting dishes were full of flavor!
I started out by layering up the 8-layer black bean dip.
I LOVE black beans so I mashed up a can with a little bit of salsa, and topped it with homemade guacamole, sour cream, salsa, cheese, tomatoes, green onions and olives. To make my 8-layer dip just a little special I mixed my sour cream with McCormick Gluten-Free Taco Seasoning. I call it Taco Creme! Packed with all of spicy flavor of tacos, but the sour cream helps to keep it from being too spicy. (Pro-party tip, I totally made this in the morning and let it hang out in the fridge while I did the rest of the party prep and other mom-ly duties.) We started out with the 8-layer dip, but you could easily snack on it throughout game night.
The next dish I made for our game night was these juicy taco inspired meatballs. My almost vegetarian 2 year old gobbled them up! Normally I can't get that kid to eat meat but she was SOLD​ on these little balls of perfectly seasoned meat simmering in enchilada sauce. Maybe it is because I served them on little toothpicks?
Seriously, the meatballs were super easy to make. I just mixed my ground beef with some spices and McCormick's Gluten-Free Brown Gravy Mix, rolled little balls, and threw the pan in the oven. Once the succulent bites were cooked through I let them simmer in enchilada sauce until we were ready to eat. It might seem weird to put gravy mix in meatballs, but it really makes them extra meaty (if such a thing is even possible.) So savory! These taco meatballs were perfect for our game night because I was able to get them ready earlier in the day and then let them hang out in my slow-cooker until time to eat. No last-minute stress!
The last dish I made for our game night was this super easy Chicken and Corn Chili. It honestly was just as easy as dumping everything in the pan and I made it in about 20 minutes. I'm a big fan of one-pot skillet type meals and this recipe is definitely one of those. I've already added it to my meal rotation, it is that easy and that good! My soon-to-be father in law loved it (as did everyone else.)
8-Layer Black Bean Dip
8-Layer Black Bean Dip
Ingredients
1 (16 oz) can black beans, drained
2 ripe avocados
juice from ½ a lime
1¼ cups sour cream
1 pkg McCormick Gluten-Free Taco Seasoning Mix
¾ cup +3 tablespoons your favorite salsa (I used salsa verde)
1 cup shredded cheese
1-2 tomatoes, chopped (about ½ cup)
2-3 green onions, sliced
½ cup sliced black olives
Instructions
Mash the black beans with 3 tablespoons of salsa. I pulsed mine a few times in my food processor for a little bit smoother consistency but that was just personal preference. Salt and pepper to taste.
Mash the avocados with the lime juice and season to taste with salt and pepper.
Mix the sour cream with the taco seasoning.
Layer up your dip in your desired serving dish (I used a small casserole dish but a pie pan or even a serving platter would be perfect!) Start with the beans, then the guacamole, then the taco seasoned sour cream, ¾ cup salsa, shredded cheese, tomatoes, green onions, and olives.
Serve with your favorite gluten-free tortilla chips.
Gluten free Taco Meatballs
Gluten Free Taco Meatballs
Ingredients
1½ lbs ground beef
1 pkg. McCormick Gluten-Free Brown Gravy Mix
¼ cup chopped fresh cilantro
2 teaspoons chili powder
1 teaspoon ground cumin
1 teaspoon garlic powder
1 teaspoon onion powder
¼ teaspoon freshly ground black pepper
1½-2 cups of your favorite gluten-free enchilada sauce
Instructions
Preheat the oven to 375F. Line a baking sheet with aluminum foil.
Mix all the ingredients except the enchilada sauce together in a bowl, being careful not to overwork the meat.
Scoop the meat into 1½ tablespoon portions and roll into balls.
Bake on the prepared baking sheet for 15-18 minutes.
Pour the enchilada sauce into a slow-cooker and add the meatballs after they have cooked through. Simmer until serving time.
Get rid of the gluten, but not the flavor with McCormick Gluten-Free Recipe Mixes! Visit the Recipe Collection at 
allrecipes.com
to discover more flavorful gluten free eating and meal ideas!
This is a sponsored conversation written by me on behalf of McCormick Gluten-Free Recipe Mix. The opinions and text are all mine.