Skinny Dr. Pepper Caramel Popcorn is creamy and sweet with just a hint of Dr. Pepper. Easy to indulge in, while still keeping track of your calories.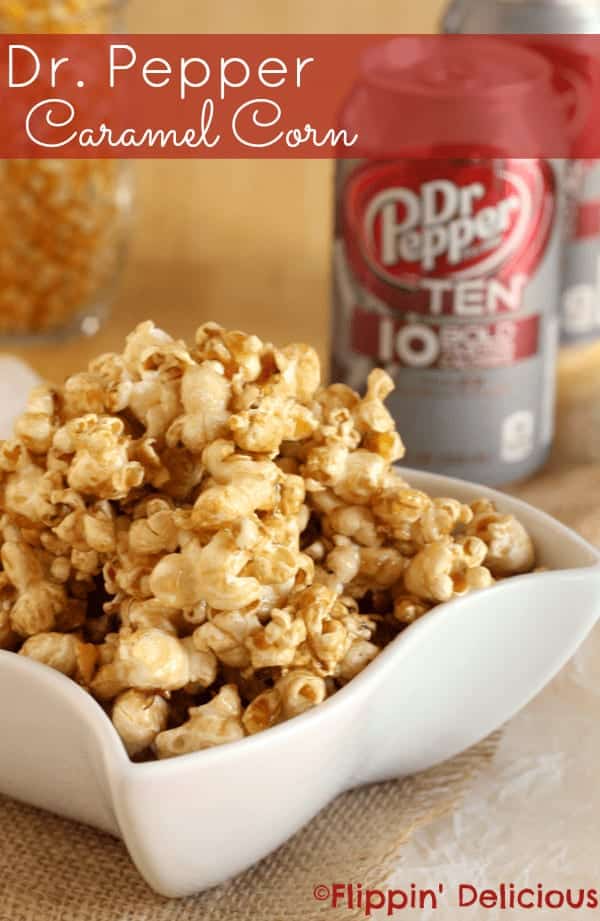 This shop has been compensated by Collective Bias, Inc.

and

its advertiser. All opinions are mine alone. #drinkTEN #CollectiveBias #shop
My family LOVES Dr. Pepper! It is my husband's cola of choice. Whenever we have family dinner with his siblings and their families it is guaranteed that someone will be drinking Dr. Pepper, if not everyone. I was really excited to try Dr. Pepper TEN because it has the same full-bodied flavor of normal Dr. Pepper, without the guilt.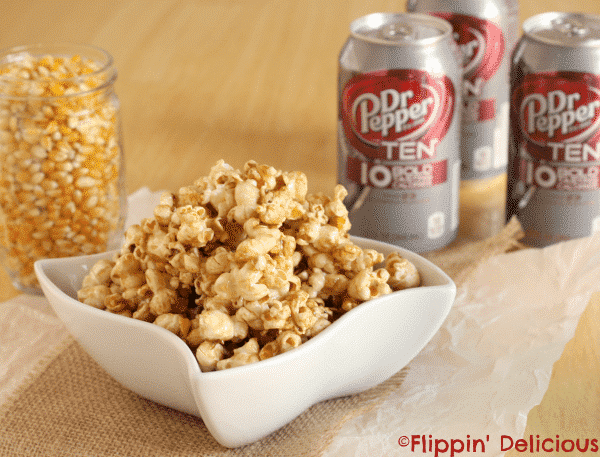 I think it is so fun to create new recipes (which is why I have a food blog,) so I wanted to try something new using Dr. Pepper TEN. I envisioned a gooey caramel corn, sweet and sticky, that tasted just like Dr. Pepper. Because Dr. Pepper TEN is lighter on calories, I wanted my crazy popcorn creation to be guilt-free too.
Creating a lighter, or "skinny" caramel corn is no easy feat.
It took a LOT of trial and error to get this recipe just right. I made more than a dozen mini batches of caramel corn, perfecting the ratios of Dr. Pepper TEN, marshmallows, and sugar. I even tried reducing the Dr. Pepper TEN by simmering it. It changed the flavor too much and when I used it the popcorn just didn't have the right kick to it.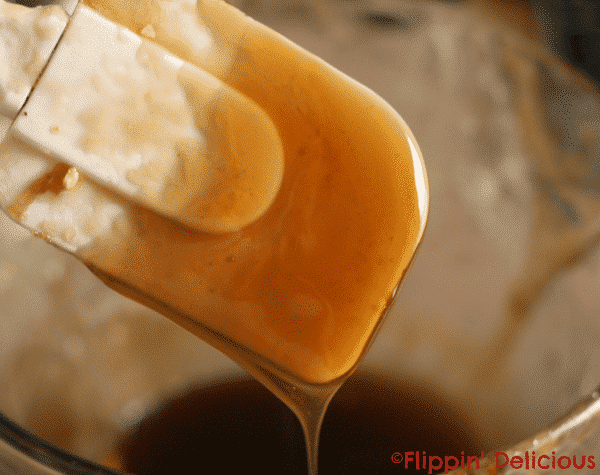 I melted the Dr. Pepper TEN with marshmallows to create a sweet, creamy, gooey coating. Without some sugar in the caramel coating it just wouldn't set up the way that I wanted it too. No matter how hard I tried it would be more like Dr. Pepper gelatin coated popcorn until I added a little sugar. Just a little bit and I was finally able to achieve the sweet, sticky, and gooey caramel coating that I was looking for without it being gelatinous. Even with the tiny bit of sugar, the caramel popcorn is still "skinny" because normally caramel corn uses butter, and I was able to figure out a no-fat equation. That saved tons of calories!
I made my coating in the microwave, just as easy as can be! About half way through microwaving, the coating it is a thin syrup. Keep heating it up, you want it to be nice and thick and gooey!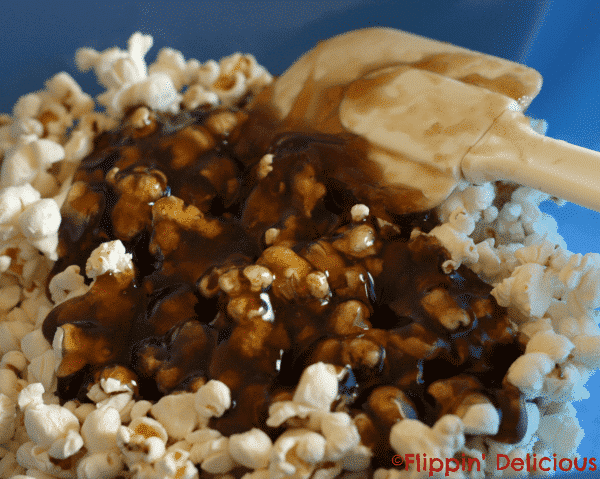 If you don't microwave the caramel enough then the coating will be too wet and you'll have soggy popcorn. Not good eats! See how dark and thick the coating was before I poured it all over my popped popcorn?
All of my hard work paid off, just look at this creamy, sticky caramel corn…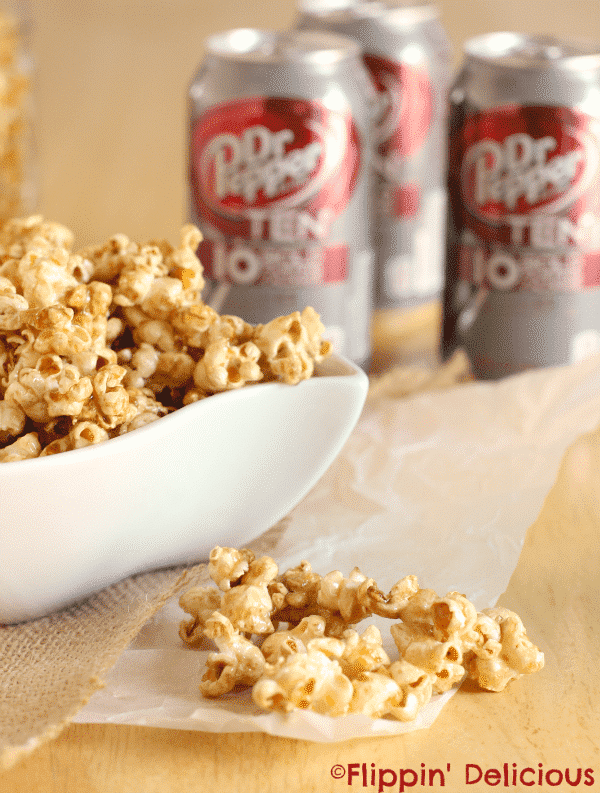 Approved by my Dr. Pepper lovin' husband too!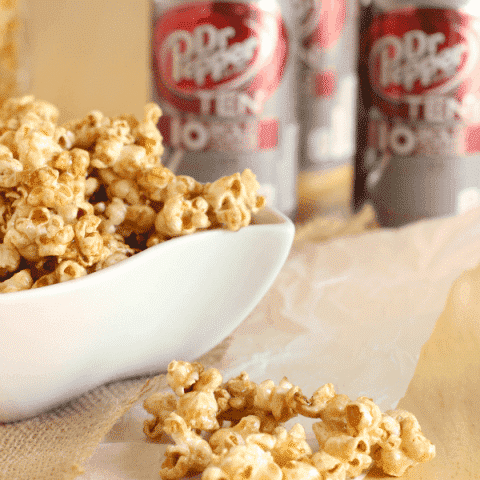 Dr. Pepper TEN Caramel Popcorn
Yield: 8 cups popcorn total

Prep Time: 5 minutes

Cook Time: 6 minutes

Total Time: 11 minutes

Dr. Pepper TEN Skinny Caramel Popcorn, lighter on calories but not on flavor! Only 198 calories for a hefty 2 cup serving.
Ingredients
2 cups mini marshmallows
¾ cup Dr. Pepper TEN
5 tablespoons sugar
8 cups popped popcorn
Instructions
In a microwave safe bowl combine the mini marshmallows, Dr. Pepper TEN, and sugar. Microwave on high for 5-6 minutes, stirring every minute. The coating is finished when it is thick and a bit gooey. (In this recipe I prefer to err on the side of cooking it too long, instead of not long enough. No one likes soggy popcorn!)
Pour the coating over your popped popcorn and stir to coat.
Best if enjoyed while still warm.
Notes
This recipe is for a creamy and sticky caramel corn. If you are looking for more of a crunchy caramel corn just bake the popcorn at 250F for 20 minutes on a parchment or silicone-baking-mat lined baking sheet. Stir it halfway through the cooking time.
Nutrition Information
Yield 8 Serving Size 1
Amount Per Serving Calories 124Total Fat 3gSaturated Fat 1gTrans Fat 1gUnsaturated Fat 2gCholesterol 0mgSodium 73mgCarbohydrates 25gFiber 1gSugar 15gProtein 1g

All nutrition info is a guestimate and will vary depending on the ingredients you use.