Easy gluten free artisan bread recipe, so easy you can make gluten free bread in just 5 minutes a day.
Disclaimer: I was sent a free copy of the book to review. As always, all opinions are my own.
Gluten-free bread in 5 minutes a day sounds just too good to be true. I was pretty skeptical before I tried the recipes. There wasn't any secret ingredient to success; something odd that I'd never think to use in my bread. It was all pretty straight forward.
All of the recipes in the book are based on one master recipe A very simple master recipe. It was just their flour blend (rice flour, sorghum flour, tapioca starch, potato starch, and xanthan gum), yeast, eggs, water, salt and sugar. And the procedure was even simpler. You basically just mix everything together until it is combined. Let it rise a bit, and then throw it in the fridge until you want to use it. The recipe makes 4, 1lb loaves that you can bake whenever you want. The recipe is easily doubled if you want to make more. The idea is that you make the dough and store it in the fridge and then bake a fresh loaf every day. It only took maybe 10 minutes to mix up the dough and less than 5 to shape the dough and toss it in the oven.
All the recipes in the book are based on the same concept as the master recipe, with some variations.
I've never had real success with baking gluten-free bread. I LOVE Gluten-Free on a Shoestring Bakes Bread, but I've had issues with my yeast rising. I thought this time would be no different.
I made the master recipe using 2 whole eggs. I was in a rush so I followed the instructions for baking the bread without waiting for it rise. It was easy, just shape the bread and put it in a cold oven, and then turn the oven to 400F and bake for 75 minutes. I thought for sure that the bread would be dense, just like all of my previous gluten-free bread attempts. I was pleasantly surprised with the results! It wasn't dense or dry, but soft on the inside with a salty yeasty aroma. Beautiful little pockets from the bread rising all evenly distributed throughout the loaf. And a crisp crust. And that was using the express baking method which yields a denser loaf. I can't wait to try it now that my dough has been resting in the fridge for a few days.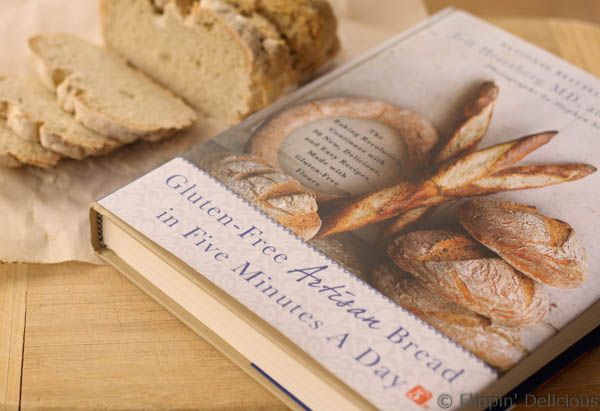 It really was as easy as promised. Gluten-free bread in just 5 minutes a day! I can actually, realistically see myself baking this recipe every week and enjoying fresh gluten-free bread with my family.
The Master Recipe is found HERE, and in the book, Gluten-Free Artisan Bread in Five Minutes a Day. Available on Amazon in both print and ebook.
Linked up at Imparting Grace