Gluten Free Chile Lime Pasta with black beans and avocado is dairy free, soy free, and vegetarian!. Everyone will beg for seconds!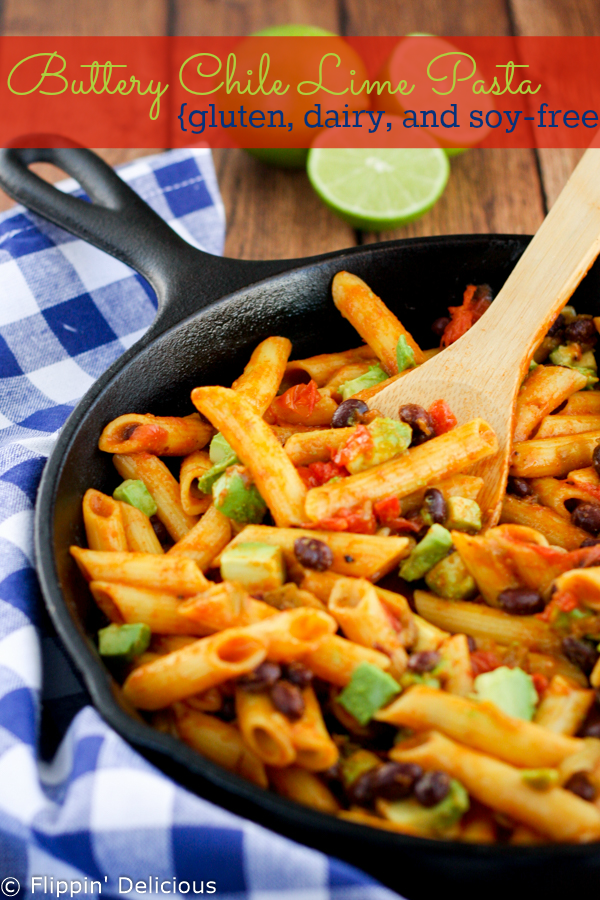 You know those nights when you are rushing to get dinner on the table. And when you don't really have anything for dinner. So you reach into your nearly empty fridge and grab a little this, and some leftover that, really whatever you have left. You throw it all in a pan and hope and pray your family eats it.
OR maybe that just happens to me.
Anyways… the last time that happened I was pleasantly surprised. I had some leftover cooked gluten-free pasta, a half a can of beans, some cooked chicken, the end of a jar of salsa, some butter, and a couple limes. I tossed it all into my skillet and crossed my fingers.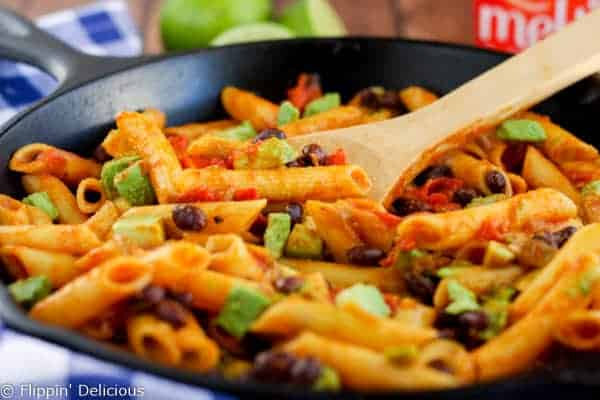 Not only did my family eat it, but they devoured it. There were NO leftovers. None at all. My "clean out the nearly empty fridge" dinner was a huge success. Such a success that I re-created it the next week after I went grocery shopping.
When I recreated my dinner out of leftovers success I wanted to make it with Rich & Creamy MELT® Organic so that it would be dairy-free. I also skipped the chicken and upped the beans to make it vegetarian too. Look at me, being friendly with all the custom eaters!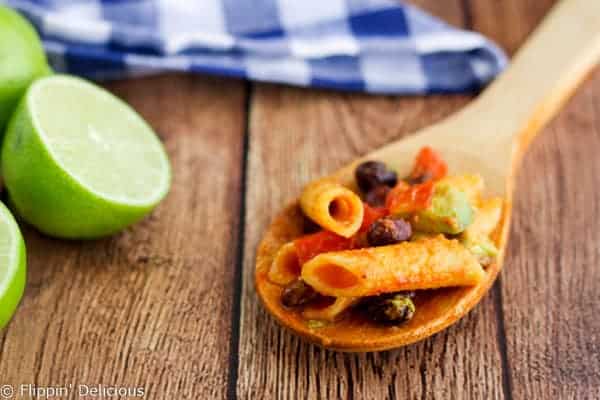 Now let me tell you a little bit about MELT® Organic. First off, it tastes great! Second, you can use it just like butter. It melts, sautes, and bakes just like butter, and is great on toast too. But it isn't butter. It is a great option for those who eat dairy-free and it is made with healthy fats, like coconut oil. Also it is soy-free! My hubby isn't really known for liking all of the healthier products that I buy. He is a man who like hot pockets and chicken pot pie. But he and my 2 year old really liked MELT® Organic. There is a subtle coconut oil flavor in it that we all loved. And they aren't huge coconut oil fans, so that is saying something.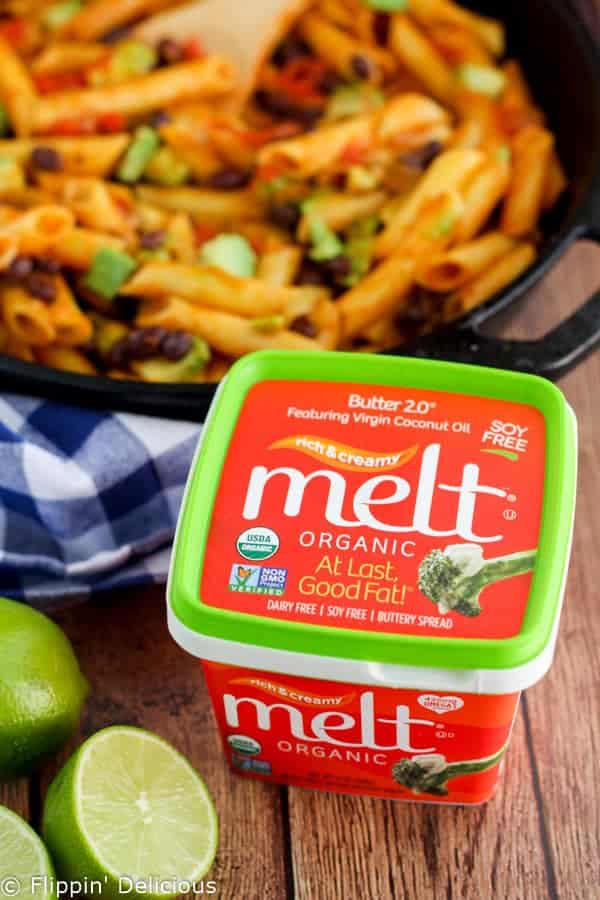 My family is a huge fan of buttered noodles, and this is just a fancier version of that with a Mexican twist. MELT® Organic has a great buttery flavor, without being butter. Combine that with chile powder and a squeeze of fresh lime, and some black beans for a little protein. It is so easy, and all the flavors just meld together in the buttery goodness.
You can use this store locator to find someplace near you that carries MELT® Organic so that you can give it a try. It is a great dairy-free, soy-free alternative to butter.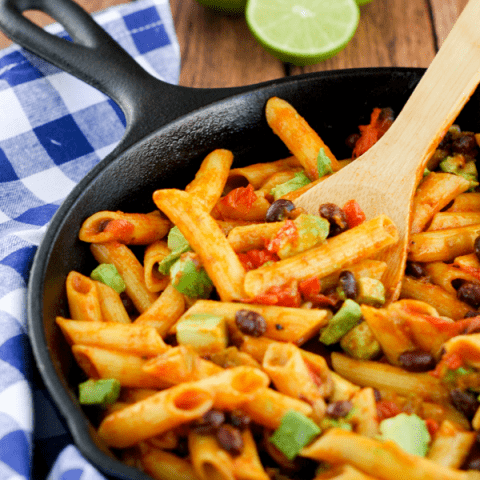 Buttery Chile Lime Pasta (gluten-free, dairy-free, soy-free, vegetarian)
Yield: serves 4

Prep Time: 5 minutes

Cook Time: 15 minutes

Total Time: 20 minutes

Buttery Chile Lime Pasta is may be gluten-free, dairy-free, soy-free, and vegetarian but you won't feel deprived at all. Buttery, just a little heat from the chile powder, and the bright freshness of lime. Everyone will beg for seconds!
Ingredients
½ lb gluten-free penne pasta
1 cup cooked black beans (I used canned, thoroughly rinsed and drained)
¼ cup vegan butter (I used Melt)
½ cup your favorite gluten-free salsa
1 teaspoons red chile powder
½ teaspoon ground cumin
½ teasoon garlic powder
½ teaspoon onion powder
juice and zest of 1 lime
salt and pepper to taste
Instructions
Bring a large pot of salted water to boil, cook the gf penne pasta al-dente and drain.
While the pasta is cooking melt the vegan buter( I used Melt Organic) in a skillet over medium heat. Add the black beans, salsa, spices, and lime zest and juice. Cook until heated through.
Add the pasta and toss to coat.
Nutrition Information
Yield 4 Serving Size 1
Amount Per Serving Calories 308Total Fat 12gSaturated Fat 7gTrans Fat 0gUnsaturated Fat 4gCholesterol 31mgSodium 665mgCarbohydrates 42gFiber 7gSugar 11gProtein 9g

All nutrition info is a guestimate and will vary depending on the ingredients you use.


MELT® Organic is a line of luscious, organic spreads made from healthy oils for butter lovers seeking a much healthier alternative, available in Rich & Creamy (original), Honey, and NEW Chocolate.
This is a sponsored conversation written by me on behalf of MELT Organic. The opinions and text are all mine.