Gluten free pecan pretzel bars perfectly balance salty and sweet. Gooey, buttery, pecan filling over pecans, pretzels, and a shortbread crust.
I've been brainstorming how to combine the salty crunch of pretzels, the sweet nuttiness of pecans, and ooey gooey caramel pecan pie filling together. I LOVE my gluten free red chile pecan pie, and I just thought that the salt in the pretzels would make it 1000x more amazing. Just like salted caramel.
When you add salt to really sweet things it just tastes good!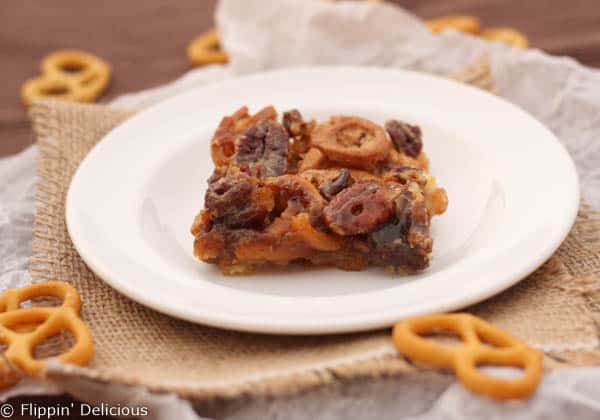 The pretzels add a different crunch and bite than the pecans. And the salt! And the buttery-ness. It is like a bite of pecan pie perfection!
I wanted a nice crisp crust so I just pressed some of my chocolate drizzled lemon shortbread into the bottom of the pan, minus the lemon and the chocolate drizzle. I LOVE this shortbread recipe because it is very light and crisp, just a touch of sweetness, and it really isn't rich.It makes a really nice base for building the salty, buttery, sweet decadence that these gluten-free pecan pretzel bars become.
The shortbread has I Can't Believe It's Not Butter, if you don't have it on hand you can try using Smart Balance, or a vegan butter, or a different butter substitute. Be aware, he water content in those might be slightly different, so it may bake differently or you might need a little less flour. As long as you have a nice smooth dough you should be fine no matter which butter or butter substitute you use.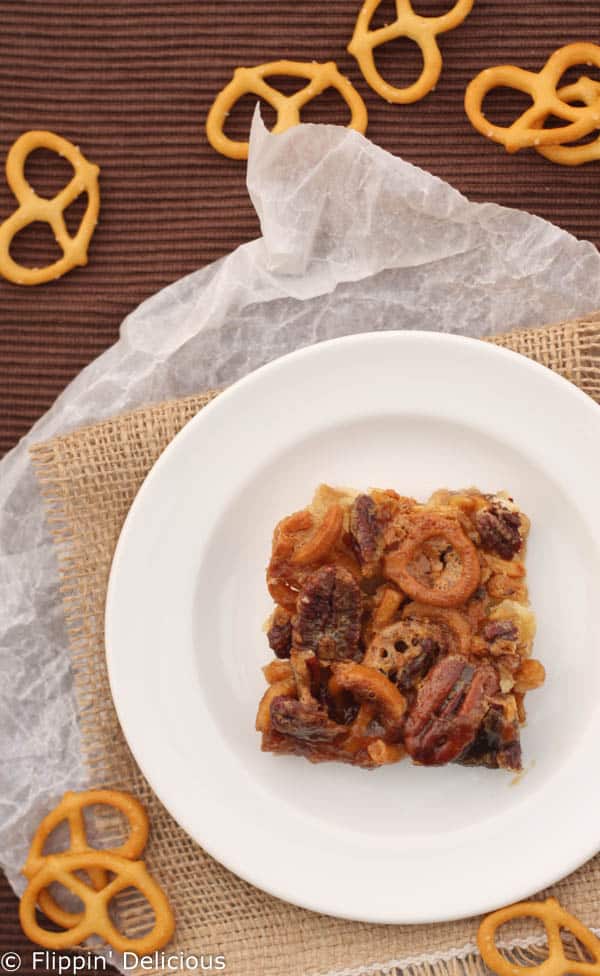 I used the great-value brand gluten-free pretzels because that is what I had on hand but there are several other gluten-free pretzels
that you can buy. Any of them will work.
If you are a pretzel fan, like I am, check out my gluten free pretzel donuts! They will change your world.
I think you will love these gluten-free pecan pretzel pie bars. So much ooey, gooey, sweet, crunchy, buttery, salty goodness!

Yield: 9 squares
Gluten-Free Pecan Pretzel Bars
Prep Time: 20 minutes

Cook Time: 1 hour

Total Time: 1 hour 20 minutes

Sweet and crunchy gluten-free pecan pretzel pie bars have all the salty and sweet you need to make your taste buds tingle. Gooey, buttery, pecan pie filling gently poured over nutty pecans and salty gluten-free pretzels and a shortbread crust. That salty/sweet combo never gets old!
Ingredients
1/4 cup butter, melted
1 cup brown sugar
1/2 cup corn syrup
1/4 teaspoon salt
2 eggs
1 cup gluten-free pretzels
1 cup pecan halves
1/2 recipe shortbread dough (omit the lemon zest and chocolate)
Instructions
Preheat oven to 350F.
Line an 8x8 baking dish with parchment paper, or generously greased aluminum foil.
Press the shortbread dough on the bottom of the pan and bake for 15 minutes.
Mix together all the ingredients except for pretzels and pecans until smooth.
Sprinkle the pretzels and pecans over the par-baked shortbread crust and then pour the mixture evenly over the top.
Bake for 35-45 minutes, or until the filling is set (does't jiggle too much when you give it a shake.)
Let cool completely before cutting it into squares.
Notes
If you don't line the pan with parchment it will stick to the sides and will be difficult to remove the bars cleanly. I didn't use parchment, it was hard to get a clean slice. You'll thank me if you use parchment paper.
Nutrition Information:
Yield:
9
Serving Size:
1

Amount Per Serving:

Calories: 410 Total Fat: 21g Saturated Fat: 7g Trans Fat: 0g Unsaturated Fat: 13g Cholesterol: 55mg Sodium: 308mg Carbohydrates: 54g Fiber: 2g Sugar: 35g Protein: 4g

All nutrition info is a guestimate and will vary depending on the ingredients you use.