Welcome to Savoring Saturdays!
The most popular link this week are these Sea Salt Chocolate Caramels from Forest and Fauna. They are made with dates!
HERE ARE A FEW OF MY FAVORITES FROM LAST WEEK:
There were so many drool-worthy submissions from last week. I had such a hard time narrowing down my favorites. Keep them coming!
First off, these Gluten-Free Egg-Free Pumpkin Butterscotch Chip Cookies from Auntie Bethany| The Best Gluten-Free Recipes. I happen to have some butterscotch chips in my pantry right now. I'm going to have to bake these this weekend!
And this Pumpkin Spice Latte from Natural Fit Foodie. It is paleo, refined sugar free, and vegan!
And this Super Moist Gluten-Free Dairy-Free Pumpkin Bread from Gluten-Free Yummy
Strenght and Sunshine is always coming up with some great seasonal recipes, like these Gluten-Free Cinnamon Glazed Pumpkin Doughnuts.
And finally, after all that pumpkin goodness, I just had to share these Gluten-Free Gingerbread Overnight Oats from Gluten-Free Palate. Gingerbread is another one of my favorite holiday flavors!
BE SURE TO CHECK IN WITH ALL THE LOVELY HOSTS OF SAVORING SATURDAYS…
Here is what we've been up to this week: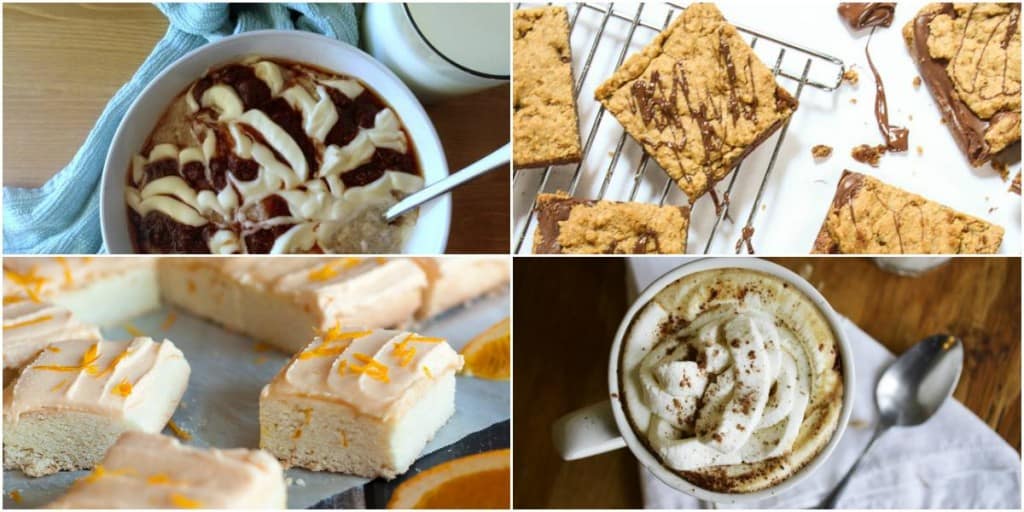 Cinnamon Roll Oatmeal, by Emily
Soft Orange Frosted Sugar Cookie Bars, by Brianna
Herbal Pumpkin Mocha, by Raia
Wanna share with us?
Feel free to link up one or two of your own posts about:
healthy

whole

,

gluten-free

 food
do-it-yourself stuff/crafts
gardening/farming/homesteading
homeschooling
housekeeping
food politics
healthy living
whatever you're grateful for today!
Please note: If your post doesn't fit these guidelines, it will not be featured! If your post is in any way inappropriate, it will be deleted from the party. Please keep your posts encouraging!
Now let's get to this weekend's party!
Once you've added your link here, please link back to Savoring Saturdays at the bottom of your post. Don't forget to come back next week!