Start off the new year with these easy Banana Pomegranate Popsicles. Full of potassium and antioxidants, no added sugar, and just 2 ingredients!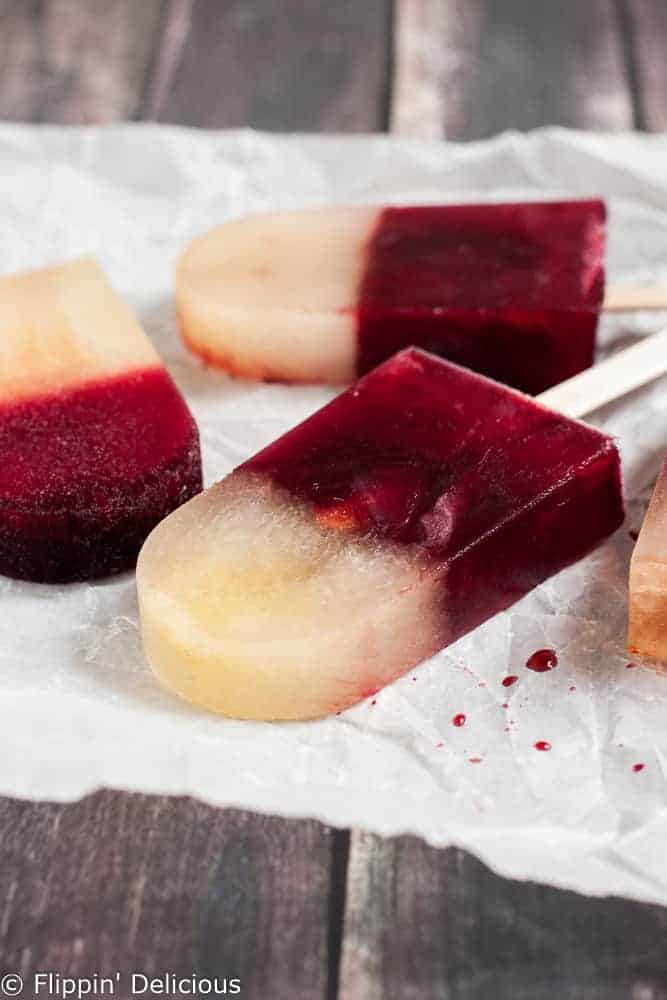 This post is sponsored by Elmhurst Foods Banana Water. As always, all opinions are my own. I only work with products I like.
As we start the new year I have been thinking about how I can eat healthier and how I can make healthier food for my family. My kids are sometimes picky eaters (my 3 year old especially) and sometimes I worry that my family is not getting the vitamins and nutrients that they need.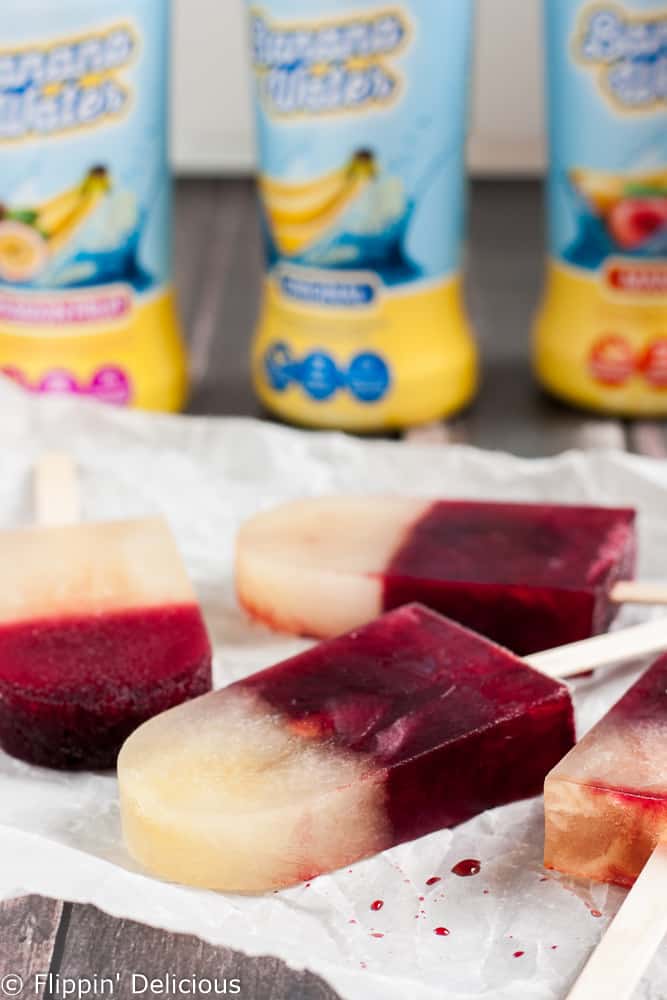 A few months ago I was introduced to Banana Water while I was at the Food Allergy Blogger's Conference in Denver. I have never liked eating bananas, I have a texture issue with them. But I know that bananas have a lot of great nutrients that my body needs, like potassium. I am always on the lookout for ways to "sneak" bananas into my own diet, like in this peanut butter banana smoothie.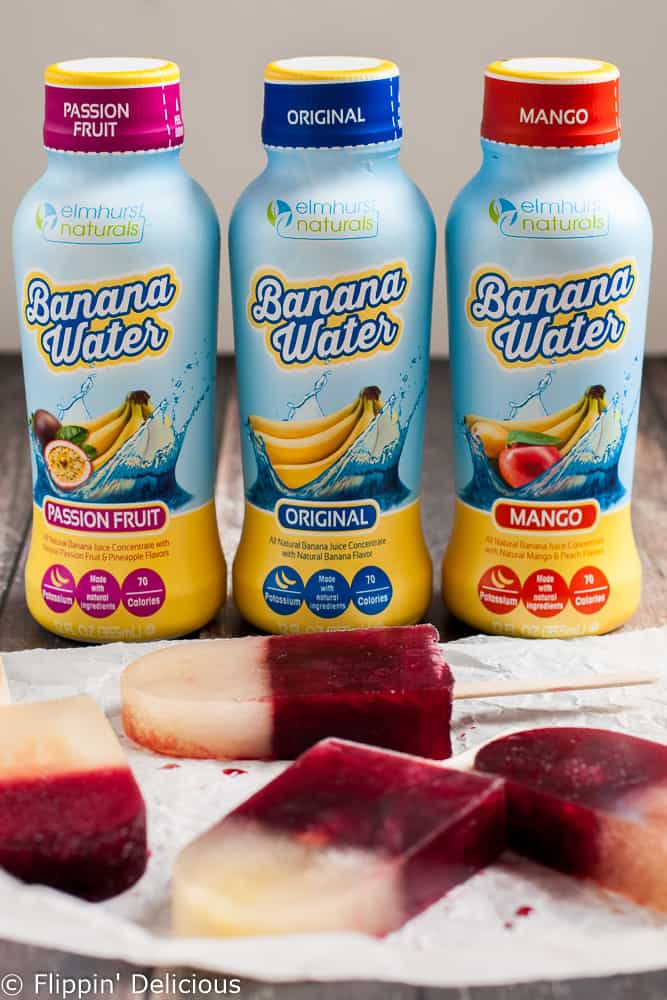 I was excited to try Banana Water because each bottle has as much potassium as 2 bananas, has only 70 calories, and it is made without any added sugar or colors. Drinking Banana Water is a easy way to get your potassium that tastes great! There are several different flavors too, so there is something for everyone. My favorite is the Mango Banana Water, but the Passion Fruit and Original Banana Water are close behind.
Banana Water is great to enjoy by itself, straight out of the bottle, but it is also great in smoothies, drinks, or in these colorful popsicles. I know it is January, but the cold has never stopped me from enjoying a scoop of ice cream or any other frozen treat.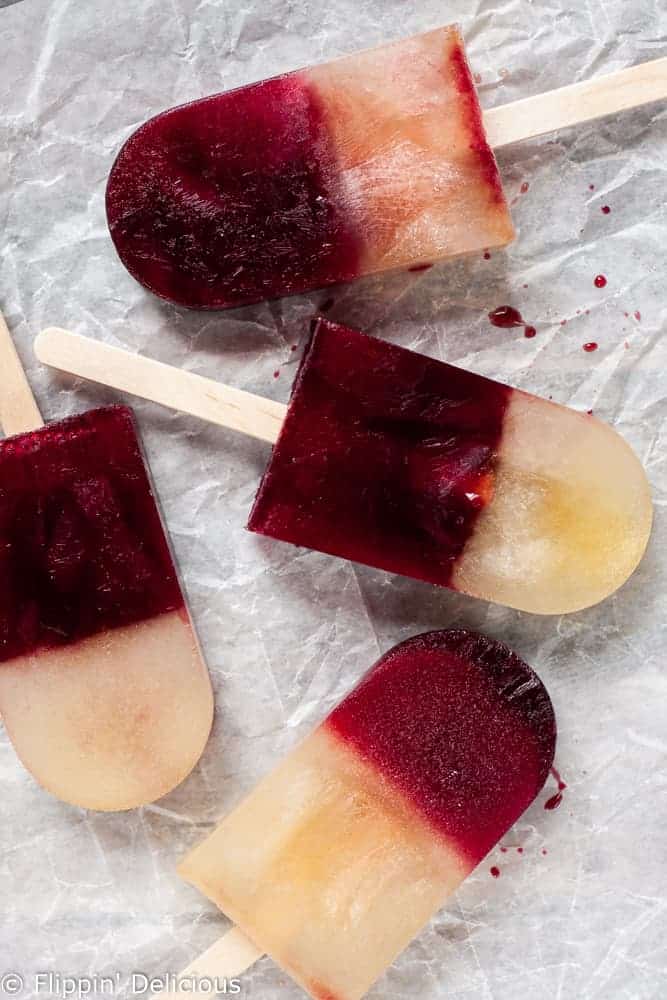 It is also flu and cold season right now. Banana Pomegranate Popsicles are a great way to stay cool and hydrated when you are fighting off a bug. When I was a kid my mom would often give us popsicles when we were feeling yucky to help us stay hydrated and get electrolytes. I actually remember being jealous of one of my siblings because they were sick and got a popsicle and I didn't.
Of course I am hoping that no one in my family is sick the rest of the winter. But if someone does get sick I have a few of these popsicles in the freezer to help them feel just a little bit better.
With just 2 easy ingredients, these Banana Pomegranate Popsicles are simple to make. You really just layer your favorite banana water in a popsicle mold with some pomegranate juice. Look out for a pomegranate juice that doesn't have any added sugar, a lot of them do.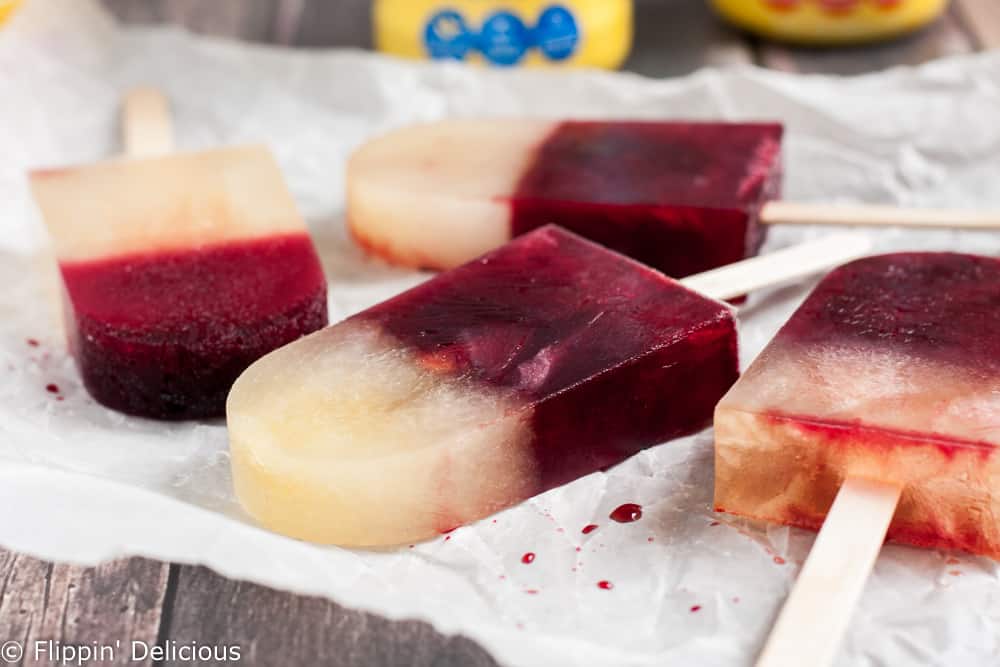 These Banana Pomegranate Popsicles are an easy and fun way to get some extra potassium and antioxidants. Your family wouldn't guess your ulterior healthy motives in giving them these Banana Pomegranate Popsicles for dessert!
You can find Banana Water on Amazon.com.  I seriously love Amazon! No hunting all over the store, it gets delivered straight to your door.
Be sure to stay in the loop by following Banana Water on Facebook, Twitter, and Instagram!


Yield: 4 popsicles
Banana Pomegranate Popsicles
Prep Time: 8 minutes

Total Time: 8 minutes

Start off the new year with these easy Banana Pomegranate Popsicles. Full of potassium and antioxidants, no added sugar, and just 2 ingredients!
Ingredients
1/2 cup Banana Water (whichever flavor is your favorite)
1/2 cup Pomegranate juice
Instructions
Pour a layer of Banana Water (approx 2 tablespoons) into each cavity of your popsicle mold.
Let freeze for several hours (2-3) and then gently pour a layer of pomegranate juice (approx 2 tablespoons) on top and then pop it back in the freezer.
***If you have the tops to your popsicle mold put them on now and freeze until solid. If you are using popsicle sticks follow the remaining directions.***
Let the popsicles freeze for 1 to 1.5 hours and then gently insert your popsicle sticks. You want the liquid to be frozen enough that you can easily insert the popsicle sticks without them immediately falling over, but not so frozen that you can't insert them at all. Set a timer so you don't let them freeze all the way! (alternatively you could use some aluminum foil over the top of the molds to hold the popsicles in place. I was out!)
Freeze until solid. Remove, and enjoy.
Notes
You can do the pomegranate juice and then the banana water if you'd like. Layer them however you'd like!
I have found it much easier to remove my popsicles by running a little warm water over the outside of my popsicle mold for a few seconds.