Hummus Turkey Pinwheels make a quick and easy lunch that is fun for everyone. They pack well, or you can enjoy them at home.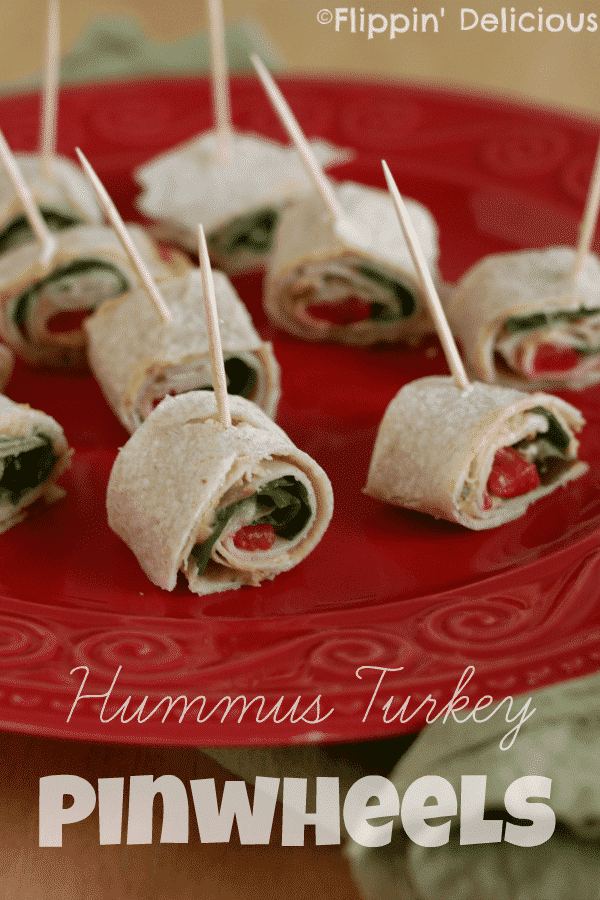 I posted this recipe last year as a part of Sunny's Healthy Lunchbox series and completely forgot to post it here on Flippin' Delicious. So here you go. Super old pictures of my cutie daughter helping me make lunch:)
Hummus Turkey Pinwheels
I've been looking forward to participating in Sunny's Healthy Lunchbox series for quite awhile. My daughter (Miss E) is 2, so she isn't in school yet. I love making turkey pinwheels for lunch, whether we are home or out and about. They pack well, and are just fun! Miss E gobbles them right up!
I love how quickly turkey pinwheels are made. It takes just a few minutes to smear some hummus onto your tortilla and top it with some sliced turkey and veggies. I love that I can customize them, and fill them however I want to with whatever ingredients I have on hand. One of my favorite pinwheel combos is cream cheese, basil, freshly ground black pepper, and turkey. So good!
Miss E loves to help me make lunch. She is such a good little helper!
There are just a few tricks to making pinwheels. I use corn tortillas because I always have them on hand. If you don't do corn you can easily use a different tortillas. Corn tortillas have a tendency to dry out, and then they crack and flake a bit when you roll them. If you use fresher tortillas this is less of a problem, also make sure your tortillas are warm, at least room temp to prevent breakage.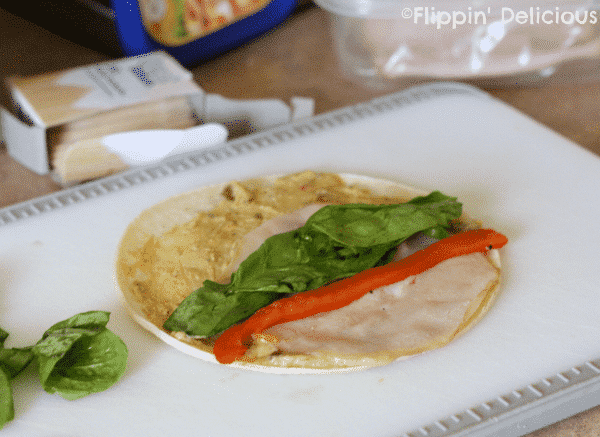 Make sure that whatever you smear on your tortillas is soft. When I use cream cheese and haven't softened it the tortilla tends to tear.
I've also found that toothpicks can help everything stay together, instead of un-rolling all over the place. Especially if you are packing pinwheels for your kiddos I'd suggest using a toothpick to keep everything together until lunch.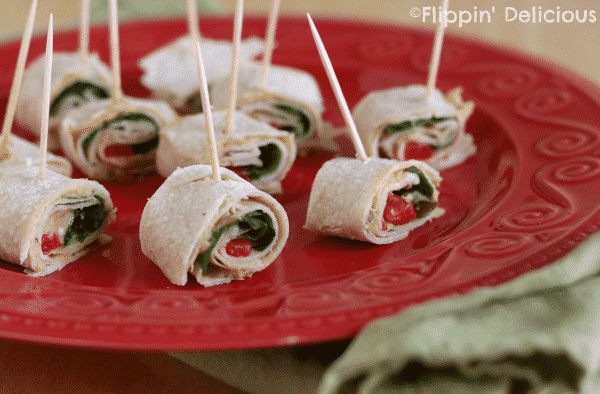 The other option for keeping everything together is waiting to slice the pinwheels until you are ready to eat them. I'll eat the pinwheels still in a burrito-type form when I'm on the go, just because it is more convenient.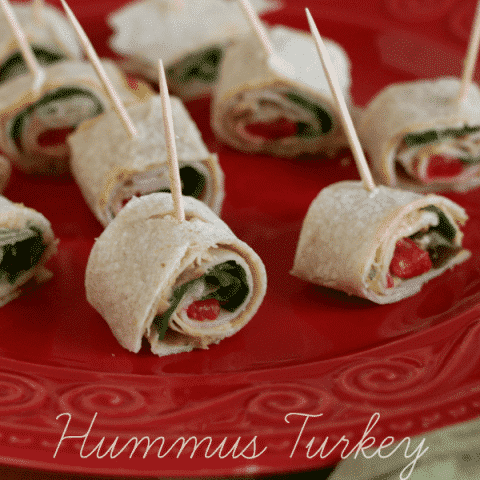 Hummus Turkey Pinwheels
Yield: 5-6 Pinwheels

Prep Time: 5 minutes

Total Time: 5 minutes

Pinwheels make a quick and easy lunch that is fun for everyone. They pack well, or you can enjoy them at home.
Ingredients
1 corn tortilla
1-2 tablespoons hummus
1-2 slices turkey
small handful of baby spinach
1 slice red bell pepper (I used roasted red bell pepper but raw is great too.)
toothpicks
Instructions
Smear your corn tortillas with hummus.
Lining all the ingredients on the the edge closest to you place the turkey slice(s), spinach, and red bell pepper.
Carefully roll the pinwheel starting with the edge closest to you and rolling away from your body.
Hold the pinwheel in place using 5-6 toothpicks, places ½-1 inch apart.Slice in-between the toothpicks using a sharp knife.
Nutrition Information
Yield 6 Serving Size 1
Amount Per Serving Calories 62Total Fat 2gSaturated Fat 0gTrans Fat 0gUnsaturated Fat 2gCholesterol 12mgSodium 42mgCarbohydrates 6gFiber 1gSugar 2gProtein 5g

All nutrition info is a guestimate and will vary depending on the ingredients you use.