A 100% dairy free, gluten free party menu inspired by Chocolate and Sprinkles including a rainbow pinata cake, chocolate cookies and bark, and dairy free chocolate cream soda with a hint of hazelnut or caramel. This shop has been compensated by Collective Bias, Inc. and its advertiser. All opinions are mine alone. #SilkSipToSpoon #CollectiveBias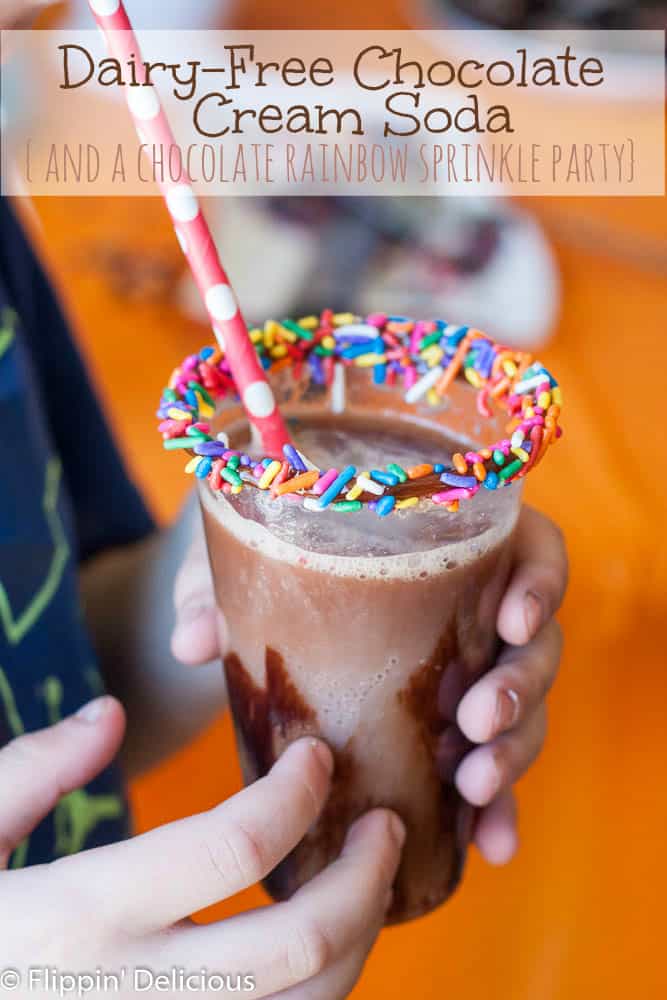 Anyone who has been around Flippin' Delicious knows that I have a great affection for sprinkles! Almost bordering on obsession. My diaper bag is a backpack that looks like a pink cupcake covered in sprinkles. I just love wearing it! It makes having to carry a diaper bag a lot more fun.
I have also been known to put sprinkles on all manner of things to get my kids to eat them. Including a turkey sandwich one time.
When planning this party, no theme felt more natural that chocolate and sprinkles. Who doesn't love chocolate? Especially when colorful sprinkles are involved too.
How many ways can you use chocolate and sprinkles? I am sure you can dream up even more ways than I did!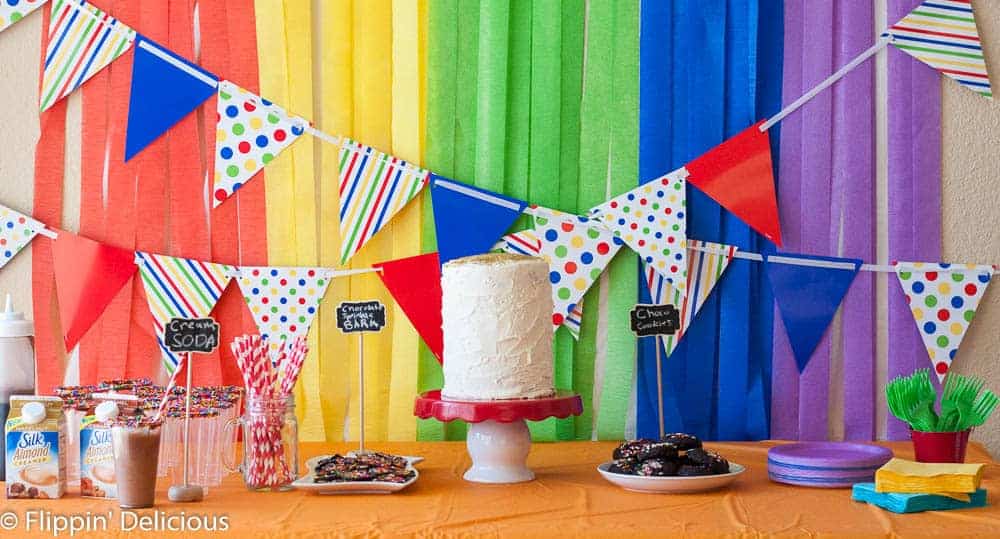 I was inspired by all of the bright colors of the sprinkles so I used the same rainbow of colors in my decor. I made a backdrop using crepe paper and a disposable plastic table cloth. I attached each strip of crepe paper to the top of the table cloth with tape and then hung up the table cloth behind my party table. It was SO much easier for me to tape the crepe paper to the table cloth on the floor than it was for me to be climbing up and down taping crepe paper to the wall.
I hung some bright colored pennants (that I found at Walmart) in front of the rainbow of streamers. I also picked a variety of colored paper goods so that each color in the rainbow was represented somewhere.
I loved the rainbow theme because I didn't have to spend much time DIYing decorations because bright colored decorations and paper goods are easy (and inexpensive) to buy.
A month and a half ago we cut dairy out of our younger daughter's diet (that is her up there with her big toothy grin!) There is a bit of a saga as to why we cut dairy out of her diet (I talk a bit about it in my dairy free gluten free red velvet donut recipe.) Long story short, she is definitely better off living dairy free. So at least for now, our household is dairy free too.
As a part of our dairy free adventure, I have been trying a lot of new-to-me dairy free products! It has been tricky finding what we like but I feel like I am starting to get the hang of this whole dairy free thing. When I first went to the store I bought 6 or 7 different kinds of dairy-free milk. The cashier probably laughed a little. At least now I finally have found what my family will drink so there is a little less guess-work.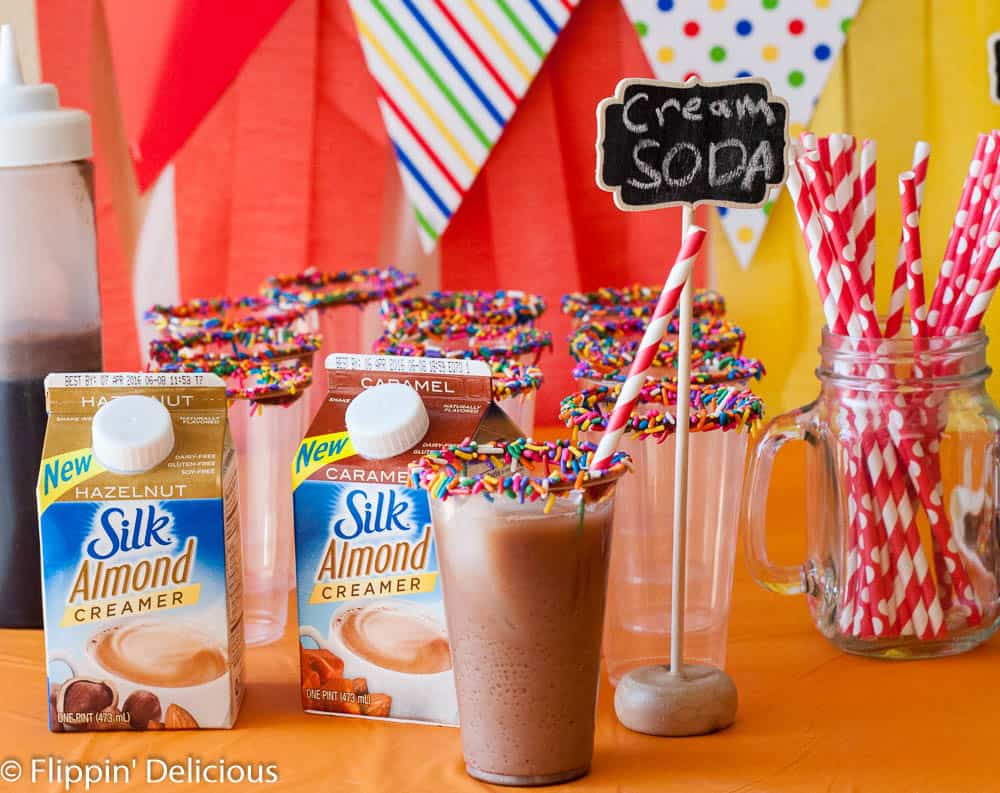 One of the brands that my family consistently enjoys is Silk. Their Silk Almond Creamer was a big hit in the chocolate cream soda at our chocolate + sprinkles party. It is also perfect in my morning cup of coffee! It is all sorts of allergy friendly, being free from dairy, lactose, gluten, casein, egg, and peanuts. I found both the Hazelnut and Caramel Almond Cream Flavors at my local Wal-mart while I was getting all of the rest of my party supplies and ingredients. It was right next to the rest of the refrigerated creamers.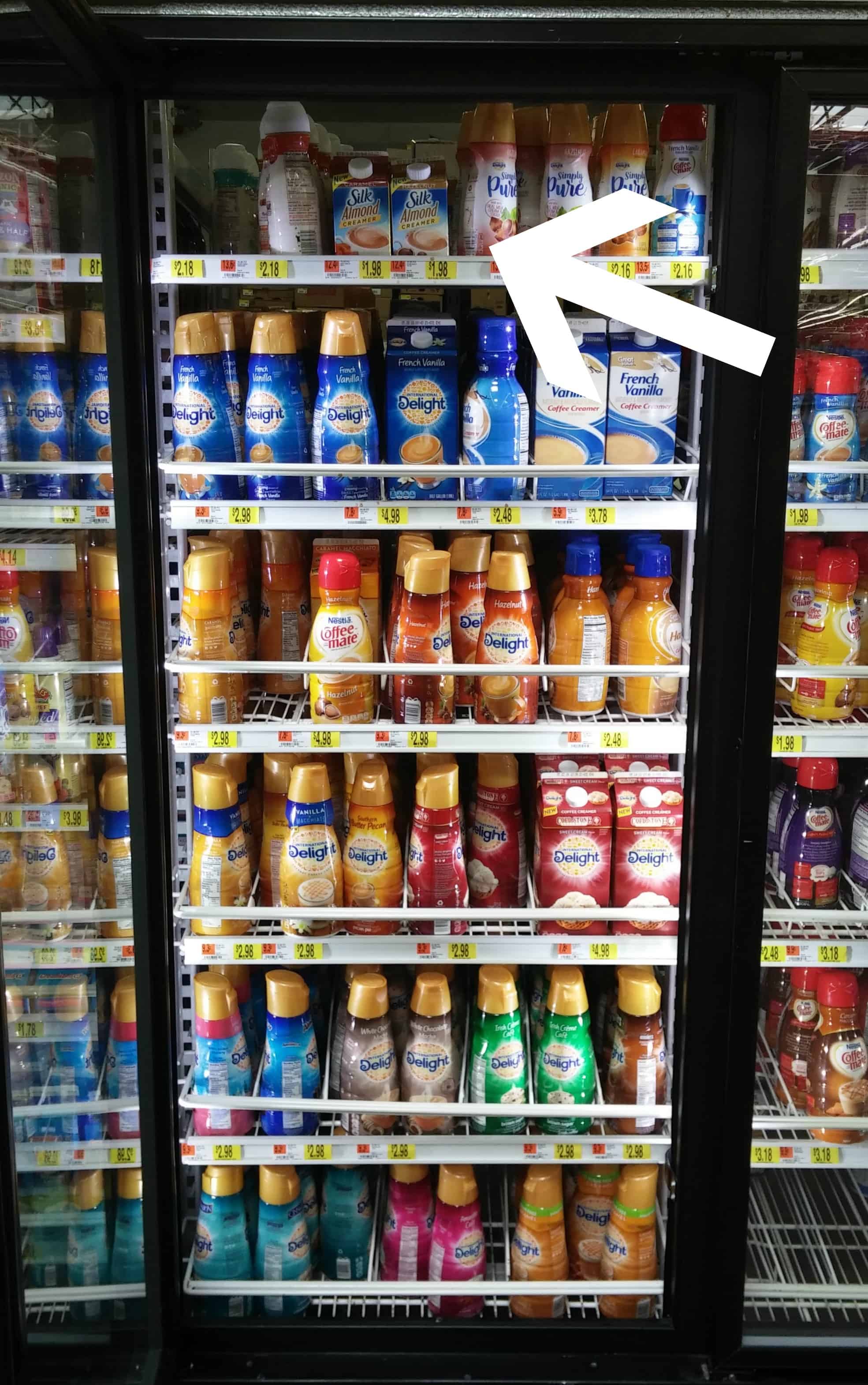 The dairy free chocolate cream soda station was super fun! Everyone loved making their own drink. And of course, the sprinkle rimmed glasses and bright paper straw. It was super easy too! Drizzle some homemade chocolate syrup (or a store bought dairy free chocolate syrup) into your cup, top it with some club soda or sparkling water, add some ice, and then pour in just a little creamer.

It was so fun that everyone got to pick between the Hazelnut or Caramel Silk Almond Creamer when making their dairy free chocolate cream soda!

Chocolate + Rainbow Sprinkles Party (& Dairy Free Chocolate Cream Soda)
Easy Dairy Free Chocolate Cream Soda is the perfect party drink. The sprinkle-rimmmed glasses are my favorite part!
Ingredients
Homemade Chocolate Syrup(or storebought dairy free chocolate syrup)
club soda or sparkling water
ice
Silk Almond Creamer (I used Hazelnut and Caramel, but Vanilla would be good too.)
To rim the glasses in Sprinkles
Honey OR melted dairy-free chocolate
Sprinkles
Instructions
First, rim your glasses.
To rim using honey
So that it wouldn't drip all over, I heated some honey over medium-low heat until it began to bubble. Let it bubble for 5 minutes, then remove from heat. (I had just finished making chocolate syrup and used the same pan, which is where my honey got it's chocolatey color.)
Dip the rim of each cup in the honey, let the excess fall off, and then dip it into your sprinkles.
Use while the honey is still warm. My honey set up very firm once it had cooled all the way. Those sprinkles weren't going anywhere!
To rim using chocolate
Dip the rim of each cup into melted dairy free chocolate and then into sprinkles.
To make each drink
Drizzle a little chocolate syrup in the bottom of each cup.
Fill the cup about ¾ full with sparkling water or club soda. Add ice and then pour in a little Silk Almond Creamer (probably about 1 tablespoon but you can use more or less as desired.
If you are just going the rainbow route (and not feeling the chocolate) you could use Silk Vanilla Almond Creamer and fruit flavored syrup to make a more traditional Italian Cream Soda instead.
Just a quick note before we continue with the chocolatey goodness. Not all chocolate is dairy free. To keep your entire party dairy free be sure to use chocolate chips that are actually dairy free. (My favorites are HERE and HERE.)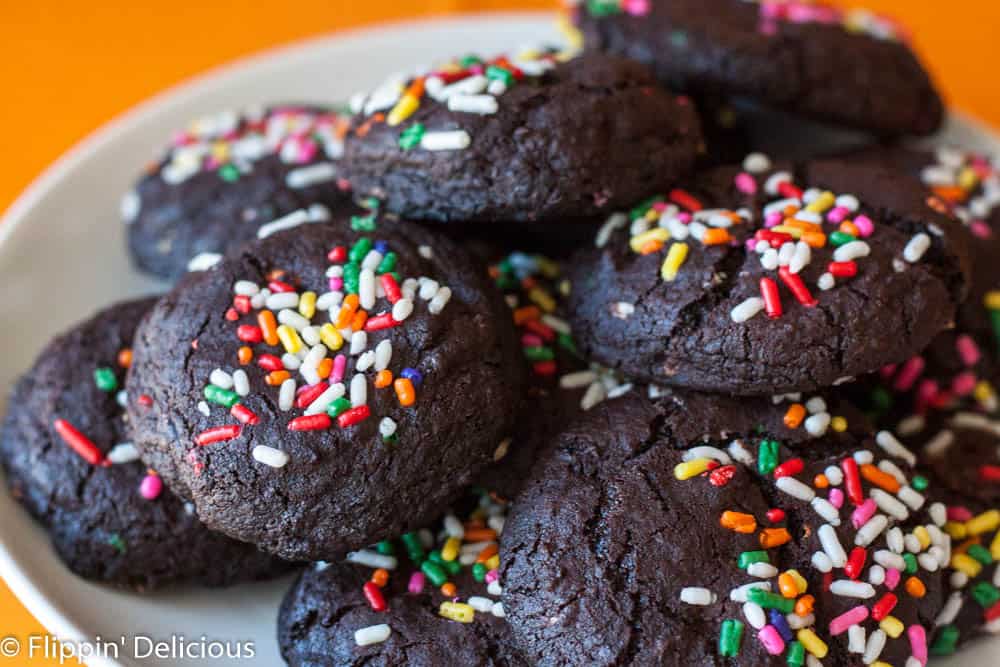 I made gluten free dairy free flourless chocolate sprinkle cookies using THIS RECIPE as a base. I swapped the peppermint bits for sprinkles and dairy free chocolate chips and used melted coconut oil instead of the butter. They turned out beautifully and you'd never guess they were gluten and dairy free.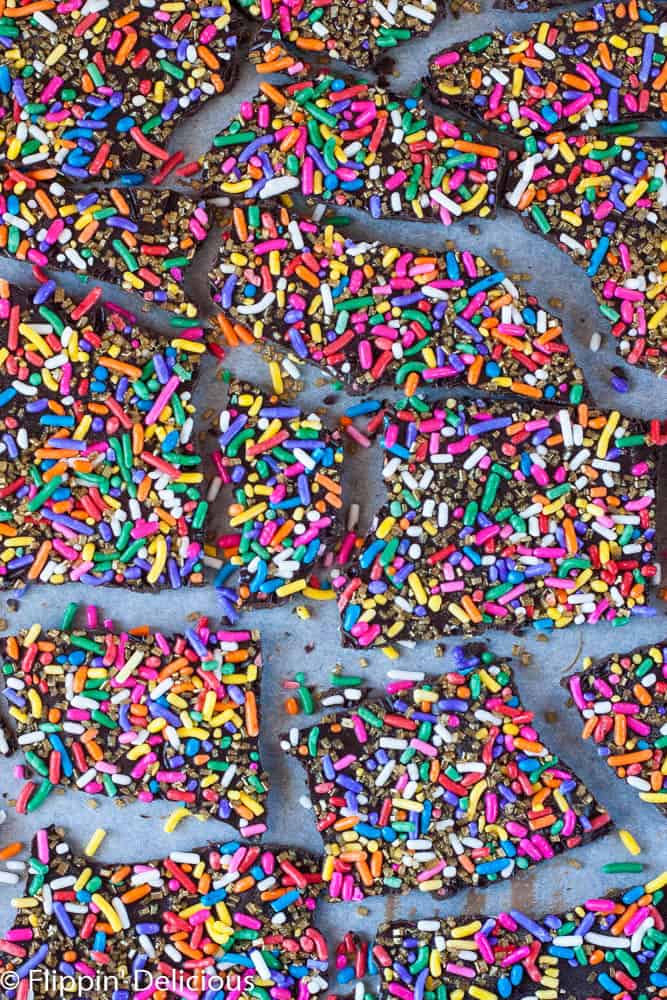 I made some super simple chocolate bark by melting some dairy free chocolate chips and then spreading the melted chocolate out on parchment paper. I loaded it up with sprinkles, and then let it cool until the chocolate set. Then just bread it apart. Super easy, super colorful, and super chocolatey!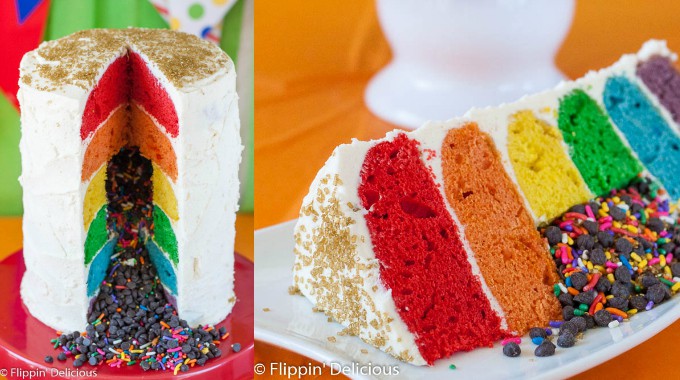 I also made my gluten free rainbow layer cake, frosted  it with dairy free buttercream and topped with sparkly gold sugar sprinkles. St. Patricks's Day is just around the corner so I just had to include a touch of gold in our party!  I baked 6, 6inch cake layers and then cut a circle out of the middle 2 layers. As I stacked up the cake, I filled the hole with dairy free mini chocolate chips, sprinkles, and some more of the gold sugar sprinkles. It was so much fun to cut into the cake and watch chocolate and sprinkles explode all over!
What fun dairy free ideas do you have for using Silk Almond Creamer?