With these Gluten Free Cookie Dough Brownies you'll never have to pick between fudgy brownies or gooey cookie dough ever again.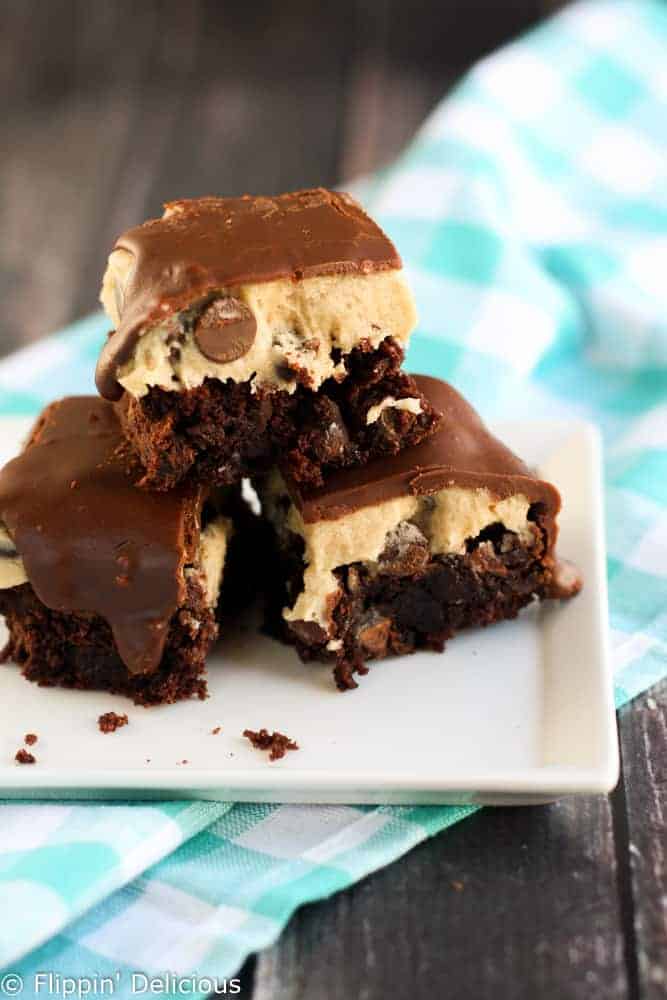 My husband and I often disagree on what our favorite dessert is.
I always argue that it's my best gluten free brownies; they're soft and chewy, flaky and buttery…my mouth is watering just thinking about them!
And there are so many incredible ways to transform brownies.
My husband is adamant, however, that gluten free sugar cookies are a better dessert. No matter how many times I make brownies(which is often), my husband has not wavered.
These brownies are a match made in heaven, and a dessert that my husband and I can both agree upon. Gluten Free Cookie Dough Brownies. Why haven't I thought of this sooner?
What makes this recipe especially unique, and very unlike the Chocolate Chip Cookie Dough Brownies that you can order full of gluten from Dominos (honestly, they act like they invented it. Silly Dominos)is that the cookie dough in my recipe is irresistibly creamy.
There's milk in the dough, which isn't standard for a cookie dough.
But sometimes you have to experiment outside the box to really get the best results.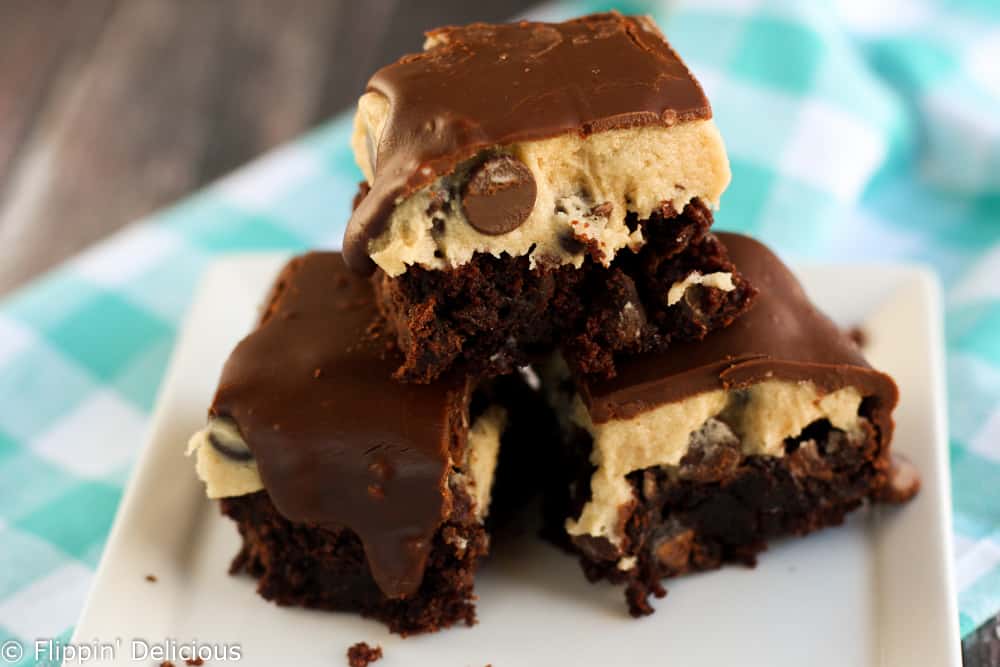 Can I make these gluten free cookie dough brownies dairy free?
For all my dairy-free friends who are currently in distress because they NEED to get their hands on this Gluten Free Chocolate Chip Cookie Dough Brownie but they just can't stomach the dairy, don't worry.
There are plenty of easy substitutes to make this dairy free, so even my dairy-free, gluten-free mama can enjoy this recipe(and trust me, she does).
Just substitute the butter for your favorite dairy-free substitute (like Earth Balance or Melt) and the same goes for your dairy-free milk substitute(like almond or coconut). I've made these gluten free brownies many times with these substitutes and it is just as yummy!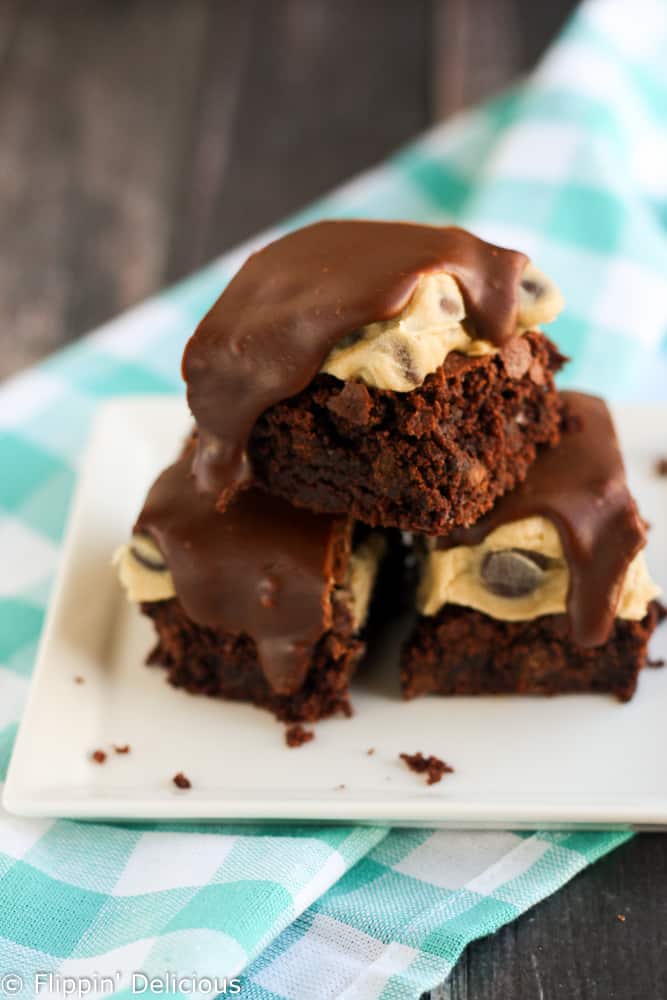 I understand that although this creamy cookie dough is what I live for in this recipe, it's not for everyone.
Sometimes, you just really need a mouthful of chewy, chocolatey cookie dough that tastes just like the gluten-full dough you ate as a child, sitting on the kitchen counter while your mom made cookies, sneaking bits of the batter out when her back was turned.
You can make this same recipe, substituting this creamy cookie dough for my edible cookie dough recipe. The results will still be stellar and mouth-watering, and even better, it will be exactly catered to your tastes.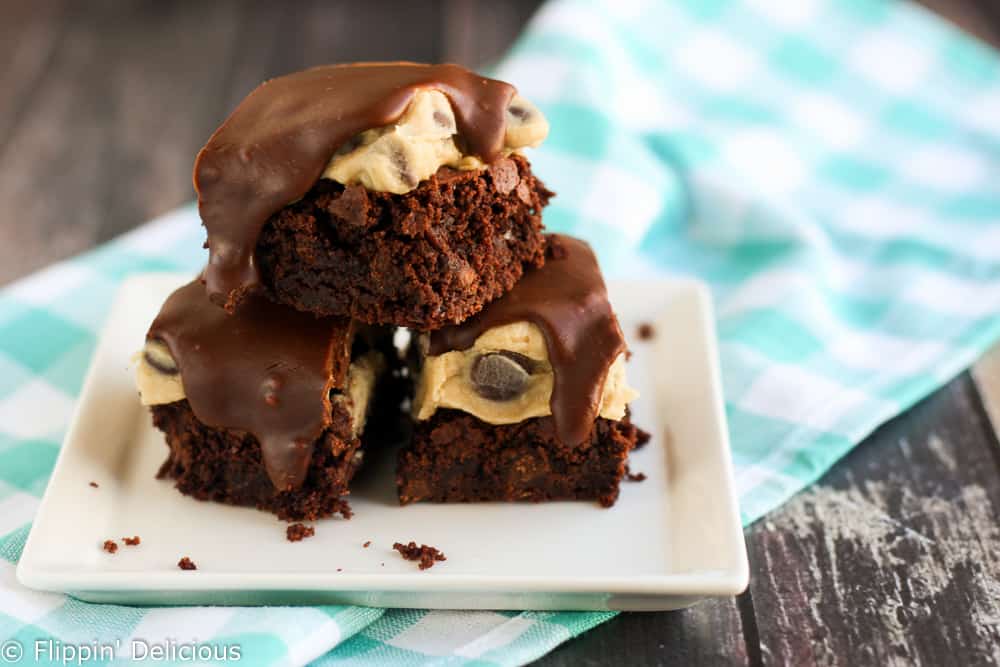 What gluten free brownies should I use?
For the gluten free brownies, I wanted to make it easy for you. You can either use a boxed Gluten Free brownie mix (because heaven knows sometimes those are our best friends), or you can use my gluten free brownie recipe or my gluten free brownies with almond flour.
I truly believe that these Gluten Free Chocolate Chip Cookie Dough Brownies are the best of both worlds; they're chocolatey and light, they're moist and buttery, they're a cookie and a brownie.
And the Chocolate Ganache on the top? Well, I guess you could say that it's just icing on the cake.
If you love chocolate recipes, I think you'll love this flourless chocolate cake, too!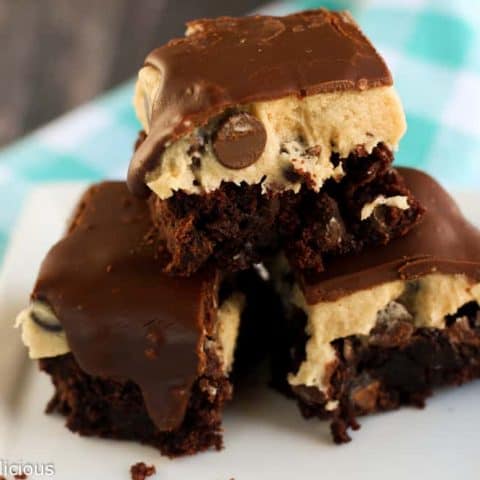 Gluten Free Cookie Dough Brownies
Yield:
(9) 3 inch brownies or (16) 2 inch brownies.
gluten free brownies topped with gluten free cookie dough and chocolate ganache make the ultimate gluten free cookie dough brownies!
Ingredients
For the Gluten Free Cookie Dough
6 tablespoons butter, softened
⅔ cup packed brown sugar
¼ cup milk
½ cup chocolate chips
For the Chocolate Ganache
1 cup chocolate chips
¼ cup butter
Instructions
Prepare and bake and cool your gluten-free brownies according to the recipe that you use. You can use a mix, or one of my recipes, or your favorite.
For the Gluten Free Cookie Dough
Cream together the butter and brown sugar. (I used my stand mixer but you can also use a handheld mixer or just a bowl and sturdy spoon.)
Mix in the milk, until smooth. Then mix in the flour and chocolate chips.
Spread the Cookie Dough over the cooled brownies.
For the Chocolate Ganache
In a microwave safe bowl, melt the butter and chocolate chips together (heat for 30 seconds, stir, then heat for another 15 seconds and then stir. Heat in 15 second increments until melted.)
Let cool slightly, and then spread over the top of the cookie dough.
Let set at room temperature (or speed things up by popping it in the fridge) until the ganache is set.
Notes
To make it dairy-free substitute your favorite dairy-free butter (earth balance, melt, or other) for the butter and use your favorite non-dairy milk instead of the milk in the cookie dough. Be sure to make the appropriate subs in your brownie too.
*You may want to bake your flour before you make your cookie dough to remove the raw-flour taste and also to kill any bacteria that may be in your flour. If you'd like to cook your gluten free flour, toast it on a baking sheet at 350°f for about 10 minutes, stirring every 2-3 minutes so it doesn't burn.
Nutrition Information
Yield

16
Serving Size

1 gluten free brownie
Amount Per Serving
Calories

279
Total Fat

17g
Saturated Fat

9g
Trans Fat

0g
Unsaturated Fat

7g
Cholesterol

30mg
Sodium

119mg
Carbohydrates

32g
Fiber

1g
Sugar

18g
Protein

3g