Dairy Free Gluten Free Sandwich Sushi makes a fun and portable lunch that everyone can enjoy. Fill your GF sandwich sushi with your favorite fillings!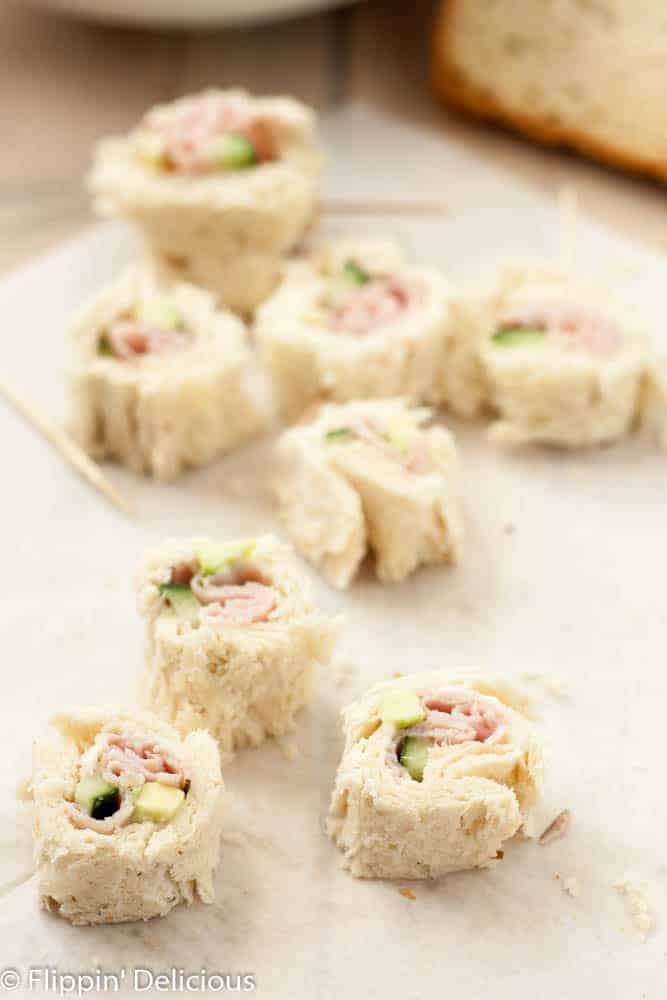 This post is sponsored by Canyon Bakehouse. As always, all opinions are my own. I love being one of Canyon Bakehouse's Partners and I use their products often. 
What is for lunch? I get asked that (what seems like) countless times a day. This time, I had a fun answer: Gluten Free Sandwich Sushi!
The concept is really pretty simple. You cut the crusts off of and gently flatten a piece of gluten free bread (I used Canyon Bakehouse Mountain White) and then fill it and roll it like sushi. Slice it into little rounds and you have a beautiful, colorful, and fun lunch.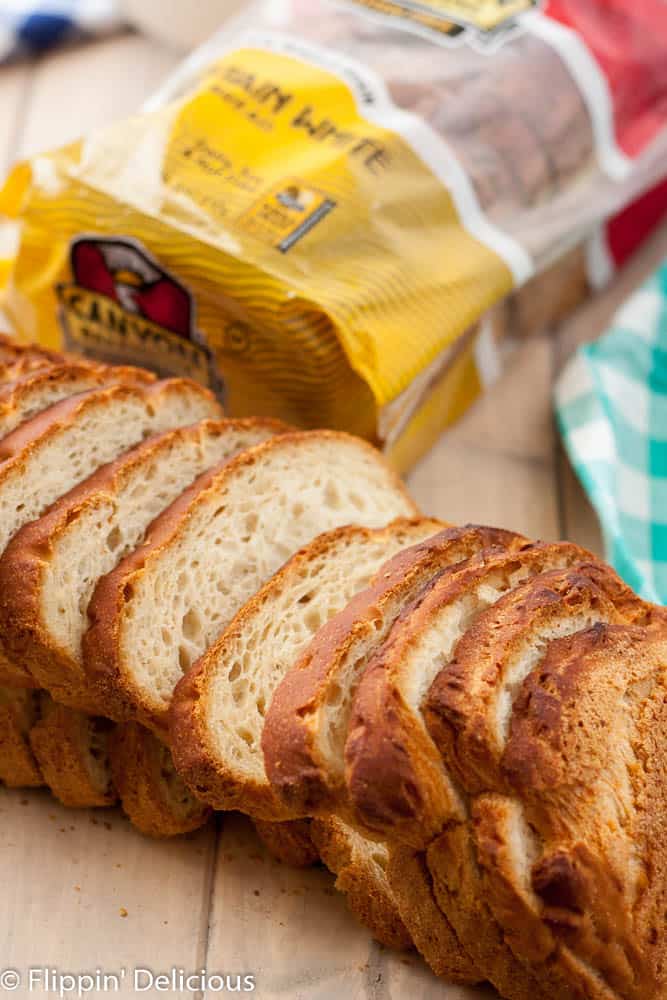 No more boring (albeit delicious) ham and cheese sandwich!
The secret to getting a beautiful roll (and I should know, I did a lot of trial and error!) is to not over-stuff your gluten free sandwich sushi rolls. Put WAY less filling on your bread than you think you will need. The other secret it to cut all of your filling ingredients into little thin strips. That helps to prevent you from over-stuffing your gluten free sandwich sushi rolls.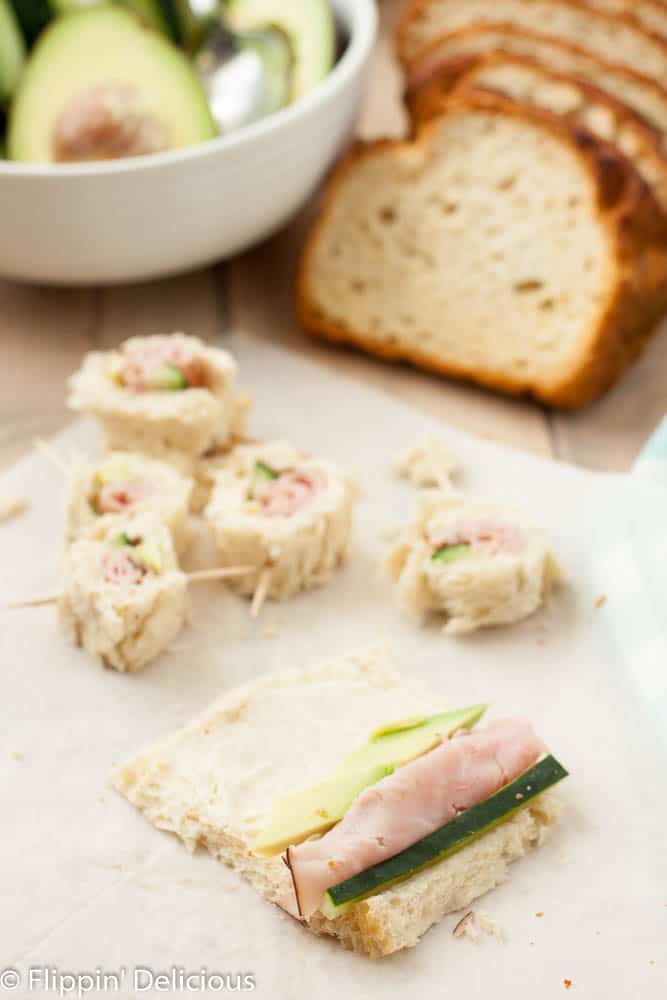 Also, be sure to not roll your bread too thin. There is a sweet spot, if you flatten it too much it loses its structure and falls apart more easily. If you don't flatten it, or leave the crust on, it is too thick to roll. (Don't toss your crusts! save them in the freezer to make croutons or bread crumbs!)
It is also a good idea to have some toothpicks handy, especially if you are taking your gluten free sandwich sushi to go. Securing each gluten free sandwich sushi slice will help to prevent it from coming apart in transit.
I made my gluten free sandwich sushi dairy free too so that Baby E could enjoy them. I used some sliced avocado to add some creaminess that I would normally get from cheese. If you aren't dairy free you can use a slice of cheese if you prefer.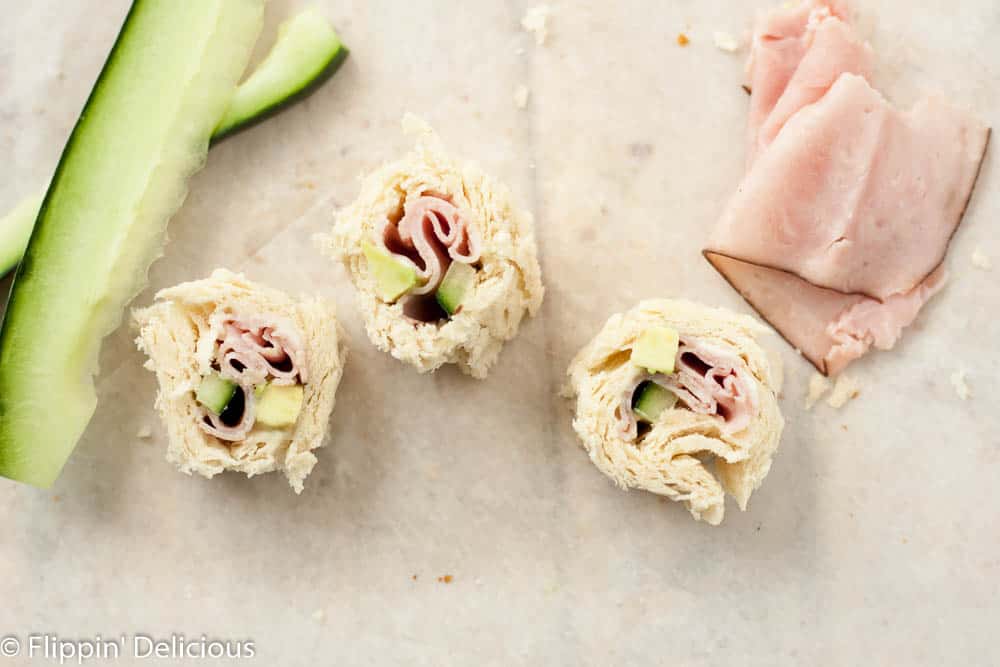 I also used some cucumber strips to bring a little subtle crunch and texture. Maybe I was also inspired by one of my favorite sushi rolls, the California Roll since I already had avocado in the sandwich. Next time I think I am going to try pickles! If you use cucumber be sure to scoop out the seeds BEFORE slicing your cucumber into strips. All the water in the seeds can make your gluten free sandwich sushi soggy.
I also used black forest ham, simply because it looked yummy while I was at the store. Use turkey, roast beef, or honey ham. Whatever your favorite lunch meat is! Just be sure to double check that your lunch meat is gluten free because not all are.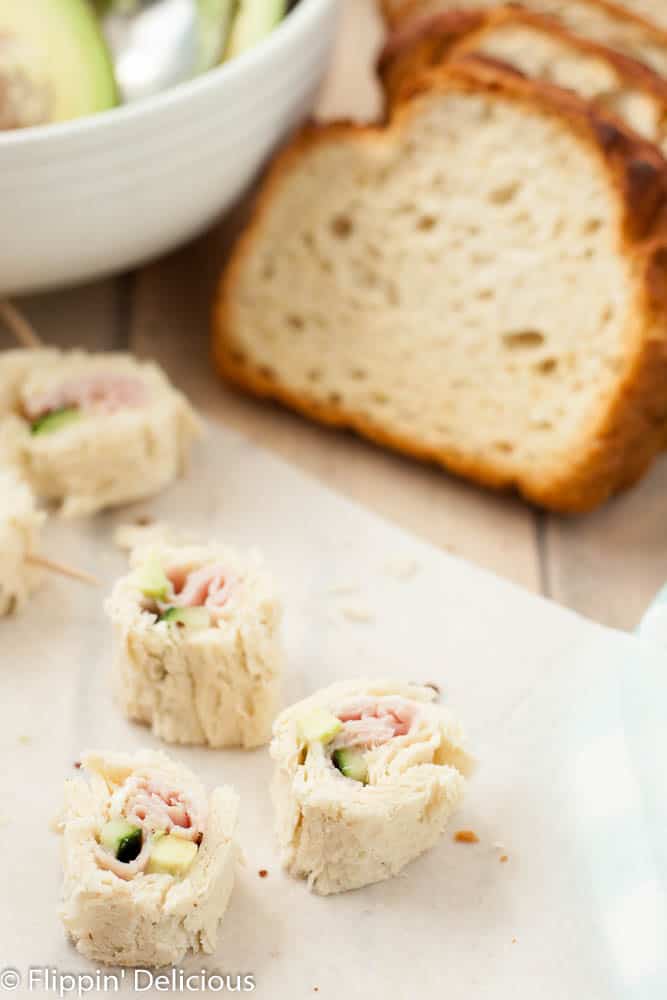 As far as fillings go, they sky really is the limit. PB & J, Ham & Cheese ( I said it was delicious!), or go full-on sushi inspired and do some crab meat (not all imitation crab is GF, so double check) and pickled ginger.
What filling combo are you going to try?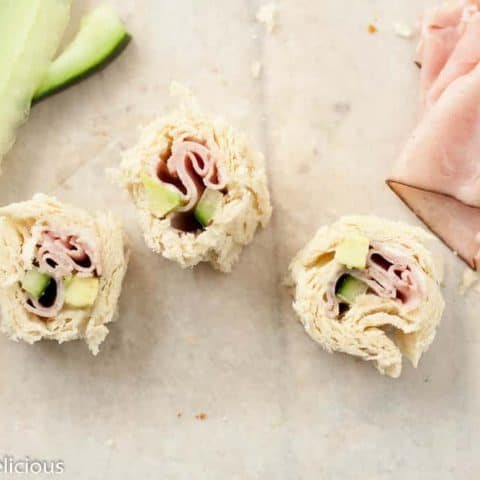 Dairy Free Gluten Free Sandwich Sushi
Yield: 1 sandwich sushi roll (approx 3-4 pieces)

Prep Time: 10 minutes

Total Time: 10 minutes

Dairy Free Gluten Free Sandwich Sushi make a fun and portable lunch that everyone can enjoy. Fill your GF sandwich sushi with your favorite fillings!
Ingredients
1 slice gluten free lunch meat (I used black forest ham)
1 slice of avocado
1 stick of cucumber
OR other fillings as desired
Instructions
Cut the crusts off of your slice of bread and gently flatten it using a rolling pin. (I placed my bread in between pieces of wax paper.)
Lightly spread your bread with mayo.
On one end of the bread, arrange your filling being very careful to not over-fill.
Roll your sandwich sushi starting with the end with the filling. Secure with toothpicks as necessary. Cut into 3-4 slices.
Repeat with more ingredients to make more gluten free sandwich sushi!
Notes
It might take you a few tries to get "picture perfect" sandwich sushi, but remember all of the attempts will be tasty. Keep trying, and refer to all of my tips in the post body.
Nutrition Information
Yield 1 Serving Size 1
Amount Per Serving Calories 441Total Fat 31gSaturated Fat 5gTrans Fat 0gUnsaturated Fat 24gCholesterol 9mgSodium 435mgCarbohydrates 37gFiber 15gSugar 6gProtein 11g

All nutrition info is a guestimate and will vary depending on the ingredients you use.