With some Peanut Butter Chocolate Chip Energy Bites, and Capri Sun Organic,  better-for-you snacking is a cinch!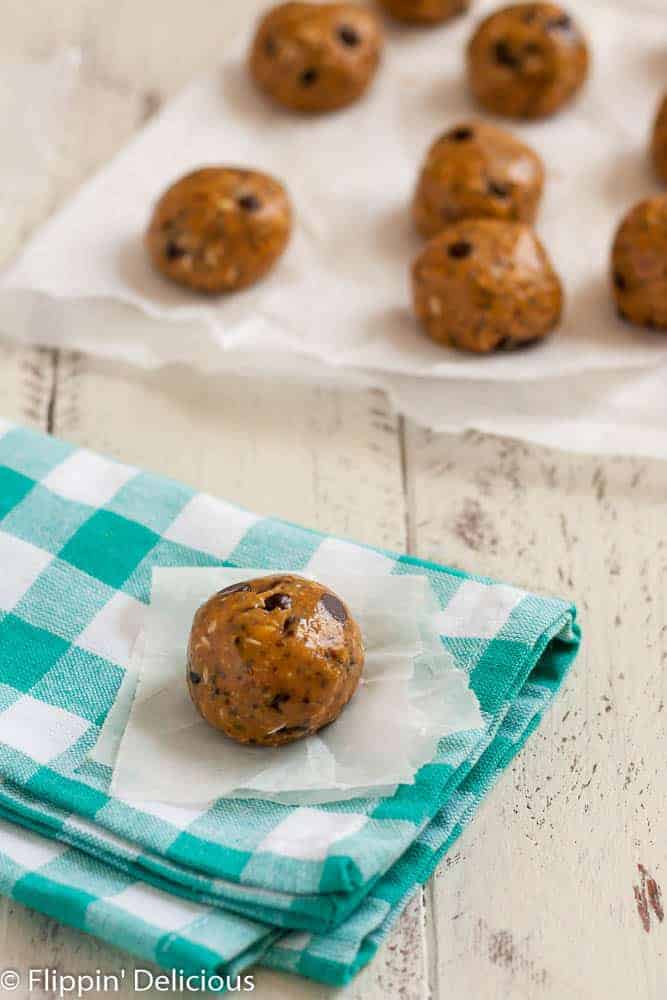 As I have mentioned on my blog before, when my daughter first started preschool I had NO IDEA what to pack for her snack. I only had to pack her a snack, not a full lunch. As simple as that sounds my mind was blank. I couldn't think of a single thing for her to bring to school!
Since the school year is drawing to a close I felt like I had snacks down to a science. And then I watched my niece and nephew for spring break and I felt like I was starting over at square one. I was used to packing a small snack for my 3 year old or tossing a handful of cereal to my toddler. My niece and nephew are older and have much larger appetites! After the first day they spent with me I quickly discovered I needed to up my snack game.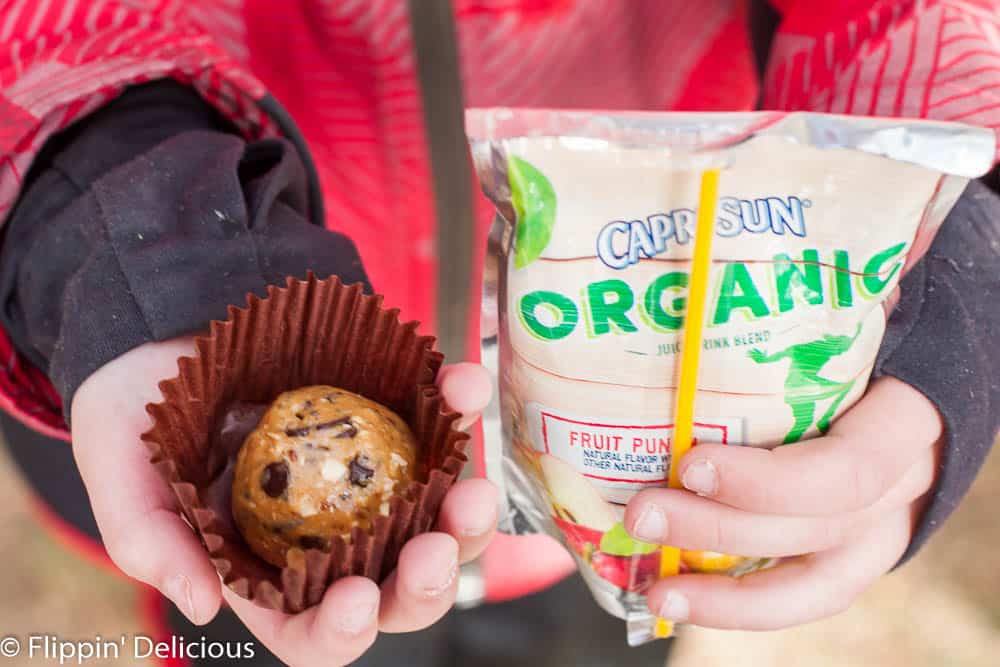 To satiate their hunger I recreated one of my favorite childhood snacks and also got some Capri Sun Organic for all the kids to drink.
One of my favorite snacks when I was a kid was peanut butter balls. I remember making them with my mom, and then by myself. They were really easy to make. I just mixed equal parts peanut butter, honey, and powdered non-fat dry milk and then rolled the mixture into balls.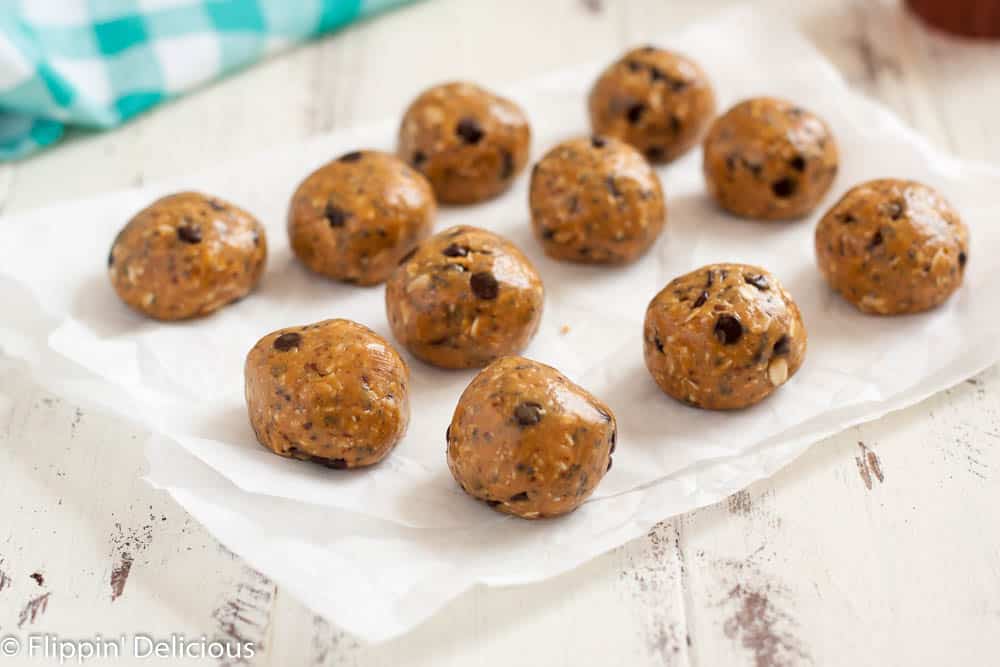 Right now my toddler can't have dairy, but I still crave the flavor of the peanut butter balls I had when I was a kid.  I wanted to re-make my favorite childhood treat but with better-for-us ingredients, and that inspired these peanut butter chocolate chip energy bites. They are full of real ingredients like gluten free oats for some fiber, chai or flax seeds for some omega 3s, and honey so that there are no refined sugars. And of course some mini chocolate chips, because chocolate makes everything better. All of the kiddos enjoyed the peanut butter chocolate chip energy bites, and had no idea that I had snuck in some good stuff.
When paired with peanut butter chocolate chip energy bites, Capri Sun Organic makes a perfect snack for an afternoon playing outside. It is sweetened with only fruit juice so there is no added sugar AND it is certified USDA organic.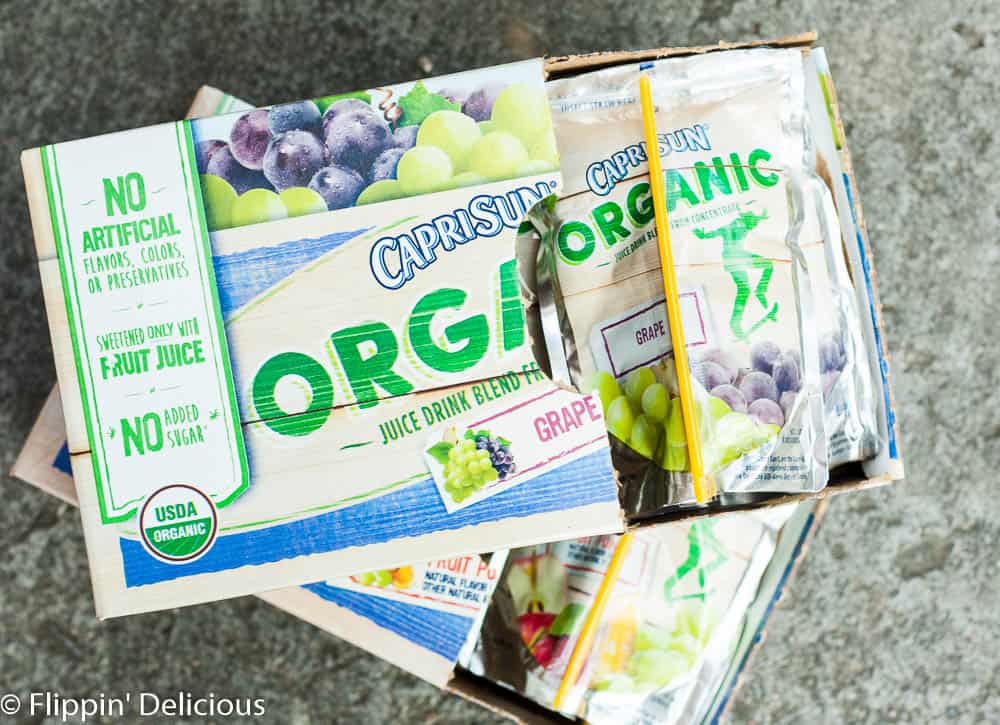 Each juice drink pouch has 1 serving of fruit – each pouch provides 1/2 cup fruit juice which is one serving of fruit according to the U.S. Dietary Guidelines. –  100% of the recommended daily value of vitamin C,  and there are also no artificial flavors, colors, or preservatives.  Capri Sun Organic comes in several different flavors, but we tried the Fruit Punch and Grape juice drinks.
Having good snacks handy is important not only for my kids, but for me too! If I have healthy snacks handy I am less likely to bake a pan of brownies and eat too many. I am trying to make better choices in what I eat and what I feed my kids and I have found that Capri Sun Organic fits perfectly into our lifestyle.
Yield: 12 Bites
Peanut Butter Chocolate Energy Bites
Prep Time: 15 minutes

Total Time: 15 minutes

These Peanut Butter Chocolate Chip Energy Bites have all of the flavors of my favorite childhood snack and are filled with good things like gluten free oats, chia seeds, and flax seeds.
Ingredients
1/2 cup natural no-stir peanut butter
1/4 cup honey
1/2 cup gluten free quick oats
2 tablespoons chia seeds or ground flax seeds (I used 1 tablespoon of each)
1/4 cup dairy free mini chocolate chips
Instructions
In a bowl mix together the peanut butter and honey.
Add the rest of the ingredients and mix until evenly combined.
Scoop into 1 1/2 Tablespoon portions (I used my medium cookie scoop) and roll into balls.
Chill until snacking. (I keep mine in the freezer because my favorite way to eat PB balls as a kid was partially frozen.)
Notes
If you can't find gluten free quick oats just pulse gluten free old fashioned oats in your food processor or blender for about 10 seconds.

Be sure to use purity protocol gluten free oats. Not all oats, even ones that are labeled gluten-free are actually safe for those with celiac disease.
Recommended Products
As an Amazon Associate and member of other affiliate programs, I earn from qualifying purchases.
Nutrition Information:
Yield:
12
Serving Size:
1

Amount Per Serving:

Calories: 191 Total Fat: 13g Saturated Fat: 3g Trans Fat: 0g Unsaturated Fat: 8g Cholesterol: 0mg Sodium: 111mg Carbohydrates: 16g Fiber: 3g Sugar: 9g Protein: 6g

All nutrition info is a guestimate and will vary depending on the ingredients you use.



I was selected for this opportunity as a member of Clever Girls and the content and opinions expressed here are all my own.