Eat Gluten Free on Mission Beach in San Deigo California. Where to stay, gluten free restaurants in mission beach, and tips for traveling with celiac.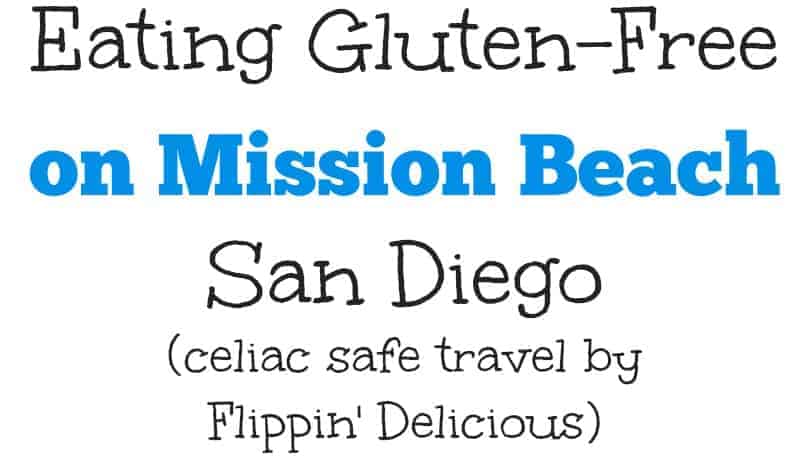 Now that our "baby" isn't really a baby anymore, we wanted to start taking more frequent family vacations! I plan to share more gluten free travel posts here on Flippin' Delicious as we start trotting the globe!
Traveling when you have celiac or food allergies can be a challenge, so I wanted to share all of the yummy eats I found with you!
I had never seen the Pacific Ocean before, or been to California so San Diego was our first trip!
Where to stay in Mission Beach, San Diego, California?
I think the best decision we made we finding a spot on Airbnb. We found an Airbnb on Mission Beach that cost less than staying in a Best Western or other bargain hotel further inland. And we were just 49 steps away from the beach! Pretty amazing! (If you use my Airbnb referal code we both get $30 credit for our next stay!)
It was right on Mission Blvd, had a little bedroom, living area, and a kitchen.
Celiac Travel Tip, stay somewhere with a kitchen so you can make your own food!
The kitchen was the big attraction for me! Since we were driving I filled my minivan up with gluten free bread and snacks (and basically everything that we wanted to eat that was shelf stable, including some rum!) When we unloaded and parked our van we walked 1/2 mile up Mission Blvd to the Kroger and bought hot dogs, avocados, almond milk, and a few other perishables.
I brought some cereal for my hubby and kids, and Udi's Granola and Kinnikinnick's new gluten free glazed yeast donuts (they had sent them to me to try the week before) for me. We ate breakfast in our Airbnb almost every morning, which saved us a TON of money. Plus my kids and hubby just like cereal.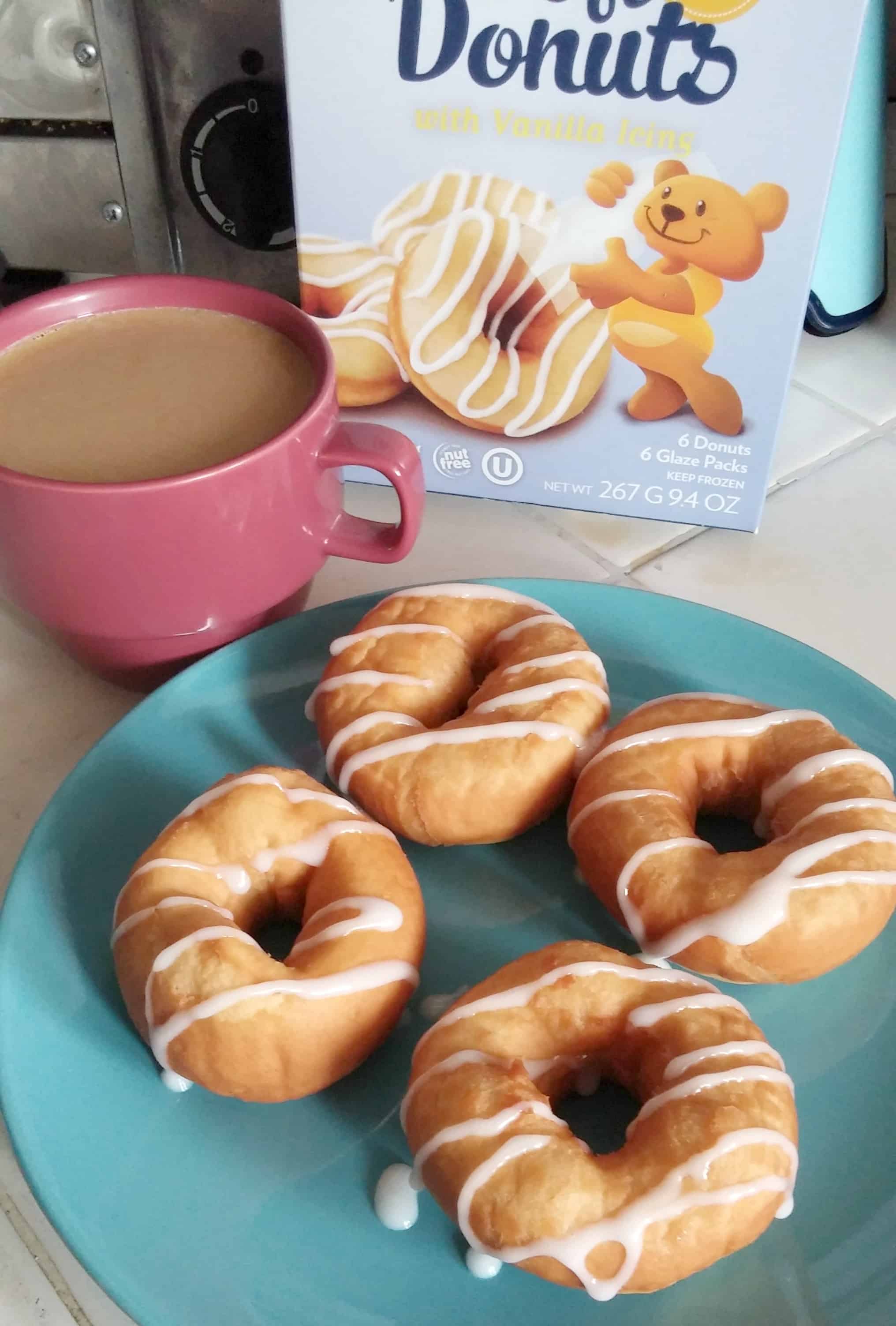 Before I start I just want to remind you to always dine smart. Ask questions about how your food will be prepared and only eat if you feel like you can do so safely. Just because I dined safely doesn't mean that you will have the same experience. Just because a restaurant has a gluten free menu doesn't mean that they know their stuff or that their prep areas are celiac safe. Always dine with caution.
Now on to all of the gluten free finds along Mission Blvd….
Gluten Free Restaurants in Mission Beach, San Diego California
One day we rented bikes and a trailer and rode all the way up and down Mission Beach. Our tummies were rumbling when we rolled into Belmont Park. We stopped at Coaster Bar and Grill for lunch.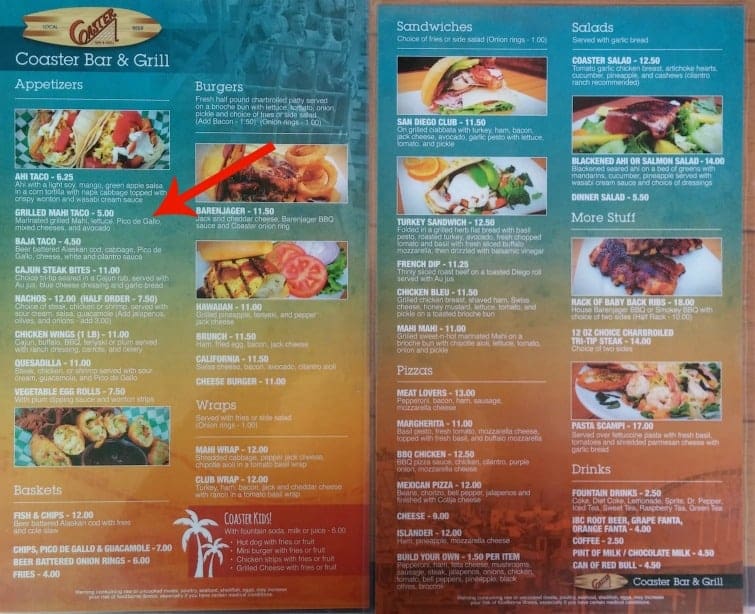 After consulting with the server I ordered some grilled Mahi fish tacos. The fish was marinated in hot sauce and orange juice and they served them on corn tortillas with lettuce, avocado, and fresh pico de gallo. (I asked all the questions and had them make a few changes so that I felt confident eating them.)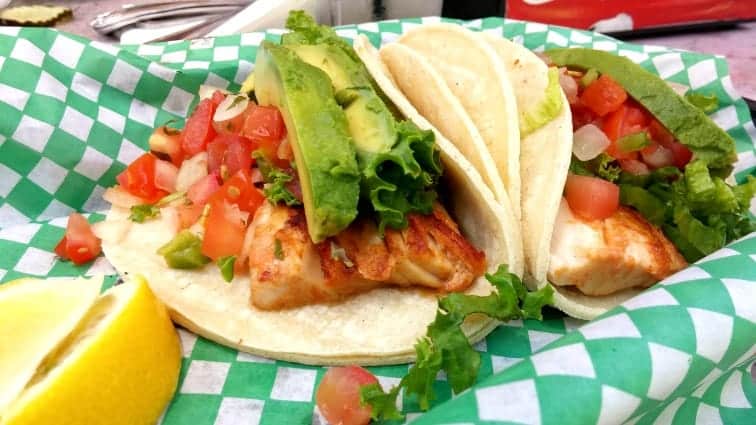 They were so good, I devoured them in seconds. I might have also been hungry from all of the biking.

While we didn't order any drinks, they had some great gluten free friendly drink options on their menu.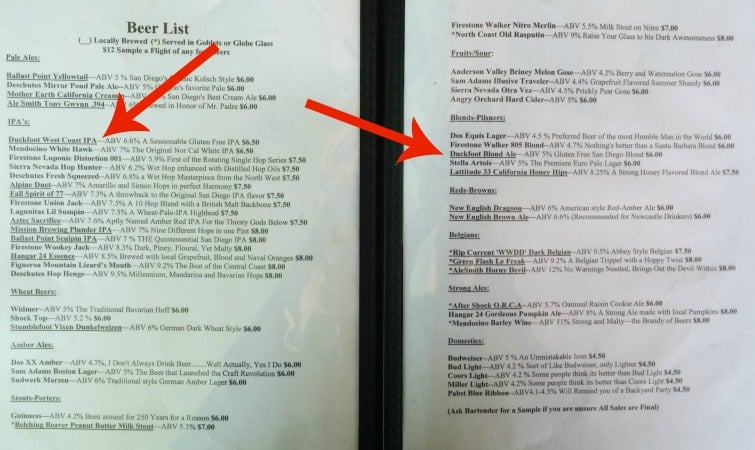 The next day we went to Sea World.
We had a blast seeing all of the animals and we even got to touch a dolphin because Miss E was being cute. A trainer overheard her calling to the dolphins and saying "I love you dolphins!" while doing the I love you sign in ASL. So we got to go back and feed and meet a dolphin. Cute kids pay off! Anyways in true toddler style she was completely disinterested in the dolphin once we were back there. She kept on yelling "I want to touch a fish!" At least she smiled for the picture.
The highlight for her was meeting a mermaid. Just a girl in a mermaid tail and a blue wig. So typical!
We packed our own lunch at the suggestion of my gluten free friends who had been to Sea World before. I think there were some gluten free snack/sandwich options but I didn't look into them because we had a bag full of PB & Honey sandwiches on Canyon Bakehouse's 7 Grain Bread and some Chewy Mixed Berry Bars from Enjoy Life Foods. I packed it all in my favorite lunch bag, Packit! You freeze the bag which has ice packs sewn in and it will keep your food chilled for up to 10 hours!
The next day (and our final full day on Mission Beach) we went out for brunch at The Mission. I had heard that they had some amazing gluten free rosemary bread, and it didn't disappoint!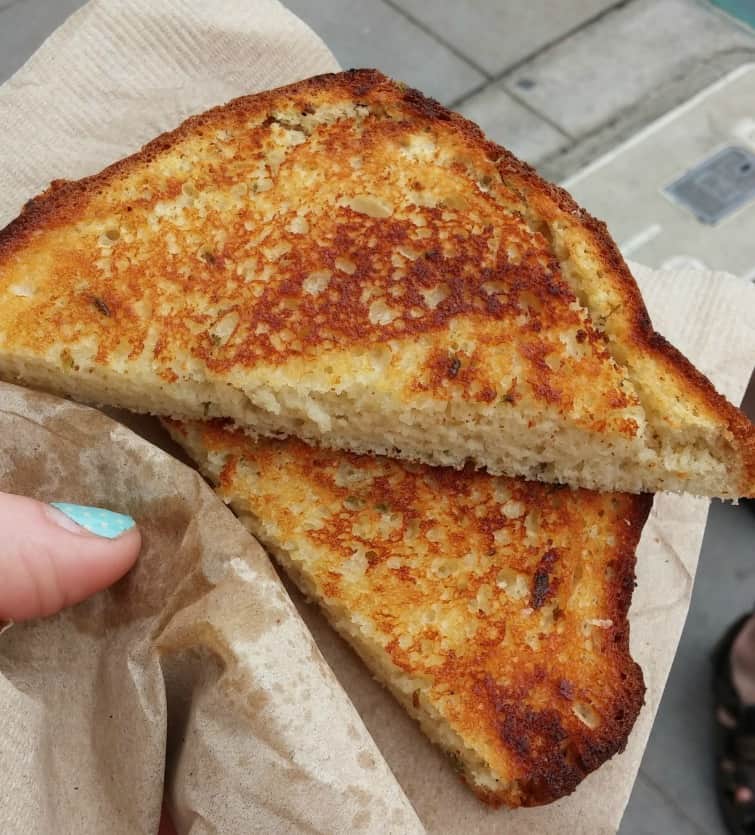 The bread is made offsite in their own bakery.
Before you get too excited, the GF french toast is dipped in the same batter as the regular french toast. A prime example of why you should always ask questions about the preparation of food even if you are ordering off of a gluten free menu.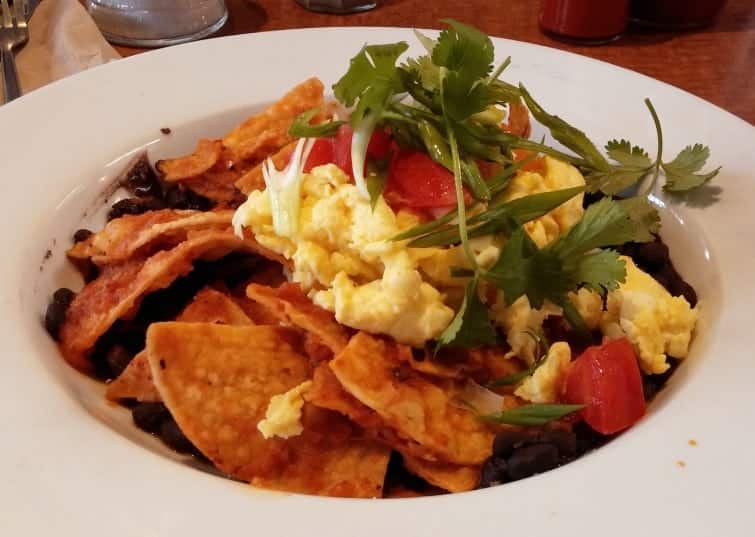 I got the Mission Chilaquiles (I checked that the chips were not fried in house).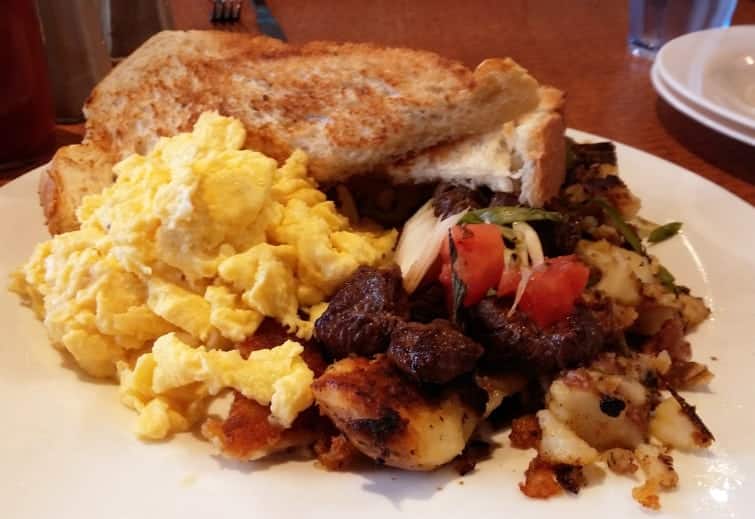 My hubby got the Hanger Steak Hash and Eggs (his bread is not gluten free, because the gluten free bread has dairy in it and he can't do dairy. So no sharing that morning!)
After brunch we went and played on the beach, and then in the afternoon I went up and down Mission Blvd looking for gluten free eats all by myself while the girls napped and my hubs played video games.
My first stop was Saskas Steak & Sushi because it was Sushi HAPPY HOUR!
I also tried my first ever raw oyster.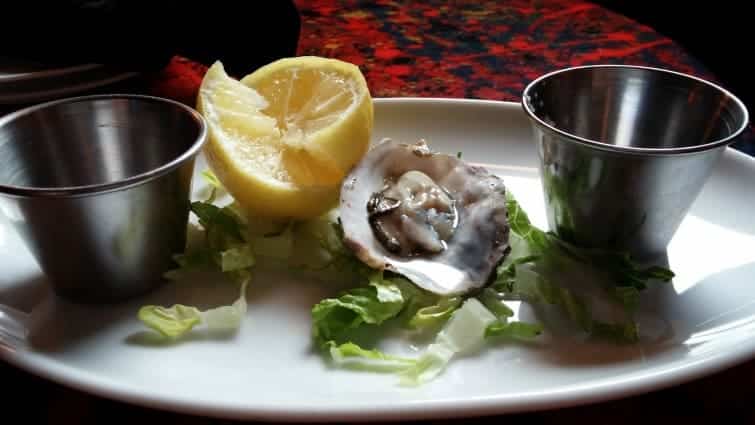 You can see all of their menus are clearly labeled for what items can be made gluten free. I love that!
My next stop, and I think my very favorite find of my entire tour….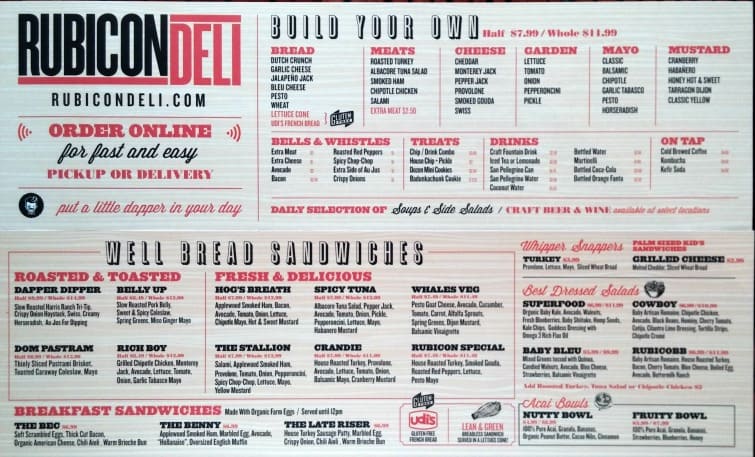 It is a gem!
They have an ingredient list behind the counter, just ask to see it. They can make any sandwich on Udi's gluten free french bread. I ordered "Hog's Breath" because…bacon! Also it didn't have any dairy or cheese on it.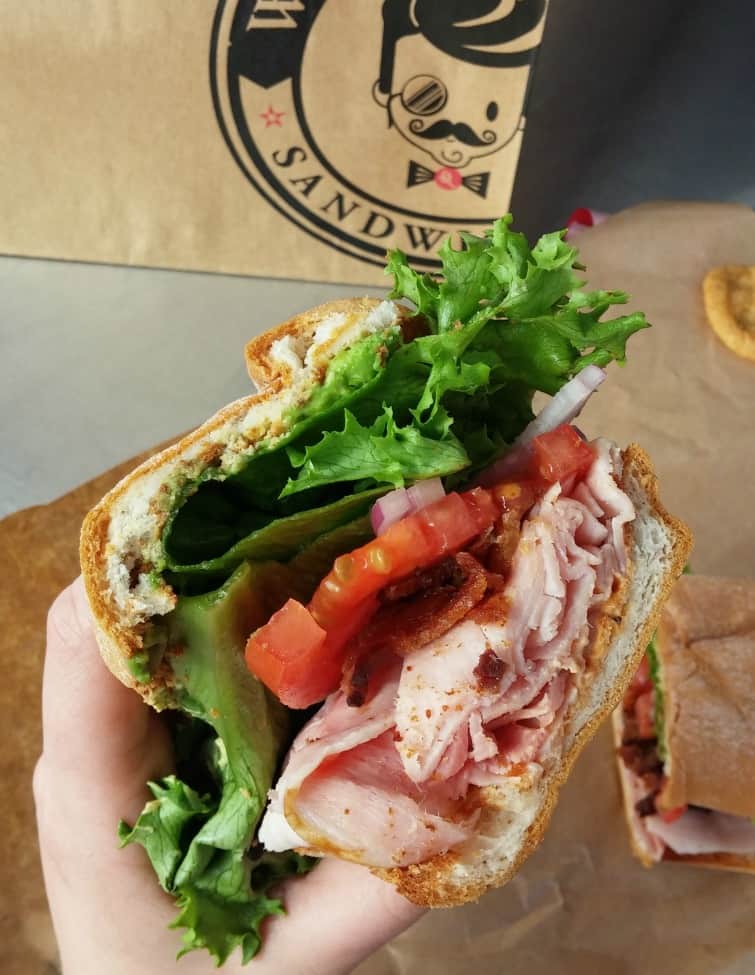 Instinctively the person helping me on the other side of the counter double checked and discovered that the mustard that normally came on my sandwich had gluten in it, so I swapped it out.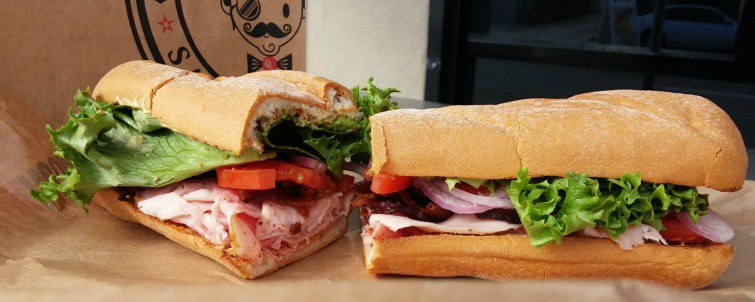 Just look at that sandwich! I brought it back to our Airbnb and it was dinner for our entire family!
And their best kept secret…. the mini cookies!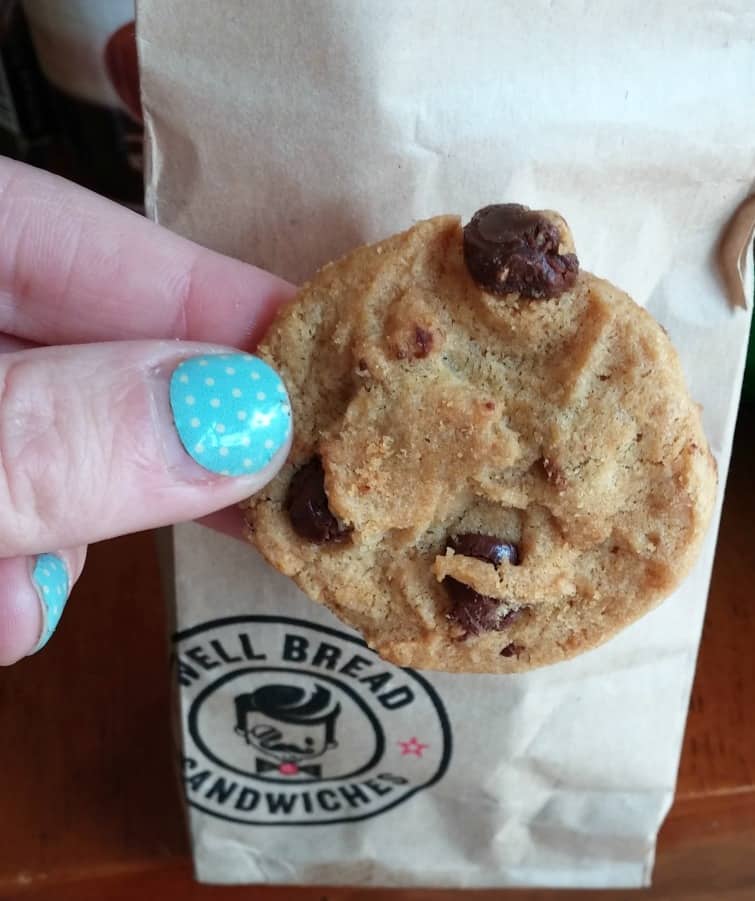 Every sandwich has a mini cookie wrapped in the paper. And you can buy a bag full of them too.
And they are all gluten free.
That is right, everyone who buys a sandwich at Rubicon Deli gets a gluten free mini cookie.
And they are the most perfect buttery chewy cookies. The chocolate chips were perfectly melty on the warm afternoon.
I didn't share my cookies!
(the cookies are all baked on parchment paper too to reduce cross contamination, though they do bake other cookies in their deli.)
My last stop on Mission Blvd itself… The little family owned Greek restaurant directly across the street, Arslan's Gyros. Sitting there reminded me of the family from my big fat Greek wedding and I loved every minute of it!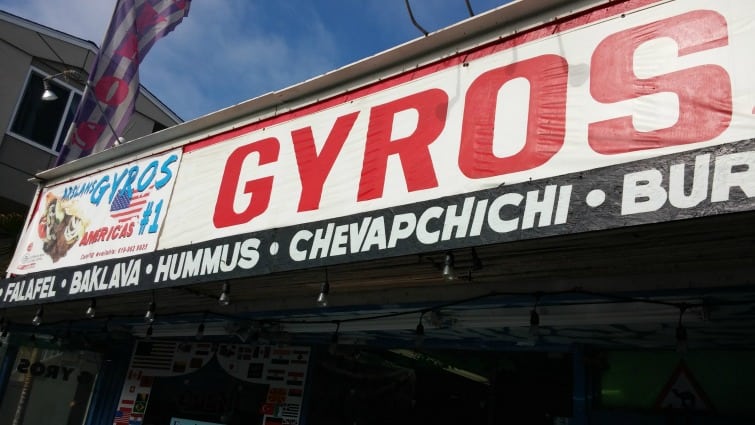 They told me that the falafel were the only thing fried in their fryer, and that they were gluten free. They also had a gluten free spinach pie!
Traditionally the spinach pie is made with layers of phyllo dough, but to keep it gluten free they skipped the phyllo dough and made it like an omelette. Fresh feta, spinach, and eggs. And every bite was a little bite of Greek heaven!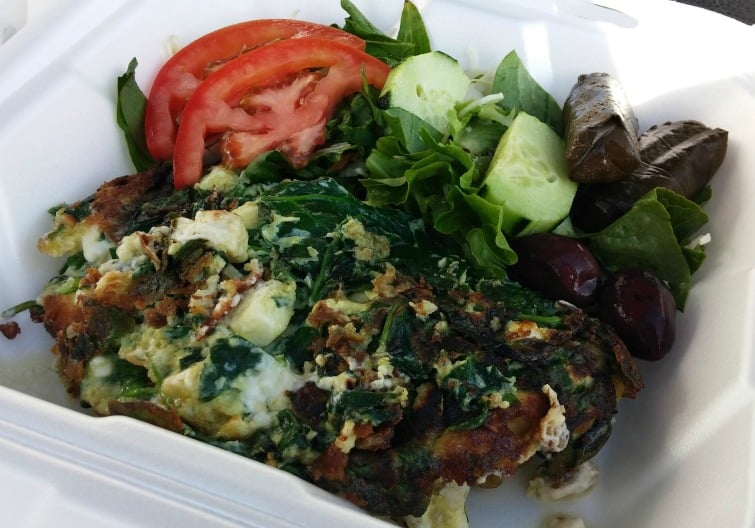 The next day we packed up to head home, but before we left San Diego we drove north to La Jolla and went to Trilogy Sanctuary.
The entire restaurant is gluten free and vegan, meaning we didn't have to worry about dairy or gluten cross contamination. That made it the perfect on our way out of town stop because no one wants to get sick on the road.
The restaurant is a part of a yoga facility, and was on the rooftop. So we got to sit on the rooftop, with views of the ocean, while people much more fit than us were doing yoga. And we ate crepes. And ordered dessert. At 9 in the morning. It was glorious!
I got the savory breakfast crepes with sweet potatoes.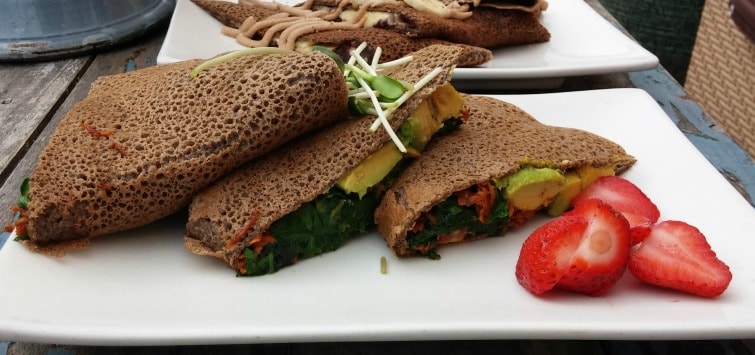 My hubs got the nutella crepes…no brainer.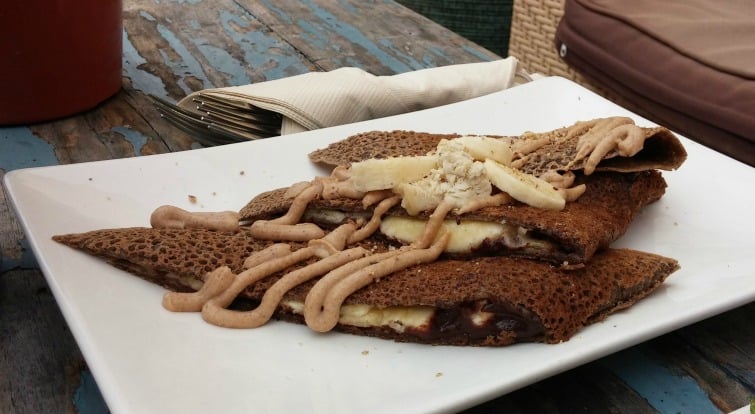 And my pb lovin kids got a kids pb crepe.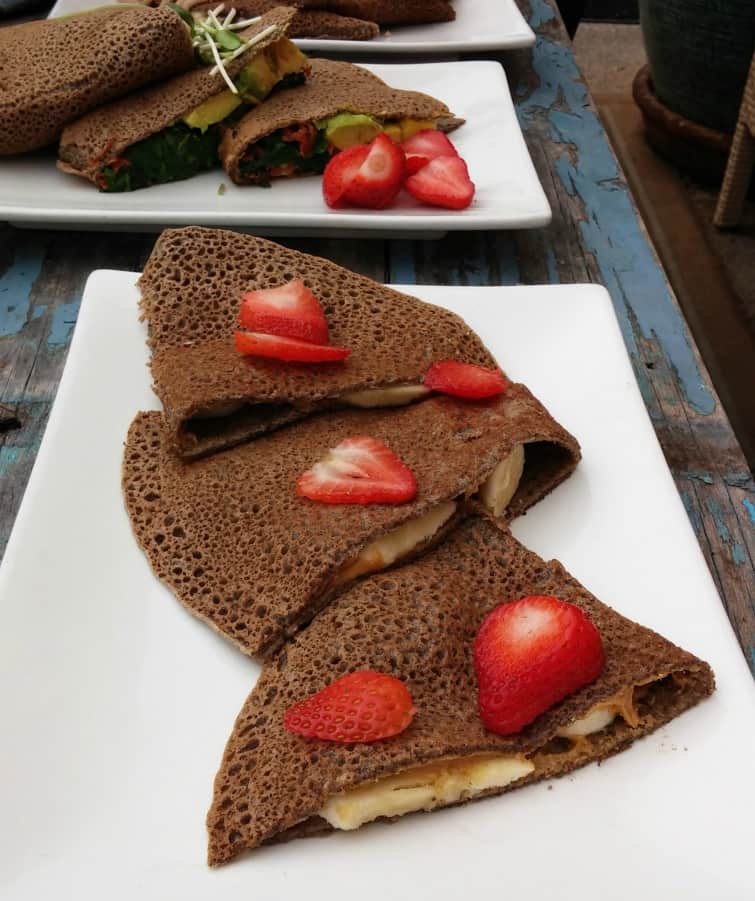 And then we shared "Decadence" a 3 layer chocolate mousse cup with fresh strawberries. It was absolutely divine! (and decadent… hehe)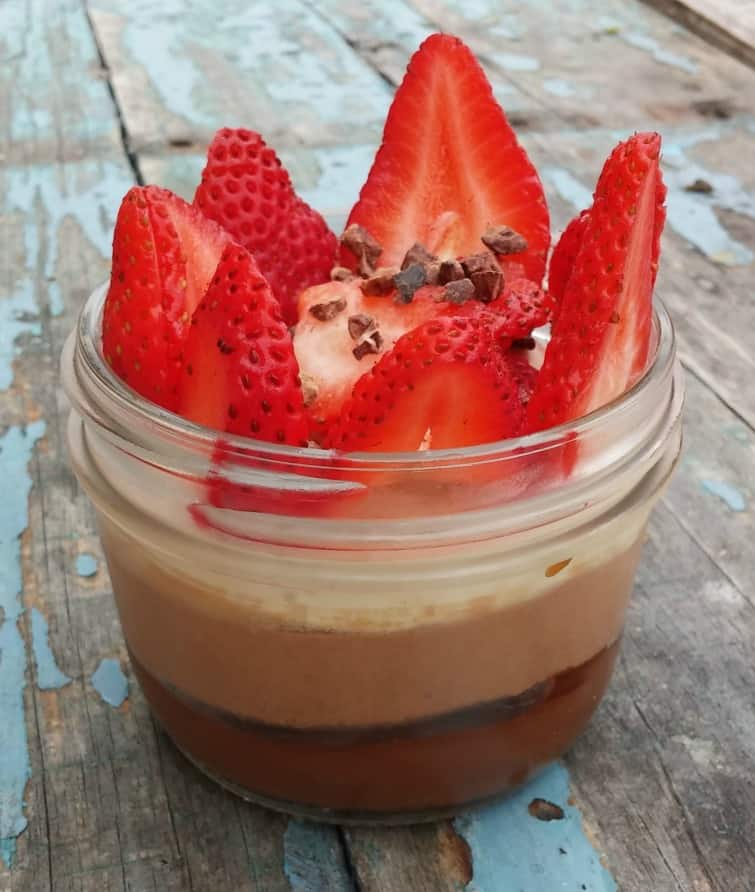 and a chocolate chip cookie from their bakery case.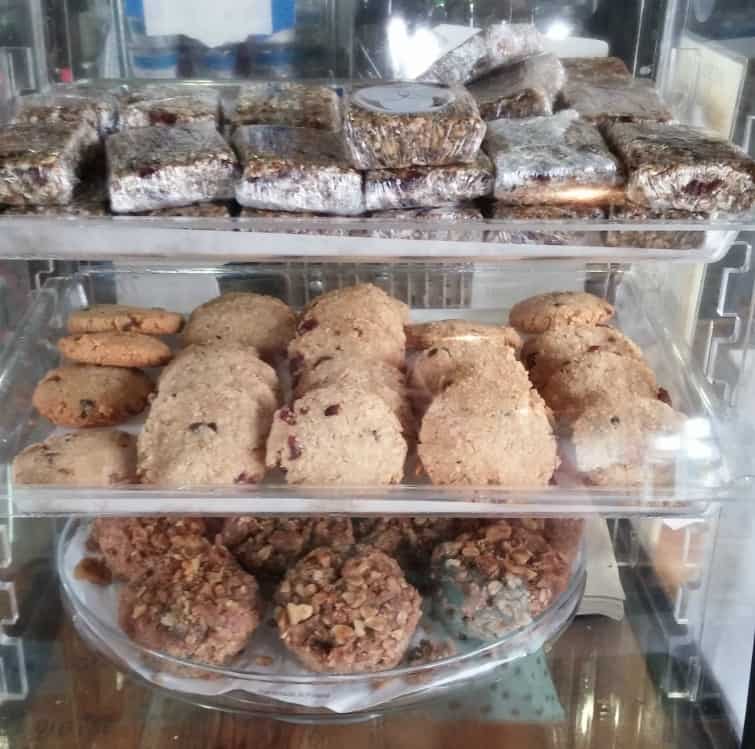 OMG everything was to die for. I am pretty sure that my hubby asked why we hadn't come sooner (because we didn't want to lose our parking spot.)
We left San Diego with happy full bellies.
And now I can't wait to go back!
I hope that my eats can help you to plan your next trip excursion and eat gluten free in San Diego and Mission Beach.
Do you have a favorite spot on Mission Beach that I missed? Comment below so I don't miss it next time!