Make your own Dairy Free Pumpkin Chai Bubble Tea, and sip it all fall! It is so easy to make yourself, and your wallet will thank you.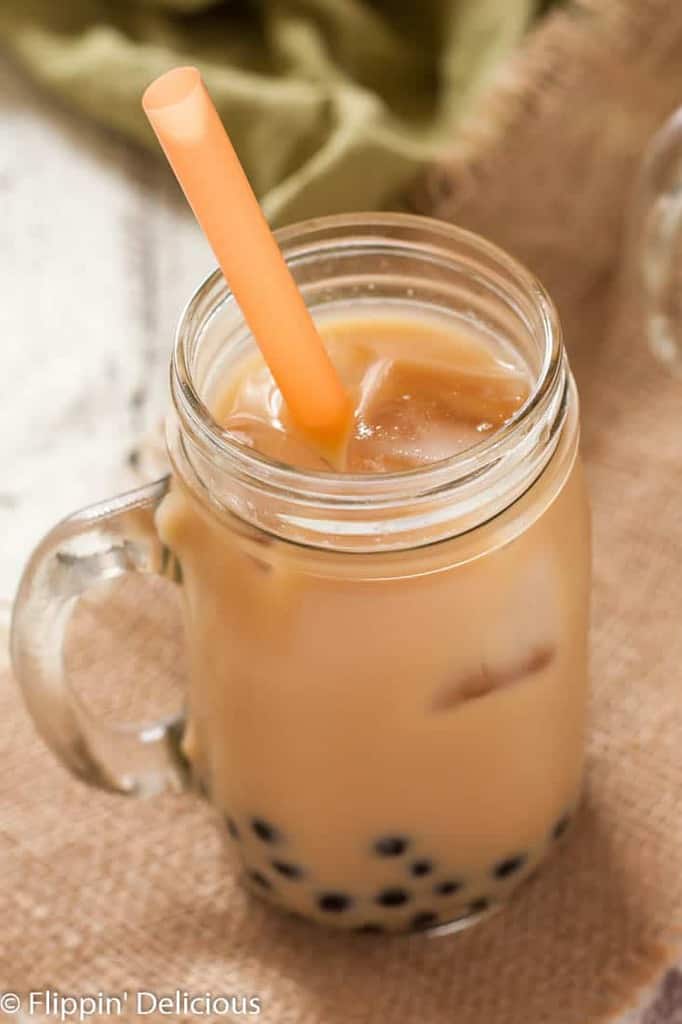 I am an ambassador for Rodelle, and they keep my pantry stocked with great products like their Pumpkin Spice Extract. As always, all opinions are entirely my own. I am an ambassador for Rodelle BECAUSE I love their products and so many of them are gluten free!
You've known that #pumpkineverything was coming, right? As the clock strikes 12AM on September 1st everything turns into pumpkin spice! I've got a few pumpkin recipes I've been working on, plus I already have favorites on Flippin' Delicious like my gluten free dairy free pumpkin swirl brownies and my gluten free pumpkin chocolate chip muffins.
I first had a bubble tea about a year ago. There is a bubble tea chain across the street from where we live and I was very excited to try it.
I had never had the black tea tapioca bubbles before (I had the fruit flavored pearls at fro-yo joints) and it was love at first sip. The tapioca pearls were chewy and sweet, suspended in a smooth black tea flavored with golden brown sugar. It was so fun sucking the tapioca boba bubbles up!
Since then I have been making my own bubble tea! I bought some black tea boba tapioca pearls on amazon so whenever the craving hits, I can make myself a little nap-time drink!
The boba tapioca pearls are really easy to prepare. You just boil them according to the package directions (mine take 5-10 minutes) and then drain most of the water off. Stir a little sugar in the tapioca bubbles until it is dissolved and then add them to your favorite brewed tea with sugar and milk to taste.
I have found that the tapioca bubbles don't store well, so I only cook what I plan to use that day.
When I first tried Rodelle's pumpkin spice extract I knew I had to add to to a bubble tea! (I have actually been adding it to almost everything that comes out of my kitchen. I'm going to have to get another bottle before fall is over!)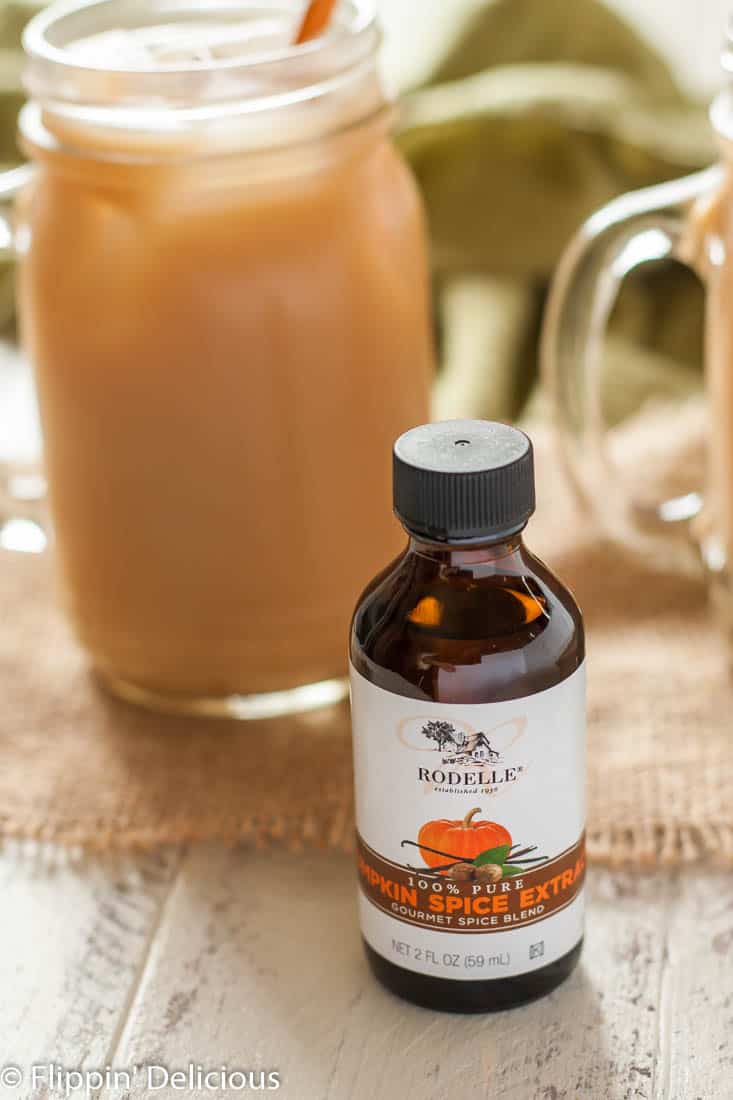 I mixed some dairy free milk with a little pumpkin puree (to really bring that pumpkin flavor home), Pumpkin Spice Extract, and some sugar (I actually used coconut sugar, but brown sugar would work too.) Then pour it into your tea…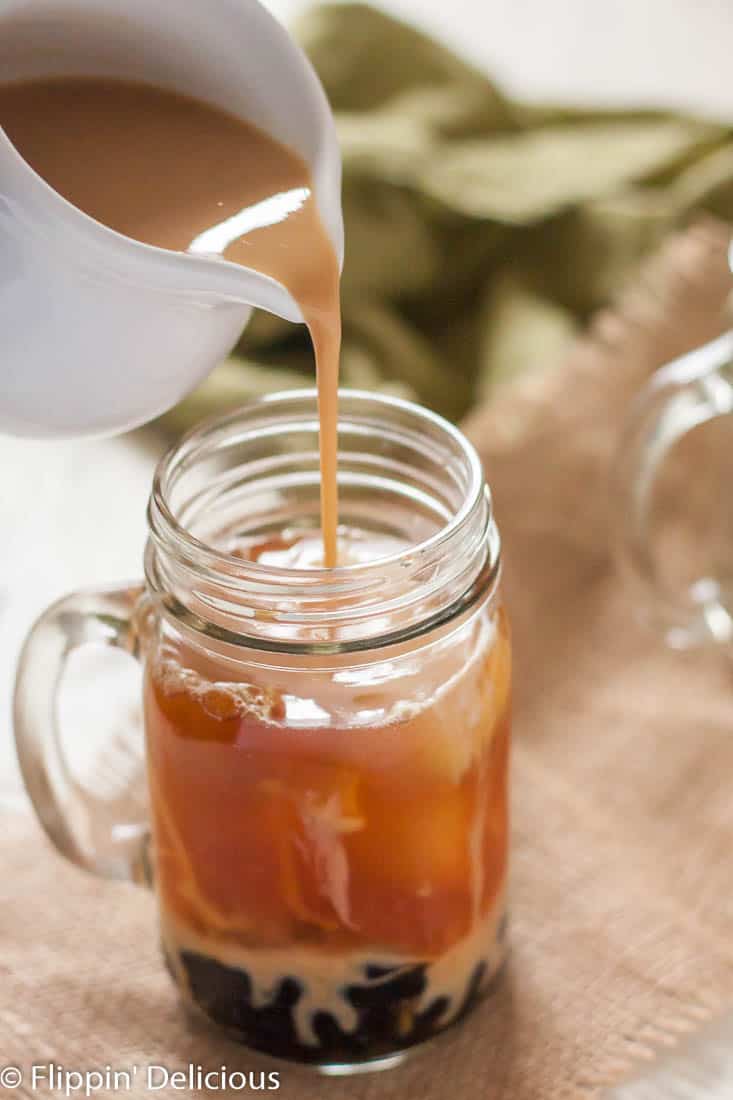 You could just mix it all with your tea, but I love watching the pumpkin spice creamer swirl through the chai and settle around the black tea boba bubbles.
You can still enjoy this pumpkin spice chai latte boba bubble free. It really just depends on my mood, and how thirsty I am. Sometimes I can't wait 10 minutes for my boba tapioca pearls to boil!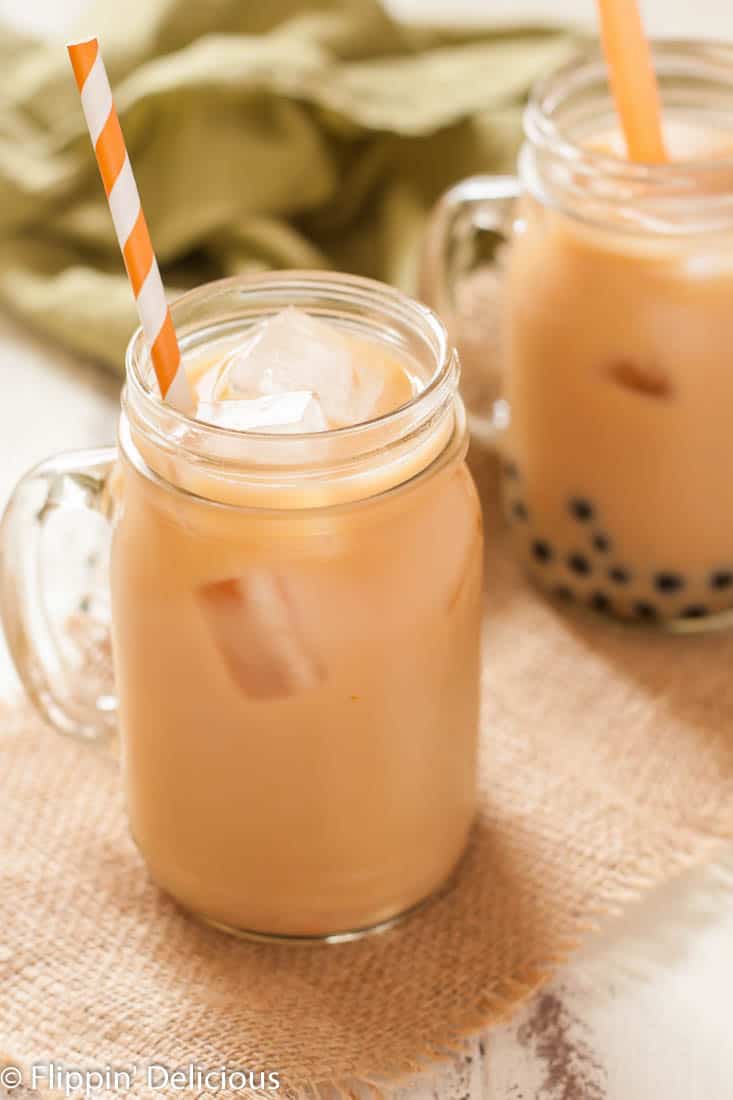 A note on tea: I have found a spicy Seattle chai at a local tea shop (Figments Tea Shoppe)  that I stop by far too frequently that I LOVE. You can order it from their website, or use your favorite. You really want a strong and spicy tea so that it can stand up to the pumpkin and milk. You still want to taste that chai!
I also love my chai lattes dirty, so I usually add a shot of espresso or a little cold brew coffee in with my tea.
If you haven't tried golden milk yet, make sure it is the next beverage trend on your list to try. I've been eyeing my friend Natalie from Perry's Plate's Chai-Spiced Golden Milk. The perfect antioxidant-packed drink to sip.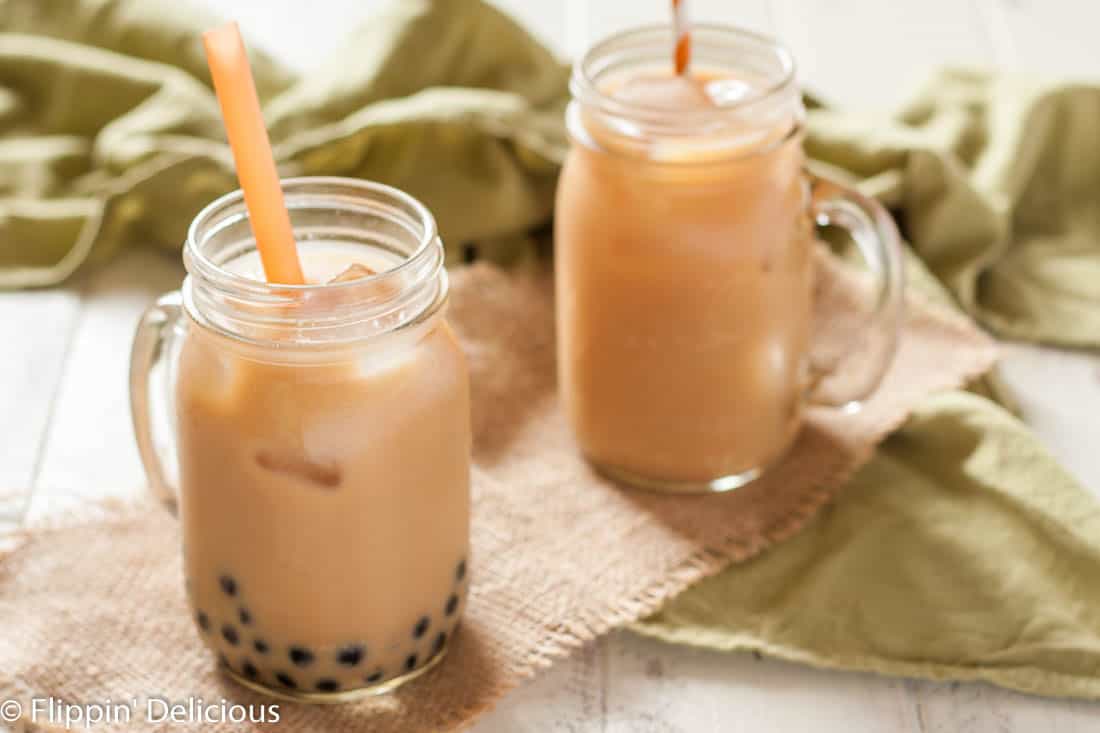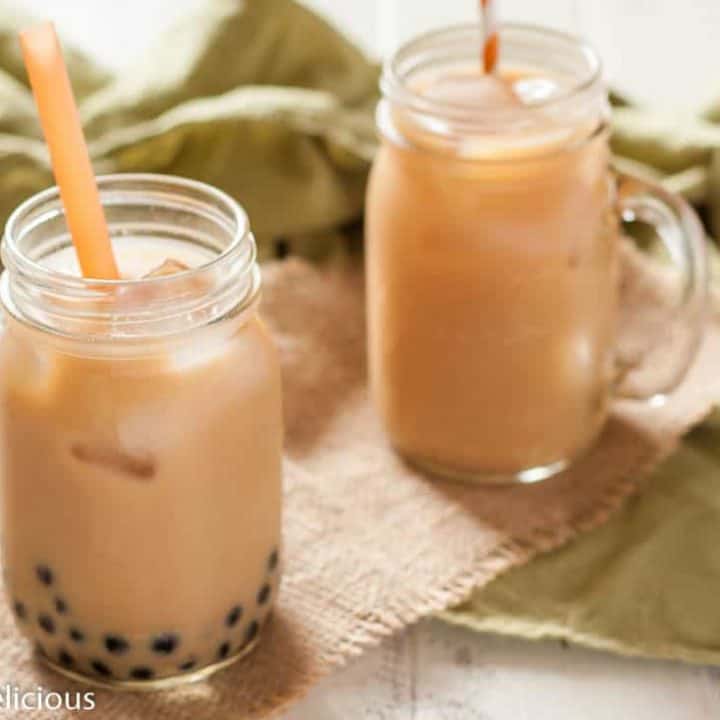 Dairy Free Pumpkin Chai Bubble Tea
Yield: 2 drinks

Prep Time: 20 minutes

Cook Time: 10 minutes

Total Time: 30 minutes

Make your own Dairy Free Pumpkin Chai Bubble Tea, and sip it all fall! It is so easy to make yourself, and your wallet will thank you.
Ingredients
Optional, shot of espresso or cold brew coffee
ice
For the dairy free pumpkin spice creamer:
⅔ cup your favorite dairy free milk
1 ½ tablespoons pumpkin puree (NOT pumpkin pie mix)
Instructions
Put a pan with several inches of water in it on the stove and bring it to a boil. Add the black tea boba tapioca pearls and simmer until the pearls are tender and chewy (5-10 minutes). Drain almost all of the water (I leave just less than ¼ cup, just enough for the pearls to sit in, not covering them) and stir in the coconut or brown sugar.
In a small pitcher or bowl mix together the milk, pumpkin puree, coconut sugar, and pumpkin spice extract.
Divide the tapioca boba pearls in their syrup between 2 glasses. Divide the cooled spicy chai tea between the glasses, coffee if using, and top with ice. Pour in the pumpkin spice creamer according to your preferences.
Stir, and enjoy.
Notes
Depending on your preferences and the size of your glass, you may have some extra dairy free pumpkin spice cream. Store it in an airtight container in the fridge for several days and add it to your coffee or whip up another chai latte!
Recommended Products
As an Amazon Associate and member of other affiliate programs, I earn from qualifying purchases.
Nutrition Information
Yield 2 Serving Size 1
Amount Per Serving Calories 672Total Fat 11gSaturated Fat 4gTrans Fat 0gUnsaturated Fat 5gCholesterol 28mgSodium 256mgCarbohydrates 136gFiber 3gSugar 29gProtein 8g

All nutrition info is a guestimate and will vary depending on the ingredients you use.