Gluten free peppermint brownies are decadent and festive. Dairy free mint candy cane frosting and chocolate ganache, these gluten free mint brownies , are easily made vegan too. Perfect for bringing to all your holiday parties!
Recipe and some photos updated 12/2019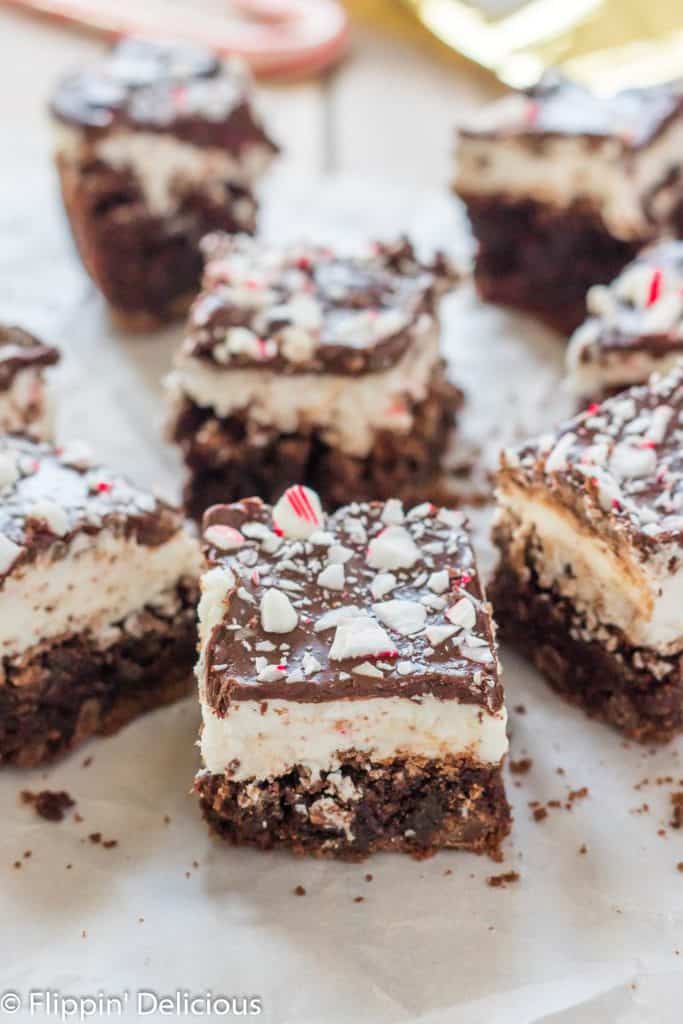 This post is sponsored by Vivian's Live Again, and uses Tree Street Grain's Gluten Free Dairy Free Brownie Mix. Thanks for supporting Flippin' Delicious™ and the companies that I work with!
I always look forward to the holiday season. I envision myself baking with my kids, frosting sugar cookies, and cuddling up reading books to them with a steaming mug of hot chocolate.
The reality of the holidays is far less romantic.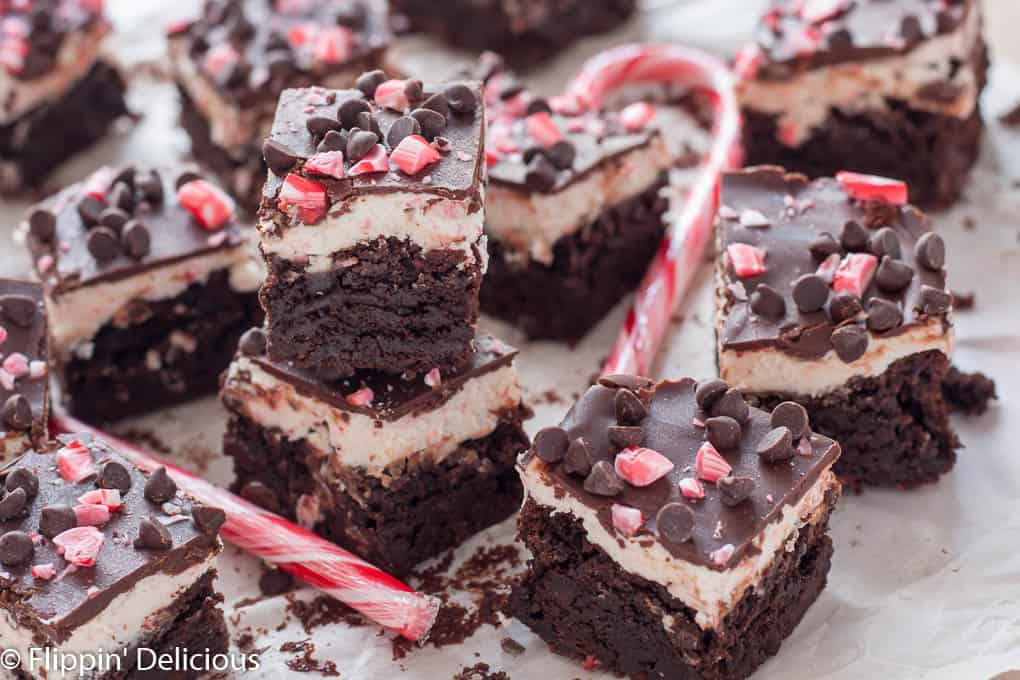 Things just get so busy that I don't have as much time as I would like to bake from scratch. Or to bake in general.
There are so many places to go, things to do, buying presents; and holiday parties with friends.
And SO MANY SCHOOL PARTIES!
As a family with multiple food allergies, I always HAVE to make something to bring to those holiday parties.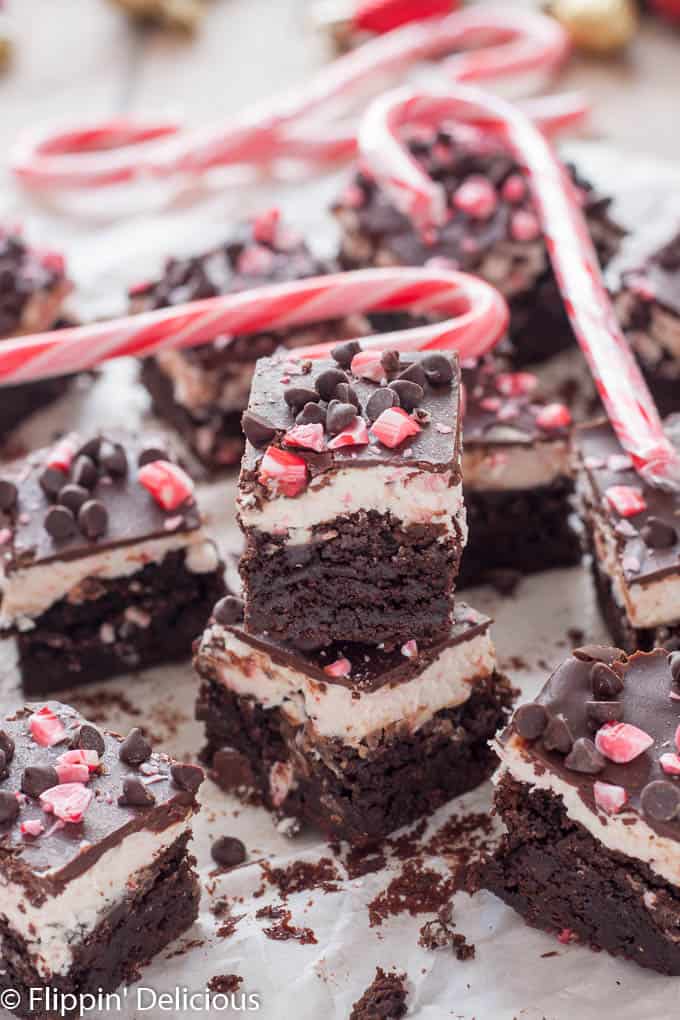 If I don't bring a safe dish for me and my family to enjoy, there might not be anything that we can eat.
Couple that with the aforementioned lack of time to bake... Not a good equation.
Gluten free brownie mix
Because the holidays can get so crazy I always make sure that my pantry is stocked with some gluten free mixes so I can make treats on short notice.
I really like Tree Street Grain's Gluten Free Brownie Mix! It is dairy free and gluten free, and makes perfectly fudgy brownies.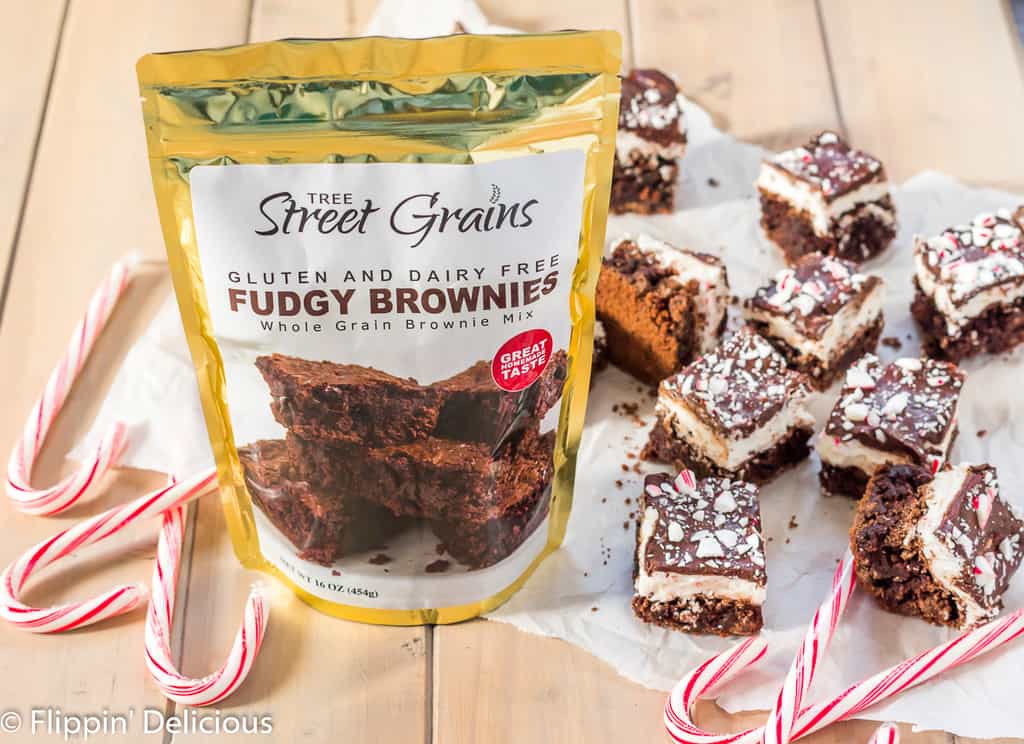 There is no need to doctor up the mix itself, (some gluten free mixes need more oil, or extra vanilla etc to make a good gluten free brownie, but none of that is necessary with this gluten free brownie mix!)
I do like adding candy canes and chocolate chips to mix to make them festive, but we also love eating these gluten free brownies plain!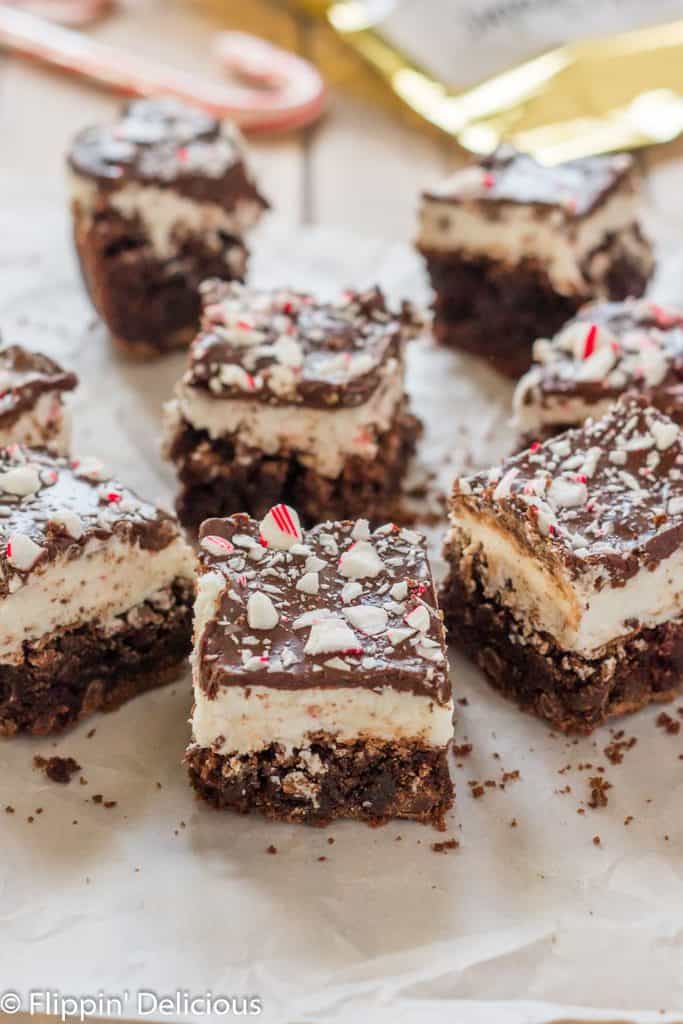 In fact, we did just that for a Halloween party. My 7 year old mixed up a Tree Street Grain's Gluten Free Brownie Mix and we put it in the oven, with just enough time for it to bake before we hopped in the car to go to a costume party.
We arrived at the party, and I placed the brownies on the dessert table and got caught up getting my girls settled, and chatting with friends.
I went back to get a brownie for myself, after chatting with several people who had one of my gluten free brownies on their plates who raved about them.
When I got there, there were only 2 brownies left! The entire pan disappeared because people were going back for seconds!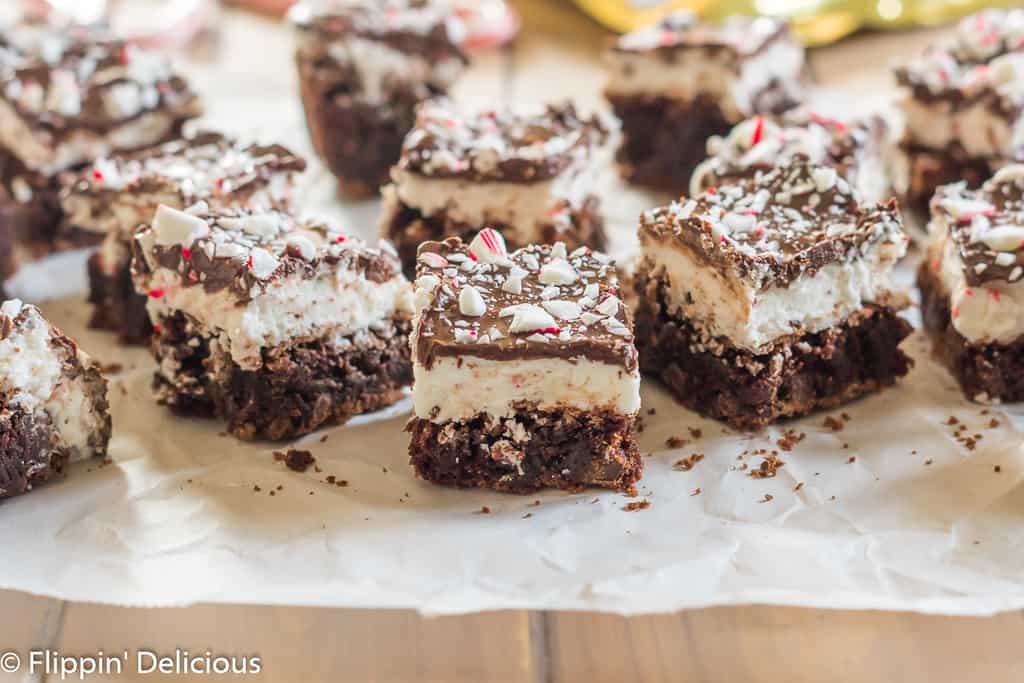 If that doesn't demonstrate how yummy this brownie mix is, the only thing that will is making them yourself.
How to make gluten free mint brownies using a mix?
You can make gluten free peppermint brownies by adding peppermint extract or candy canes to either the gluten free brownie batter, or by frosting gluten free brownies with a mint frosting.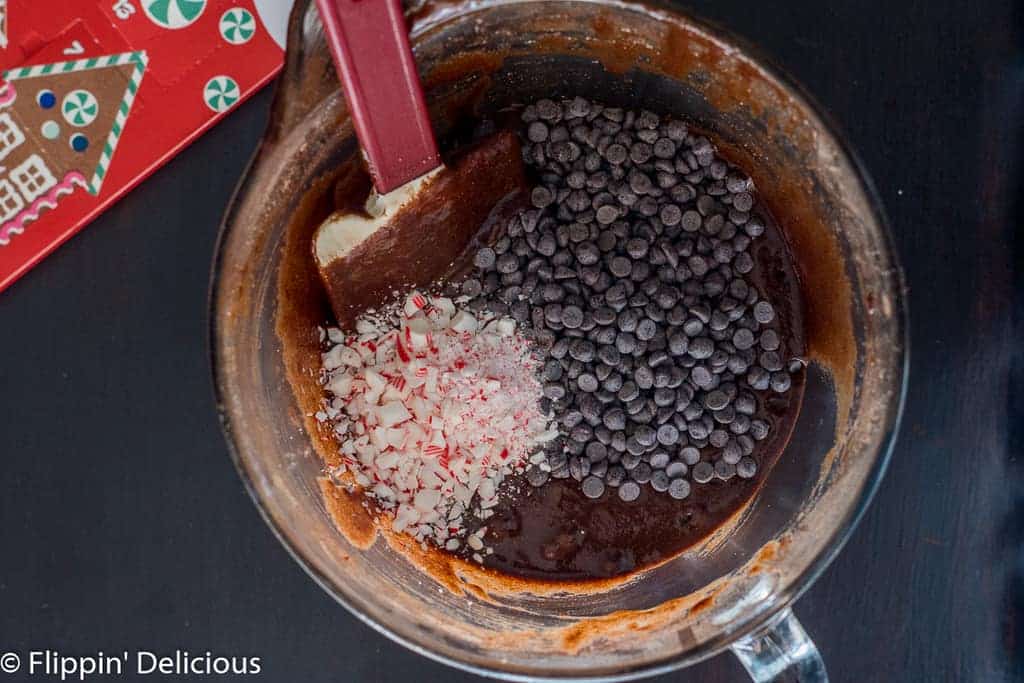 I made a candy cane peppermint frosting by mixing crushed candy canes into a fluffy frosting.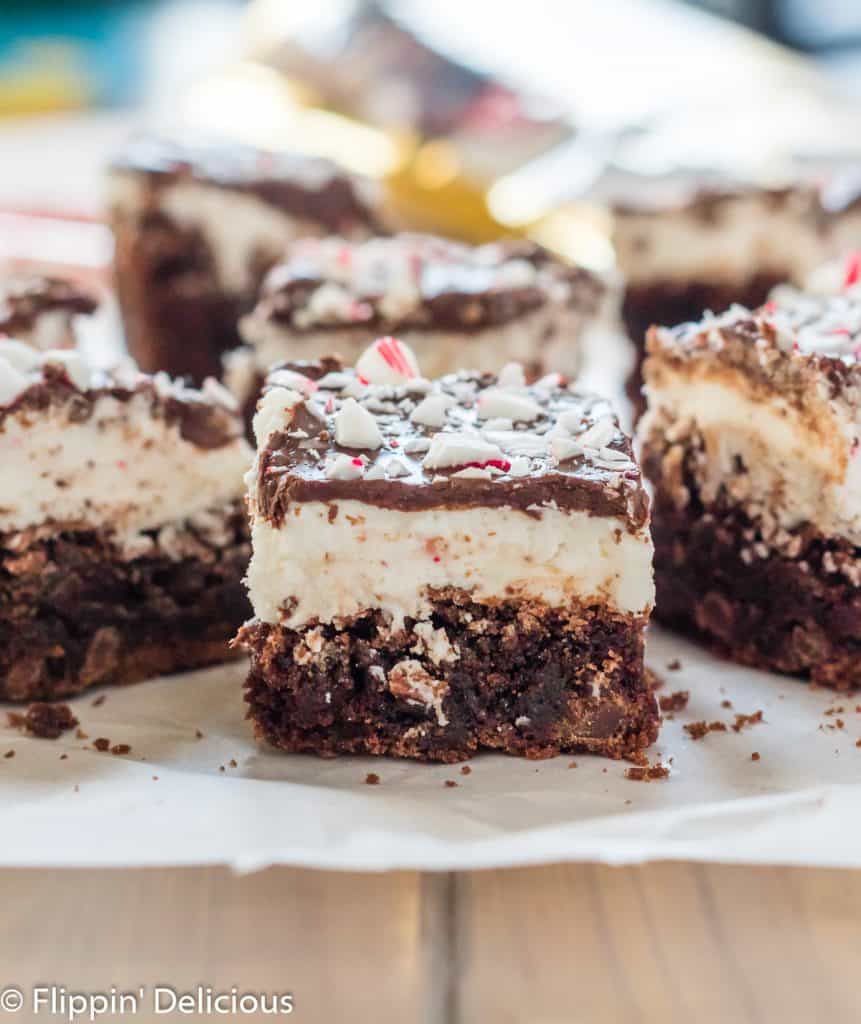 Of course, you can use your favorite gluten free brownie recipe, but using a gluten free brownie mix saves a lot of time!
One of my favorite holiday treats is peppermint brownies.
Fudgy brownies tops with a creamy mint frosting and then a layer of chocolate on the top. A family member makes them every year for a holiday caroling party, and they are the first thing to disappear.
Since I can no longer enjoy those favorite peppermint brownie treats, since I have to eat gluten-free and Miss T has to eat dairy-free, I made our own gluten free, allergy friendly version, AND I loaded them with candy canes. I like these gluten free peppermint brownies even better than the classic mint frosted brownies!
How to make gluten free peppermint brownies?
I mixed the Tree Street Grains brownie mix up following the directions on the package, and stirred in some crushed candy canes and chocolate chips before baking it.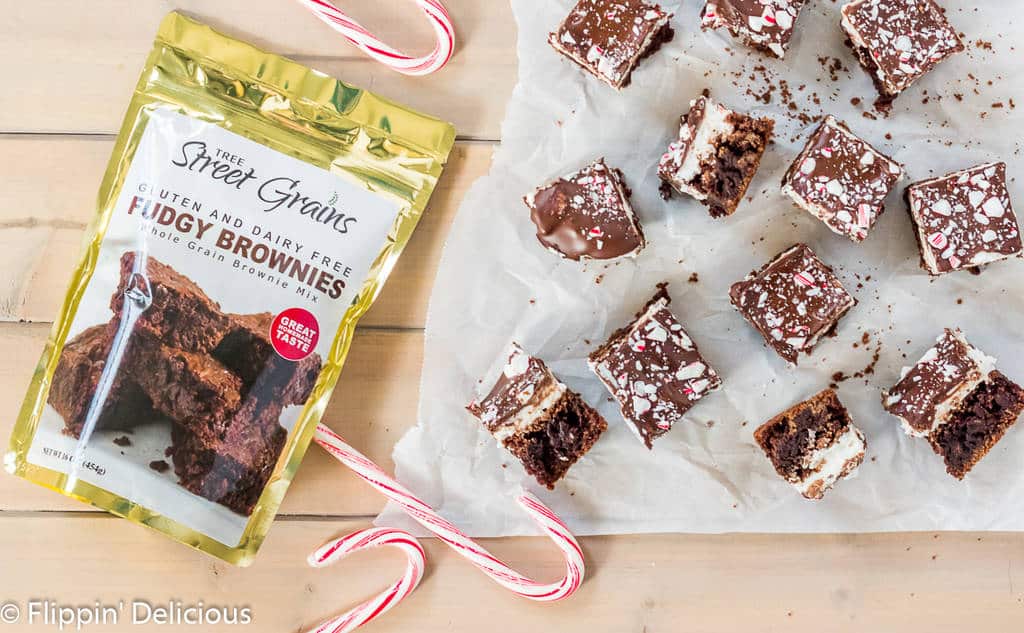 While my candy cane brownies bake, I whipped up a sweet and creamy candy cane frosting, which is really just plain vanilla frosting and more crushed candy canes.
After the brownies cooled, I frosted them with the candy cane frosting, and then spread them with a smooth glossy layer of melted vegan chocolate, and sprinkled it with some more crushed candy canes.
Be sure to let them cool before cutting, so the chocolate on top can set.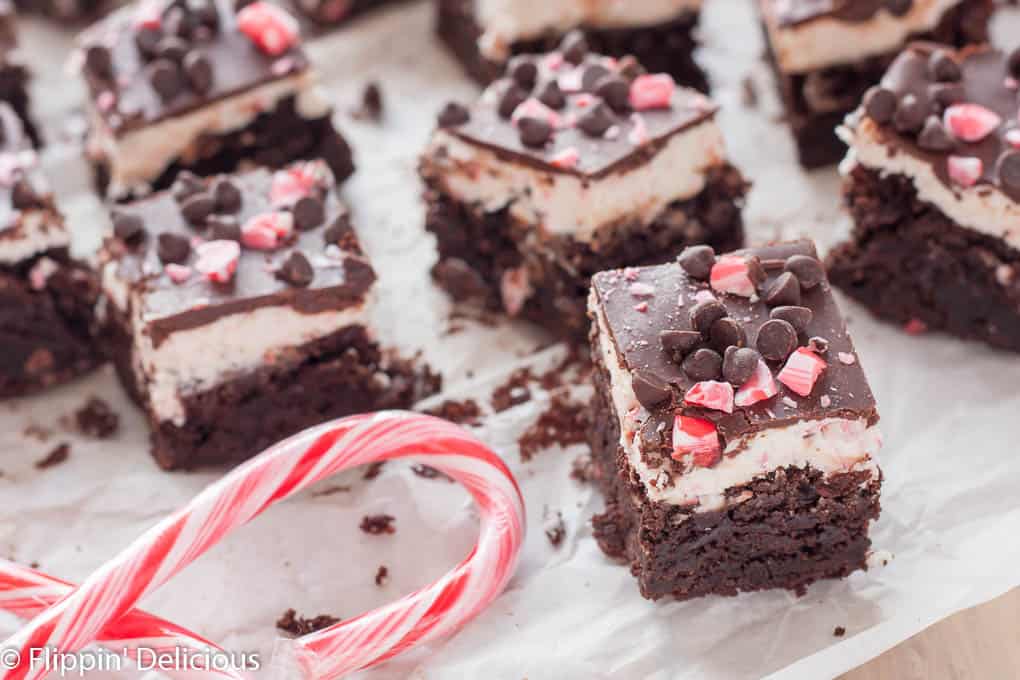 These are festive brownies that the entire family can enjoy!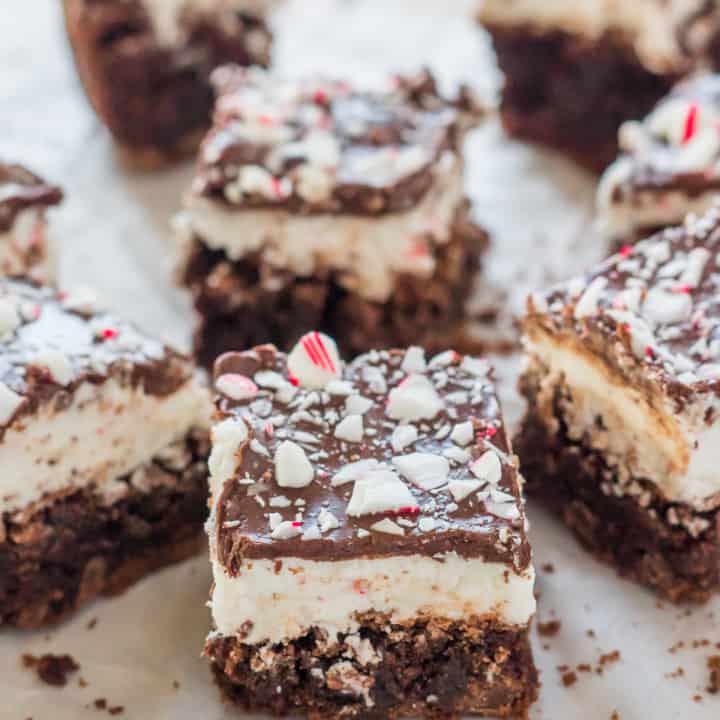 Gluten Free Peppermint Brownies
Yield:
16 2 inch brownies
Gluten free peppermint brownies are also dairy free and can be made vegan. There are candy canes in the brownies, in the frosting on top, and sprinkled on chop of a shiny layer of melted chocolate so these gluten free peppermint brownies are packed with flavor! The perfect festive treat that everyone can enjoy!
Ingredients
For the candy cane brownies
3 tablespoons crushed peppermint candy canes
½ cup dairy free chocolate chips
For the candy cane frosting
½ cup palm shortening
2 cups powdered sugar
1 teaspoon vanilla extract
3 tablespoons crushed peppermint candy canes
For the chocolate
¾ cup dairy free chocolate chips
1 tablespoon palm shortening
2-3 Tablespoons crushed peppermint candy canes
2-3 tablespoons vegan mini chocolate chips, optional
Instructions
Prepare gluten free dairy free brownie batter following the directions on the packaging.
Stir in the crushed candy canes and chocolate chips and bake according to the package directions.
Let cool completely before frosting
For the candy cane frosting
With electric beaters, whip the palm shortening until light and fluffy.
Add the powdered sugar and vanilla, beat at low speed until combined, and then whip for another 2-3 minutes. If the frosting is too thick you can add up to a tablespoon of dairy-free milk, a teaspoon at a time.
Stir in the crushed candy canes.
Spread over the top of the cooled brownies.
For the chocolate
Put the chocolate and palm shortening in a microwave safe bowl and heat in 30 second increments until melted and smooth.
Let cool to room temperature and then spread over the candy cane frosting.
Before it sets sprinkle with additional crushed candy canes and Mini Chocolate Chips.
Let cool completely and let the chocolate set before cutting into 2 inch squares.
Recommended Products
As an Amazon Associate and member of other affiliate programs, I earn from qualifying purchases.
Nutrition Information
Yield

16
Serving Size

1
Amount Per Serving
Calories

255
Total Fat

14g
Saturated Fat

8g
Trans Fat

0g
Unsaturated Fat

5g
Cholesterol

2mg
Sodium

21mg
Carbohydrates

35g
Fiber

1g
Sugar

28g
Protein

1g
All nutrition info is a guestimate and will vary depending on the ingredients you use.