Gluten Free Cookies and Cream Brownies are the ultimate indulgent way to celebrate Celiac Disease Awareness Month. They are Dairy-Free, Egg-Free, Vegan, and Top-8-Free too!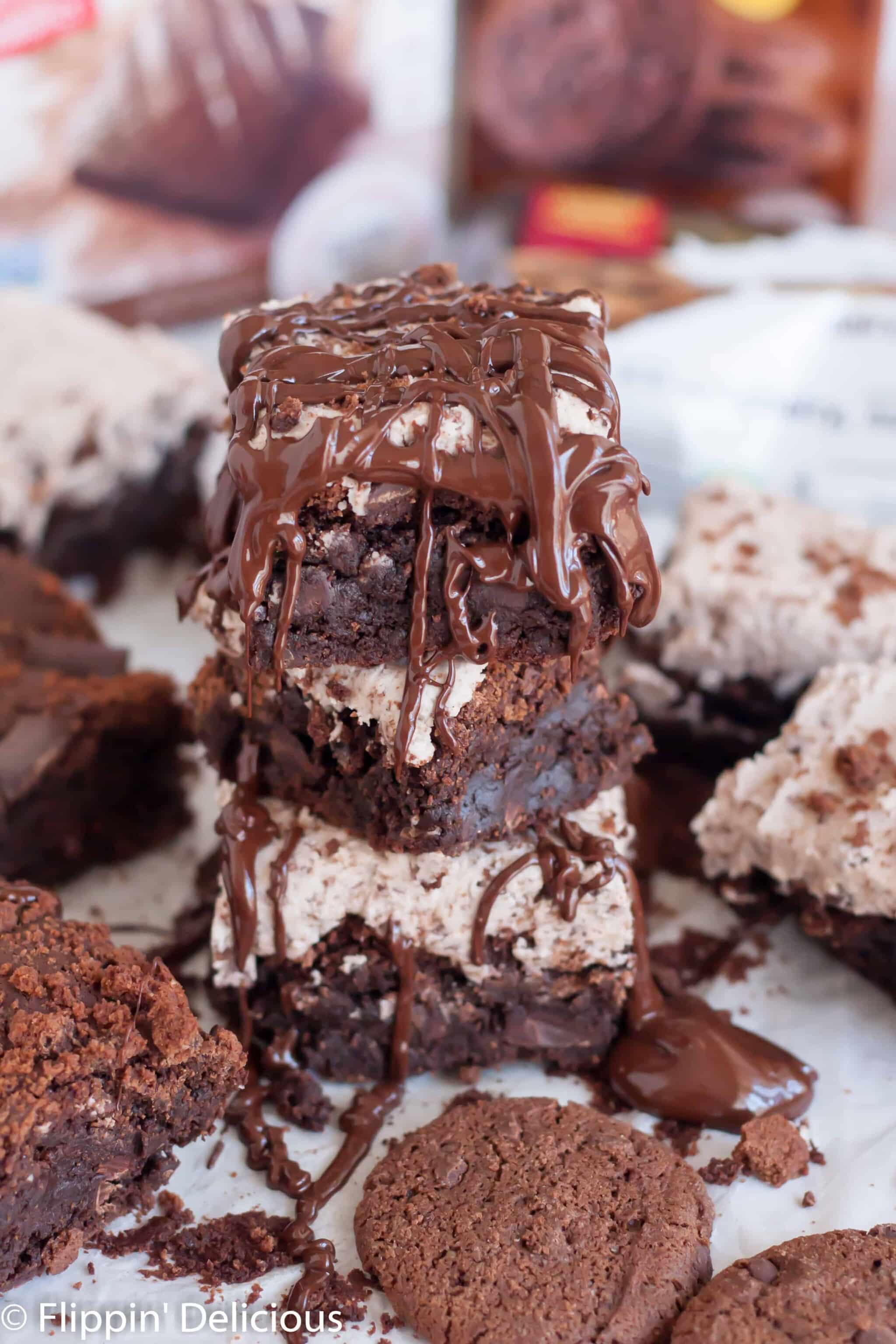 This post is sponsored by Enjoy Life Foods. All opinions are entirely my own. I am a pretty big fan of their products and company! Not only are all of their products gluten-free, but they are all free of the top 8 allergens (dairy, eggs, wheat, peanuts, soy, fish, shellfish, tree nuts) AND casein free, sesame-free and free of sulfites. Everyone is my entire family can enjoy Enjoy Life Food's products! (and I can never keep enough of their Plentils on hand to satisfy my hubby's cravings.) Thanks for supporting Flippin' Delicious™ and the companies that I work with!
Happy Celiac Awareness Month!
I thought there was no better way to start celiac disease awareness month than to share a recipe for rich and indulgent cookies and cream brownies.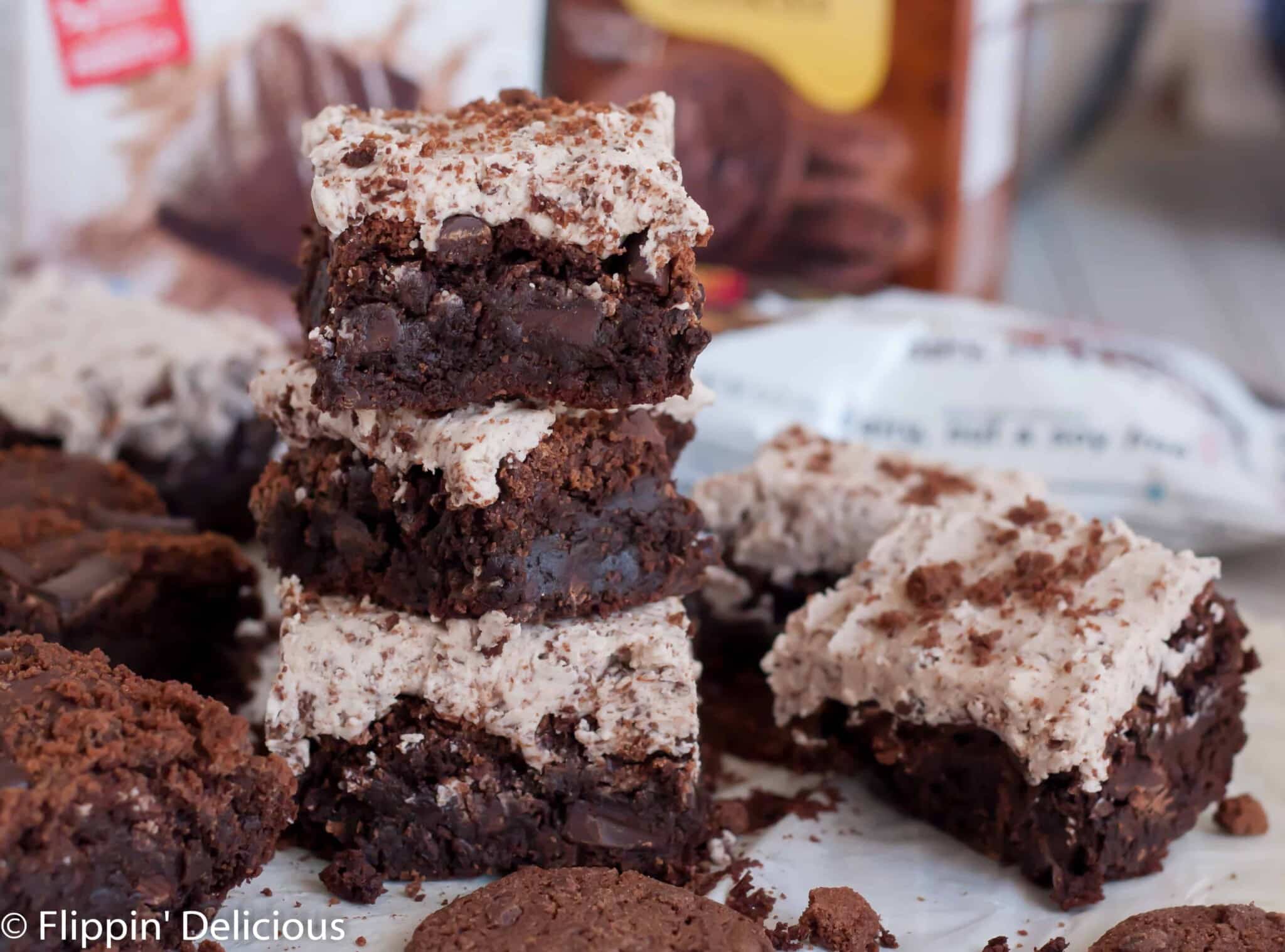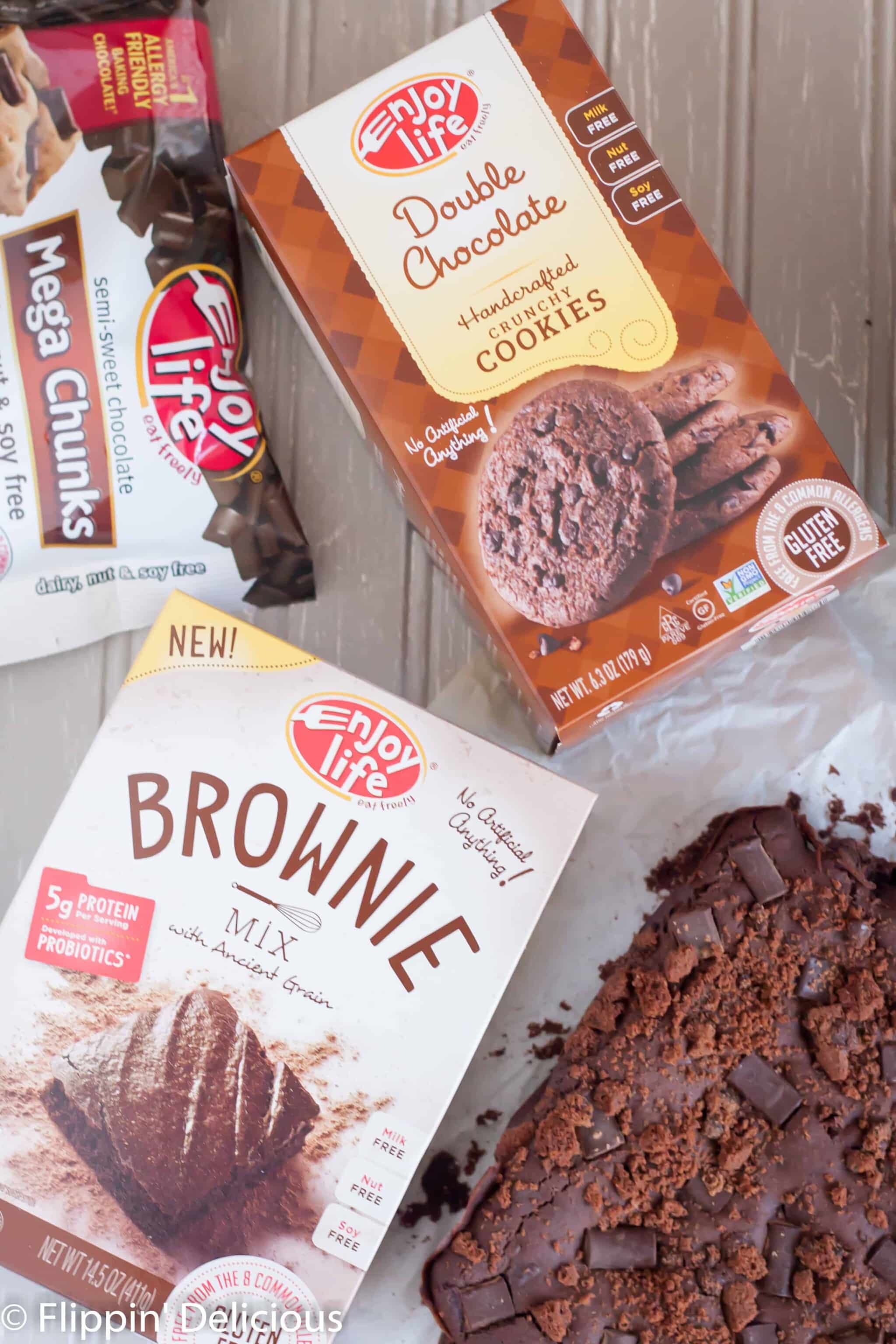 Because these brownies start with Enjoy Life Food's brownie mix, they are quick to whip up. I added extra chocolate chunks or crushed cookies to my brownie mix, but you don't have to if you don't want to. They were a nice extra touch, but not totally necessary.
The cookies and cream frosting came together quickly. It is sweet and creamy, tasting just like cream filling from the famous cream-filled cookies. I wanted to stir some cookies into my cream and felt like I had a stroke of genius when I  folded in some crushed Double Chocolate Crunchy Cookies. Each bite was filled with cookies and cream.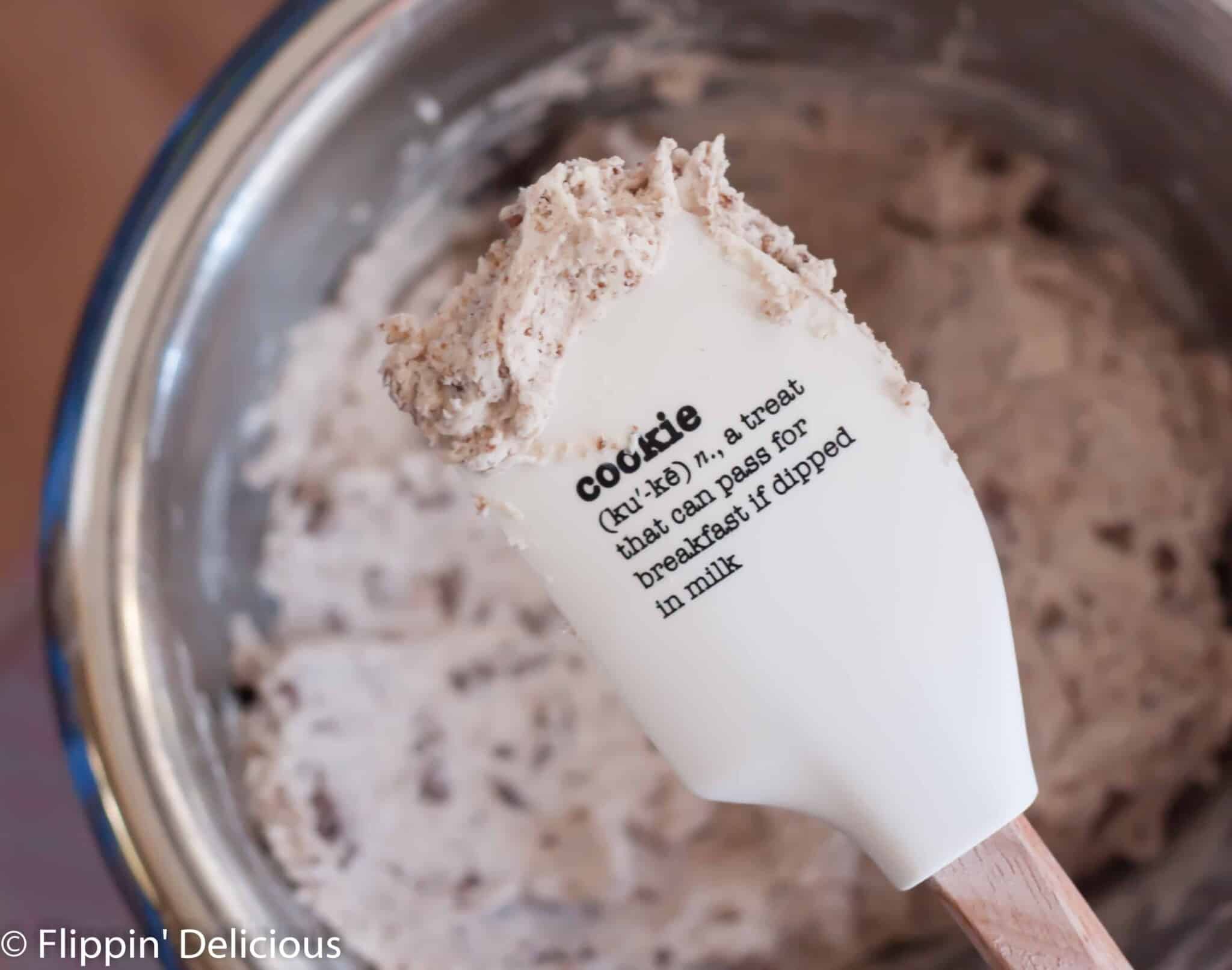 Whenever I meet someone who is newly diagnosed with Celiac Disease I drown them in names of my favorite gluten-free products (and often send them away with half of my pantry.) Enjoy Life Foods is always one of the first companies I tell people about because their products are so allergy friendly. They are a company I truly trust.
I am one of 3 people at work (that I know of) who have celiac or wheat allergies. I work at a regional pizza company, and so everyone eats a lot of pizza and there is gluten everywhere.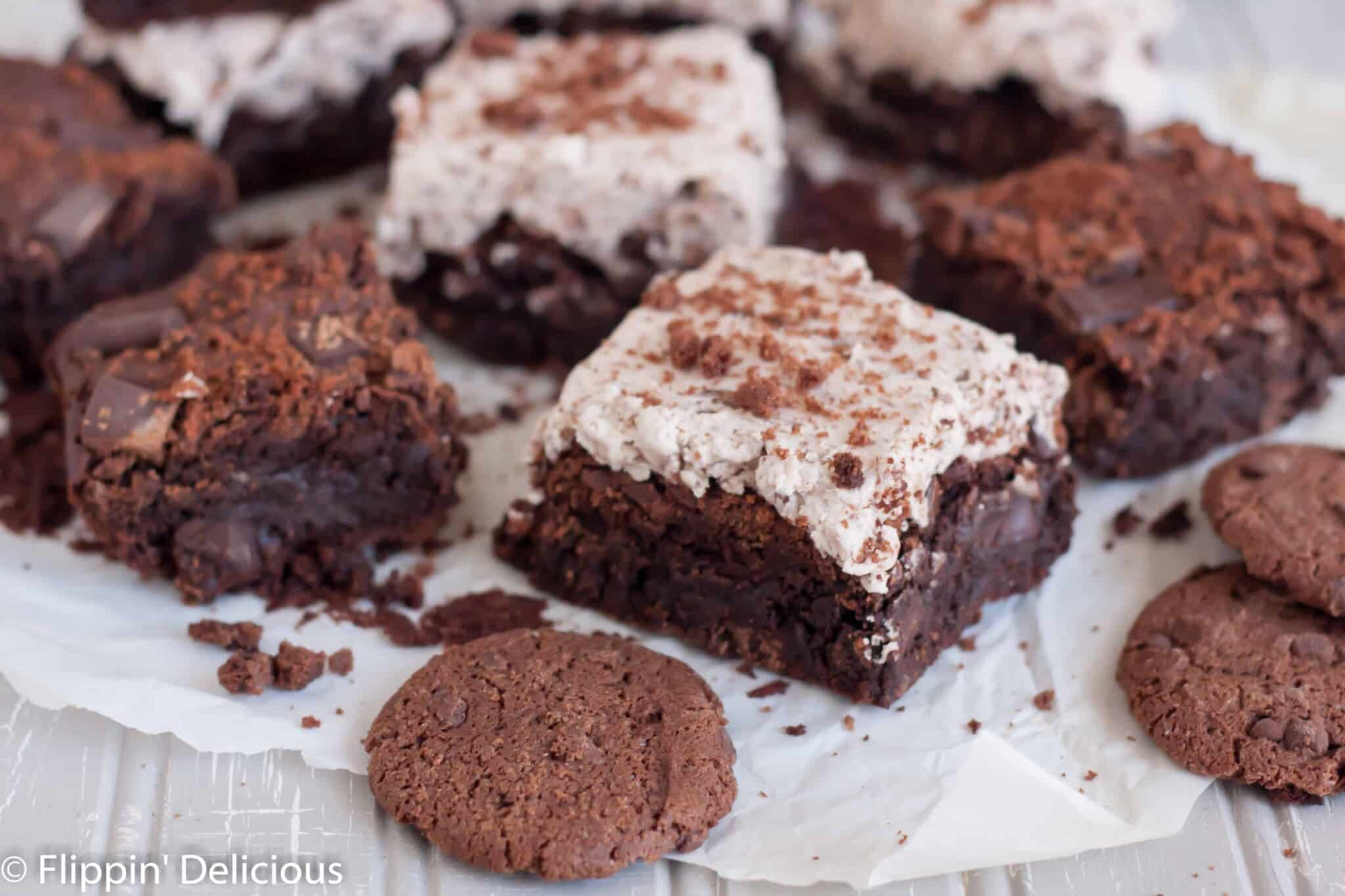 At our last meeting, I brought an Enjoy Life Foods Brownie Mix to send home with one of my co-workers (and a bag of Plentils to send home with another.) I also ALWAYS have Enjoy Life Foods Chocolate Chip Snack Packs hidden in one of the drawers in my desk for whenever I get a chocolate craving.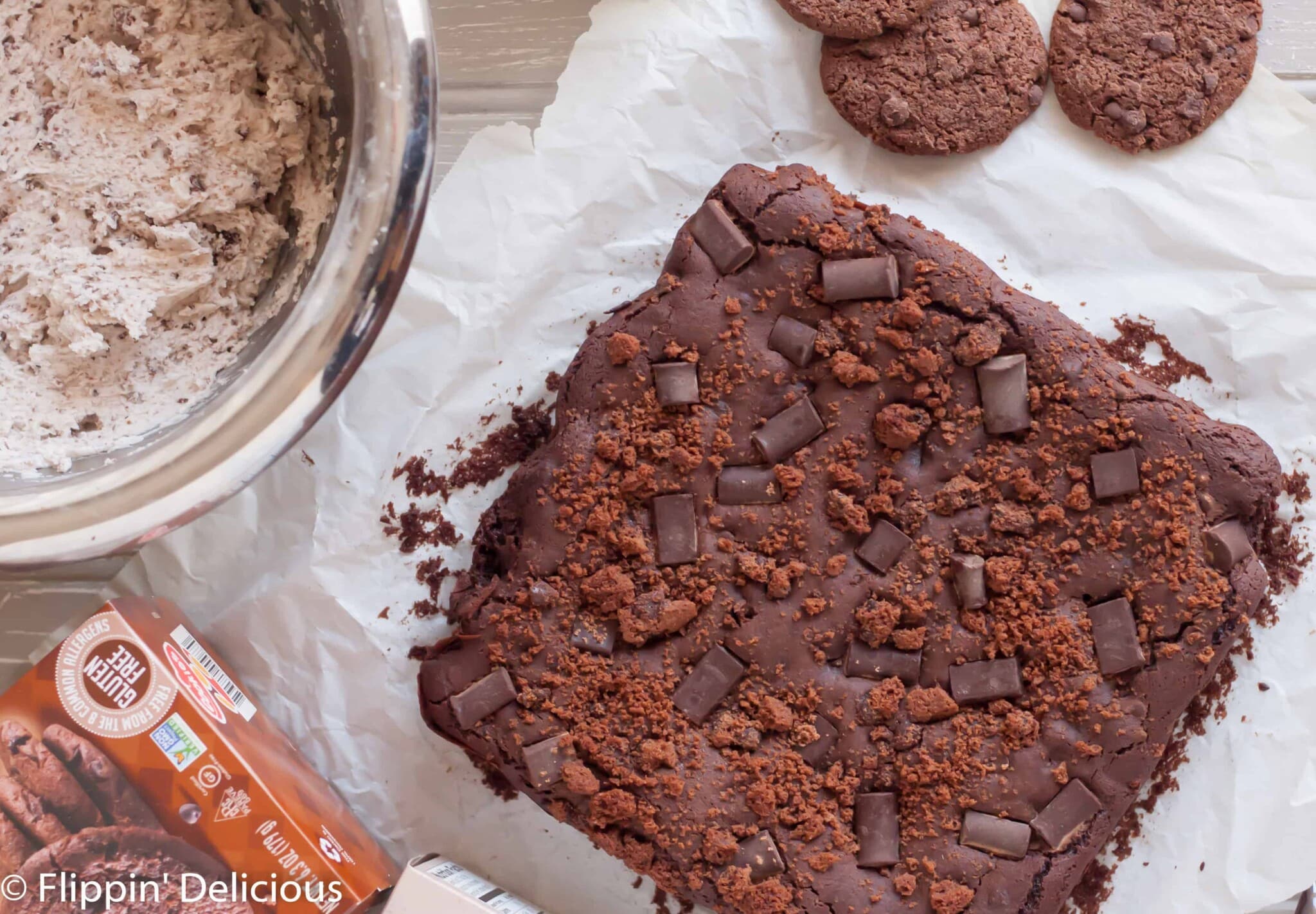 These are definitely sugar coma brownies. I cut them into hefty slices for the pictures but my 2 girls and I barely finished off one!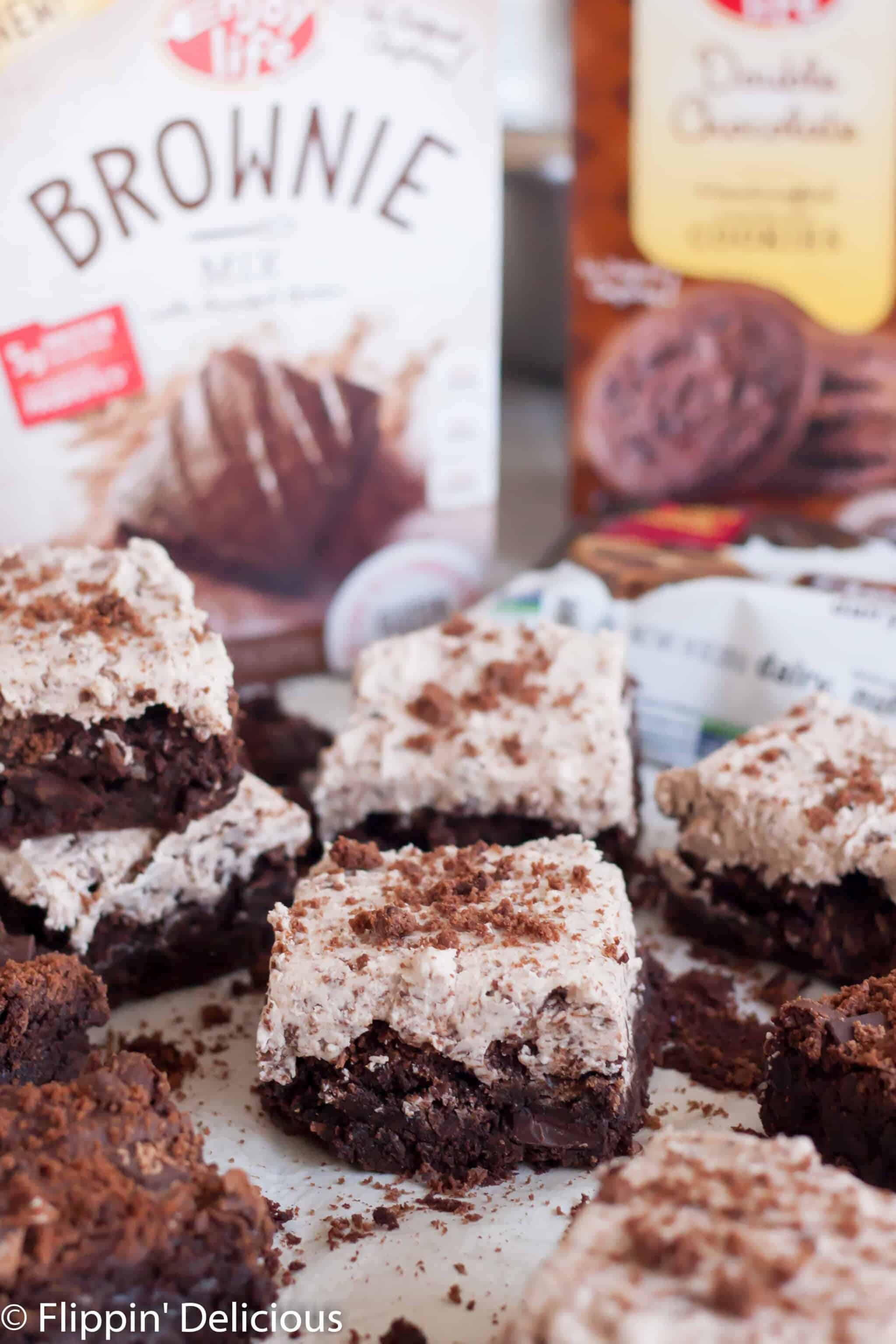 If you really want to indulge, drizzle some melted chocolate chunks on top or spread melted chocolate over the cookies and cream frosting.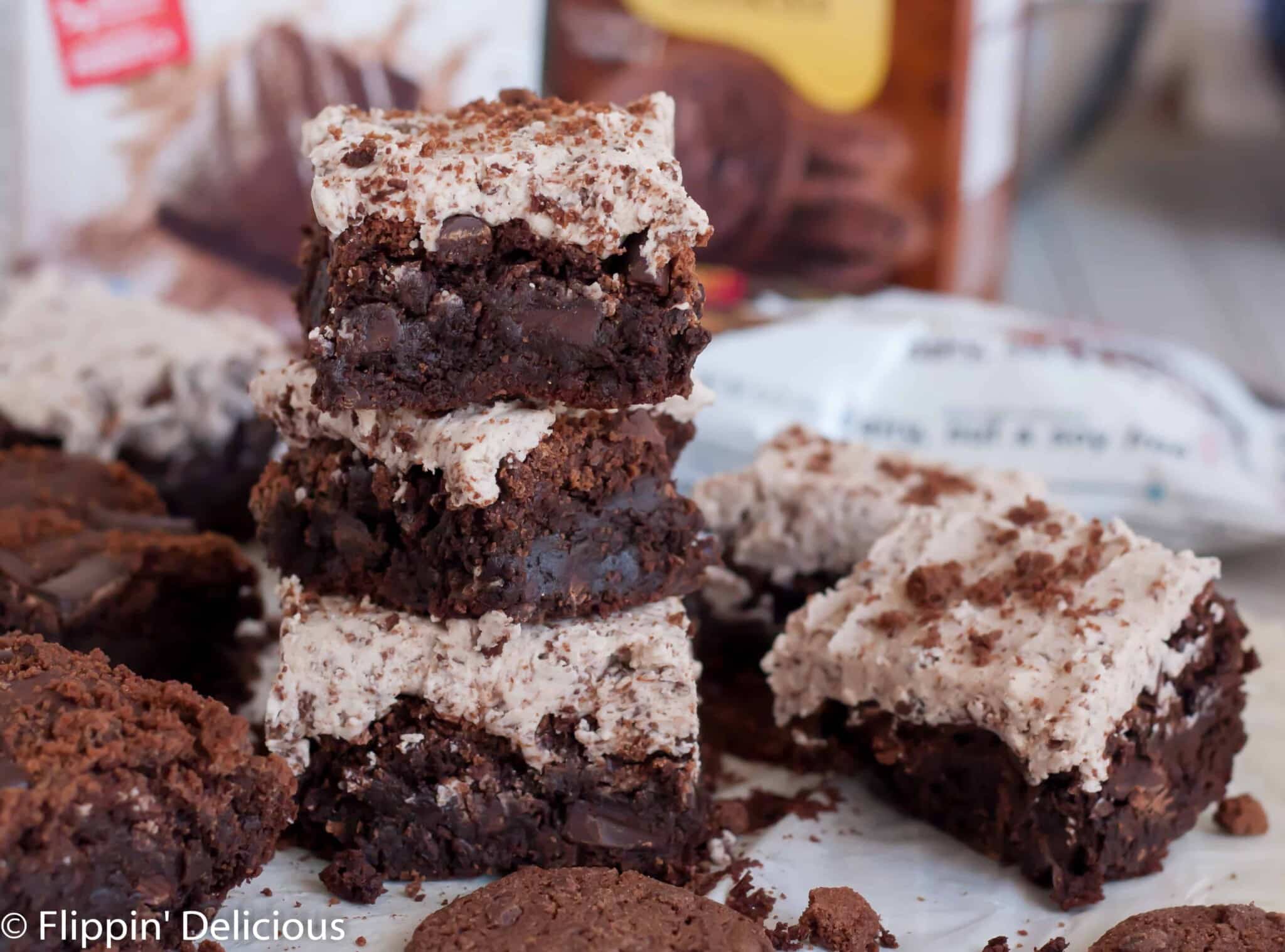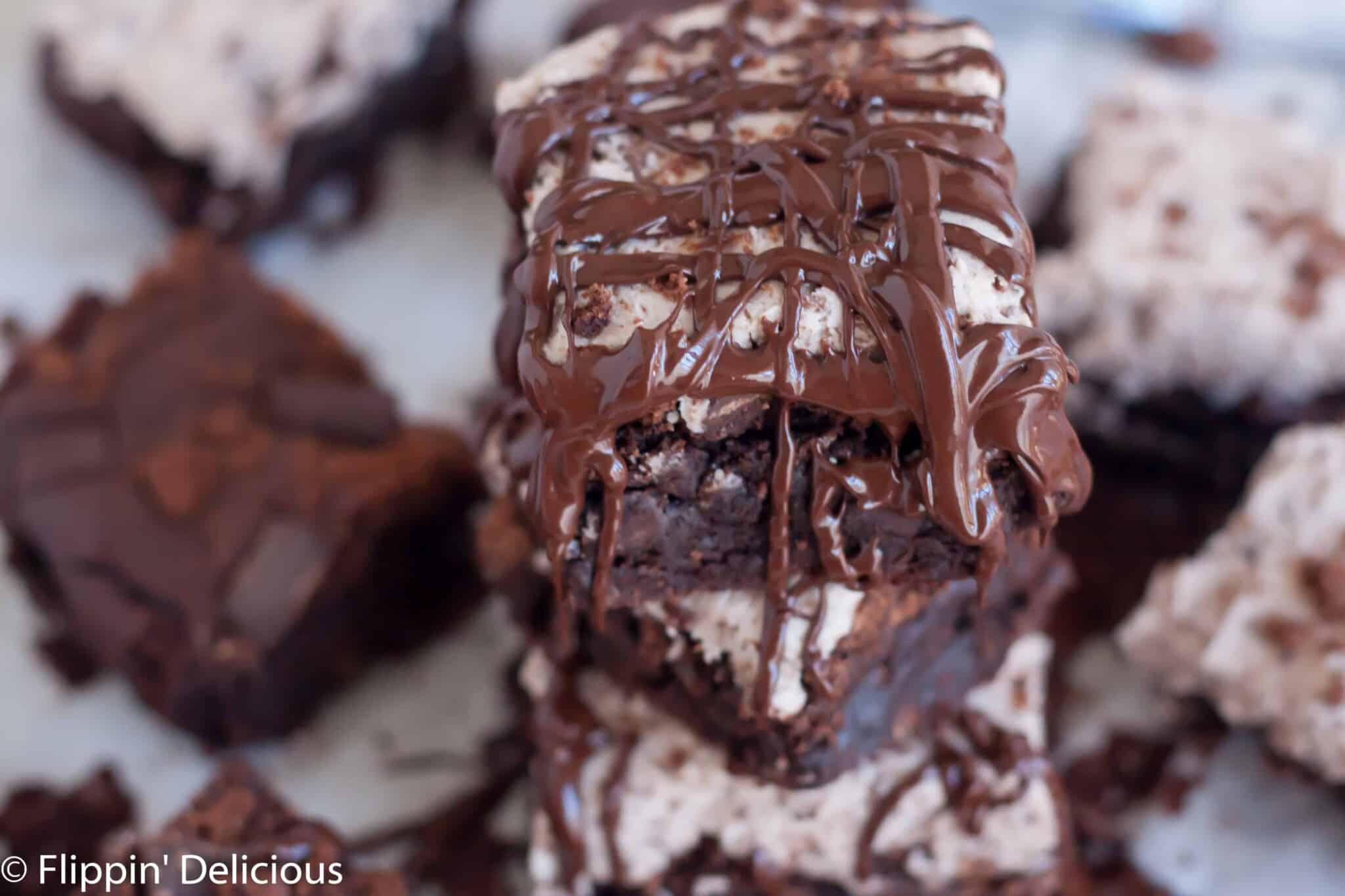 Sometimes what you need is an indulgent dessert to satisfy your sweet tooth. This is the brownie that fits the bill!
Have you ever made Campfire Brownies? Next time we pitch our tent I want to try Vegetarian Momma's recipe that makes brownies right in a campfire using Enjoy Life's Brownie Mix. What a fun camping treat?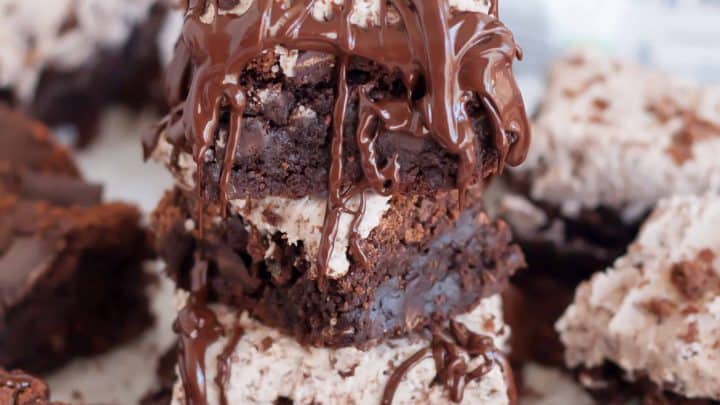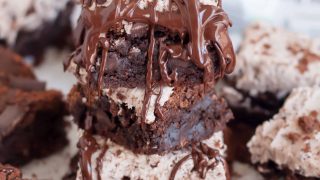 Yield: 9 LARGE or 16 small brownies
Gluten Free Cookies and Cream Brownies
Prep Time: 20 minutes

Cook Time: 45 minutes

Total Time: 1 hour 5 minutes

Gluten Free Cookies and Cream Brownies are the ultimate indulgent way to celebrate Celiac Disease Awareness Month. They are Dairy-Free, Egg-Free, Vegan, and Top-8-Free too!
Ingredients
Cookies and Cream Brownies
1/2 cup Enjoy Life Foods Chocolate Chunks
1/4 cup oil
3/4 cup water
2 teaspoons vanilla extract
Cookies and Cream Frosting
1/4 cup palm shortening
1 teaspoons granulated sugar
1 1/2 cups powdered sugar
1 1/2 tablespoons hot water
1 teaspoons vanilla extract
Instructions
Cookies and Cream Brownies
Preheat the oven to 350°F. Line an 8x8 baking pan with parchment paper OR lightly grease it and sprinkle with gluten free flour.
Crush one box of Enjoy Life Foods Double Chocolate Crunchy Cookies.
Combine Enjoy Life Foods Brownie Mix with the oil, water, and vanilla. Reserve enough chocolate chunks to sprinkle on the top of the brownies( approx 2-3 Tablespoons) and stir the rest into the batter. Stir in 1/2 cup of cookie crumbs.
Pour the batter into the prepared pan. Sprinkle with the reserved chocolate chunks and remaining 1/4 cup cookie crumbs.Bake for 40-45 minutes, or until a toothpick inserted 2 inches away from the sides of the pan comes out clean.
Cool completely before frosting.
Cookies and Cream Frosting
With electric beaters, whip the palm shortening and granulated sugar until light and fluffy.
Add the powdered sugar, vanilla, and hot water and beat at low speed until combined. Whip for another 2-3 minutes.
Beat in the cookie crumbs.
Spread the frosting over the cooled brownies.
Recommended Products
As an Amazon Associate and member of other affiliate programs, I earn from qualifying purchases.
Nutrition Information:
Yield:
16
Serving Size:
1

Amount Per Serving:

Calories: 338 Total Fat: 20g Saturated Fat: 9g Trans Fat: 0g Unsaturated Fat: 10g Cholesterol: 5mg Sodium: 47mg Carbohydrates: 37g Fiber: 1g Sugar: 31g Protein: 2g

All nutrition info is a guestimate and will vary depending on the ingredients you use.