Gluten Free Dairy free Cookies and Cream Brownies. Fudgy brownies topped with cookies and cream frosting and melted chocolate make an epic and indulgent treat.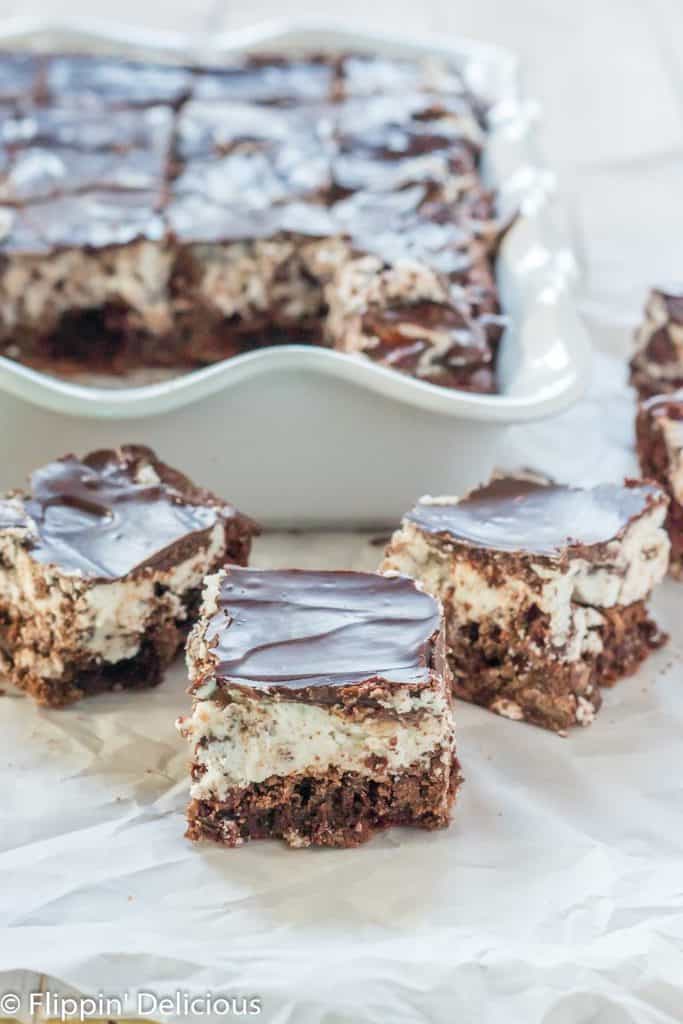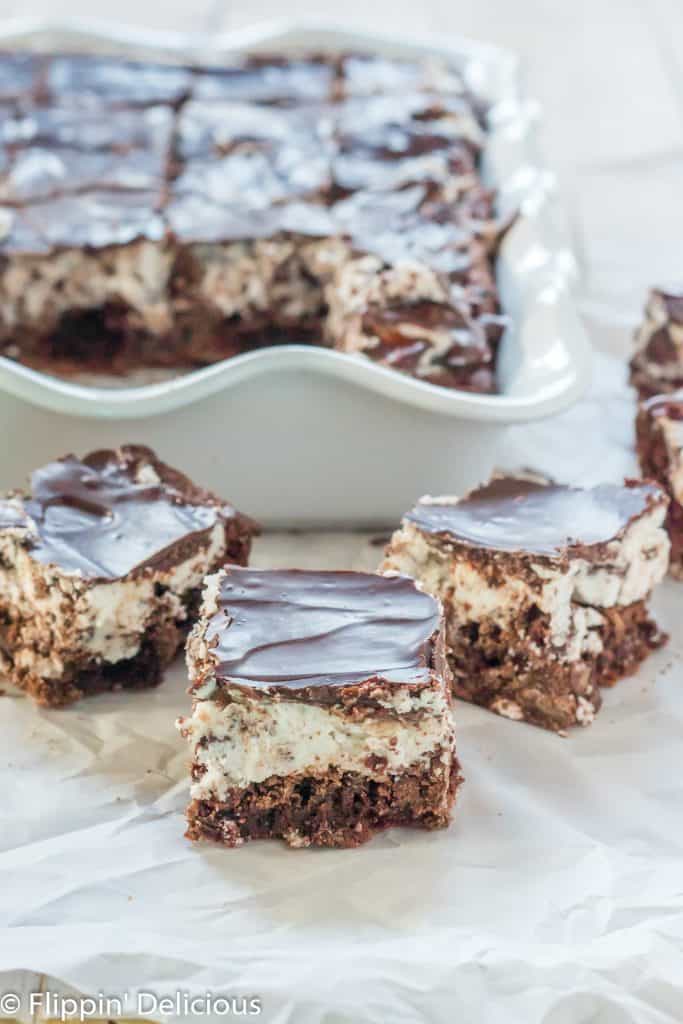 This post is sponsored by Vivian's Live Again and Tree Street Grains. All opinions are entirely my own.
Pictures and recipe updated 2/2020
These rich and indulgent cookies and cream brownies are always a hit! Whether you drizzle them in chocolate, spread chocolate on the top, or opt to just frost them in creamy cookies and cream filling, they made a decadent gluten and dairy free dessert!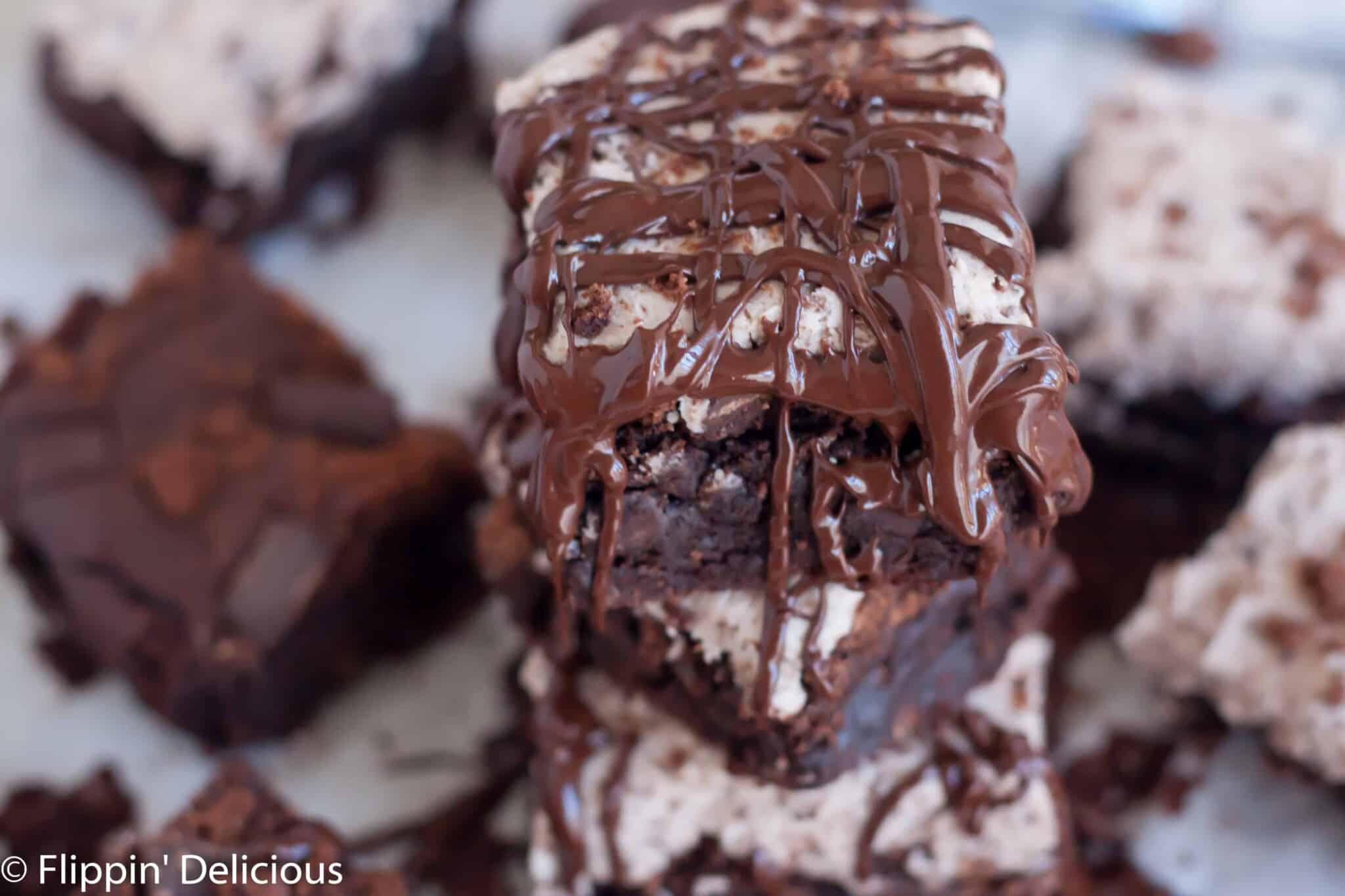 Tree Street Grains' Brownie Mix
Because these brownies start with Tree Street Grains' brownie mix, they are quick to whip up.
I love Tree Street Grains Brownie Mix because it is gluten and dairy free, and has an amazing fudgy taste! For reals, the taste and texture is incredible! I brought brownies made with this mix to a potluck, and they all disappeared. I only got to eat one, the whole pan disappeared before I went to get a brownie!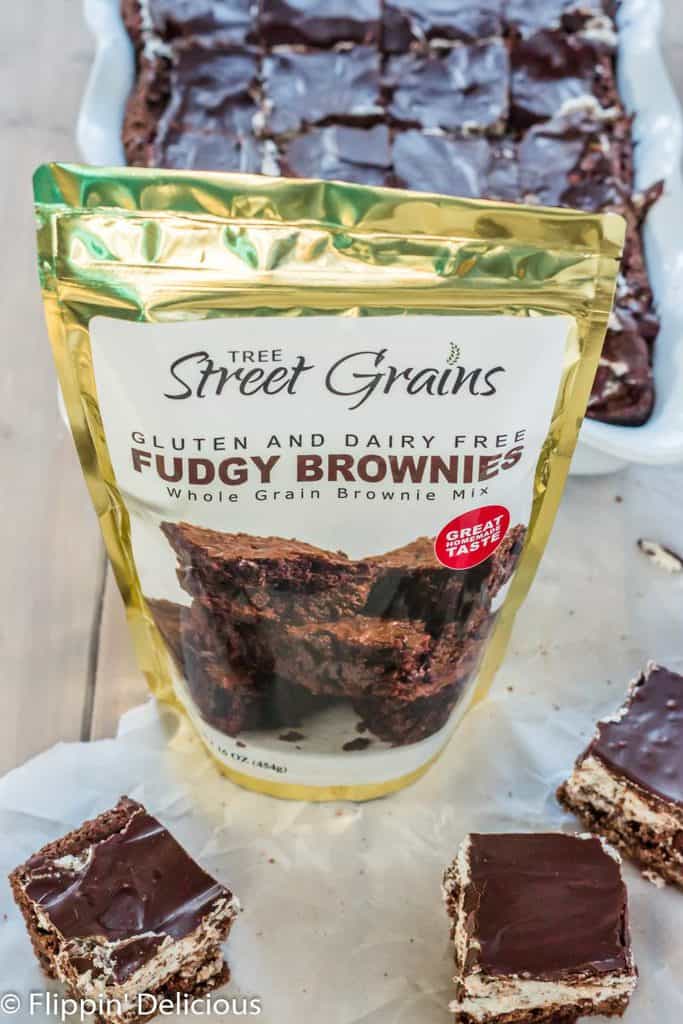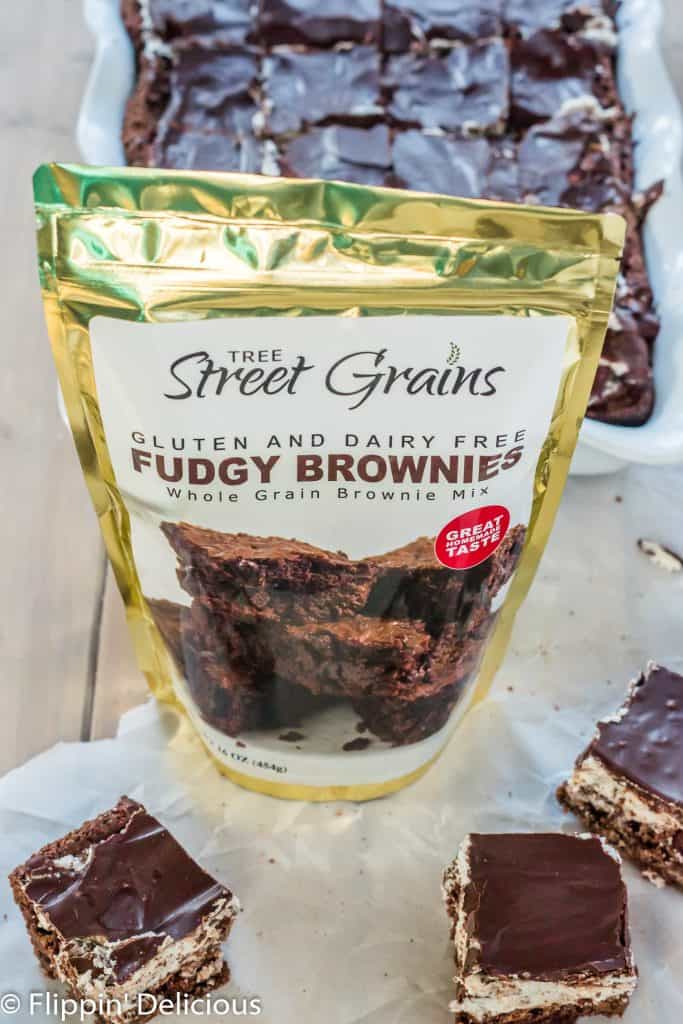 Not only is Tree Street Grains Brownie Mix gluten free and dairy free, it is also made with whole grains.
The ingredients in the mix are simple. Sugar, whole grain flours including sorghum, brown rice, and teff, cocoa powder, rice flour, salt, baking powder, and vanilla.
All you need on hand to mix up your Tree Street Grains Brownie Mix is oil, eggs, and a little water. You can use your favorite egg substitute to make your brownies vegan and egg-free, too!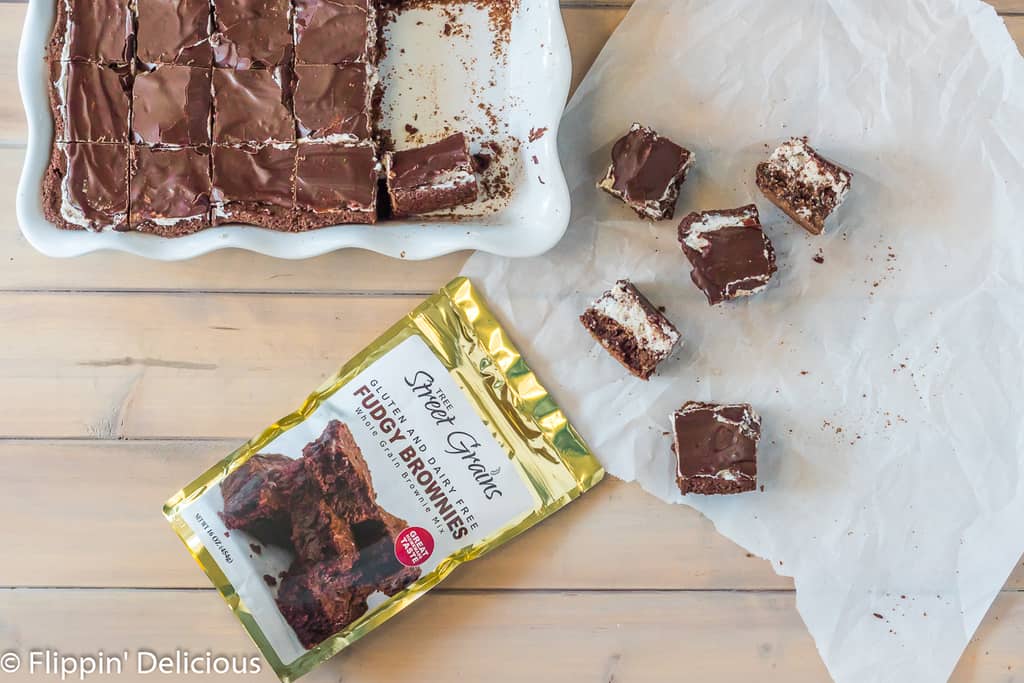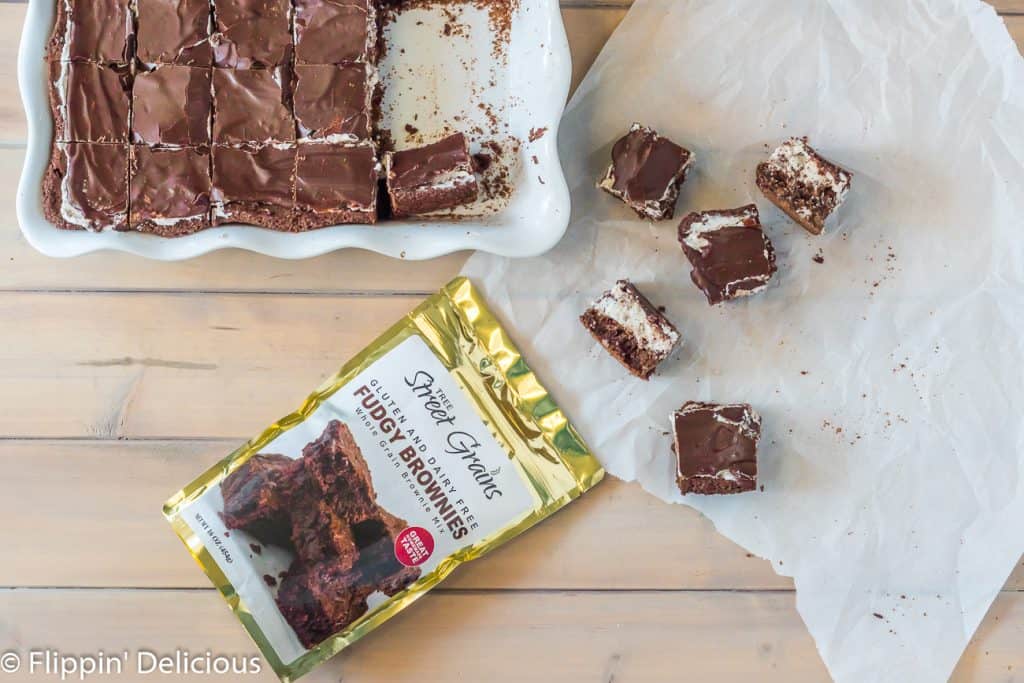 I only strayed from the directions on the back in two small ways, using a bigger pan and added some extra chocolate.
I added extra chocolate chunks to my brownie mix, but you don't have to if you don't want to. These brownies honestly don't need it.
I did use a bigger pan, about 7x11 inches instead of the 8x8 square pan called by the directions. I used a bigger pan because I wanted to make more brownies, with a slightly thinner brownie to accommodate the cookies and cream oreo-style filling and the melted chocolate on top.
I baked my brownies about 5 minutes less than the package directions, but started checking it about 10 minutes early. For fudgy brownies, be careful to not overbake.
Cookies and Cream Frosting
What really makes these brownies special is the cookies and cream frosting.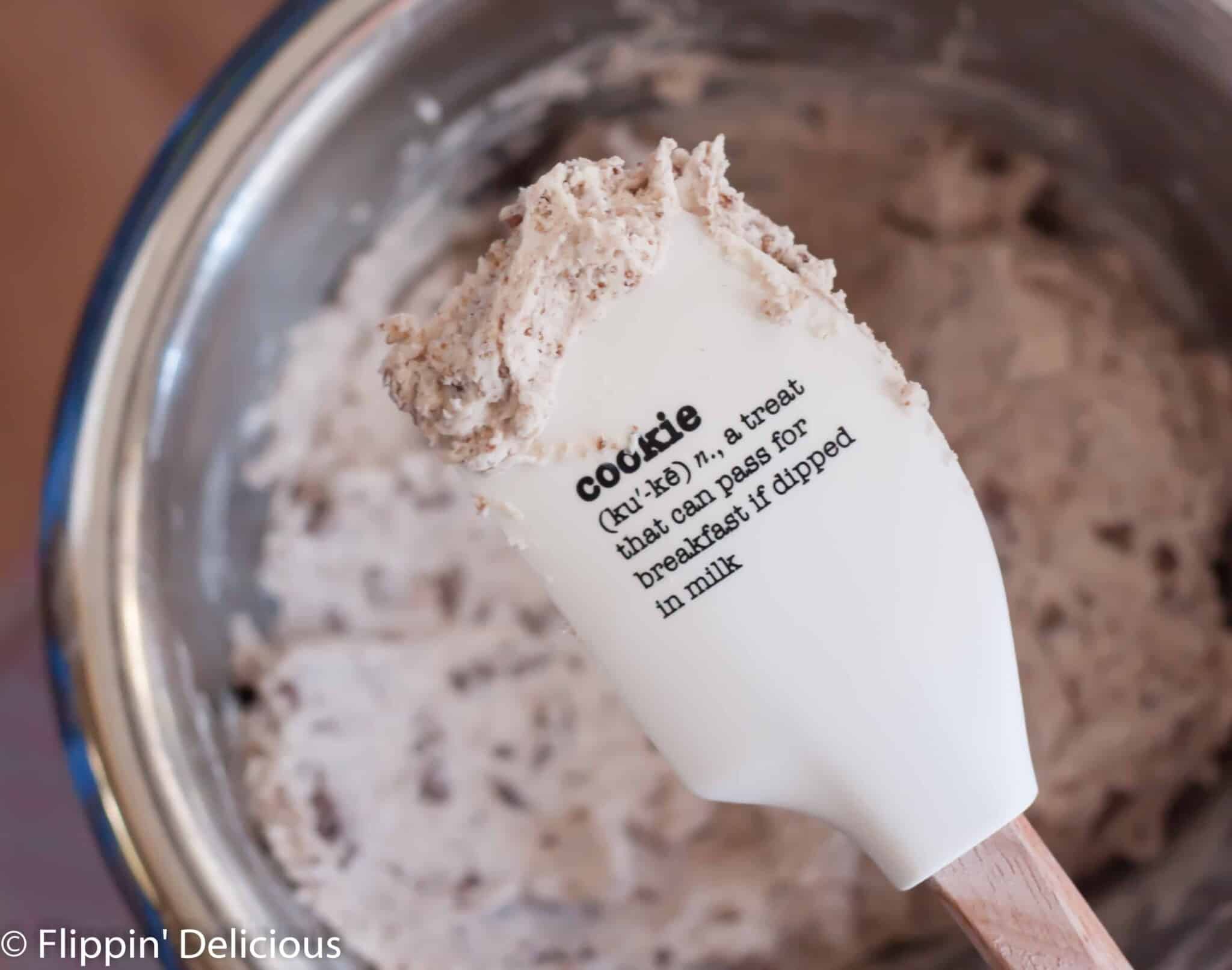 This frosting came together quickly. It is sweet and creamy, tasting just like cream filling from the famous cream-filled cookies.
A little bit of granulated/white sugar added in with the powdered sugar really makes the filling have the same texture as a sandwich-cookie-creme.
I wanted to stir some crunchy chocolate cookies into my cream, and I'm so glad I did. Each bite was filled with cookies and cream.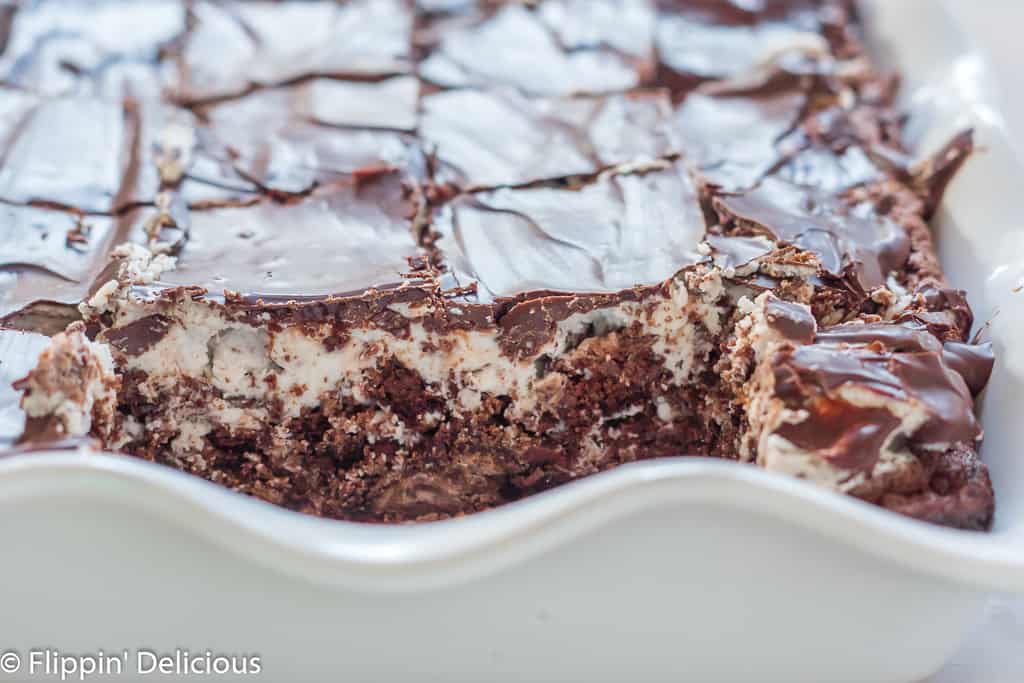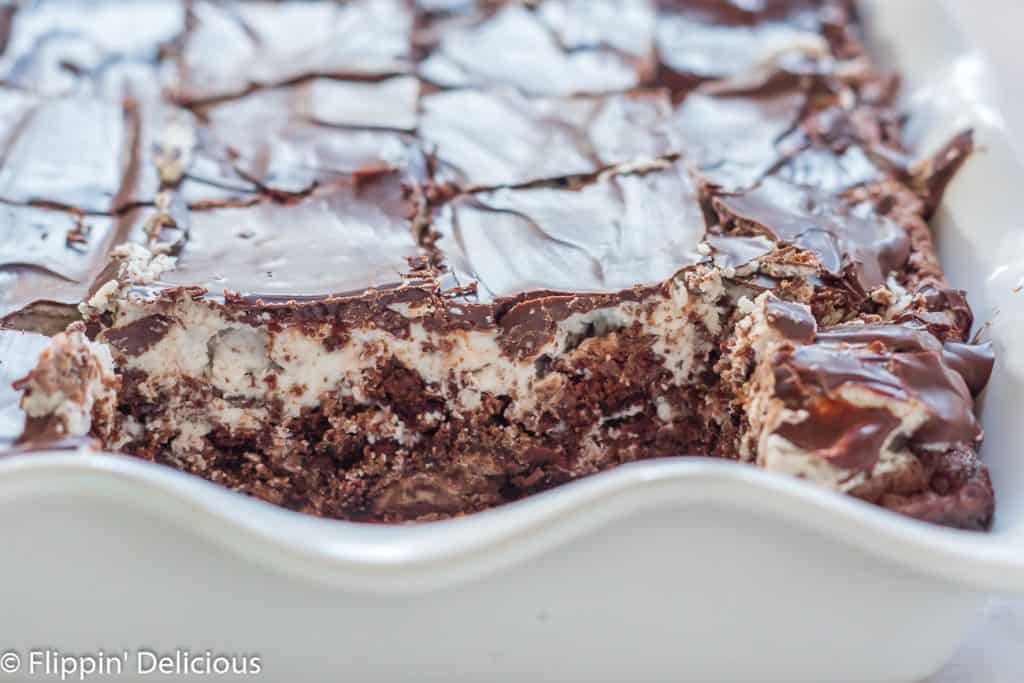 These are definitely sugar coma brownies. I cut them into hefty slices for the pictures, but in real life I cut them a bit smaller.
Sometimes what you need is an indulgent dessert to satisfy your sweet tooth. This is the brownie that fits the bill!
Should you add Melted Chocolate to your gluten free brownies?
IMO, that answer is always a resounding yes.
Spreading your finished cookies and cream brownies with melted chocolate is optional, but delicious.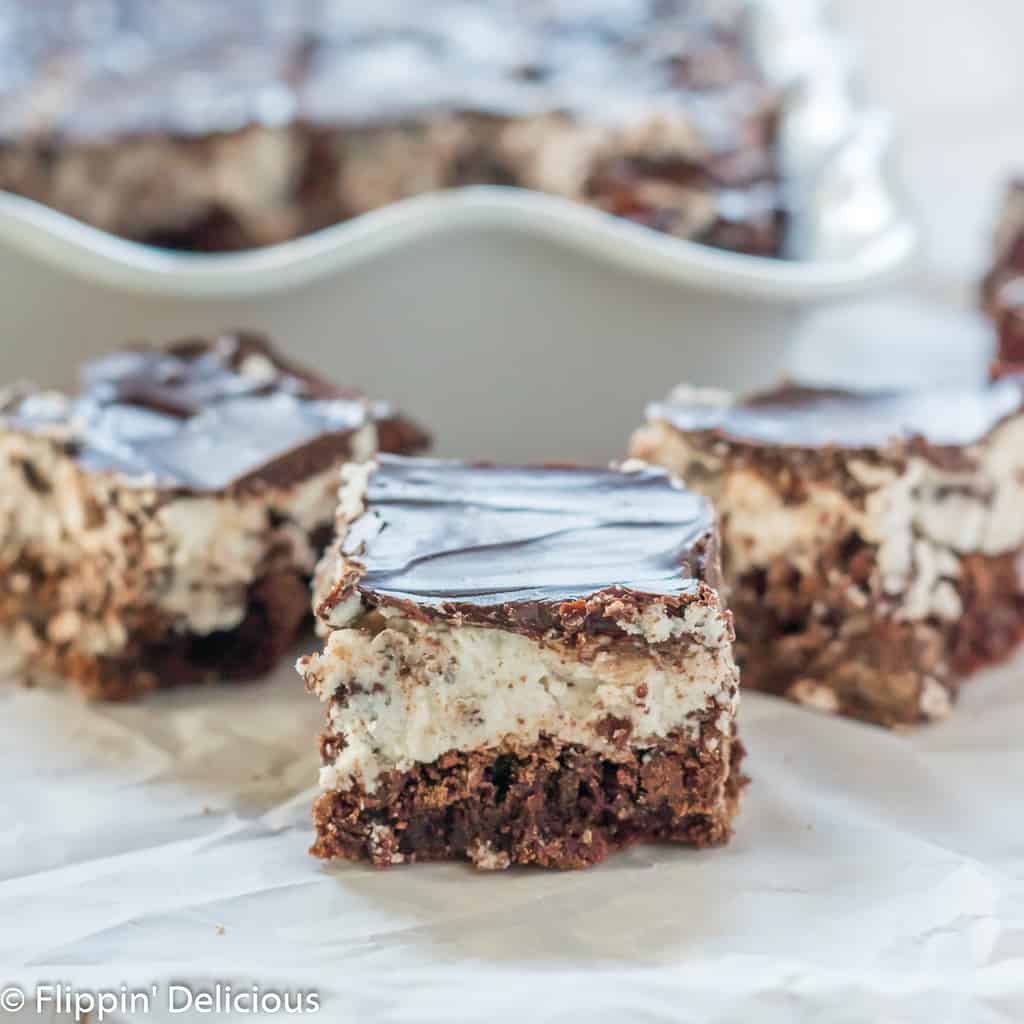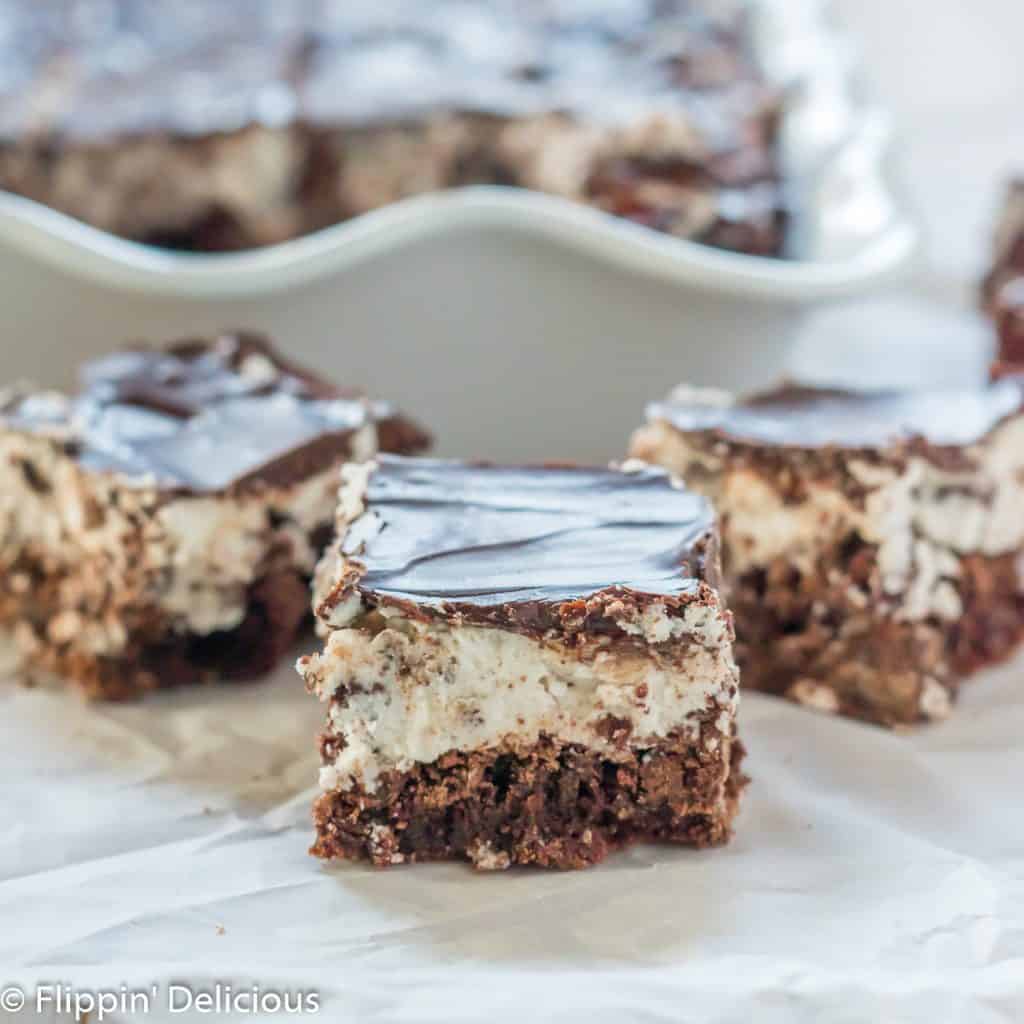 I like to melt my dairy free chocolate chips in the microwave with just a touch of palm shortening or coconut oil, to help to spread easily.
Be sure to let it cool to body temperature before you spread or drizzle it over your cookies and cream frosted brownies. If it is too hot, it will melt your creme filling.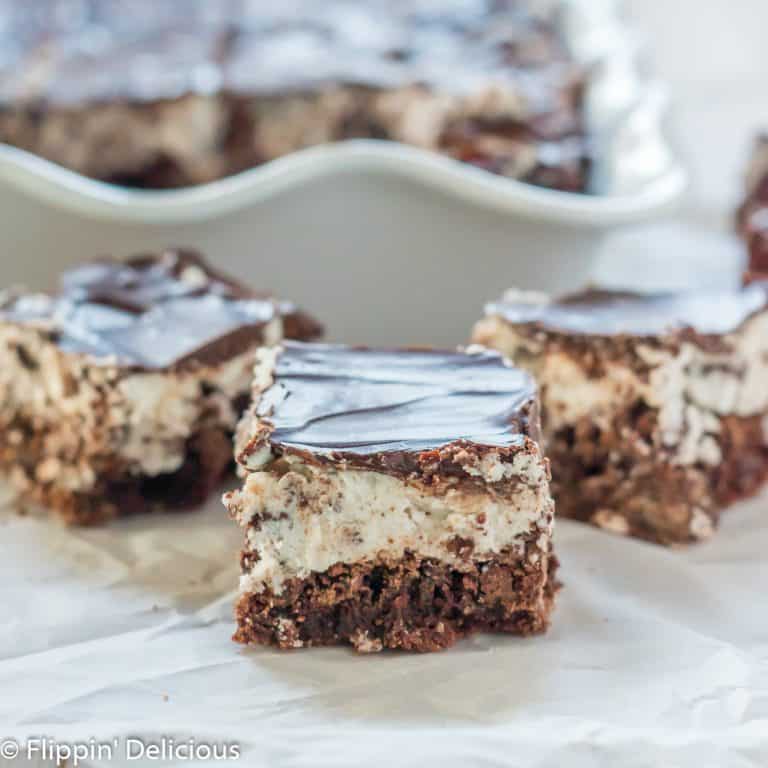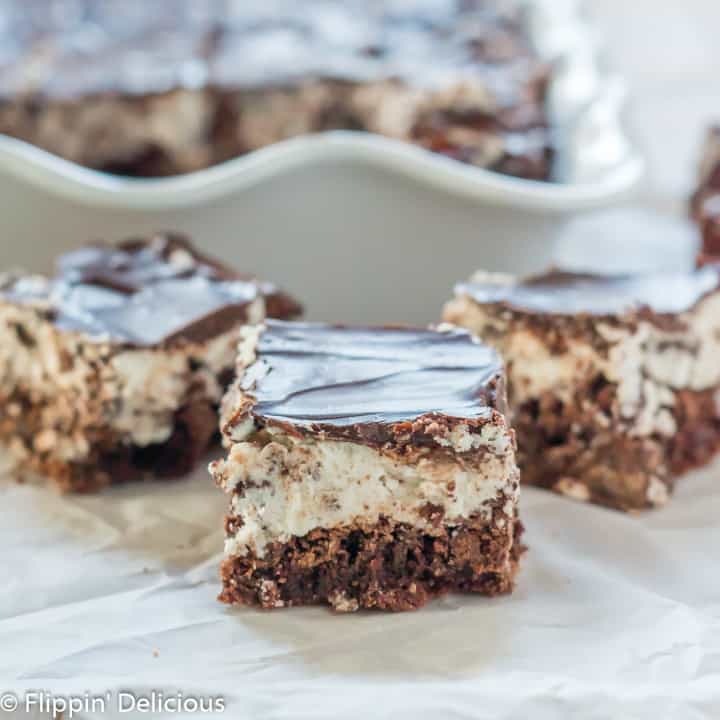 Gluten Free Cookies and Cream Brownies
Yield:
20 cookies and cream brownies
Gluten Free Cookies and Cream Brownie are an easy way to dress up your favorite gluten free brownie mix! Cookies and cream frosting and melted chocolate make great brownies even better!
Ingredients
Cookies and Cream Brownies
¼ cup oil
2 eggs, beaten (or egg replacer)
3 tablespoons water
½ cup dairy free chocolate chips (optional)
Cookies and Cream Frosting
¼ cup palm shortening
1 teaspoons granulated sugar
1 ½ cups powdered sugar
1 ½ tablespoons hot water
1 teaspoons vanilla extract
Chocolate Topping
½ cup dairy free chocolate chips
1 teaspoon palm shortening or coconut oil
Instructions
Cookies and Cream Brownies
Preheat the oven to 350°F. Line an 7x11 inch baking pan with parchment paper OR lightly grease it and sprinkle with gluten free flour.
Prepare the brownie mix by mixing it with the using oil, eggs, and water until smooth.
Add chocolate chips to your batter, if you want. Totally optional.
Pour in to the prepared pan, and bake for 25-30 minutes.
Cool completely before frosting.
Make the Cookies and Cream Frosting
With electric beaters, whip the palm shortening and granulated sugar until light and fluffy.
Add the powdered sugar, vanilla, and hot water and beat at low speed until combined. Whip for another 2-3 minutes.
Beat in the cookie crumbs.
Spread the frosting over the cooled brownies.

Melt the chocolate on top
In a microwave safe bowl, melt the dairy free chocolate and palm shortening by heating in the microwave in 30 second increments, stirring in between.
Let cool to body temperature, so it doesn't melt the frosting, then gently spread it over the frosting. Let cool and set before slicing your brownies.
Notes
You may bake these brownies in an 8x8 pan, like directed on the Tree Street Grains package. All directions are the same, however you'll need to bake your brownies for longer, about 30-35 minutes.
Recommended Products
As an Amazon Associate and member of other affiliate programs, I earn from qualifying purchases.
Nutrition Information
Yield

16
Serving Size

1
Amount Per Serving
Calories

338
Total Fat

20g
Saturated Fat

9g
Trans Fat

0g
Unsaturated Fat

10g
Cholesterol

5mg
Sodium

47mg
Carbohydrates

37g
Fiber

1g
Sugar

31g
Protein

2g
All nutrition info is a guestimate and will vary depending on the ingredients you use.
Have you ever made Campfire Brownies? Next time we pitch our tent I want to try Vegetarian Momma's recipe that bakes brownies inside of orange peels in the campfire. What a fun camping treat!