Vegan Snickerdoodle Blondie Ice Cream Sandwiches are a sweet way to beat the heat. Creamy vegan snickerdoodle ice cream sandwiched between sweet cinnamon blondies.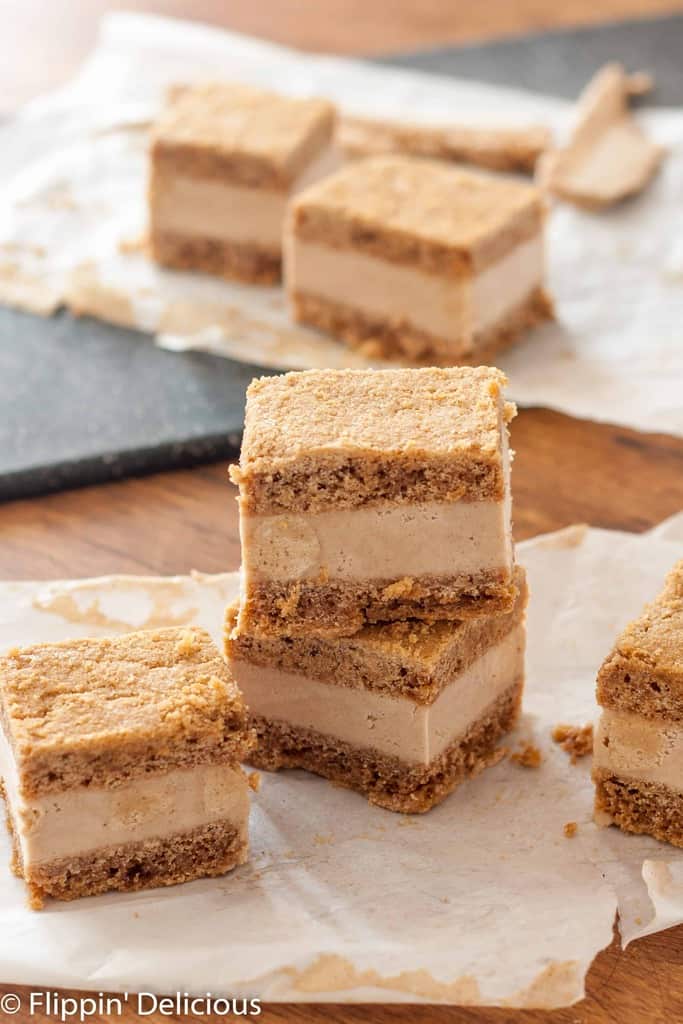 I know, I just shared an ice cream sandwich with you. But it is summer, and this is a recipe I have been wanting to create for ages. And it is perfect for Go Dairy Free's #FrozenFridays recipe challenge.
My absolute favorite SoDelicious Frozen Dessert flavor is Snickerdoodle. Why? I love the hint of cinnamon, the chunks of Snickerdoodle cookie dough, and it is indulgently creamy. Also, snickerdoodles are one of my favorite cookies.
I was trying to think what would be the best creation to highlight everything that this flavor has to offer. Once my mind wandered to blondies I couldn't shake the thought. I adapted my Gluten Free Blondie Praline Pumpkin Ice Cream Sandwiches to be dairy-free and added a healthy pinch of cinnamon. Mmmmm….I love cinnamon.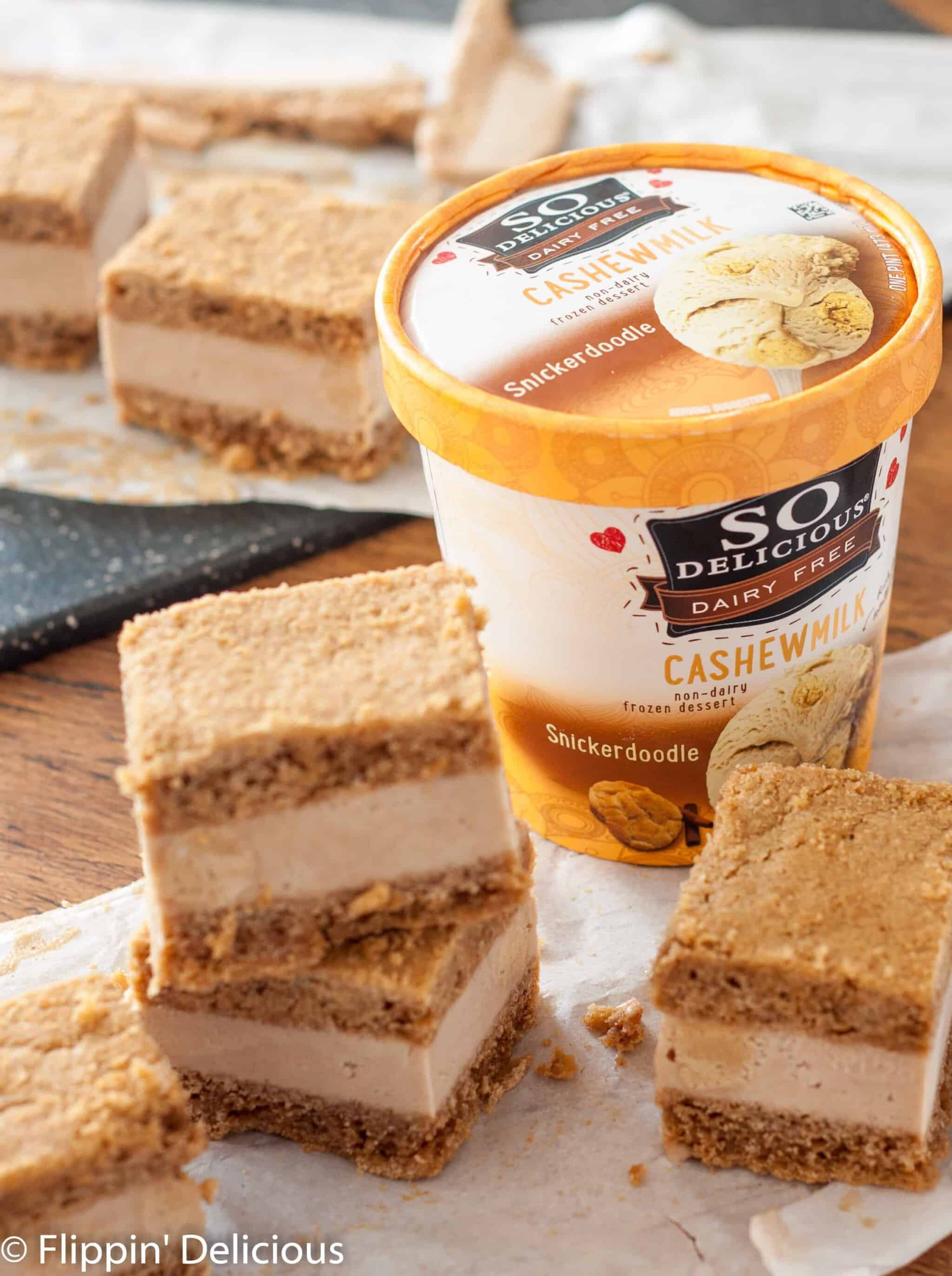 If you are looking for a homemade vegan ice cream option, I bet you'll love my friend Demeter's No Churn Chocolate Chip Coconut Vegan Ice Cream! I love home made ice cream that doesn't require an ice cream machine.
Blondies have always been one of my favorite bar cookies. When I was a little girl I remember making a batch of blondies and baking them in my mom's 9×13 glass baking pan. When they were still warm we sprinkled chocolate chips on top, then spread them smooth when they melted. I remember my dad arguing with me early one morning why it was ok for him to have a blondie for breakfast, and why I couldn't.
Now I get it.
Chewy cinnamon blondies filled with creamy snickerdoodle dairy-free frozen dessert, studded with chunks of snickerdoodle cookie dough. The one thing that I think would have made this recipe even better would have been a healthy drizzle of vegan cinnamon caramel sauce. But then I would have needed a fork to eat them.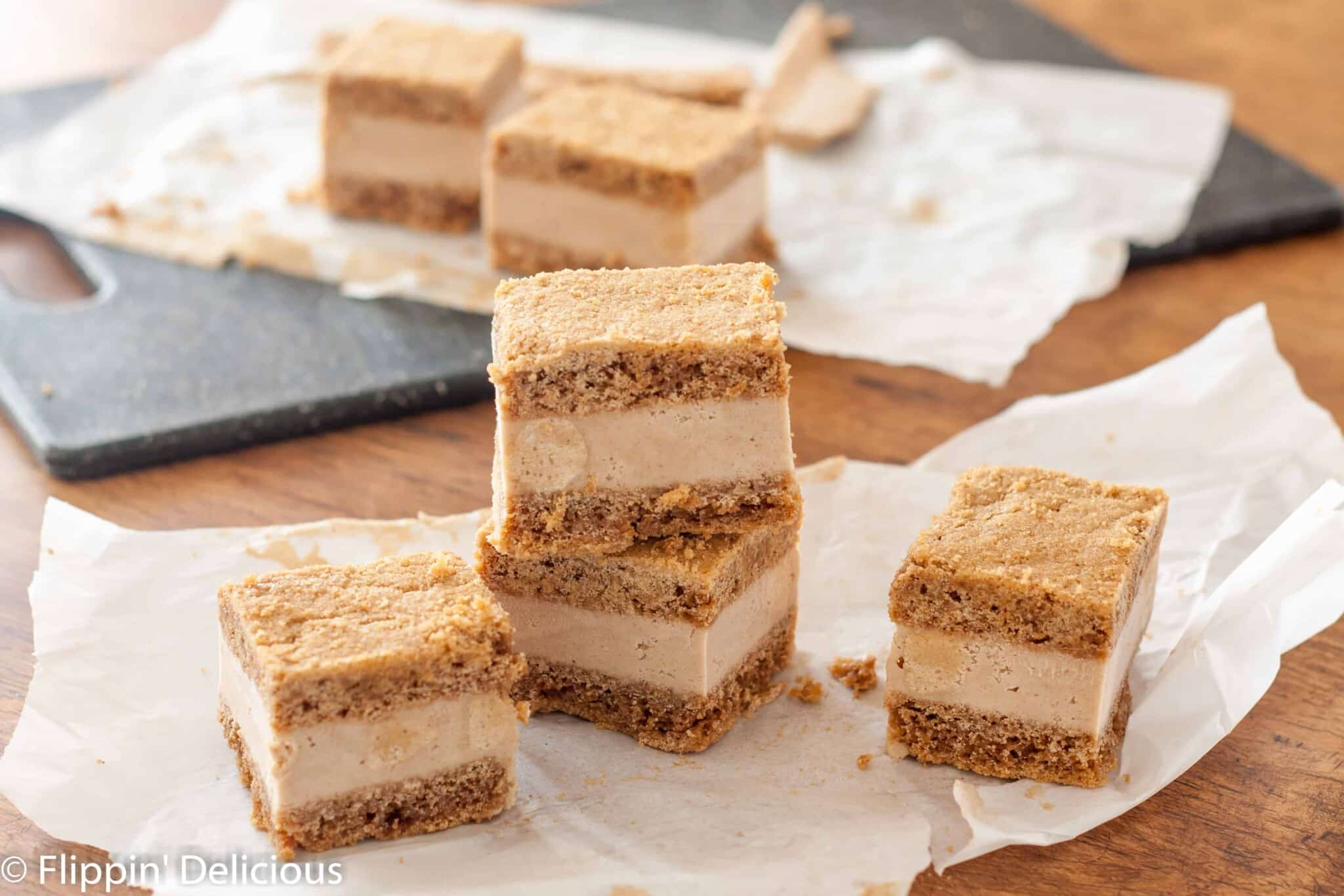 A fork just won't do for a summer-y hand-held dessert like these vegan ice cream sandwiches. So there is no indulgent waterfall of caramel. Which is fine by me, these bars are plenty indulgent on their own.
Next time I want a fork-needed frozen dessert I am going to make a Banana Split Ice Cream Pie from my dear friend Cindy at Vegetarian Mama. I love the fresh strawberries and mini chocolate chips sprinkled over the top!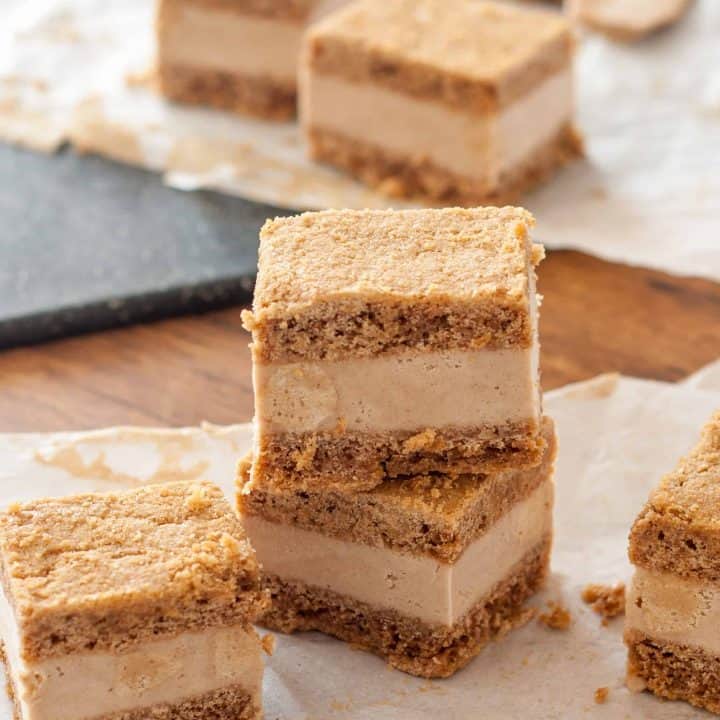 Vegan Snickerdoodle Blondie Ice Cream Sandwiches
Yield: 12 vegan gluten free ice cream sandwiches

Prep Time: 45 minutes

Cook Time: 18 minutes

Additional Time: 4 hours

Total Time: 5 hours 3 minutes

Vegan Snickerdoodle Blondie Ice Cream Sandwiches are a sweet way to beat the heat. Creamy vegan snickerdoodle ice cream sandwiched between sweet cinnamon blondies.
Ingredients
½ cup palm shortening
¾ cup packed brown sugar
vegan egg substitute equivalent to one egg
1 teaspoons vanilla extract
1 ¼ cup gluten free flour blend
1 teaspoon xanthan gum (omit if your blend already has it.)
½ teaspoon baking powder
½ teaspoon ground cinnamon
½ teaspoon salt
1-pint SoDelicious Snickerdoodle Cashewmilk Frozen Dessert
Instructions
Preheat oven to 350F. Line a 9x13 baking dish with parchment paper.
In a stand mixer, or with heavy duty electric beaters cream together the palm shortening and brown sugar. Add the egg substitute and cream until smooth. Mix in vanilla.
Mix in the gluten free flour, xanthan gum, baking powder, cinnamon, and salt.
Spread evenly in the prepared pan. It is a little sticky, but be patient.
Bake for 15-18 minutes or until the blondies are golden and are slightly set (they will still be soft, but will set up more as they cool.)
Let cool completely, and then flip your blondies over onto a clean sheet of parchment paper and cut in half.
Spread one half (right side down) with the Snickerdoodle Frozen Dessert. Top it with the other half of the blondies.
Tightly wrap the ice cream bars in foil or parchment paper and freeze for a minimum of 2 hours (3 or 4 will make it easier to handle.)
Once the ice cream is firm, cut the blondies into squares and enjoy
Nutrition Information
Yield 12 Serving Size 12
Amount Per Serving Calories 363Total Fat 18gSaturated Fat 10gTrans Fat 0gUnsaturated Fat 7gCholesterol 41mgSodium 245mgCarbohydrates 47gFiber 1gSugar 25gProtein 5g

All nutrition info is a guestimate and will vary depending on the ingredients you use.