Vegan Unicorn Pudding Pops are a magical way to stay cool on a hot night.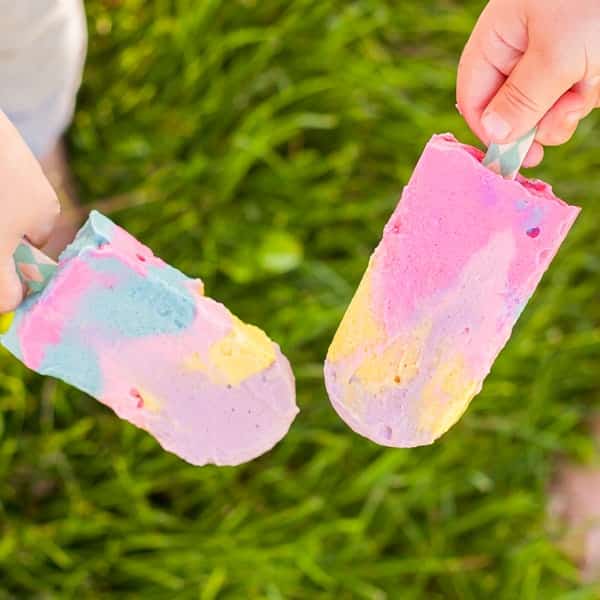 OMG I am so excited about this recipe!
I have been dying to hop on the hot unicorn foodie trend all year. I've been juggling my Flippin' Delicious and my full-time job and haven't been spending as much time in the kitchen as I did last year.
Some of my best blogging friends and I wanted to do a Gluten-Free Ice Cream Social and Giveaway (we are giving away a $300 Amazon Gift Card…. I wish I could enter! The form is after the recipe at the bottom of this post).
When I was brainstorming my ice cream social contribution I knew I had to make these Vegan Unicorn Pudding Popsicles, I've been wanting to make them all summer!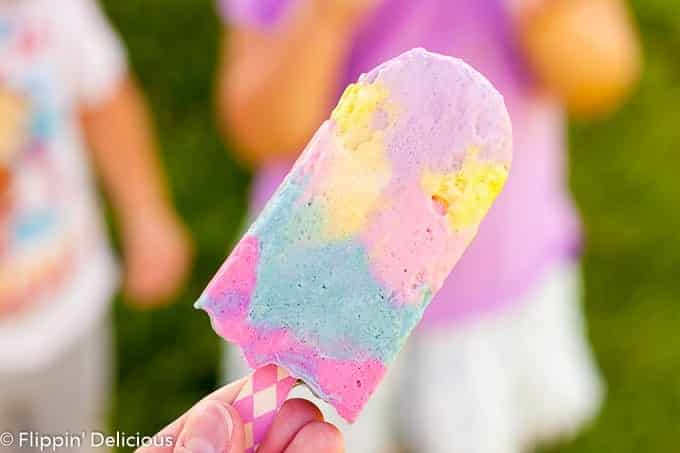 If you are anti-food-coloring this recipe is not for you.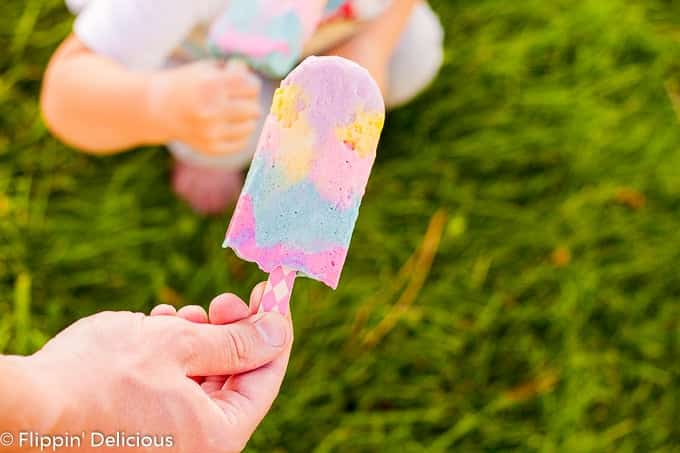 Unicorn everything is a trend I am definitely on board with. I love bright colors, and sprinkles. This time last year I had pink hair. I feel like unicorns are my spirit animal.
My kids also love all the unicorn-inspired treats and desserts. We are big My Little Pony Fans, and Unicorn Drinks, Cakes and Cookies are almost the same as MLP inspired treats…at least in our minds. My girls and I definitely enjoyed these sweet mythical-creature-inspired pudding pops.
Making Dairy-Free Unicorn pudding pops is a cinch. All you need is some sort of popsicle mold and sticks, your favorite vegan pudding recipe or mix and some food coloring. I used Vivian's Live Again Vegan Vanilla Pudding. I've worked with Vivian's Live Again in the past, however, this recipe unsponsored. I LOVE Vivian's Live Again pudding mix because it is easy to whip up for a creamy allergy-friendly treat and it is perfect in these Unicorn Pudding Ice Pops.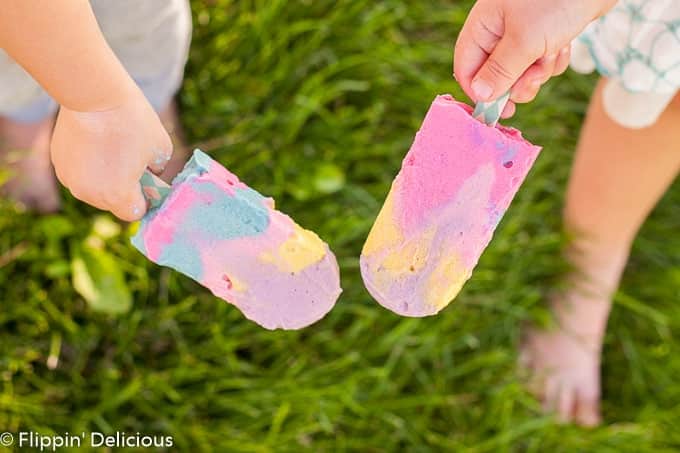 I already mentioned my mythical creature inspired frozen treats are a part of a gluten-free ice cream social. Check out all of these other icy treats…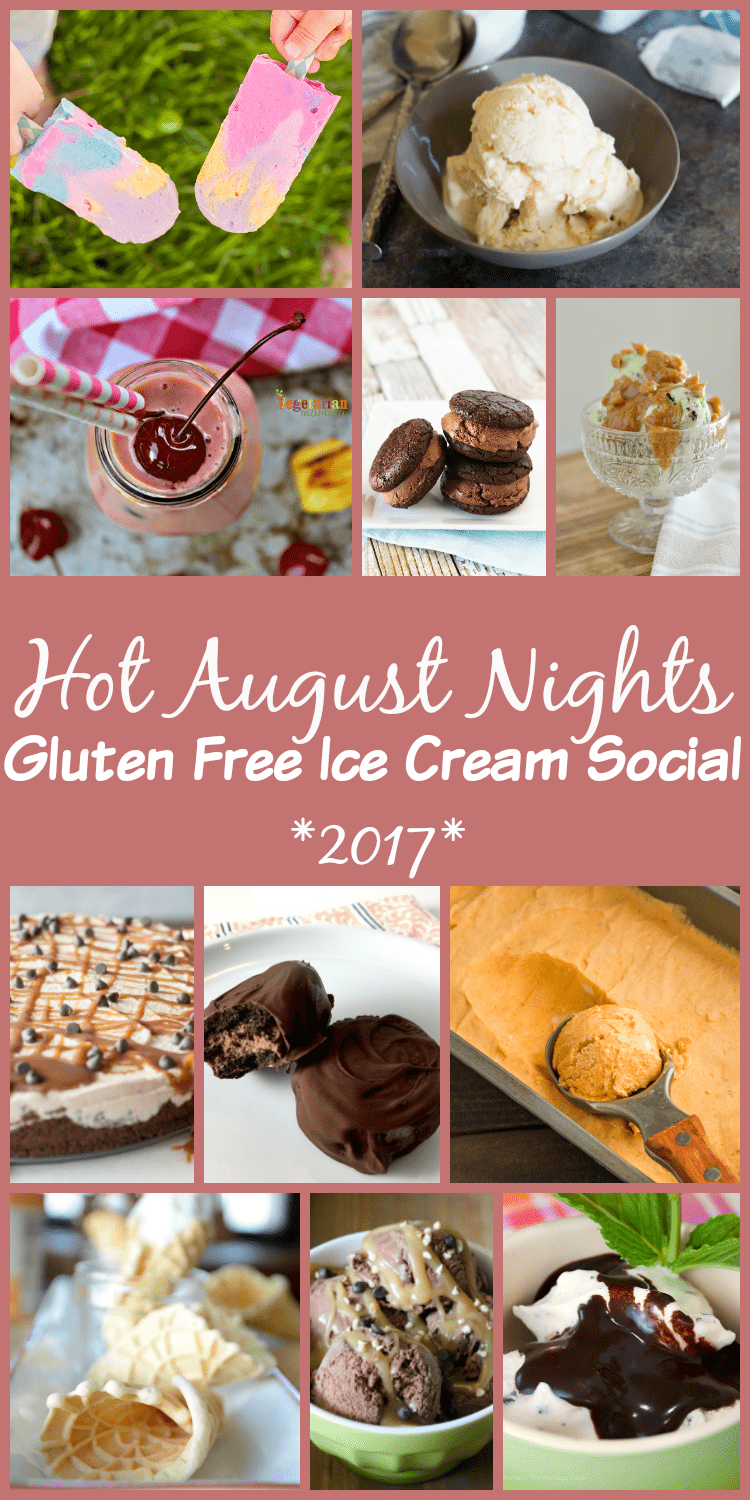 Creamy Earl Grey Infused Ice Cream by Fearless Dining
Gluten Free Vegan Brownie Ice Cream Sandwiches by Sarah Bakes Gluten Free
Gluten Free Mud Pie by What the Fork Food Blog
Chocolate Caramel Sundae Sauce by The Heritage Cook
Roasted Pineapple Cherry Shake by Vegetarian Mamma
Chocolate Sandwich Cookie Ice Cream Sandwiches by Celiac and the Beast
Dairy Free Salted Caramel Ice Cream Pie by Allergy Free Alaska
Peanut Butter Ice Cream Topping and Chips by This Vivacious Life
Pumpkin Pie No Churn Ice Cream by There is Life After Wheat
Gluten Free Waffle Cones by GF Jules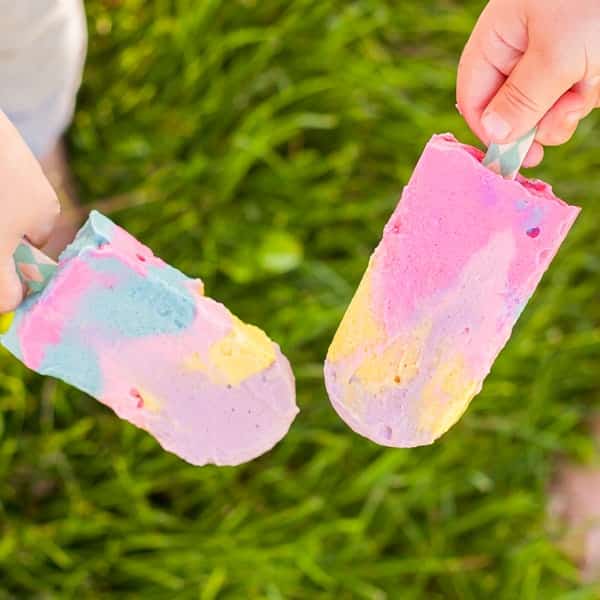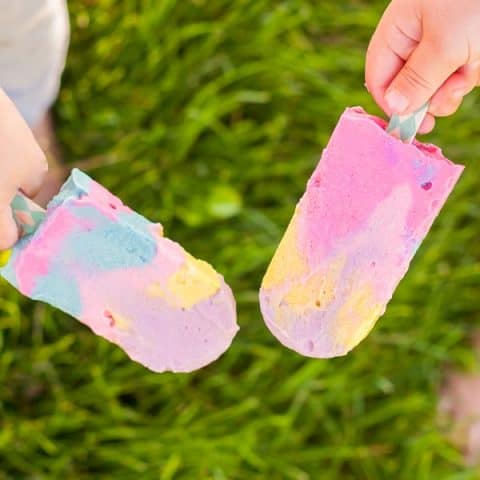 Vegan Unicorn Pudding Pops
Yield: 4

Prep Time: 15 minutes

Additional Time: 4 hours

Total Time: 4 hours 15 minutes

Vegan Unicorn Pudding Pops are a magical way to stay cool on a hot night.
Ingredients
2 cups prepared vegan pudding (I used Vivian's Live Again Vegan Pudding Mix) *see note
purple, pink, yellow and blue food coloring
popsicle molds
popsicle sticks
Instructions
Divide the pudding evenly between 5 plastic zipper bags.
Squeeze a small amount of food coloring into each bag and mix it with a spoon until evenly colored.
Snip a small corner off of each bag and layer the pudding into your popsicle molds. Gently swirl the colored pudding with a knife.
Insert popsicle sticks. (I wasn't using the handles that came with my mold so I covered my mold with tin foil first to hold them in place. )
Freeze for at least 4 hours.
To unmold your unicorn pudding pops, briefly dip the mold in luke=warm water.
Notes
You can use any prepared or home-made pudding, dairy-full or dairy-free.
I have successfully made Jello Brand pudding mix using dairy-free milk. I use 1 ½ cups of dairy-free milk instead of the 2 cups that are requested. Jello Brand pudding mix was gluten-free the last time I read the label.
Recommended Products
As an Amazon Associate and member of other affiliate programs, I earn from qualifying purchases.
Nutrition Information
Yield 4 Serving Size 1
Amount Per Serving Calories 199Total Fat 5gSaturated Fat 1gTrans Fat 0gUnsaturated Fat 3gCholesterol 1mgSodium 197mgCarbohydrates 36gFiber 0gSugar 27gProtein 2g

All nutrition info is a guestimate and will vary depending on the ingredients you use.



We're so excited to be offering a group giveaway of a $300 Amazon gift card! Just enter using this Rafflecopter entry below! Giveaway runs 8/14/17 through 8/24 at 9:00pm PDT. Open to USA residents only, 18 and older. Winner will be notified by email within 48 hoursof contest close and will have 48 hours to respond before a new winner is picked. Giveaway is sponsored by the participating bloggers. Good luck!