My family spent a truly Relaxing Gluten-Free Weekend at Hyatt Tamaya Resort. Great gluten-free food options, fun activities, and time to reconnect.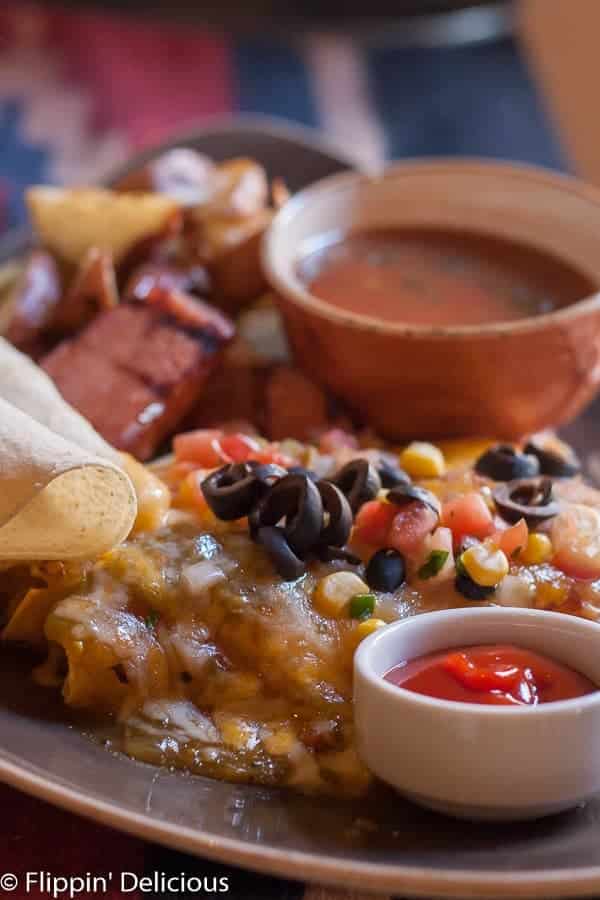 This post is sponsored by The Hyatt Regency Tamaya Resort. As always, all opinions are entirely my own.
I know…. relaxing and gluten-free in the same sentence about travel? It doesn't seem possible. Is it a dream? I can assure you it was not.
Usually, I never know if there will be safe food available when I travel. I have a habit of stuffing half of my pantry into a suitcase because nothing is worse than being hangry. When our family went to the Hyatt Tamaya Resort for Labor Day weekend I resisted the temptation to pack that extra suitcase because I knew that I wouldn't need it.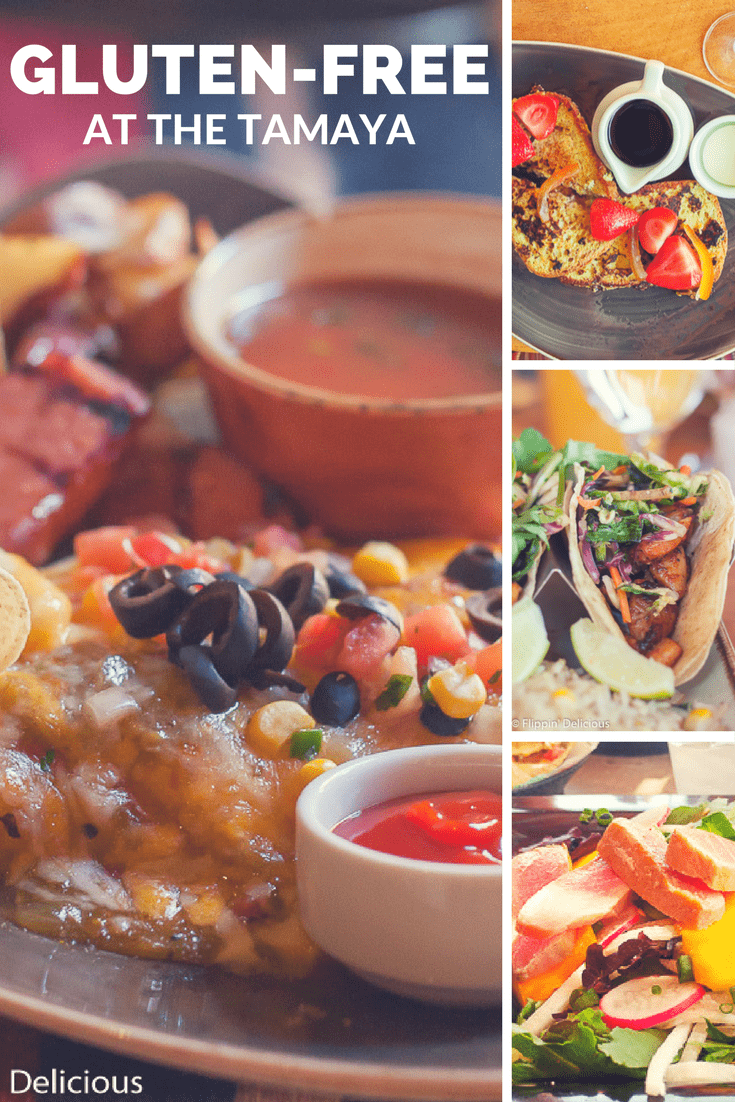 From the moment I lifted the kids out of their car seats and we hopped out of the van, I was in total relaxation mode. How could I not be? My hubby and I were given Lavender Honey Margaritas upon check-in and each of the kids received a cup of strawberry juice to sip. Once we settled in we headed straight for dinner at the Santa Ana Cafe. After checking out the dinner offerings, I decided to try the buffet.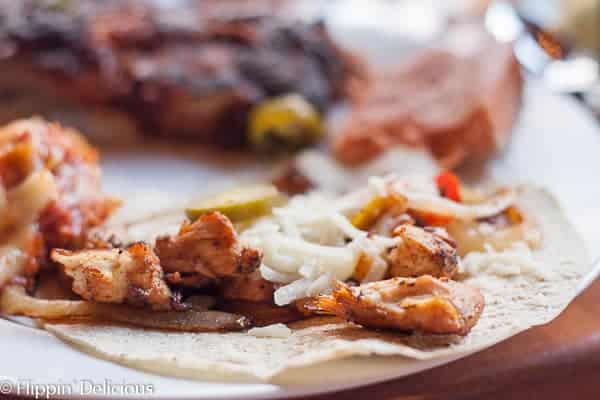 Yep, you heard me right. Normally a buffet is a death sentence for anyone with Celiac disease, however, that wasn't the case at the Tamaya. I checked out the buffet before ordering (helping the kiddos get food) and discovered that many items were clearly labeled as gluten-free. I asked the kitchen staff a few questions and the chef came out and showed me what would and wouldn't be safe. I felt surprisingly comfortable and went for it. I dined like a queen.
Another super cool thing is that children under five can eat at the Samta Ana Cafe buffet for free. Buffets were instantly Miss E's favorite, she loved not waiting for her food to arrive. One of her favorite things was pasta and meatballs. Miss E can eat gluten so she ate the pasta on the buffet, however, our server told me that they could cook some gluten-free pasta separately and bring it to us. Win #1 (or #2 if you count the margaritas) free allergy-friendly food for kids!
Also, eating breakfast on a covered patio complete with fireplaces and gorgeous scenery….I'm still dreaming about it.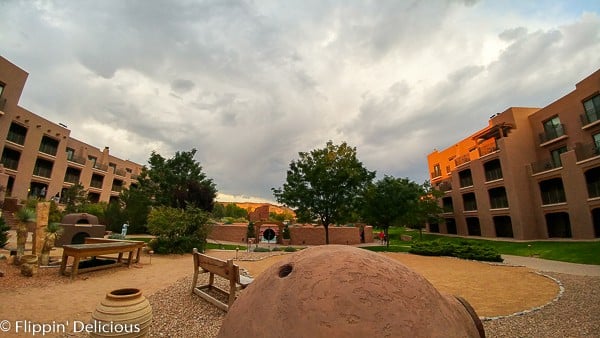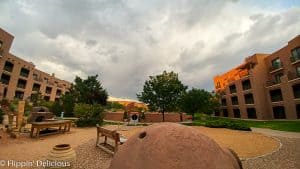 I won't bore you with the details of every meal I ate. Instead, I will show you pictures of everything and tell you about the philosophy and approach that the staff at the Tamaya takes toward allergies.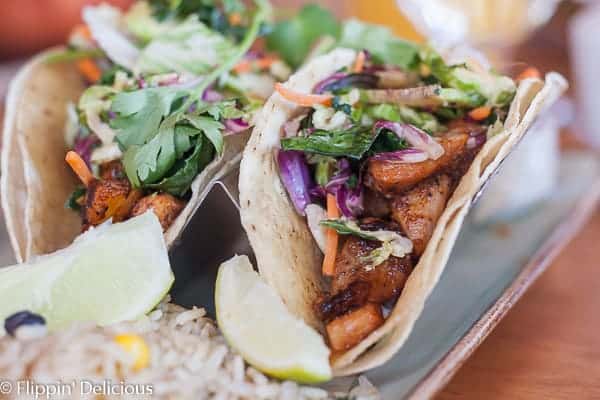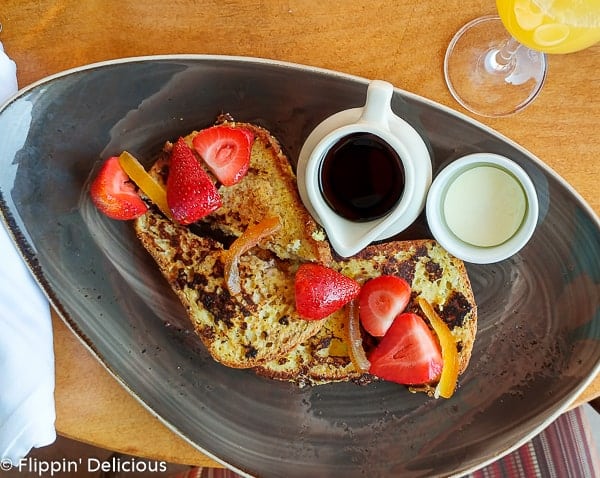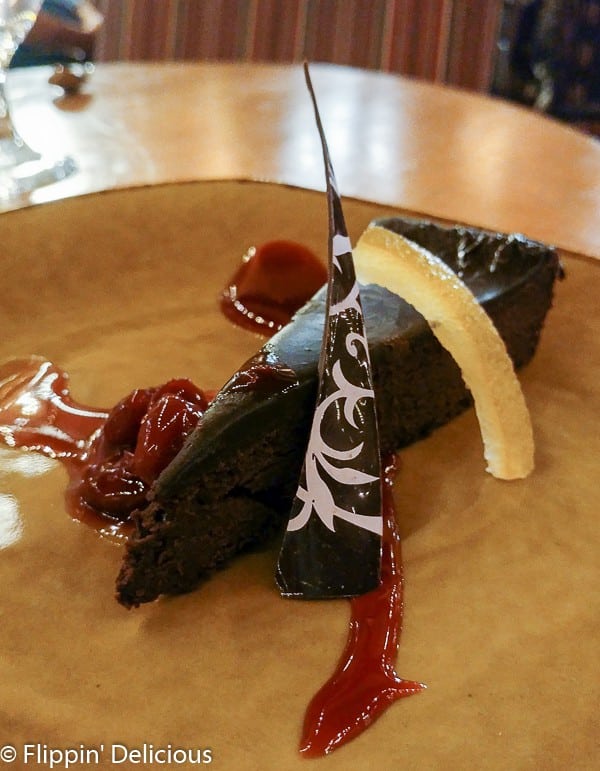 I had the pleasure of meeting with the Executive Chef, Chef Ernesto of The Corn Maiden (the fine-dining restaurant at the resort). I was pleasantly surprised by his approach towards custom-eaters. His wife is vegan and he believes that anyone can enjoy a great meal no matter their dietary needs. I was overjoyed to learn that each restaurant at the Tamaya has access to a dedicated gluten-free fryer (I enjoyed fried potatoes with breakfast and fresh tortilla chips in nachos). When creating dishes the Tamaya deliberately look for ways to make dishes allergy friendly. Chef Ernesto told me that instead of making their soups with flour roux (which is the classic way) they thicken them with cornstarch. They also make many of the soups vegetarian, using vegetable broth, so that they are accessible to most people.

The servers at the Tamaya were some of the most knowledgeable servers I've ordered from, so I wasn't surprised when Chef Ernesto told me that he trains his staff so that they know which dishes are gluten-free, dairy-free, etc. and know what modifications need to be made to dishes to adapt them for those with allergies. This means less running back and forth to check with the kitchen, and I definitely felt safer when ordering from servers who knew their stuff.
The meal we enjoyed at The Corn Maiden, the restaurant where Chef Ernesto is the Executive Chef, was exquisite and even included several dessert options! We ordered ice cream, but not because it was the only gluten-free option. We ordered it because it was a house-made honey lemon ice cream (made with honey that comes from bees on the grounds) and a fresh raspberry sauce.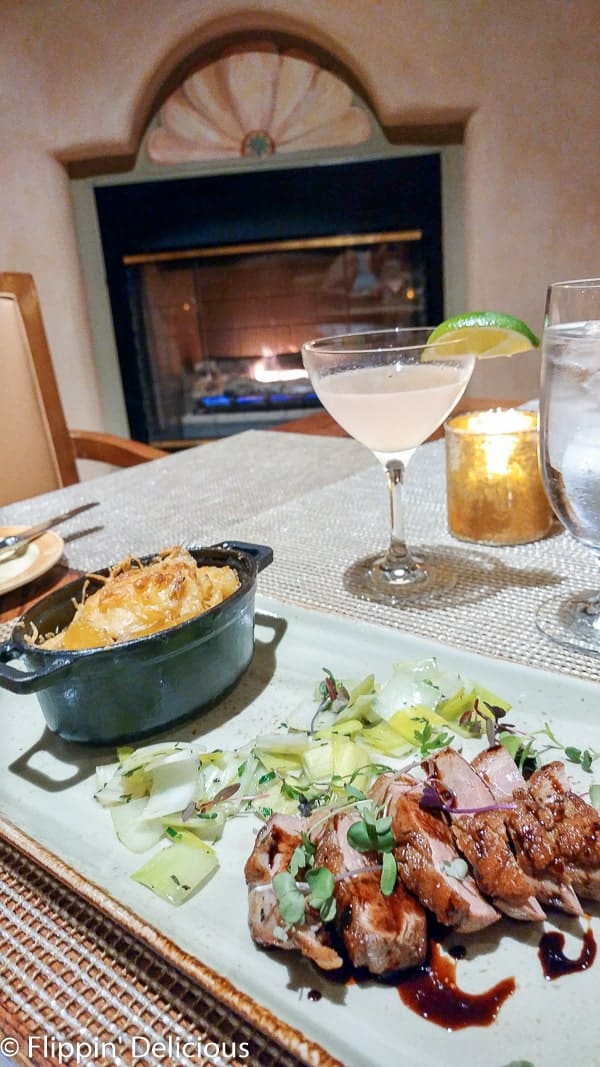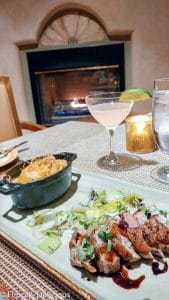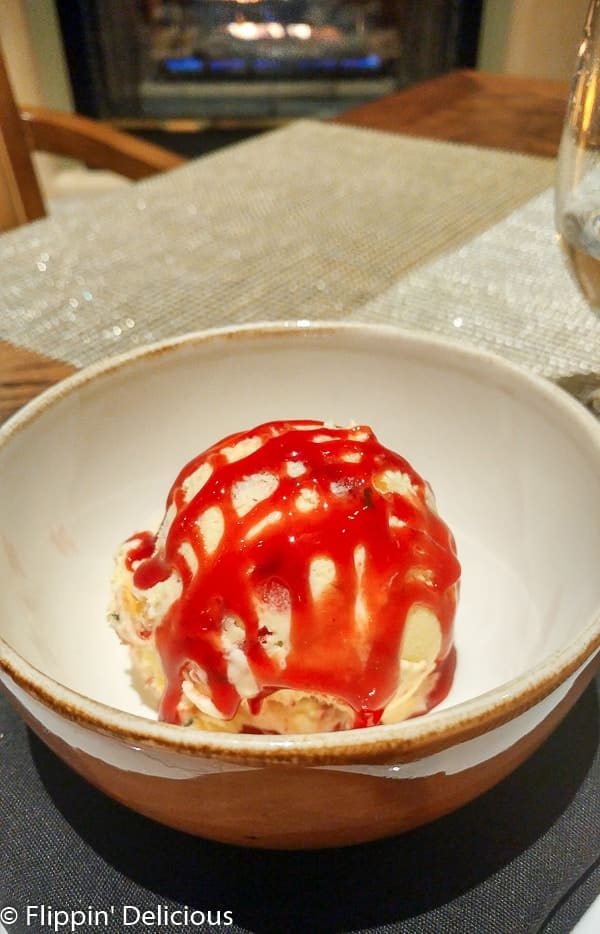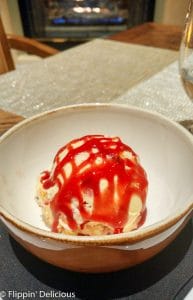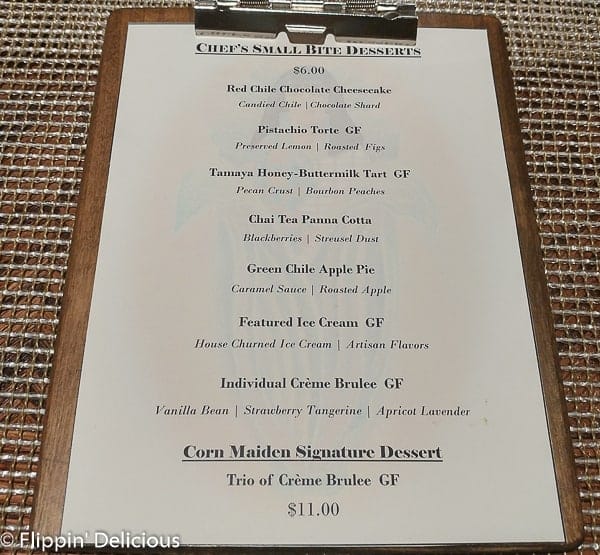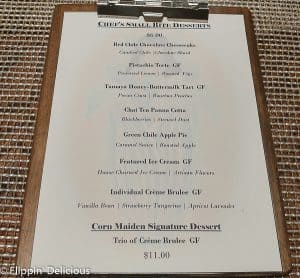 One of our favorite things, that I wish we had done more, was eating poolside at the Plaza Grill. Everyone picked their favorites and we ate lunch while the kids were still drying off. They will even serve you at your pool chair so you can stay in complete relaxation mode! (We opted to go to the table because we thought it would be easier for the kids to eat. It was. )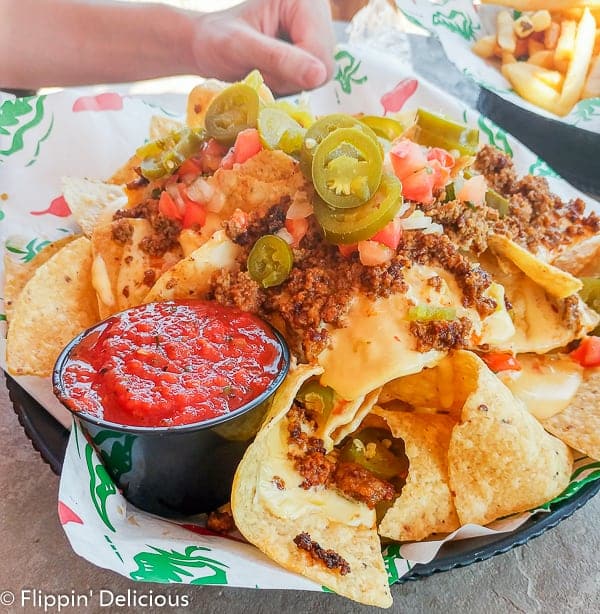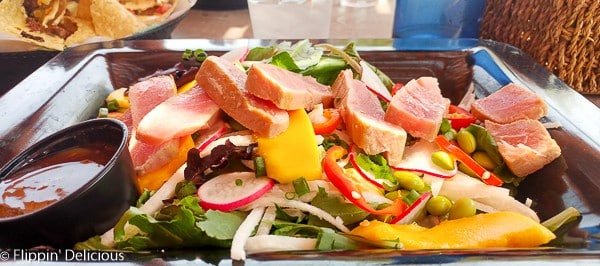 Only someone with allergies knows how stressful eating out can be. Usually, I eat at home because it is so stressful to eat out. I wasn't stressed one bit at the Tamaya, it was such a relaxing break to be so comfortable dining in restaurants. It allowed me to truly unwind and enjoy the weekend.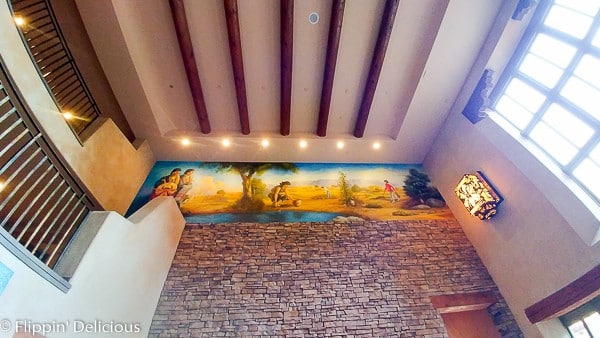 Not only did I not have to worry about food, there are great activities at the Tamaya to keep our whole family busy. There were s'mores around a fire in the evening, plenty of pool time, games, and beautiful grounds to explore. We loved walking in the bosque and visiting the horses that are a part of the Tamaya Horse Rehabilitation Program that rescues horses from around New Mexico. On some days there are free pony rides for kids!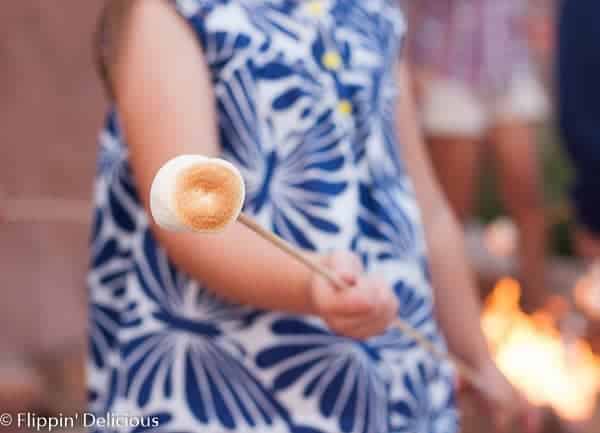 Another highlight was enjoying the traditional Native America dance performances. My girls were entranced, watching the dancers sway and listening to the bells attached to their costumes jingle.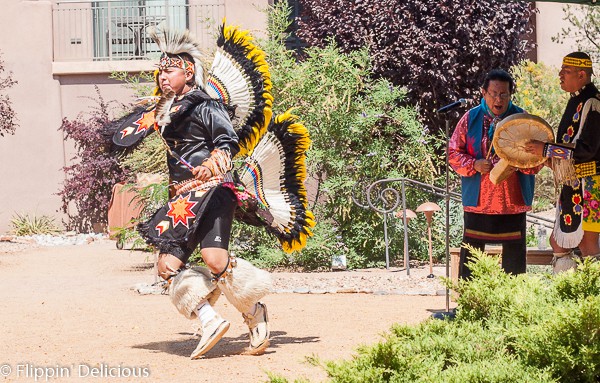 Miss E is our budding artist and was super excited to make and decorate a clay pot with my hubby in the Clay and Culture class. While she shaped her own pinch pot she learned about the culture and history of the Native Americans that had settled in the area. The historic Tamaya Pueblo is only 9 miles away from the resort!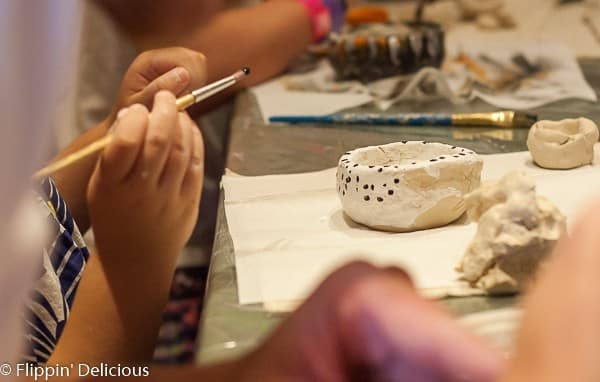 Even though this weekend was all about connecting and relaxing as a family, my husband and I still managed to get some alone time. We painted the beautiful scenery of the Sandia Mountains in the Wine and Watercolor class, dressed up, dined at The Corn Maiden, and sat on the patio outside our room after we tucked our girls in bed.
Our weekend at The Tamaya was a relaxing and rejuvenating for the entire family, which is an incredible feat! There were plenty of activities to keep our energetic kiddos busy, an abundance of opportunities for us to relax and reconnect as a family, and no one ever went hungry.