Gluten free instant pot meatballs are great for an easy weeknight meal. They also freeze beautifully, making this a fantastic make-ahead meal.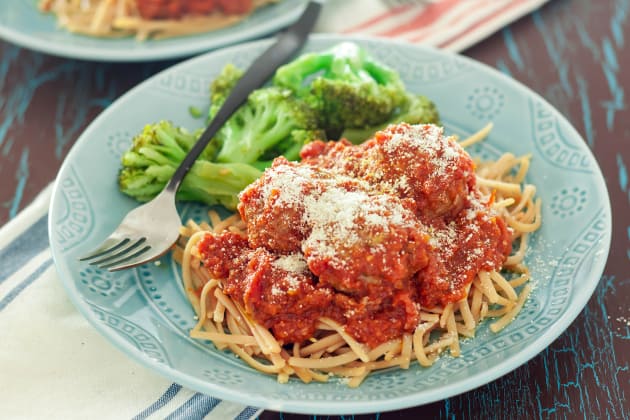 One night last week I realized I had a family-sized package of ground beef that needed to be used. I wasn't in the mood for taco night, which is normally my ground beef go-to dinner. So I mixed my ground beef up in a bowl with a few spices, some gluten free breadcrumbs, and a dash of milk.
(I actually was out of bread crumbs so I crushed up some gluten free rice cereal with my Smood from Dreamfarm. Shhhh! That can be our secret.)
In about 15 minutes I had transformed that package of ground beef into a sheet pan full of gluten free meatballs destined for my Instant Pot.
I dumped a jar of our favorite spaghetti sauce into my Instant Pot and then tossed in as many meatballs as I thought my family would eat for dinner. Just 16 minutes under pressure and dinner was served!
I made some pasta and broccoli and patted myself on the back. (What I felt like was) a balanced meal was on the table with minimal effort WHILE I juggled four kids.
But that is only where this meatball recipe's journey began!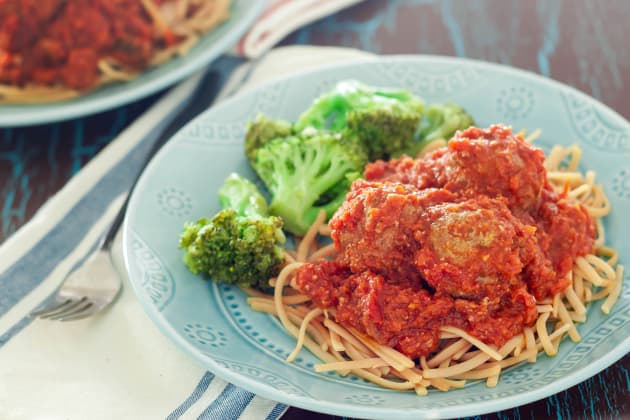 We only cooked about a third of the meatballs in spaghetti sauce that night. The rest of the meatballs were rolled and then placed into a freezer bag.
A few nights later when dinner time rolled around I pulled a dozen un-cooked meatballs out of the freezer and put them in my Instant Pot with some beef broth. I set my Instant Pot for a little longer since they were frozen (18 minutes) and then brought the kids to the park nearby to tire them out.
When I came back I added some gluten free ramen to the broth and switched my Instant Pot to sauté for a few minutes until the ramen was cooked. With almost no effort I put another dinner on the table!
A week later, tummies were growling and kids were cranky, so I tossed the few remaining meatballs and some frozen spinach in another jar of spaghetti sauce and set it while I folded laundry.
I boiled some gluten free macaroni and tossed it all together. It was a crowd-pleasing meal that fed not only my family, but my sister's family too! I loved that there were veggies hidden inside of the sauce.
So, with 15, maybe 20 minutes of prep time if you include clean up, I made three meals for my family.
I don't have the energy and planning to do a day of cook-ahead freezer dinners, but I can handle a big batch of meatballs!