Coffee Flour Cookies are naturally gluten-free, grain-free and refined-sugar-free. With just a hint of orange zest, and studded with chocolate chips you have a cookie perfect for any occasion. Coffee Flour gives a festive fruity and spicy flavor to the cookies.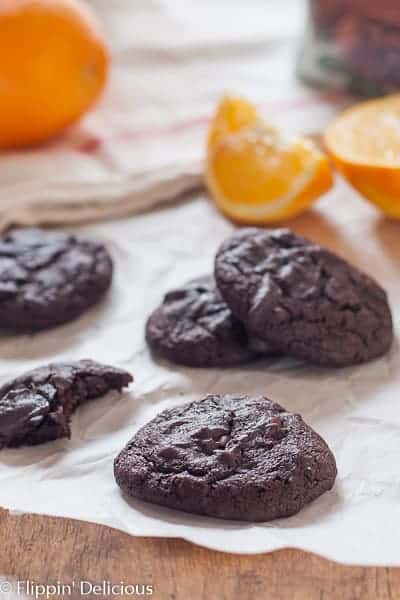 I've joined a bunch of my gluten-free food blogger friends for a Virtual Gluten-free Cookie Exchange for the holidays. We are also each doing our own giveaway, so you have lots of chances to win a holiday present for yourself. I'm giving away a prize pack of goodies from Rodelle (which they very generously are donating) , some of which I used when baking this recipe.
I don't know about you, but cookies are one of my favorite parts of the holidays. I consider myself a gluten-free cookie expert, having written 2 cookbooks all about cookies. With that said, I am still always up for trying something new.
Have you seen coffee flour? When I saw some at Trader Joe's I knew I had to give it a try. Before you get nervous about a crazy cookie buzz, coffee flour actually doesn't have any more caffeine than dark chocolate. What it does have is extra fiber, and potassium and iron.
I love, and I mean LOVE, my flourless chocolate cookie recipe. I've made almost a dozen variations on it over the years, it is always a go-to recipe. I wanted to experiment with coffee flour, and wanted to start with a recipe that is tried and true. I  made a few other adjustments to the cookie recipe to use honey instead of sugar, and to add just a hint of orange zest. The flavors all meld together into a sweet, dark chocolate coffee flour cookies with a deep, complex flavor. To me, it tastes like the holidays.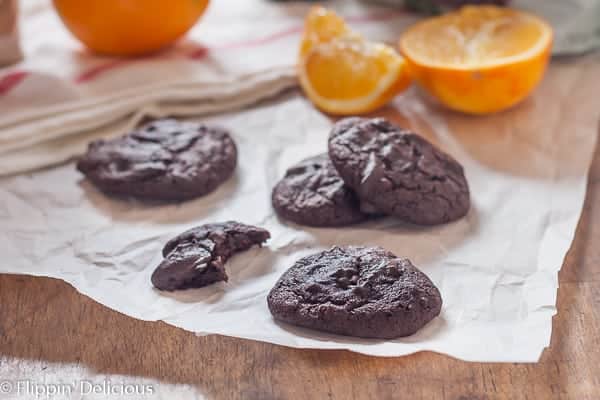 Coffee Flour also has a very unique taste. Did you try Starbucks Cascara Latte earlier this year? It was sweetened and flavored with the fruit that surrounds the coffee bean, which has a very subtle fruity and spicy flavor. It reminds me of cherries and oranges. Coffee Flour is made from the coffee fruit, too. It is dried and finely ground, and then makes a great addition to baked goods. I loved the way the flavors played with cocoa powder and orange zest in these coffee flour cookies.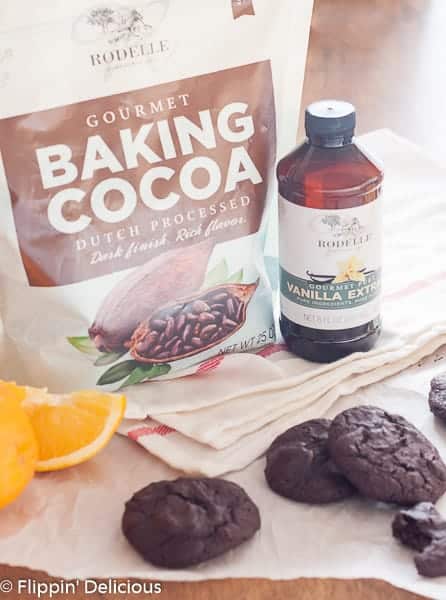 I want to spend just a second telling you about the cocoa powder I used in the recipe before I turn you loose in your kitchen. I'm an ambasador for Rodelle because I fell in love with their cocoa powder and vanilla extracts. Their cocoa powder it dutch processed, making it very chocolatey and less acidic, meaning whatever you use it for has a great dark chocolate taste. I also used Rodelle's Vanilla in this recipe, to help round out the flavors of the orange, chocolate, and coffee flour in these cookies. Scroll past the recipe to enter the giveaway!
Don't forget, there are 11 more gluten-free holiday cookies in this recipe exchange, each with their very own giveaway.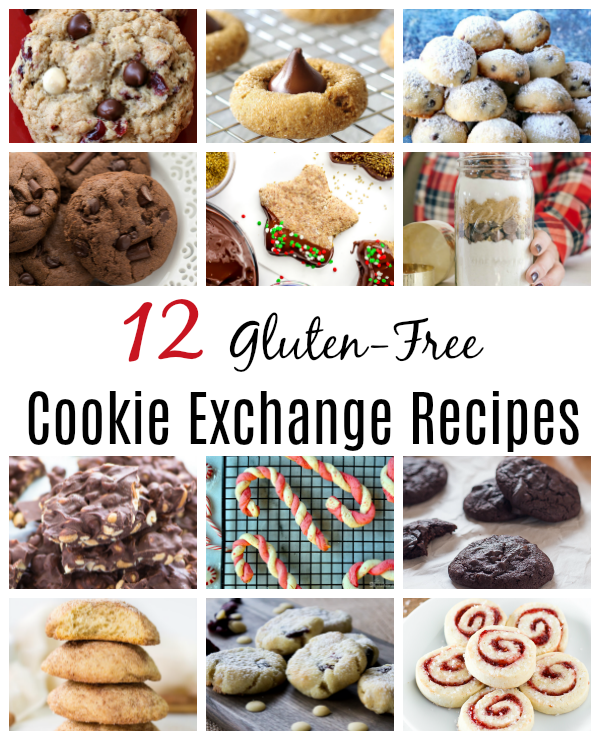 Check out all 12 recipes in our virtual gluten-free cookie exchange, listed in the order they appear in the photo, left to right, row by row:
Gluten-free Oatmeal Cranberry Chocolate Chip Cookies by My Gluten-Free Kitchen
Gluten-free Gingerbread Kiss Cookies by Gluten Free Palate
Snowball Cookies by Allergylicious
Gluten-Free Double Chocolate Mint Cookies by Meaningful Eats
Cinnamon Stars by Life After Wheat
Gluten-Free Chocolate Chip Cookies in Jar by This Vivacious Life
Crock Pot Bark with Salted Peanuts by What the Fork
Candy Cane Cookies by gfJules
Coffee Flour Cookies by Flippin' Delicious
Snickerdoodle Cookies by Veggie Balance
Lemon Cranberry Cookies by Vegetarian Mamma
Gluten Free Vegan Rasberry Pinwheel Cookies by Sarah Bakes Gluten Free
With so many beautiful cookies to choose from, you should be set for all of your holiday parties!
If you are eating paleo, give my friend Erin's Paleo Cookies a try. They are made with almond flour, and are chock full of chocolate chips.

Coffee Flour Cookies
Ingredients
½ cup butter, softened (I used dairy-free butter, like Smart Balance, Earth Balance, or Melt.)
½ cup honey
1 egg
½ teaspoon baking soda
½ teaspoon salt
¾ cup Rodelle Gourmet Cocoa Powder
¼ cup coffee flour
1 teaspoon Rodelle Gourmet Vanilla Extract
¾ cup chocolate chunks/chips
zest from half an orange
Instructions
Preheat your oven to 350F. Line your baking sheets with parchment paper or silicone baking mats.
Cream together the butter, honey, and egg.
Mix-in the baking soda, salt, cocoa powder, and coffee flour and mix until combined.
Next, add the vanilla extract, orange zest, and chocolate chunks and mix until evenly distributed.
Scoop the cookie dough onto the prepared baking sheets about 3 inches apart using a 1½ tablespoon cookie scoop.
Bake for 8-10 minutes. They will not "look" done, and will still be very soft but will lose their doughy shine.
After 2-3 minutes remove the cookies to a cooling rack to prevent them from overcooking.
Notes
If you LOVE the taste of coffee flour, try adding more to the cookie dough. Increase the coffee flour to ½ cup, and decrease the cocoa powder to ½ cup.
Gluten-Free Holiday Cookie Exchange (Rodelle Prize Pack)