Grilled Chicken Caprese Sandwiches- a gluten free sandwich twist on the classic summer salad.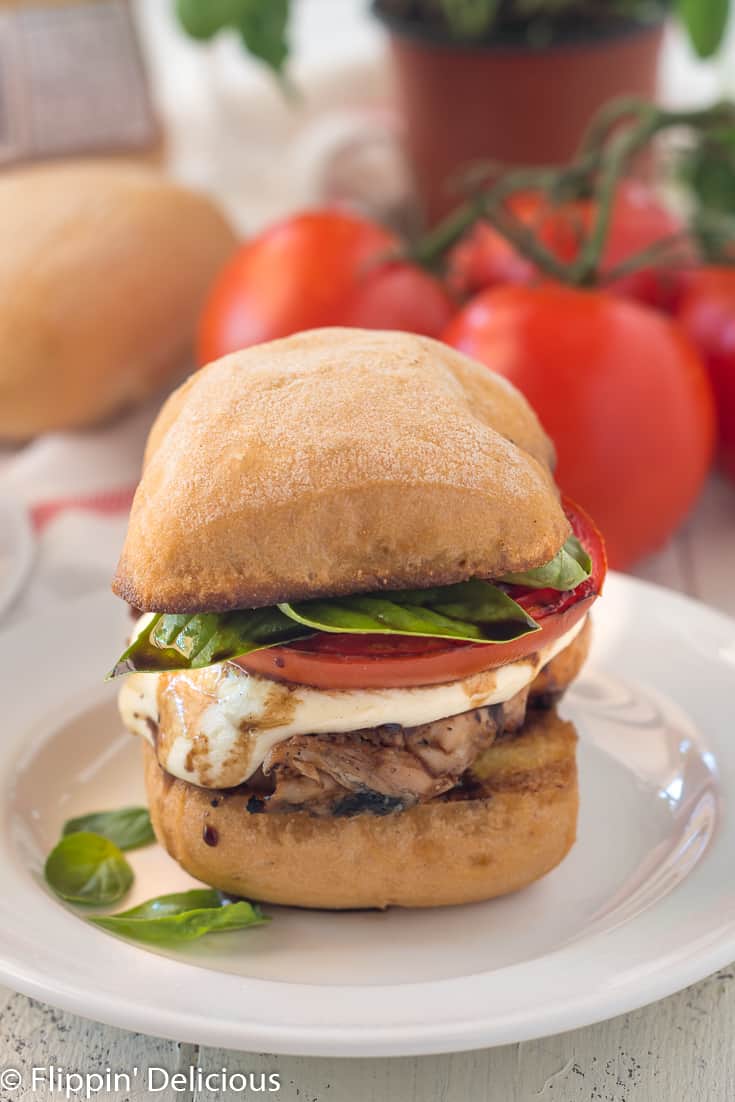 This post is sponsored by Schär, who is one of my partners for the year. As always, all opinions are entirely my own. I only work with companies I love, whose products I use in my own life, and who I think you'll love too! Thank you for supporting Flippin' Delicious™ and the companies I work with.
Gluten Free Grilled Chicken Caprese Sandwiches
When I think of summer, I immediately think of caprese salad. Grilled chicken sandwich on ciabatta bread is a fun take on the classic summer salad, with chicken marinated in balsamic vinegar, grilled vine-ripened tomatoes, basil fresh from my herb garden, and melted fresh mozzarella cheese. It is even better with a drizzle of nice aged balsamic vinegar!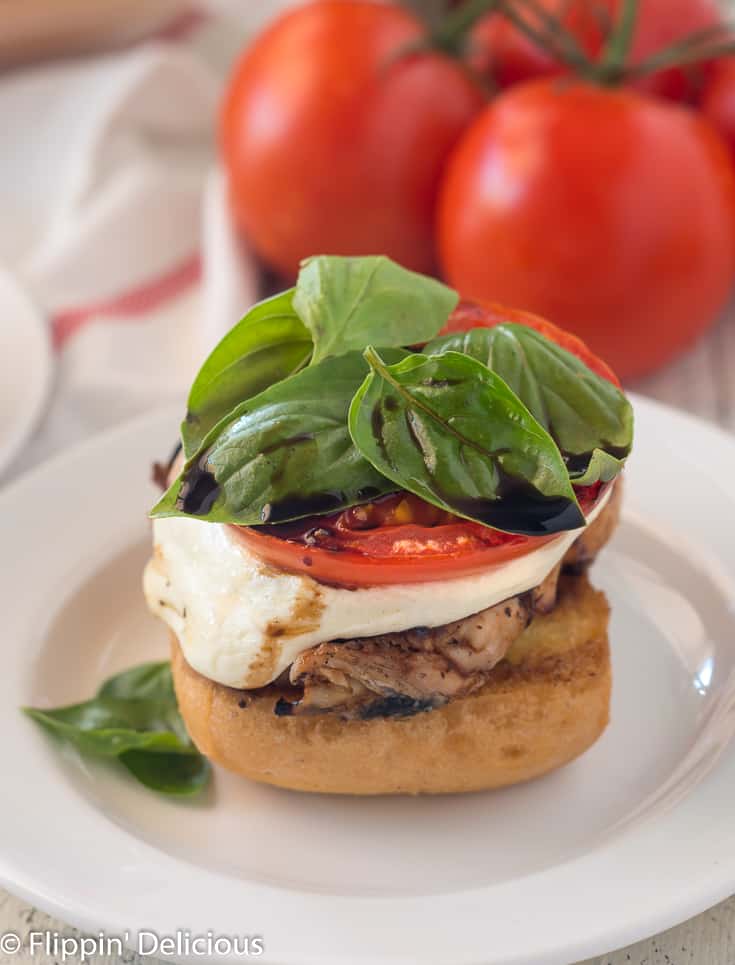 I've been in love with the caprese flavor combo since I first tried it a few years ago. The flavors are so bright and fresh. I even made a gluten free pasta salad with pesto that has all the same flavors!
I've also made a gluten free caprese panini grilled cheese sandwich. Let me tell you, it was amazing! I'm a big fan of caprese!
I remember my first caprese salad so clearly. It was my anniversary. My husband and I went out to dinner to celebrate but had to bring our 4-month-old baby with us. We had a gift card to use, so we splurged and got an appetizer, which is something we never did at the time.
We were at an Italian restaurant, and the only appetizer that was safe for me to eat was their caprese salad. While had certainly had each component separately, the fresh basil, mozzarella, roma tomatoes, and balsamic vinegar, I am not sure I had ever had them all at the same time.
The flavors went off like fireworks in my mouth! Over the coming summer, I made caprese salad several times. Whenever I got my hands on some beautiful tomatoes, it was what I wanted to make.
Chicken Caprese Sandwich on Ciabatta
The "cherry on top" is the toasty gluten free ciabatta bread. To accentuate the great flavors and texture of Schär's gluten free ciabatta, after cutting each roll in half lengthwise I brushed the inside with a little olive oil and garlic powder and tossed them on the grill. It was like making a grilled chicken mozzarella sandwich with fresh garlic bread!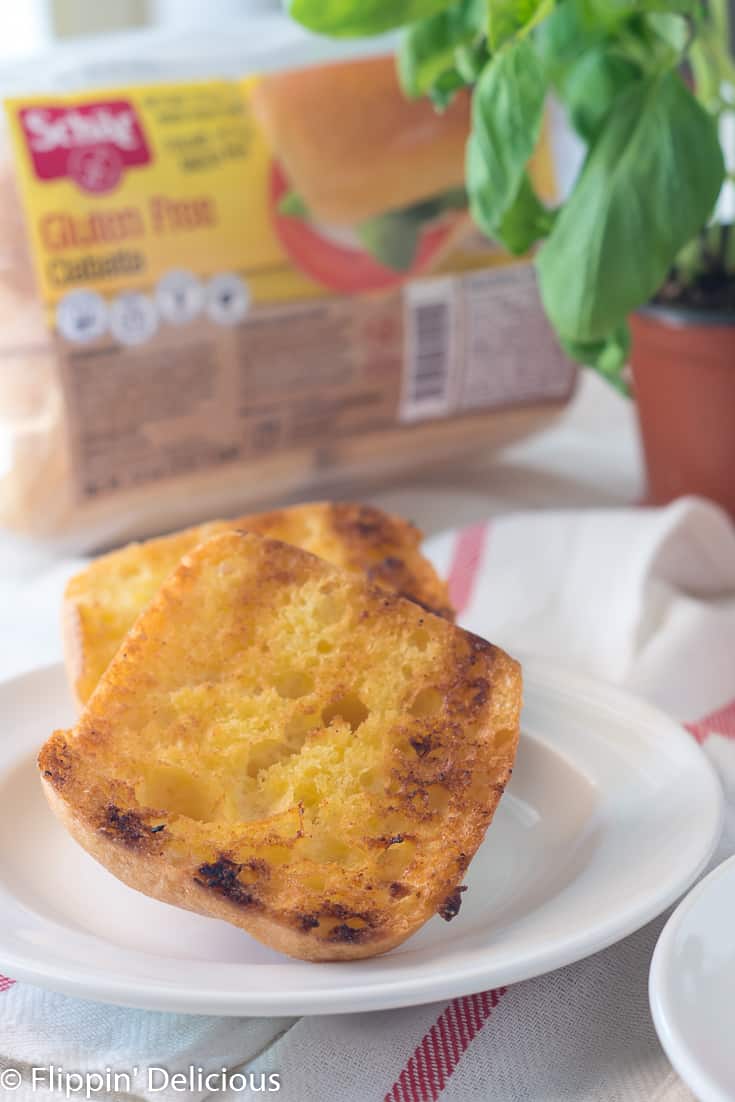 We loved the ciabatta so much on its own that I've been using it to make garlic toast as snacks. My whole family loves it! Olive oil, garlic powder, a sprinkle of parmesan and maybe a slice of juicy tomato all toasted up. It is perfection! I plan to enjoy it all summer long.
Gluten Free Ciabatta
I've had the opportunity to work with several great companies this month. I have many favorite celiac friendly companies, one of which is Schär. Schär is the #1 gluten free company in Europe, and for good reason. Their products are flippin' good!
We had some non-gluten-free friends over to barbecue a few weeks ago. I pulled out some ciabatta rolls to use as buns and our friends were impressed with the taste and texture. They asked if they were gluten free because they were surprised with how good they were!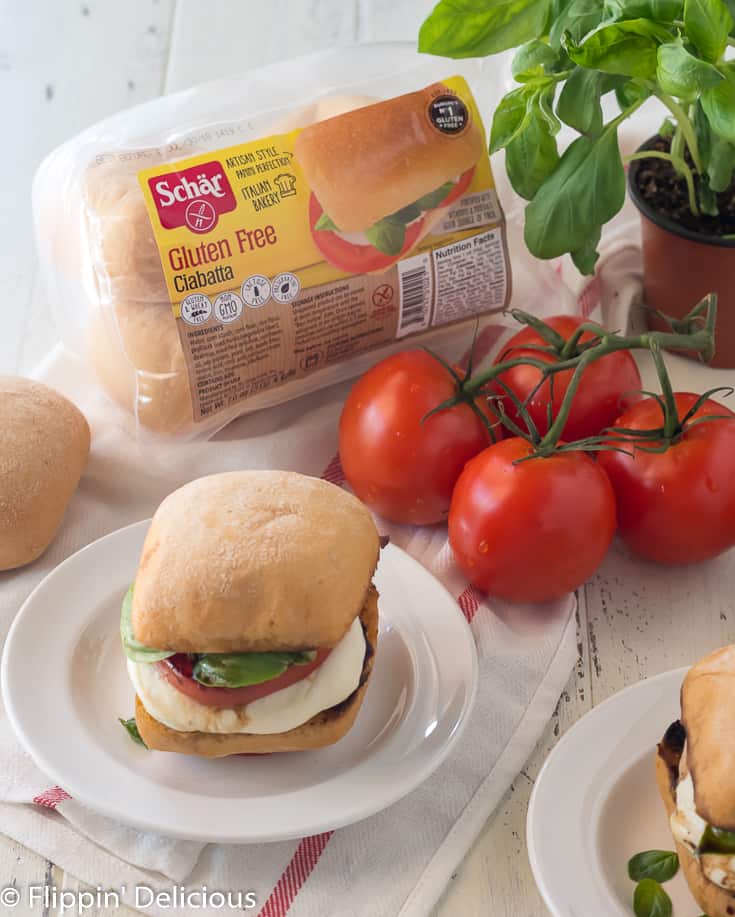 I love when I first open a bag of Schär's gluten free ciabatta. The smell of freshly baked bread wafts up my nostrils and reminds me of when my family baked homemade bread when I was a little girl.
Can I also take a second to mention the packaging? I love that I don't have to use up all my precious freezer space when I stock up on Schär. It stays fresh in my pantry for weeks!
Now that I've bragged on Schär a bit, back to the balsamic chicken caprese sandwich.
How do I make grilled chicken sandwich marinade?
My grilled chicken sandwich marinade recipe couldn't be easier! It is just balsamic vinegar and a little olive oil. First I trim my chicken so that it will fit on my gluten free ciabatta.
I was using smaller chicken breasts, so I pounded them gently so they would cook evenly, and also cut them in half so each piece was about the same size as my ciabatta. You can use any cut of chicken you like! I think that chicken tenders, or boneless skinless chicken thighs would work well in this chicken caprese sandwich recipe.
To keep things clean and easy, I sprinkled each breast with salt and pepper before putting the chicken breasts in a Ziploc bag. I evened out any thick spots with my meat mallet, and then added the balsamic vinegar and olive oil to the bag.
As long as you don't have to do any heavy duty pounding the Ziploc bag should have enough integrity still so it won't leak. Just in case, place your bag on a large plate to catch any spills or leaks. Pop it in the fridge for an hour or two or do a quick marinate on the counter top for 30 minutes.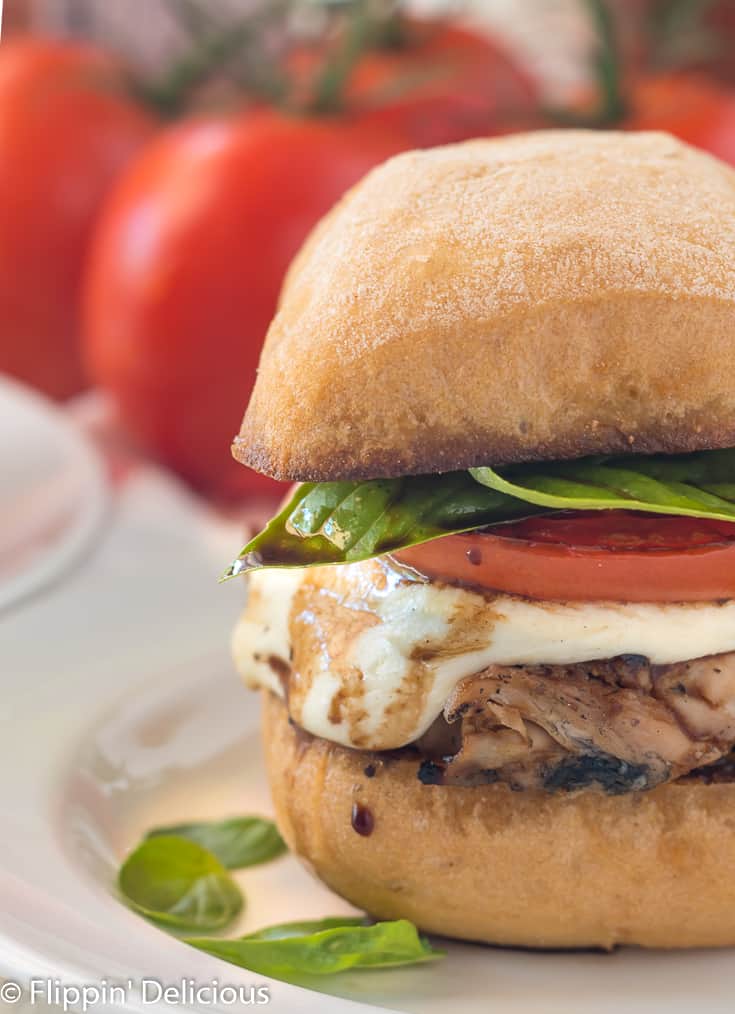 Is this a healthy grilled chicken sandwich recipe?
I love how easily customizable this recipe is! Because it is so easy to customize, you can easily fit it into your healthy diet, whatever that means to you. A well-balanced meal makes me feel satisfied, yet not weighed down.
If you are watching calories, use a little less oil on the ciabatta (or simply toast it without olive oil and garlic), and use a little less cheese.
You can also skip the cheese all together (though I love the creamy texture it adds).
Here is my Gluten Free Chicken Caprese Sandwich Recipe!
A lot of the ingredients are in ranges because this is such an easy customizable recipe. Add a little, or a little more of any ingredient to fit your tastes.

Grilled Chicken Caprese Sandwiches- Gluten Free
Grilled Chicken Caprese Sandwiches- a gluten free sandwich twist on the classic summer salad.
Ingredients
For the balsamic marinated grilled chicken
2 chicken breasts
Salt and pepper
2-4 tablespoons aged balsamic vinegar
1-2 tablespoons extra virgin olive oil
Other ingredients to assemble your grilled chicken caprese sandwich
4 Schär Gluten-free Ciabatta Rolls
1-2 tablespoons extra virgin olive oil
¼-1/2 teaspoon garlic powder
1-2 tablespoons aged balsamic vinegar
1-2 romas or your favorite tomato, sliced
4 slices fresh mozzarella cheese, or burrata (can omit or substitute a dairy free cheese if needed)
Fresh basil
Instructions
For the Balsamic Marinated Grilled Chicken.
Trim your chicken so it will fit on your ciabatta, if using chicken breasts you may want to cut each breast in half.
Liberally season your chicken breasts with salt and pepper, then place them in a plastic zippered bag.
Seal the bag and lightly pound using a meat mallet to even out any thick areas so that it cooks evenly.
Add the balsamic vinegar and olive oil to the bag and move the chicken around so it is evenly coated. Let the chicken marinate for at least 30 minutes, up to several hours in the fridge.
Heat your grill to medium-high heat. Remove the chicken from the marinade and grill for 4-5 minutes on each side, or until cooked through and an internal meat thermometer registers 165°F at the thickest part of the meat.
If desired, top your chicken with the mozzarella the last 3-4 minutes so that it gets melty and spreads over the top.
For the rest of your chicken caprese sandwich
In a small bowl mix the olive oil and garlic powder. Cut the gluten free ciabatta buns in half lengthwise and brush the insides with the olive oil. Lightly grill, or toast in a toaster oven or under a broiler.
If desired, char your tomato slices on the grill.
After the chicken is done, place a piece on the bottom gluten free ciabatta, top it with the mozzarella, tomato, fresh basil, drizzle of balsamic vinegar, and the top ciabatta. Serve while still warm.