I try to always have a well-stocked purse, because as a mom, gluten-free-eater, and with a dairy-free preschooler, there are a few things that make my life so much easier. Here are 6 things that are (almost) always in my celiac/allergy mom purse!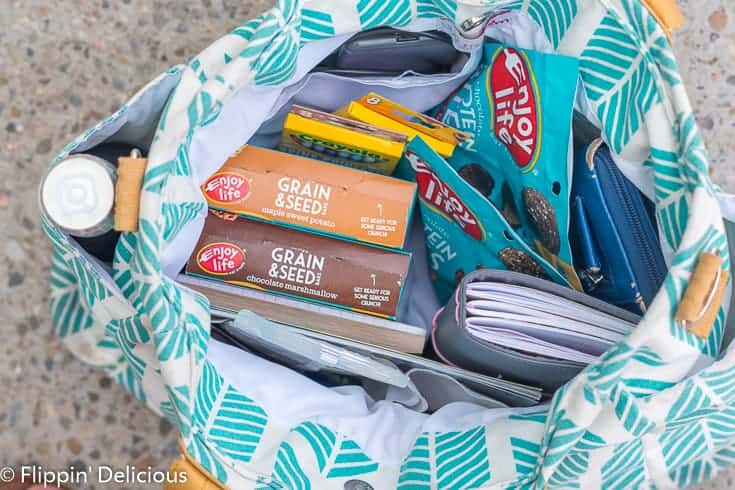 This post is sponsored by Enjoy Life Foods. All opinions are entirely my own. My pantry is always filled with their products because I trust and depends on their allergy-safety and quality. Thanks for supporting Flippin' Delicious and the companies I work with.
Our family makes an effort to go out and explore something, or go on a fun outing each weekend. This past weekend, we went to our local Natural History Museum. By the time we finished walking past fossilized ammonites found in (what used to be the coast and ocean) New Mexico,  learning about volcanoes while tip-toeing over glowing magma, and staring in awe at the plastic stalagmites and stalactites in a faux cave, the kids were tired and ready for a break. (I was too!) I had restocked my purse before we left in the morning, so we had everything we needed.
If you are a mom, especially if you are an allergy or celiac mom, here are 6 things that I always like to carry in my allergy mom purse!
6 things in my celiac &  allergy mom purse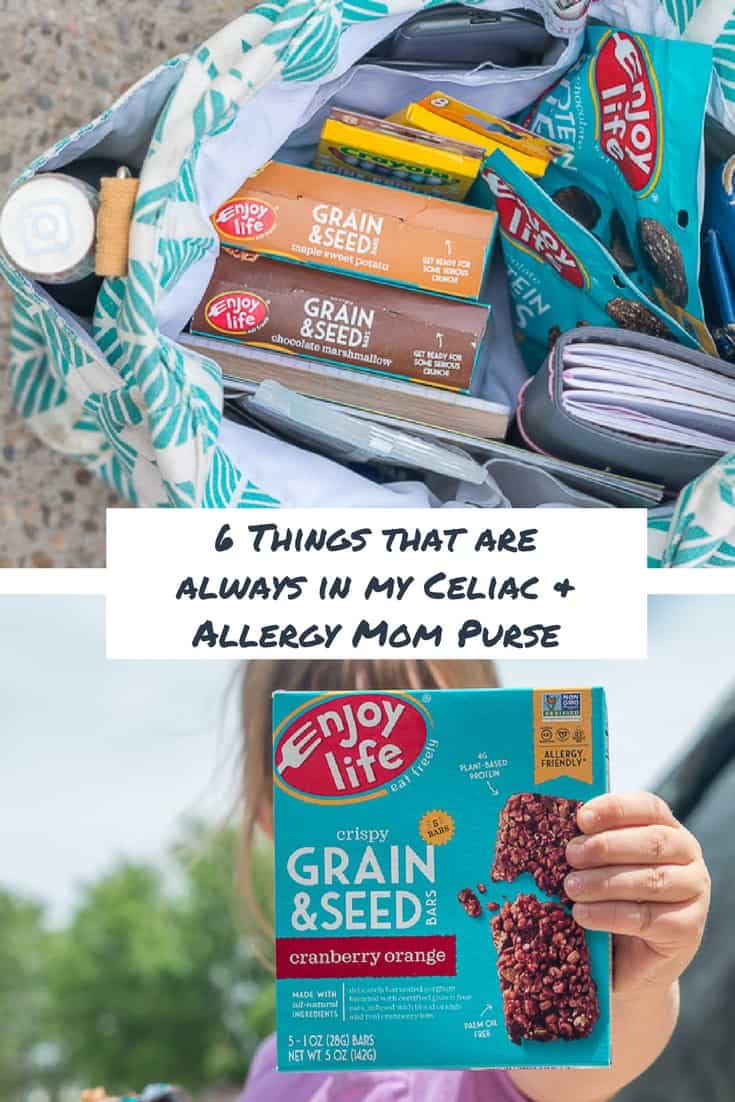 Allergy Medications
This has to come first. While my kids don't have anaplactic allergies, I have a sister with a life threatening peanut allergy.
Don't ever leave the house without your epi!
I know many allergy parents also carry benadryl to help slow an allergic reaction.
For me, medications means some gluten-zyme and activated charcoal.
Gluten-zyme does not make consuming gluten safe for someone with celiac! I never intentionally consume gluten. But I've been glutened time and time again, even when I'm very cautious. Taking gluten-zyme makes me feel less anxious when I eat out, especially if I have to eat out in an unplanned spot. Activated charcoal also helps me when I've been glutened.
These are just what has worked for me, I'm not a doctor and not your doctor, so please talk to your medical advisor.
Antibacterial Wipes
I've graduated from baby wipes! With my youngest potty trained, I no longer carry an enormous diaper bag (I've upgraded to an enormous purse). I try to always have some antibacterial wipes in my purse and they sure do come in handy!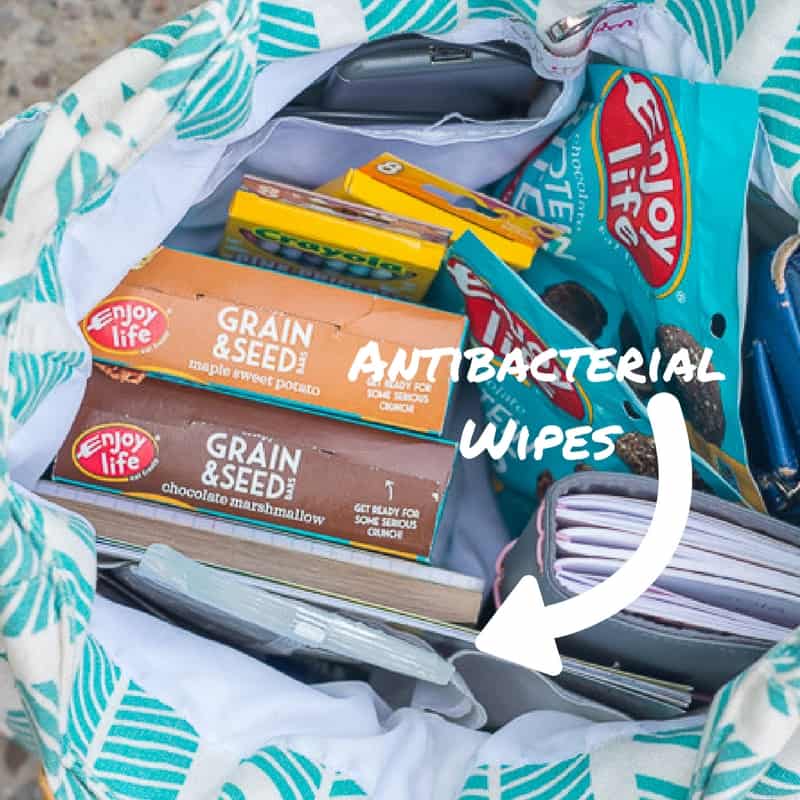 One thing some people don't know is that hand sanitizing gel does NOT clean allergens from your hands. You really need good old-fashioned hot water and soap, or antibacterial wipes to get the job done.
Safe Snacks
When we left the Natural History Museum we had 3 hungry kids. Luckily I got a package from Enjoy Life Foods to celebrate their new teal packaging during Allergy and Celiac Awareness Month so we had lots of yummy safe snacks for everyone. I love that they switched to teal! Teal has become the allergy-awareness and advocacy color, plus it is easy to spot from afar.
Have you seen their new teal packaging in your local stores? Share a pic with #TealSpotting! (Be sure to tag @enjoylifefoods and the retailer for a chance to win a free product coupon from Enjoy Life Foods.)
Two of my favorite things to snack on are Enjoy Life Food's Protein Bites and Grain & Seed Bars. My kids go nuts over the chocolate and marshmallow grain and seed bars! There are so many times they've "saved the day" (as Miss T would say). The handful of times we've slept in and didn't have time for breakfast before school. Or I didn't have time for breakfast before school drop-off and work. On the way to ballet on a busy Saturday morning.
And now in front of Albert, the Albertosaurus outside of the New Mexico Natural History Museum.

My personal favorite snack is Enjoy Life Foods's Protein Bites. They taste like chocolate truffles! And of course, since everything that Enjoy Life Foods makes is free of the top 8 allergens, there is no dairy in them so everyone can enjoy. I still can't decide which flavor is my favorite! Cinnamon Spice is definitely up there, but so is Cranberry Orange.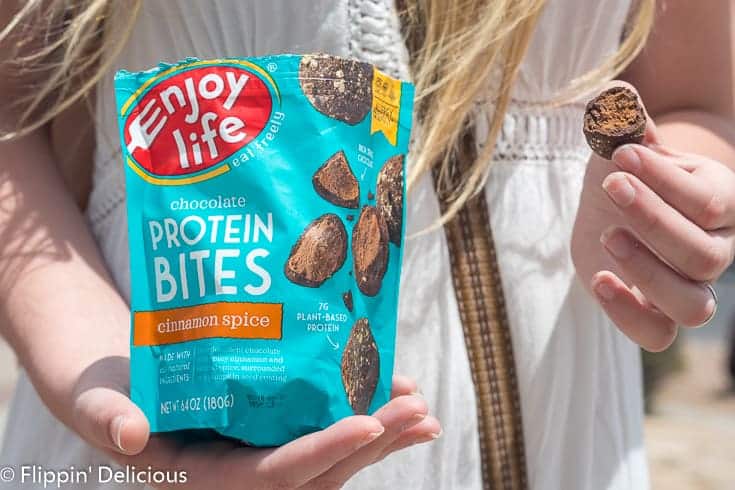 My husband loves the SunSeed Protein Bites! He pulled them out again while we were watching tv in the evening.
Enjoy Life Foods has kindly given me a discount code to share with you! Use ENJOYFD for 15% off any order over $10. (1 time use, valid through June 1st 2018)
Having a bag full of safe snacks gives me the confidence to go out on adventures with my kids! I didn't feel pressured to swing by a drive-through window to stave off their complaints and growling tummies before we drove home. #EatFreely
Water Bottle
Kind of an obvious one, but you've gotta stay hydrated! I always keep a case of bottled water in my car, and have a refillable water bottle in my purse. I will often carry two water bottles, one for me and one for the kids.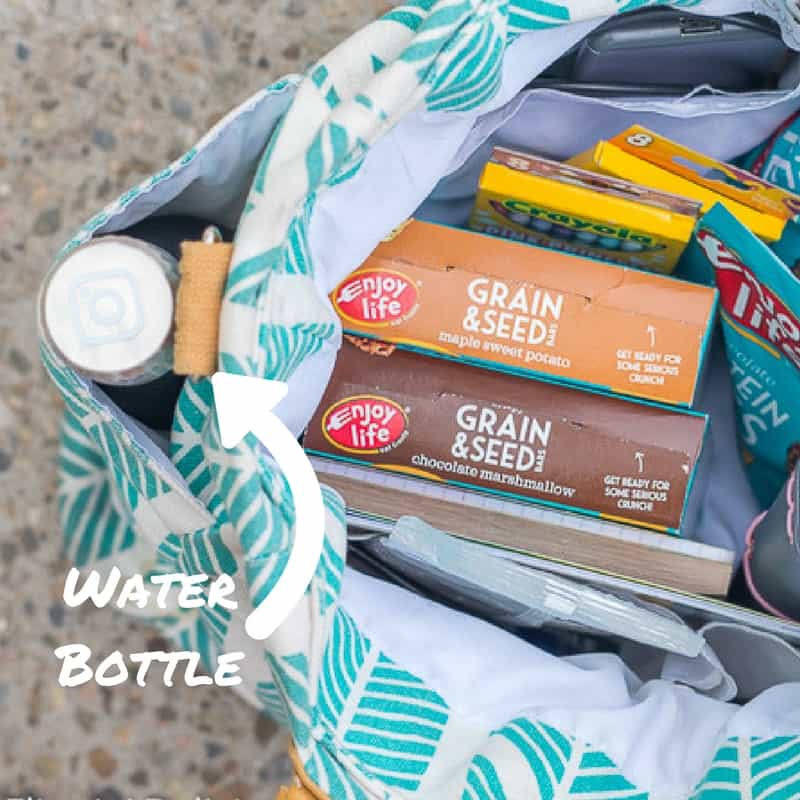 Did you know that if you have celiac or a food allergy, you can get sick from sharing a water bottle? Or kissing?
As a mom I often share things with my kids, including water bottles. If they use my water bottle after eating gluten earlier in the day, I won't use it again until it is thoroughly washed. I try to carry two, but that doesn't always happen.
The each have their own water bottle that they got from their Grandma for Christmas, why don't they carry their own! Some day!
 Cell Phone
This one may sound like a"'duh, of course you bring your phone," but give me a second to tell you why I decided to include it in this list.
There are some great apps out there for helping you to find a safe place to eat if you have celiac or a food allergy. Find Me Gluten Free, Spokin, and Allergy Eats, just to name a few. If you are in a tight spot and are hungry, or have hungry kiddos, these apps can help you find a safer option instead of going in blind.
I also always try to look up the allergen info on a restaurant's website before we go. When we first cut dairy out of Miss T's diet we discovered that McDonald's fries had dairy in the them! So silly! Looking up the allergen info on the way will help you to know what questions to ask at the drive-through window or order counter.
In general I try to avoid a lot of fast food restaurants (at least for myself. I just don't feel comfortable eating anything at McDonald's and several other big chains), but there have been a few times when I haven't had any other options besides a quick-serve chain restaurant. Looking up the options before I arrive helps me to order with a bit more confidence.
Stuff to Color
This is one of my favorite things to stuff into my allergy mom-purse, and one I can bet you didn't guess! I can't count how many times a scrap of paper and a crayon has kept one of my antsy kids quiet, even if just for a minute. I like having something my girls can use to doodle if they get bored. A small blank notebook and a few crayons do the trick. I've also used a page from my planner and a pen in a pinch.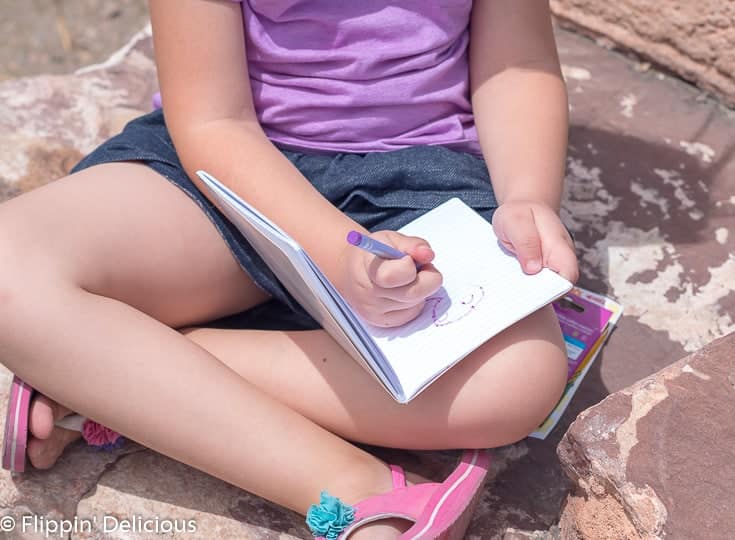 This especially comes in handy while I try to navigate the allergen and nutrition info on a restaurant website. That can take a while, and I need to take my time and not rush to ensure I am eating safely.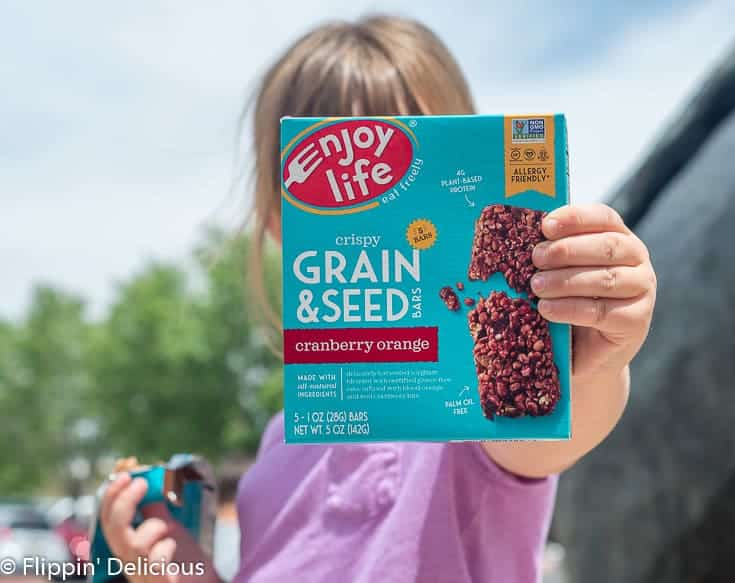 I hope this peak into my allergy mom purse will help you feel confident to go out on an adventure and#EatFreely! Happy Celiac Disease Awareness Month and Allergy Awareness Month!