Enjoy Life Foods just updated their Chocolate Protein Bites recipe, and added two new flavors! I'm sharing my Enjoy Life Chocolate Protein Bites Review with you.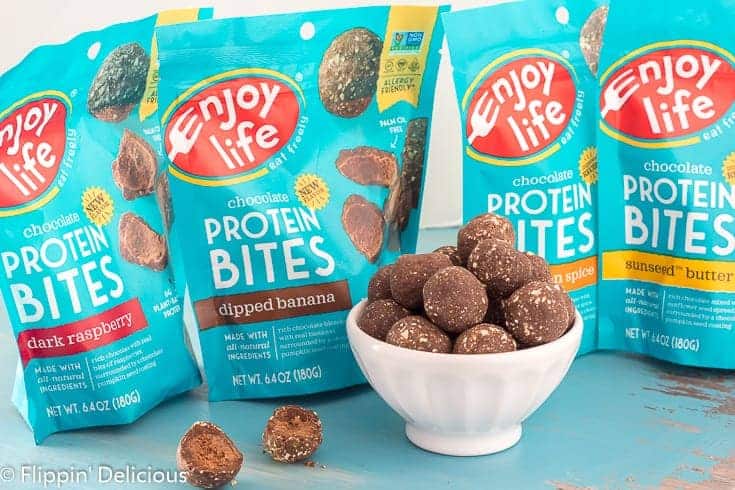 This post is sponsored by Enjoy Life Foods. As always, all opinions are mine and this is my honest review. Thanks for supporting the companies that make it possible for me to share allergy-friendly, gluten-free recipes with you for free!
Hello friends!
It isn't often that I do products reviews, but today that was the best way I felt that I could tell you about Enjoy Life Foods updated Chocolate Protein Bites.
Enjoy Life Chocolate Protein Bites Review
Enjoy Life came out with their original Protein Bites about a year and a half ago. I remember hoarding them in my snack drawer at work. I didn't want to share!
While the original recipe was pretty tasty, they did have a bit a a gritty "protein-powder" taste. If you have used vegan protein powders, you probably know exactly what I'm talking about. It wasn't unpleasant, especially because I knew I was eating chocolate that was packed with protein. They were one of my favorite things to pack in my "allergy mom purse" for emergency chocolate needs because the added protein helped me avoid a sugar crash later on.
The updated recipe uses sunflower protein so it has a smoother texture than the original bites. With the smoother texture, they taste more like truffles than ever.
Each serving (3 protein bites) has 6g of plant-based protein (which is a big win for me!) The new recipe has a great bite with a little chew, and is super chocolate-y! The "truffle" interior is covered in a chocolate and pumpkin seed coating with just the right amount of crunch. Miss T is a huge fan of pumpkin seeds (she keeps on grabbing my jar from the pantry and pouring them on the table to lick them up) so she loved them!
NEW Chocolate Protein Bites Flavors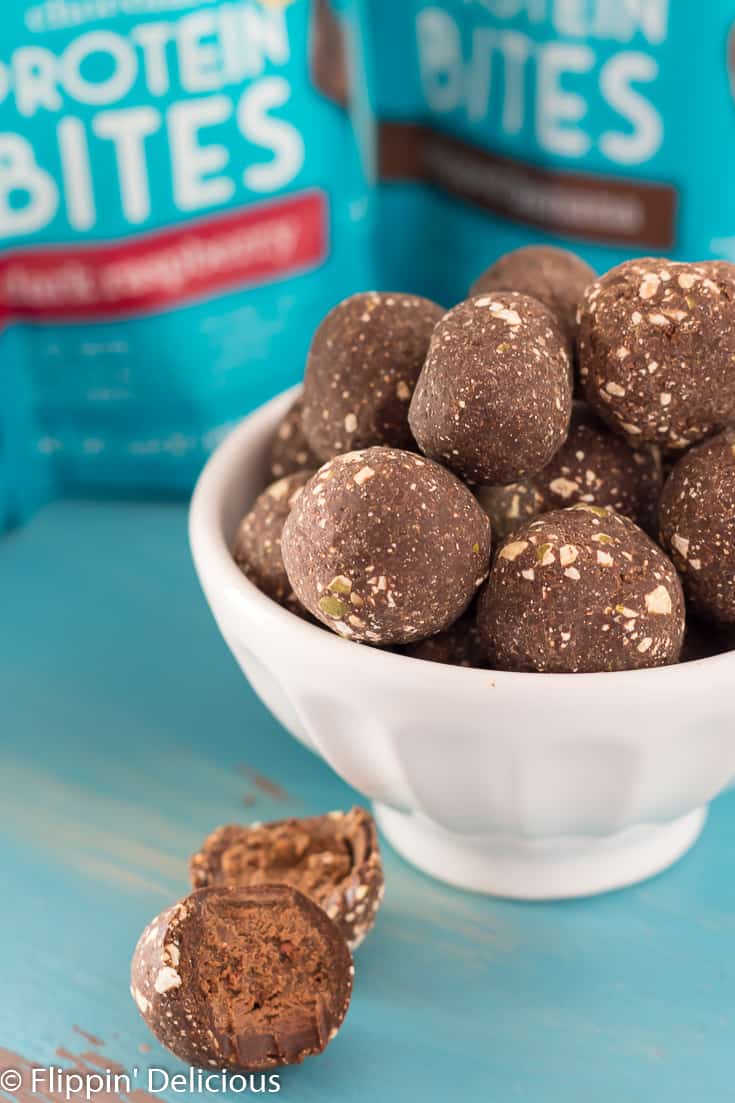 There are also two new flavors! Dark Raspberry and Dipped Banana.
Both of the new flavors have little bits of dried fruit embedded in the chocolate filling. The raspberry looked so pretty with little red specks!
The dark raspberry is my new favorite (before it was Sunseed™ Butter). I'm a big raspberry and chocolate fan. If I'm adding fruit to chocolate, raspberry is my go-to.
My favorite original chocolate protein bites are still around! I always liked the Sunseed™ Butter and Chocolate Spice the best, so I was excited that they are still available. They've been updated to have a smoother texture. If you like the old version, I'm pretty sure you'll love the new one. I do!
The new recipe is also free of palm oil!
Chocolate Protein Bites Review
I thought the best way to review each flavor and tell you how they taste was to get some help from the most un-biased taste testers. My kids (and a few of their aunts and uncles, and my parents). They tell it like it is!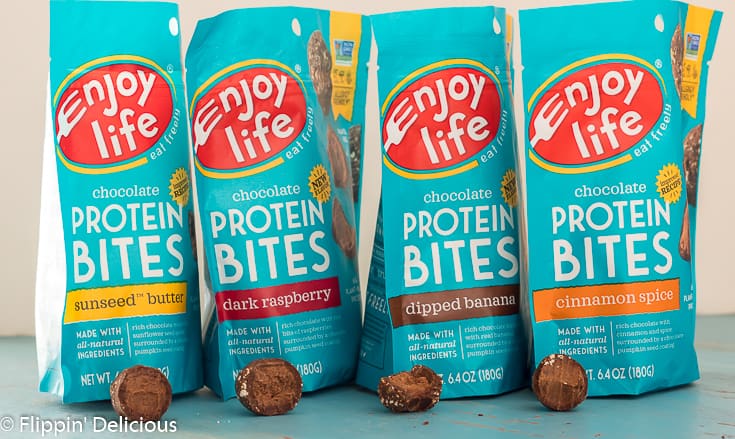 A few notes on the new recipe in general. My dad found them very chewy. It reminded him of a very chocolate-y protein bar. My mom really liked the pumpkin seed chocolate coating. She found it not only visually appealing, but she also really liked the texture it added.
I concur with my parents findings. They are smart people with good taste. (which is great, since I have their genes.)
The kids just ate all the chocolate protein bites.
NEW Dark Raspberry Chocolate Protein Bites Review
This new chocolate protein bites flavor is the hands-down favorite! It was at the top my dad, two of my sisters, and my list. It was the second down on my mom's (she rated the Sunseed™ Butter just a tad higher).
The contrast between the rich chocolate and tart raspberries is spot on!
NEW Dipped Banana Chocolate Protein Bites Review
Some people love the dipped banana bites, but it wasn't everyone's favorite. This definitely correlated with whether or not people liked bananas in their treats. It was my dad's second favorite! He was really digging the fruit flavors.
If you LOVE bananas, then I bet you'll love these protein bites.
UPDATED Sunseed™ Butter Chocolate Protein Bites Review
The Sunseed™ Butter chocolate protein bites ranked high on many peoples list. Chocolate and peanut butter is a favorite flavor combo in our family, so it makes sense. The flavors meld together into the perfect nutty chocolate bite!
The Sunseed™ Butter Chocolate Protein Bites are Miss E's favorite.
UPDATED Cinnamon Spice Chocolate Protein Bites Review
Cinnamon Spice was also a hit. I am a big Mexican hot chocolate fan, and the cinnamon and chocolate combo reminded me of a warm mug, minus the chili or chipotle powder. The cinnamon adds a little dimension to the chocolate, rounding out the flavors. This was my 10 year-old brother's favorite flavor!
When I use Enjoy Life's Chocolate Protein Bites
Besides keeping my purse stocked for chocolate snack emergencies, I like to keep some in  my pantry for a quick afternoon pick-me-up. They are perfect for when you are making dinner and you need a quick little bite to curb your cravings.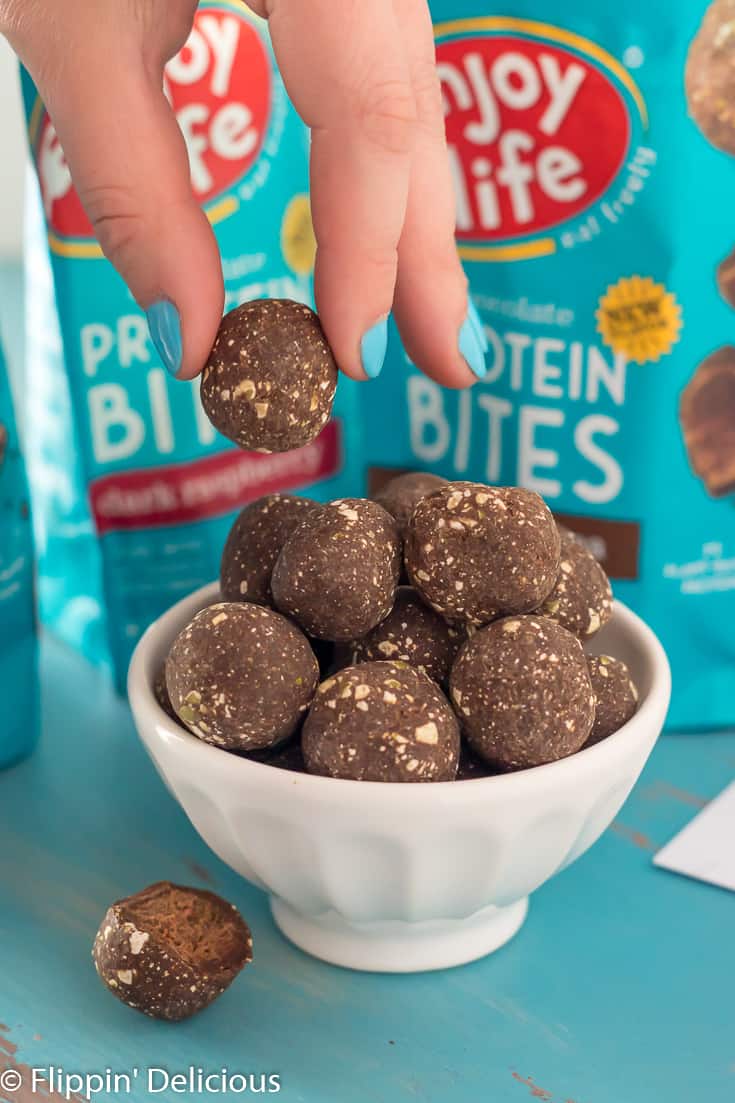 They really are good for whenever you need a quick snack to grab and go. I love that they are bite-sized so you can enjoy just one, if you aren't really hungry, or you can have several if you need a more substantial snack. A Chocolate Protein Bite isn't the same commitment as a bar. It is perfectly bite-sized!
As we start school in a few weeks, I'm going to hide a stash of protein bites from my husband so that I can tuck a few in the kids lunch boxes for a protein-packed treat!
Save 15% with FLIP15
If you would like to stash some of Enjoy Life's newly updated Protein Bites in your panrty, whether to pack in lunches as a healthy sweet treat or to enjoy by yourself while hiding in the closet from your children, (I'm in both categories) you can get 15% off by using the coupon code FLIP15. The code will only work once, so stock up! (expires 10/1/18)