Packing allergy friendly and nut-free lunch boxes is easy when you're armed with these 6 easy allergy free lunch ideas! Your kid's school lunches will be anything but boring with these nut free lunch box ideas.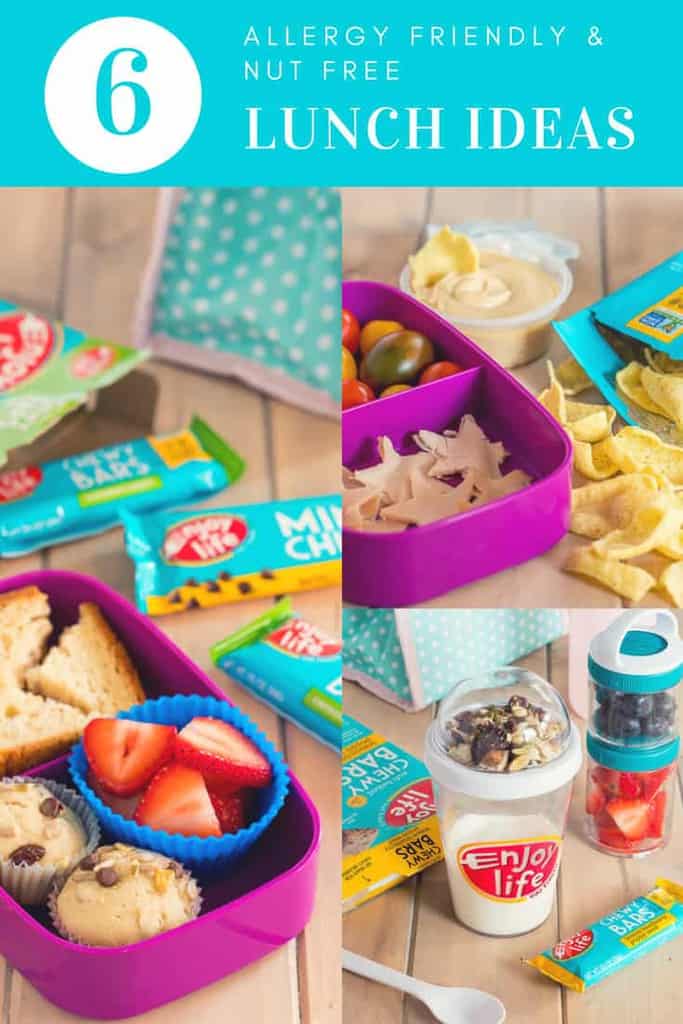 This post is sponsored by Enjoy Life. As always, all opinions are entirely my own. Enjoy Life asked me to share some tips for packing allergy friendly lunch boxes using some of my favorite products. These are all products you'll often find in my pantry, and in my kids's gluten free nut free lunch box.
6 Easy Allergy Free Lunch Ideas
Just a few weeks ago I sat in preschool orientation. I wasn't a newbie. My second kid is starting preschool so I felt like an old pro.
That is, until I discovered that the school was nut-free.
I'm pretty familiar with nut and peanut allergies (my dad has a nut allergy and my sister has a peanut allergy) but I still was nervous for a half a second as I thought about what I was going to pack in my preschooler's lunchbox.
Everything in our home is 100% gluten free (my home is my safe space, I don't want to be anxious about cross contact) and we have a dairy free alternative for everything because our soon-to-be preschool has a dairy intolerance.
However, in my home I don't consciously avoid all nuts. I use almond in so many things, and many nuts are used in dairy-free alternatives to milk, cheese, and yogurt.
It was a quick half a second of panic, because I quickly remembered I had a pantry full of Enjoy Life's products, which are all free of the top eight allergens (including all nuts and peanuts) so almost everyone can safely enjoy them.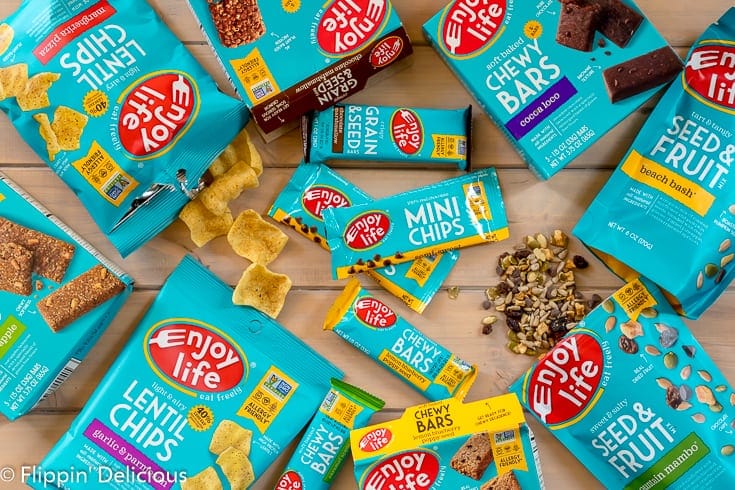 About 15 seconds later my thoughts turned to the other parents in the room.
Do they have the same allergy background that I do?
Probably not.
How can I share my allergy-know-how with the other parents in the room and other parents across the United States who also just discovered they would need to pack nut-free school lunches?
By sharing my ideas here!
I'll be working on several posts about packing allergy free and nut free school lunches over the next few weeks to try and make your life a little easier.
When Enjoy Life asked if I would share how I use their products to make it easy to pack allergy free lunch boxes, I couldn't wait to share my ideas with you! It fit so perfectly into what my little family was experiencing in our home.
Homemade gluten free muffins with seeds and fruit, perfect for tucking into lunch boxes
You know me, I'm a baker. As a busy mom I heavily rely on pre-made allergy friendly products, like Enjoy Life's, and I also like to make homemade treats and snacks.
Tucking a homemade gluten free muffin into my kid's lunch box almost feels like sending them a lunch-time hug.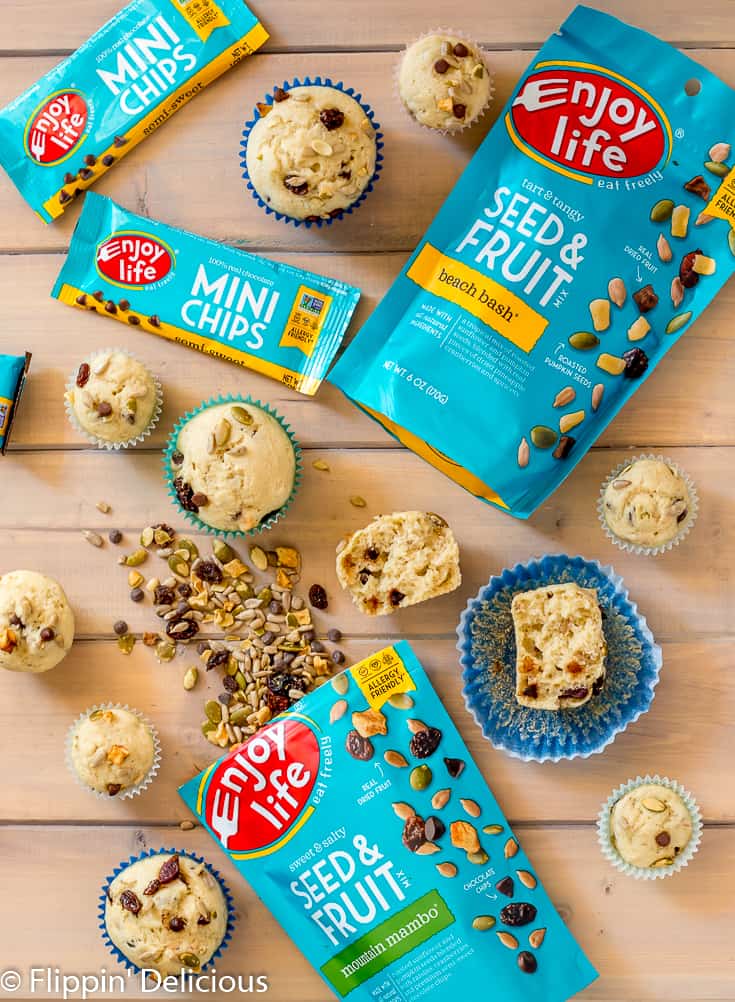 A few weeks ago I visited my Grandma who has celiac and a nut allergy. When I was there, she made me her go-to gluten free sweet muffins. The recipe is really basic, and easy to customize with your favorite add-ins.
My grandma loves to add dried fruit and seeds to her muffins. She told me her favorite add ins are cranberries, apricots, and a bit of orange or lemon zest.
Since I was in a rush baking gluten free muffins early in the morning before packing lunches for school, I stirred in some of Enjoy Life's Mountain Mambo Seed and Fruit mix instead of adding ingredients individually.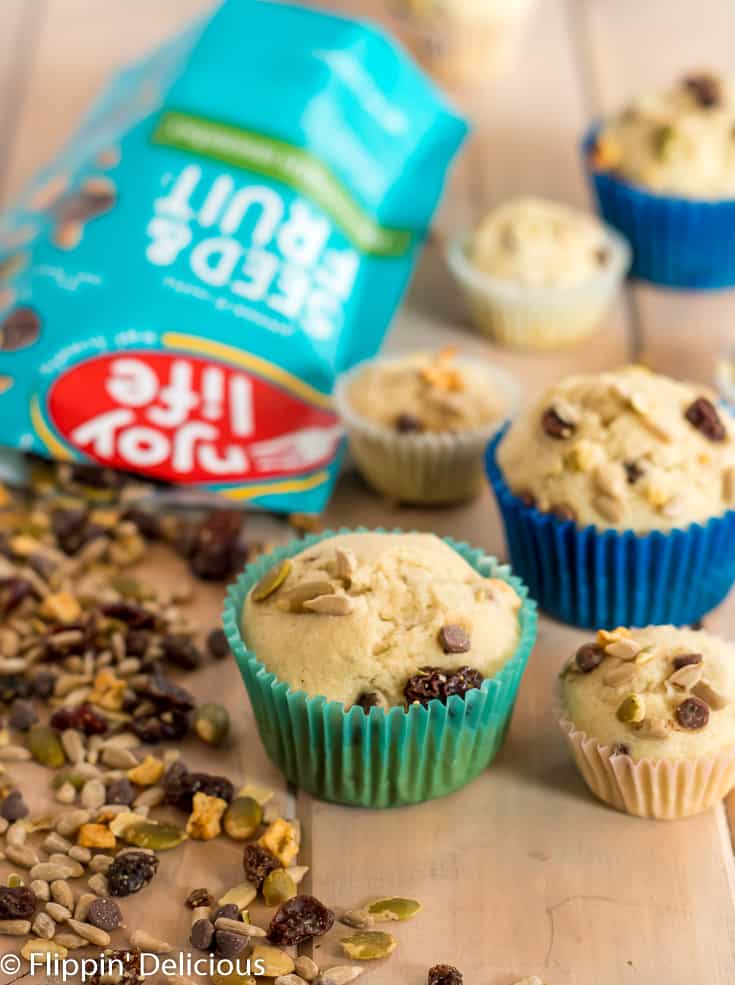 Mountain Mambo mix has pumpkin seeds, sunflower seeds, dried cranberries, raisins, and mini chocolate chips. I added a bonus Snack Pack of Mini Chip and Dark Morsels just for fun.
Next time I plan to use the Beach Bash Seed and Fruit mix since it has dried apricots, like my grandma adds to her muffins.
Baking my Grandma's muffins makes me feel like I'm getting a hug from her, and then passing that hug on to my kids.
Whether you enjoy these muffins for breakfast on your way to school, or add a few into a lunch box, they are sure to be a hit.
6 Easy Allergy Friendly and Nut Free Lunch Ideas
Seed and Fruit mix with dairy-free yogurt, Lemon Blueberry Poppy Seed Chewy Bar, and fresh berries
This nut free lunch box idea doubles as a breakfast-on-the-go!
I love sprinkling granola or dried fruit onto yogurt, and my kids do too. A few years back, Enjoy Life sent me this cup that make it easy to pack yogurt with add-ins without getting soggy granola.
It quickly became a favorite and I've purchased several other cups like it.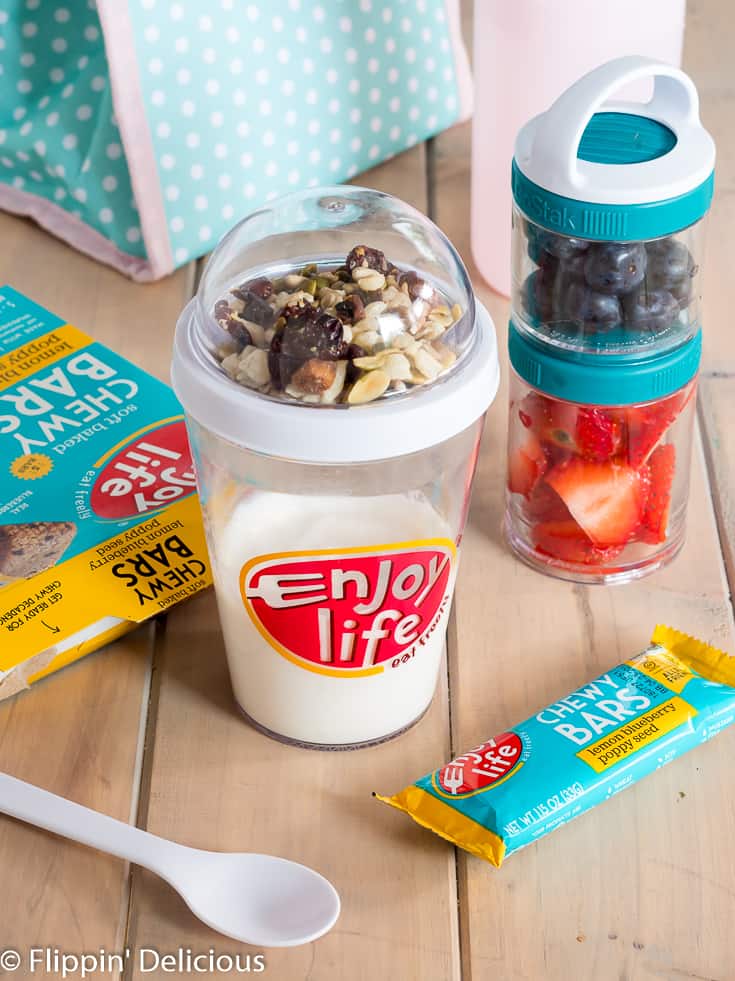 I added some Beach Bash Seed & Fruit Mix into the top compartment (¼ cup has 4 grams of protein), and filled the main compartment with some dairy-free nut-free yogurt.
(As a side note, it can be really tricky to find yogurt free of all top eight allergens. I'd love for you to tell me your favorite in the comments!)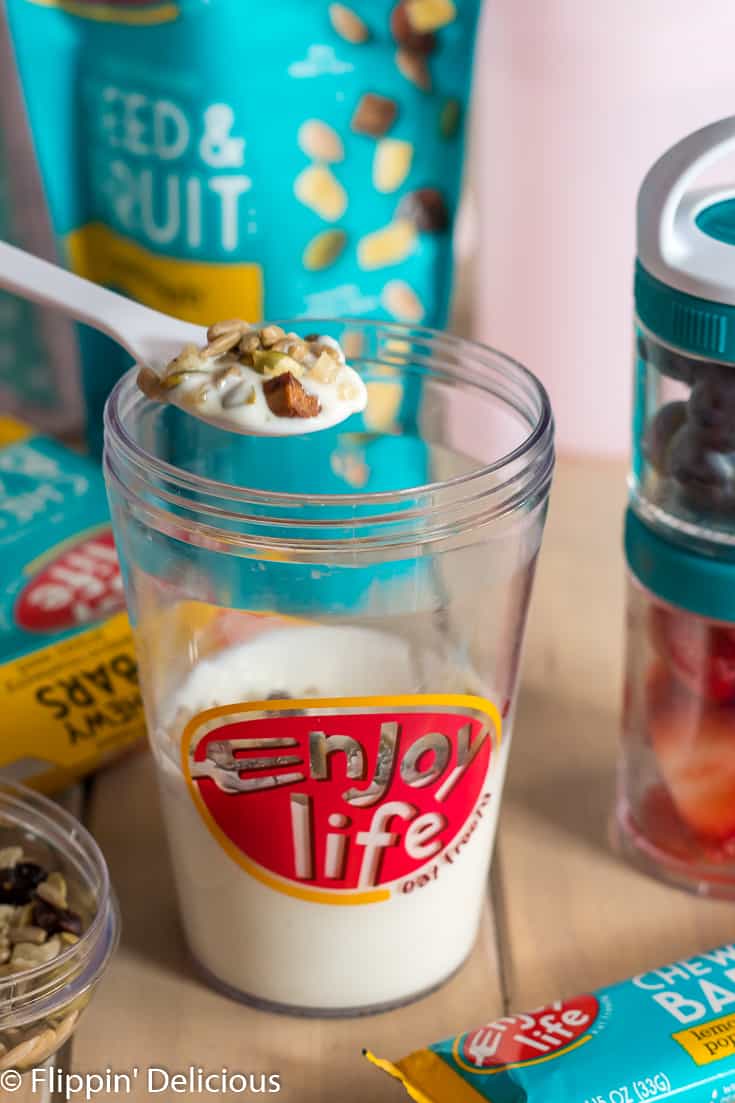 To round out this lunch box I added some fresh strawberries and blueberries, and a Lemon Blueberry Poppy Seed Chewy Bar. This flavor of chewy bars is made without any rice flour! It is made with "Pure Life Balanced Dry Blend ™" which has sunflower kernels, cassava, sorghum, and quinoa. It is also sweetened with tapioca syrup and date paste!
This is a bit of a lighter lunch (my kids are little and can't eat that much in one sitting, so it is perfect for them.) You can easily add a sandwich or a bag of Lentil Chips or some gluten-free pretzels to beef it up a bit if you need.
Sunflower Seed Butter sandwich on gluten-free bread with grapes, Enjoy Life's Dark Sunseed™ Butter Chocolate Protein Bites, and Cocoa Loco Chewy Bars
Sandwiches are always an easy lunch! Be sure to use sunflower seed butter, or pack a sandwich with sliced lunch meat. My kids love picking their own jar of jam at the store!
I thought that Enjoy Life's Sunseed™ Butter Protein Bites would be the perfect addition to the sunflower seed butter sandwich! Each serving of three bites has 6 grams of plant-based protein, and Sunseed™ Butter is my girl's favorite.
You can read my Enjoy Life Chocolate Protein Bites Review to learn more about the updated recipe and new flavors.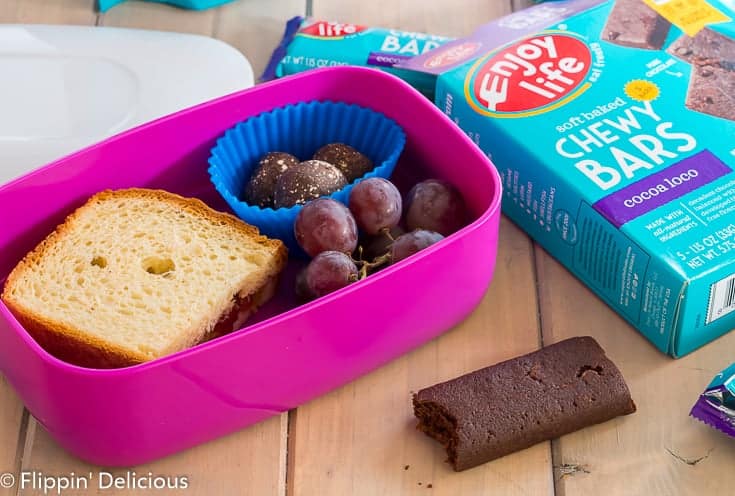 I added a bunch of grapes and a Cocoa Loco Chewy Bar to round it out.
I couldn't resist taking a bite… the Cocoa Loco bar tastes like a brownie!
Lunch Meat cut into stars, rainbow cherry and grape tomatoes, Enjoy Life Garlic & Parmesan Lentil Chips with Hummus
I've recently convinced my kids that they like hummus. (YAY! HUGE WIN HERE!)
They are still a bit picky about their fruits and veggies. My 1st grader will only eat cherry tomatoes as her lunch-box vegetable, and this lunch is for her.
I love dipping my Garlic & Parmesan Lentil Chips into hummus. They are light and crisp and go great with creamy hummus.
Plus, all of Enjoy Life's Lentil Chips are dairy free, despite having names like "Parmesan" and "Pizza". I have to hide them from my husband. He'll devour an entire case if I don't! (He loves his cheesy chips!)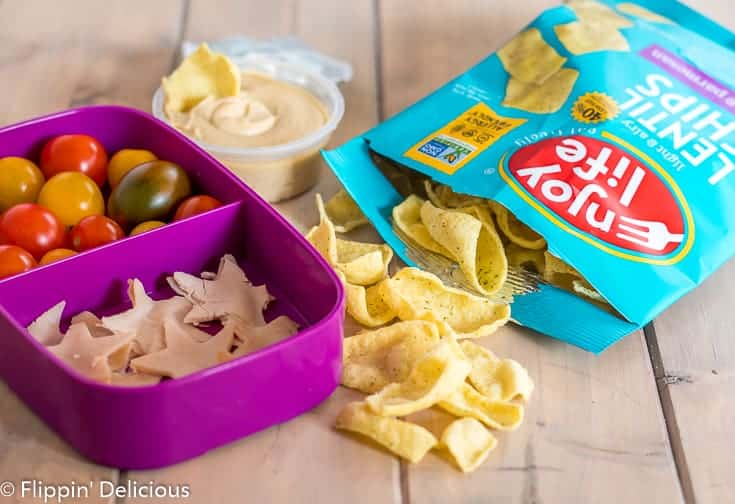 I added some lunch meat, cut into stars with a cookie cutter. Usually I just cut each slice of lunch meat into quarters, but this was way more fun. After the kids saw this lunch, we ate gingerbread man turkey slices for dinner (along with hearts and more stars.)
All together, this was a fun bento-style lunch box that my kids loved.
Gluten Free Muffins with seeds and fruit with fresh strawberries, blueberries, berry apple sauce, and Enjoy Life Grain and Seed Bar (Chocolate Marshmallow)
Another could-be-breakfast-or-could-be-lunch idea. I packed one of my grandma's homemade gluten free muffins along with fresh berries, berry apple sauce, and Enjoy Life's Chocolate Marshmallow Grain & Seed Bar.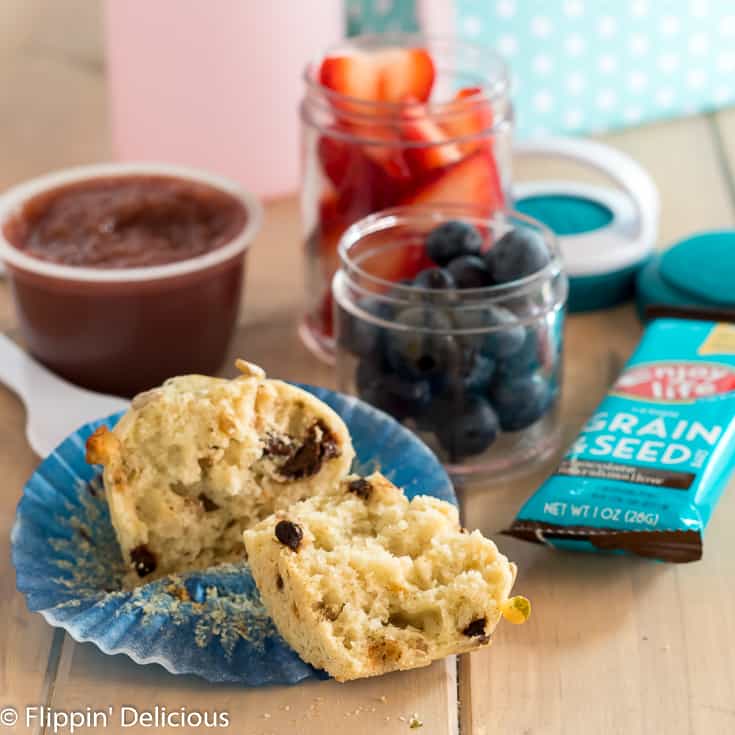 Chocolate Marshmallow is my kids favorite Grain & Seed Bar flavor. I love that each bar has 4 grams of plant-based protein and much less sugar than other bars.
This lunch was berry-licious.
Thermos of tomato soup with Enjoy Life's Lentil Chips (Margherita Pizza is our fave) to dip, fresh blueberries, and Enjoy Life's Sunseed Butter Protein Bites
My 1st grader loves grilled cheese sandwiches and tomato basil soup. Whenever I let her pick dinner, it is what she asks for.
Her birthday: grilled cheese and tomato basil soup.
First day of school: grilled cheese and tomato soup.
If your kids are also fans of this iconic combo, I think they'll love this!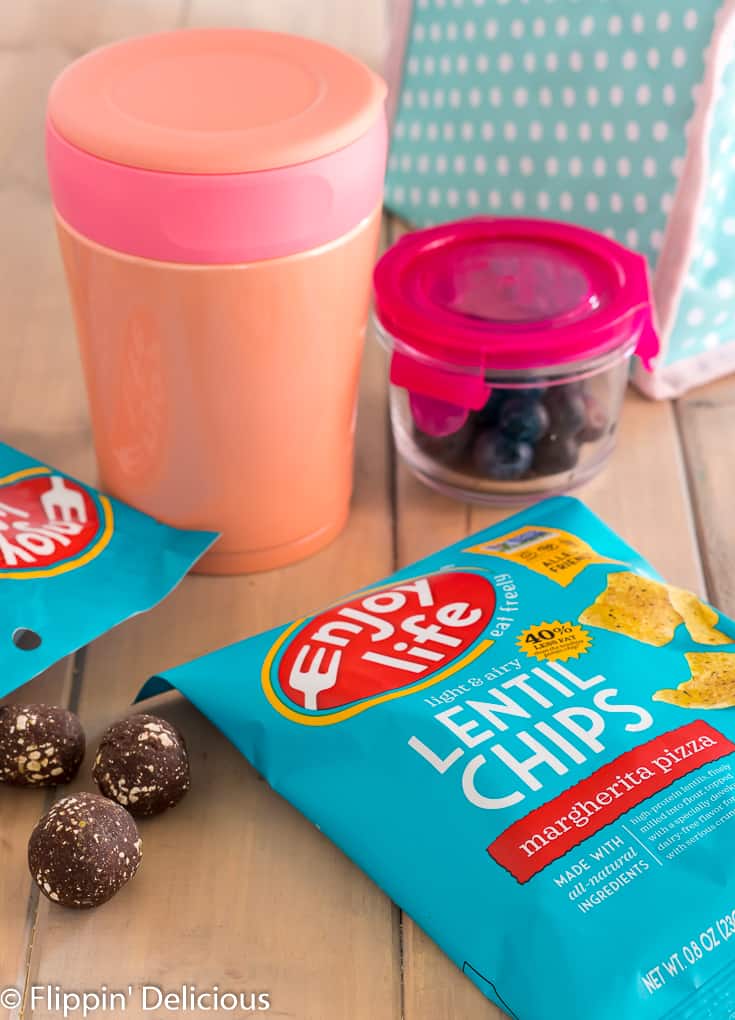 Save your leftover tomato soup. When you are packing lunches, pre-heat your thermos by filling it with boiling water, let it sit for a minute, and then pour it out and dry it. Heat up your soup and it should stay nice and hot until lunchtime.
You can still pack a grilled cheese sandwich, but I find it much easier to pack some Margherita Pizza Lentil Chips to dip in the tomato soup. They are my family's hands-down favorite flavor! You don't have to worry about complaints of a cold or soggy grilled cheese, and it is one less thing you have to worry about in the morning.
I love the grab and go packs! They are perfect for lunches. You can also purchase a full-size bag and portion it out into snack baggies before it is devoured.
I added some blueberries on the side, and some Dark Raspberry Chocolate Protein Bites as a sweet way to make sure my kids are getting enough protein.
Sunflower Seed Butter and Jam Sandwich on gluten-free bread with sliced strawberries, mini gluten free muffins, an Enjoy Life Caramel Apple Chewy Bar and Enjoy Life Mini Chips for a sweet treat
There are really so many ways to dress up a sandwich! My last idea is to add a Caramel Apple Chewy Bar, sliced strawberries, and a few homemade mini gluten free muffins (they are the perfect size for lunch boxes).
This lunch is perfect for Friday! I don't usually send a treat in my kids lunch box, except on Friday. I added a Mini Chips Snack Pack as a fun after-lunch treat.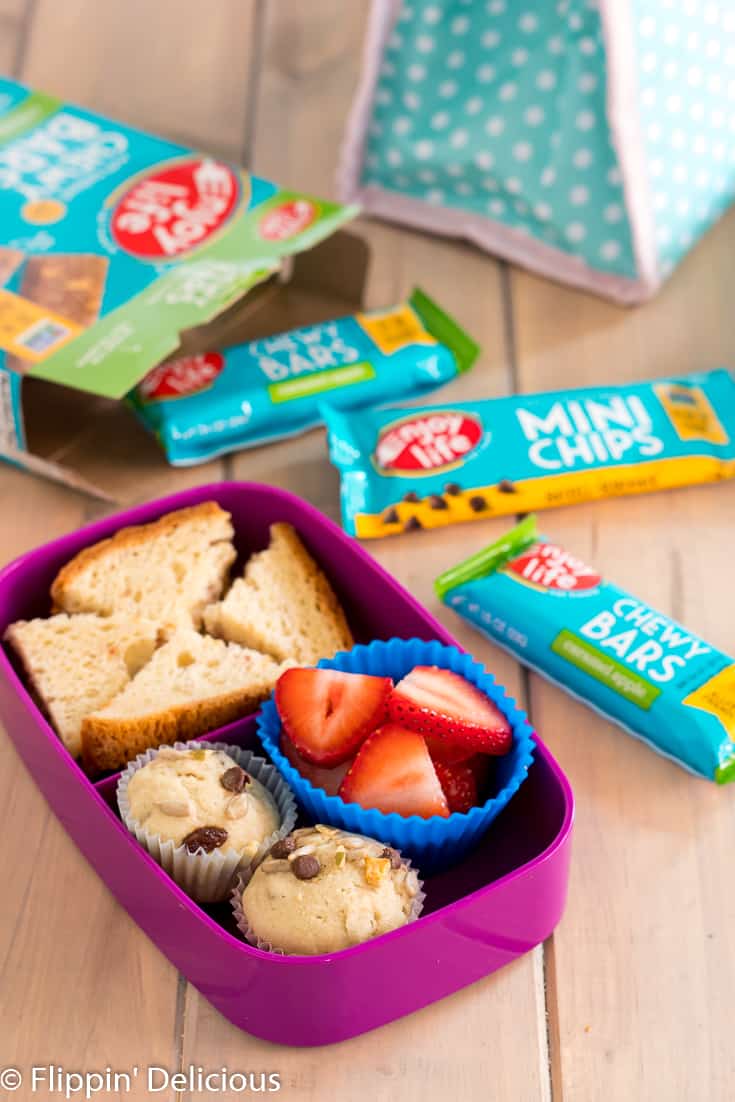 You can find all of Enjoy Life's Products on their website, and in stores including Walmart, Sprouts, Natural Grocers, and others.
What are your favorite allergy free or nut free lunch box ideas? Comment and share so that other allergy parents can make them too!
Pin my 6 Allergy Free Lunchbox Ideas:
Pin my Grandma's Gluten Free Muffins with seeds and dried fruit:
Gluten Free Muffins with seeds and fruit recipe: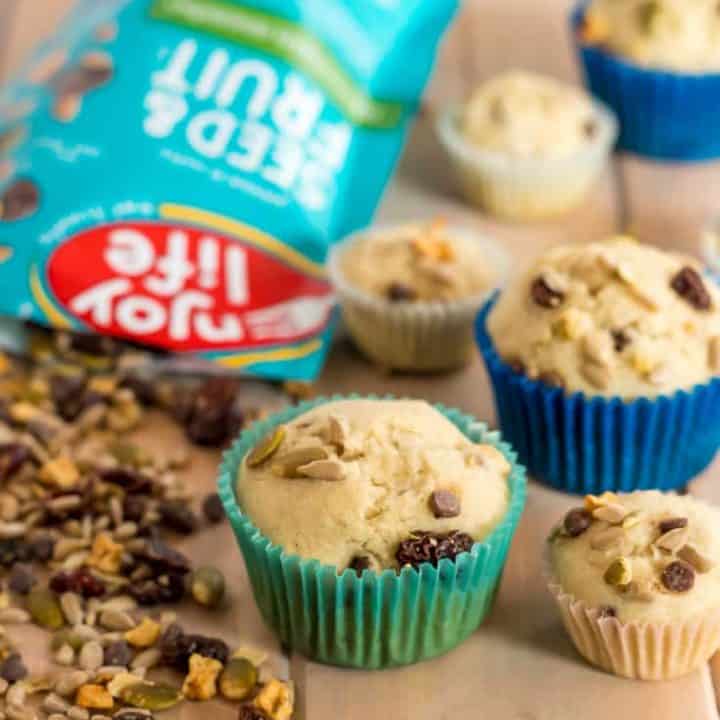 Gluten Free Muffins with seeds and dried fruit
Yield: 24 muffins or 48 mini muffins

Prep Time: 15 minutes

Cook Time: 20 minutes

Total Time: 35 minutes

Allergy-friendly gluten free muffins with seeds and dried fruit. Dairy free and nut free with a vegan option. Add your favorite dried fruit, seeds, and a few chocolate chips for fun!
Ingredients
¼ cup oil
1 ¼ cup dairy free milk (I used a coconut milk beverage, but my grandma uses rice milk)
2 eggs (my grandma likes to use a chia egg as an egg substitute. For each egg mix 1 tablespoon ground chia seeds with 3 tablespoons warm water. Let sit until it gels before using)
1 teaspoon vanilla
2 ½ cups gluten free flour (my grandma uses 1 part tapioca flour and 3 parts rice flour, I used my gluten free flour blend)
1 teaspoon xanthan gum
¾ cup sugar
1 tablespoon baking powder
½ teaspoon baking soda
½ teaspoon salt
Add-ins as desired (I used ½ cup url href="https://enjoylifefoods.com/our-foods/seed-fruit/" rel="nofollow"]Enjoy Life's Mountain Mambo Seed & Fruit Mix[/url with 2 Baking Chocolate Snack Packs
Instructions
Preheat oven to 400°f. Line your muffin tin with paper liners, or lightly grease.
In a small bowl or large liquid measuring cup, combine the oil, dairy free milk, eggs, and vanilla.
In a medium mixing bowl whisk the gluten free flour, xanthan gum, sugar, baking powder, soda, and salt until combined.
Pour the wet ingredients into the dry and mix until combined.
Stir in any desired add-ins.
Fill each muffin cup about ⅔ full and sprinkle with additional add-ins, as desired.
Bake until a toothpick inserted in the center of a muffin comes out clean, and a muffin springs back if lightly touched. 16-20 minutes for regular muffins and 12-14 minutes for mini muffins.
Nutrition Information
Yield 24 Serving Size 1
Amount Per Serving Calories 265Total Fat 7gSaturated Fat 3gTrans Fat 0gUnsaturated Fat 4gCholesterol 32mgSodium 162mgCarbohydrates 43gFiber 2gSugar 8gProtein 6g

All nutrition info is a guestimate and will vary depending on the ingredients you use.