Instant Pot Gluten Free Teriyaki Meatballs make for an effortless weeknight dinner and the entire family will love them. You can freeze them and cook on demand to make it even easier!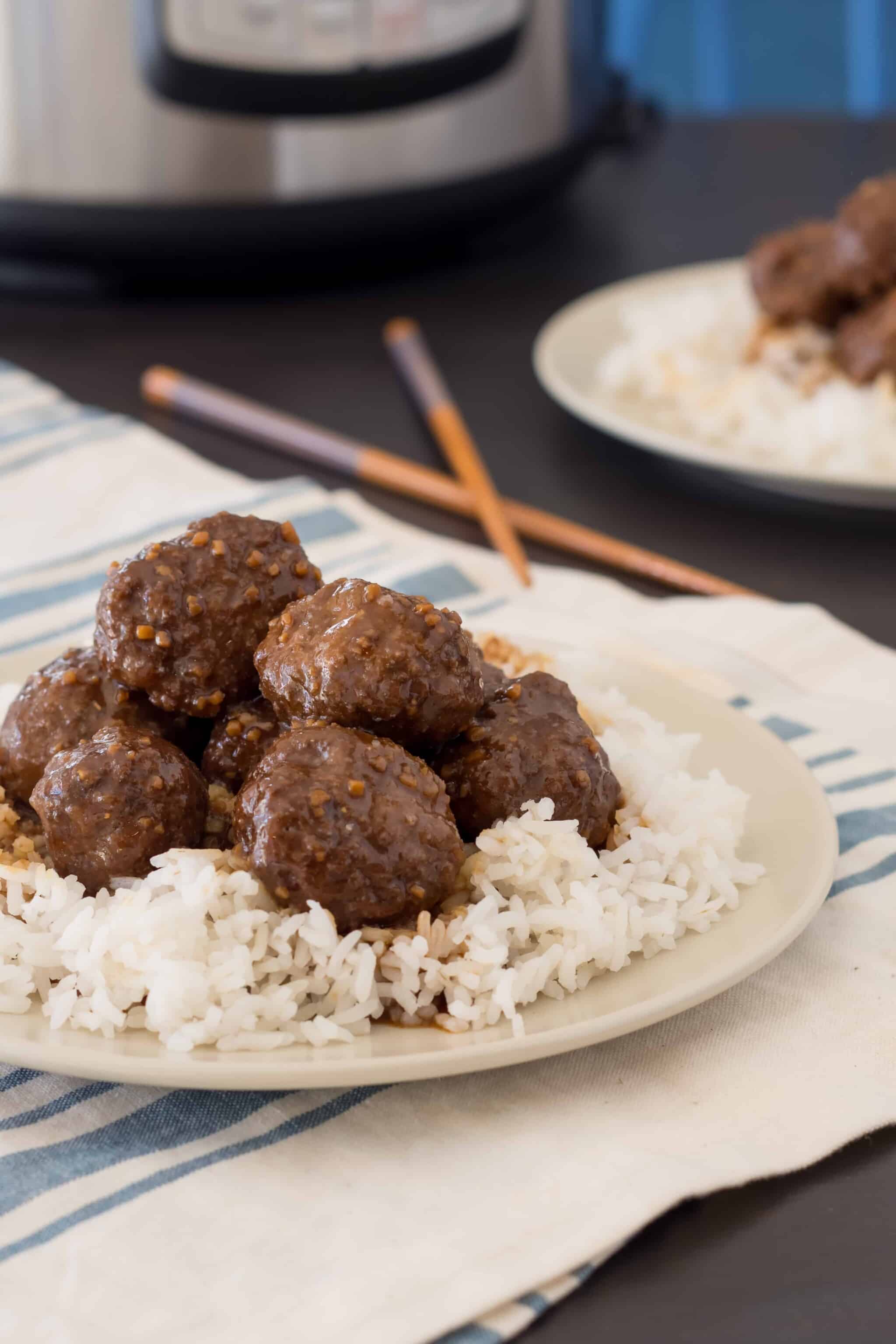 Instant Pot Gluten Free Teriyaki Meatballs
I can't count how many times my Instant Pot has saved my butt at dinner time.
One of my favorite things an Instant Pot can do is slow cook or pressure cook dinner, and then turn the saute function on to thicken the sauce. It saves me from making so many dirty dishes!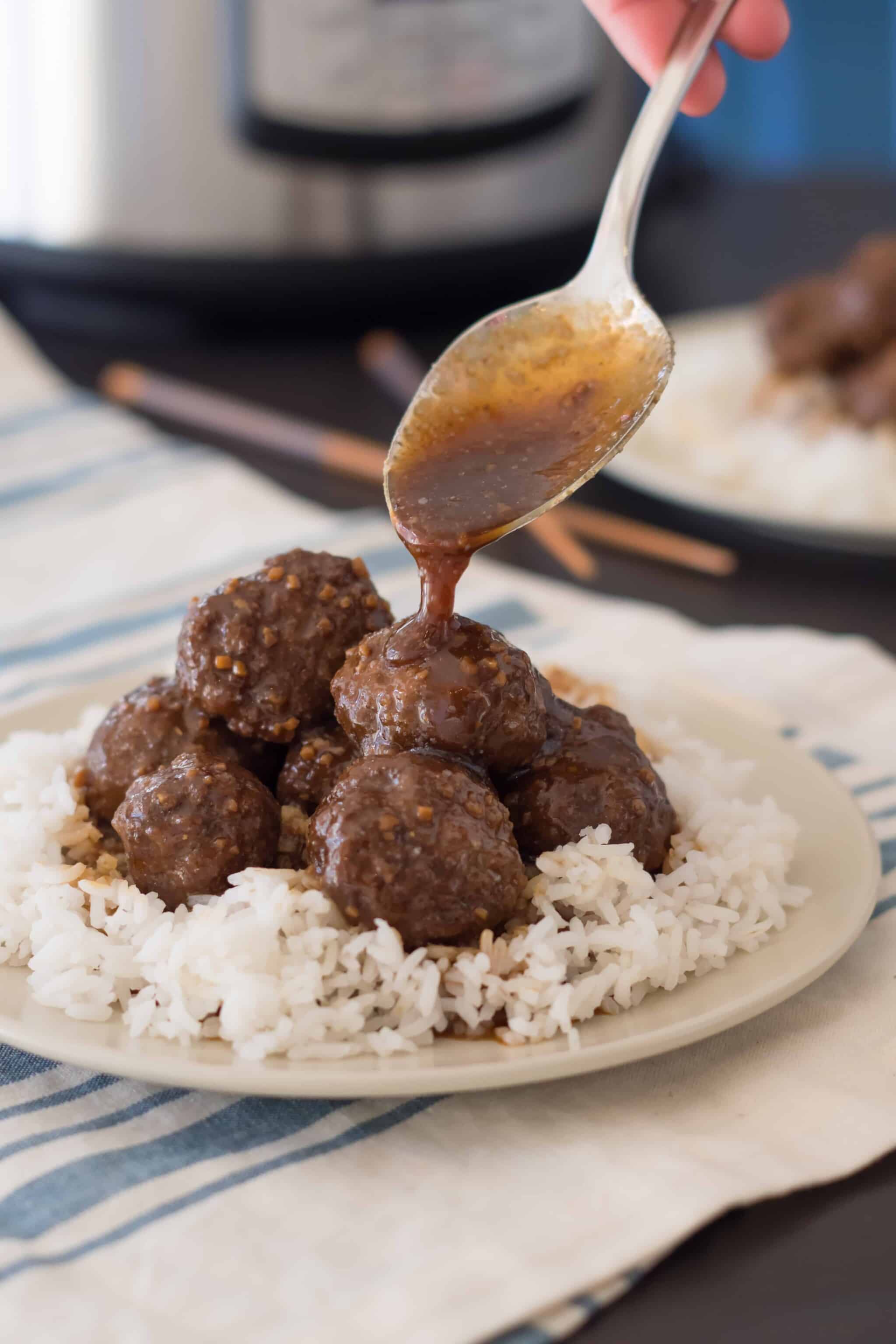 I make enough dirty dishes baking treats like gluten free lemon bars and gluten free sugar cookie bars. I try to minimize the dirty dishes at the end of the day so I don't end up hand washing a huge stack of pots and pans!
I love cooking my meatballs in sauce, it makes the meatballs and the sauce both much more flavorful. These Instant Pot Gluten Free Teriyaki Meatballs are no exception.
Don't get me wrong, I still love my more traditional gluten free instant pot meatballs with parsley and onion powder, but these teriyaki meatballs go way beyond spaghetti!
How to make your own gluten free teriyaki sauce
Instead of adding a commercial gluten free teriyaki sauce to the meatball mix, I found a way to add all the flavors with other ingredients (which saves so much money)!
Teriyaki Sauce is essentially soy sauce, ginger, sugar, and mirin or rice wine vinegar.
I add gluten free soy sauce (or coconut aminos for a soy free teriyaki sauce) and ginger to the meatballs, along with some garlic. I love garlic!
The simmering sauce is a homemade gluten free teriyaki sauce recipe. I made it with gluten free soy sauce (or coconut aminos to keep it soy free), rice wine vinegar or mirin, garlic, ginger, and a little beef broth. I pressure cooked my meatballs in the sauce for 10 minutes, did a quick release, and then removed the meatballs from the liquid.
Flip that saute function on, add a little brown sugar, and thicken the sauce up with a little cornstarch.
No worries if you don't have an Instant Pot yet. Add an Instant Pot to your wishlist, and make gluten free baked teriyaki meatballs!
For me, these Instant Pot Teriyaki Meatballs are the ultimate Instant Pot meal.
Why, you may ask?
These gluten free teriyaki meatballs cook in my Instant Pot from frozen in the same amount of time!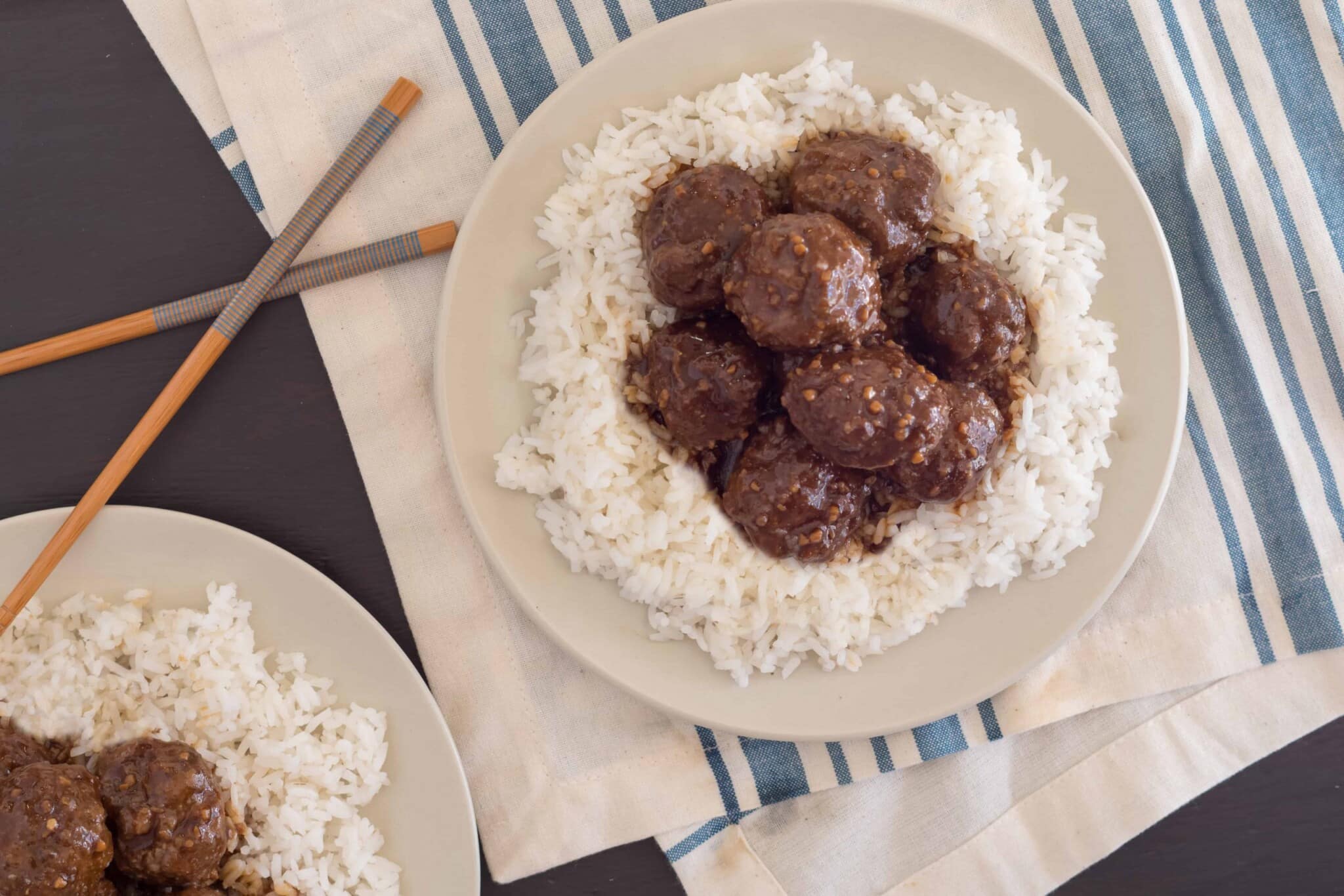 How to cook Instant Pot Frozen Meatballs
One of my favorite dinner tips is that I always make a double batch when I make gluten free meatballs. I freeze half of them for future quick dinners, and serve half for dinner that night.
It doesn't take hardly any extra time to mix up a bigger batch of meatballs. What does take more time is scooping and rolling the meatballs.
To speed up the meatball rolling, I use my 1 ½ tablespoon cookie scoop to measure and form the dough. I'll give each meatball a brief roll between my palms so it doesn't have a flat bottom.
If you are in a rush or don't care about the esthetics, you can leave your meatballs with flat bottoms. Who cares? My kids don't.
Roll the first half of teriyaki gluten free meatball recipe and get them started in your Instant Pot while you scoop and roll the second half of the teriyaki meatball mix and pop them in the freezer.
The next time you need to make dinner on lazy mode, quickly mix the teriyaki sauce ingredients in your instant pot and dump in the frozen meatballs. It seriously doesn't get easier!
If you like this recipe, you'll probably love my gluten free Korean turkey and rice bowl. It is another easy weeknight meal with a sweet tamari based glaze.