Gluten Free Baked Teriyaki Meatballs make an easy, crowd-pleasing dinner. You can also make them ahead and freeze for lazy dinners later on.
Gluten Free Baked Teriyaki Meatballs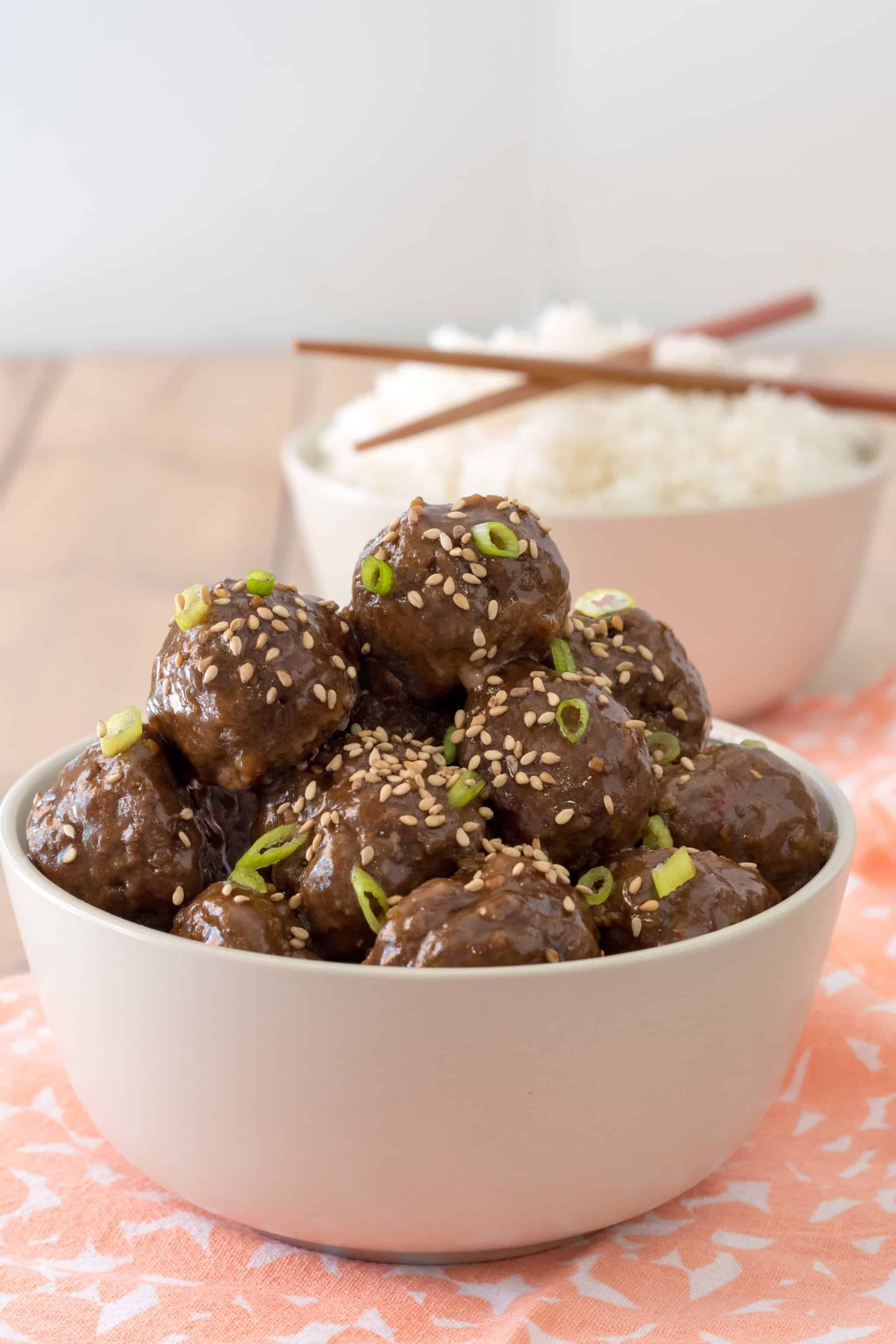 A few years ago, I added a bottle of gluten free teriyaki sauce to a gluten free meatloaf I was making for dinner. The resulting gluten free teriyaki meatloaf has become a family favorite!
My sister-in-law still raves about it. Every time she comes into town she asks me to put it on the menu.
Shortly after inventing the meatloaf, I rolled the same mixture into gluten free teriyaki meatballs.
OMG you guys. Teriyaki meatballs are even better!
Each meatball has more surface area than a slice of meatloaf so you get even more of that delicious golden caramelized gluten free teriyaki glaze.
Also, it gives me the perfect opportunity to drown my meatballs in more of my favorite sweet and sticky gluten free teriyaki sauce recipe. All you need to complete your gluten free dinner is some rice and a side like broccoli or asparagus. You can parboil your rice to make weeknight dinners a cinch!
The flavors are perfectly balanced. A little sweet, a little salty- but not too much, and just a hint of ginger. Perfectly savory and succulent.
Originally I used a storebought gluten free teriyaki sauce, but using a gluten free soy sauce or coconut aminos and ginger in my gluten free meatball recipe is much easier on my pocketbook and I always have some gluten free soy sauce on hand. I don't always have gluten free teriyaki in my pantry!
I honestly don't think I've made plain old gluten free meatloaf or gluten free meatballs since I made the teriyaki version. It is just so much better!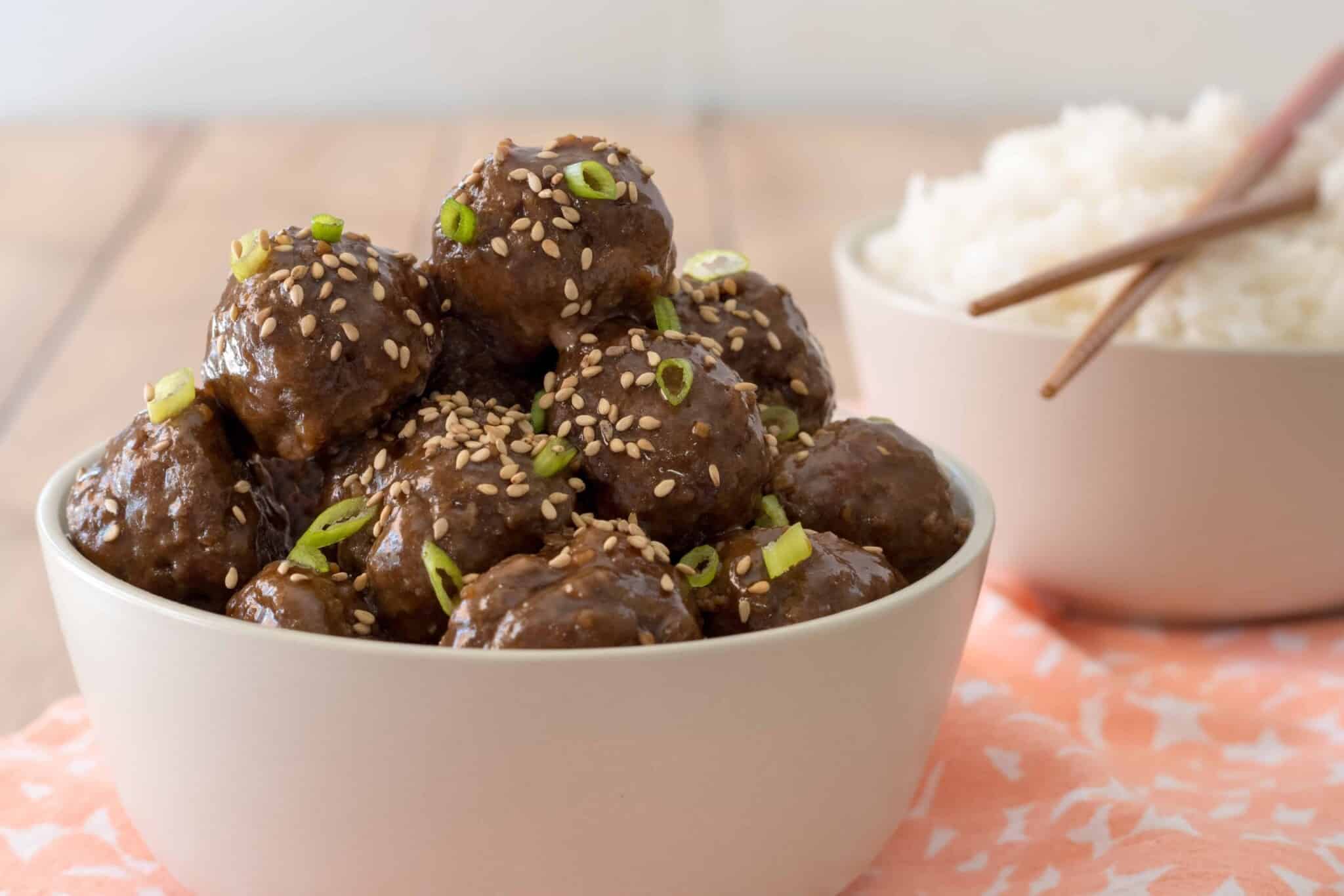 I like to garnish my teriyaki meatballs with a sprinkle of green onions and toasted sesame seeds. Totally optional. It is tasty, and pretty.
Whenever ground beef is on sale, I stock up and make a double batch of gluten free teriyaki meatballs. I cook half for dinner, and put the other half in the freezer.
You get two meals from the effort of one!
These meatballs quickly cook straight from the freezer so I always keep a bag on hand for nights when I don't know what to make for dinner.
How to make frozen gluten free teriyaki meatballs?
Scoop and roll the teriyaki meatballs as you normally would, but instead of placing them on a baking sheet move them inside of a plastic freezer bag. They can touch on the edges and be close together, go ahead and pack them in!
Seal the bag and pop your meatballs in the freezer. Whenever you want to prepare them for dinner, pull them out, break them apart if necessary, and bake them from frozen. They'll need to bake a little longer, until an internal thermometer reads 165°f. I set the timer for 20 minutes and add time in five minute increments from there.
Usually it takes around 30 minutes, but it is a lazy hands-free 30 minutes.
I put my rice in the rice cooker, and get some broccoli steaming, and then help my girls with homework while the teriyaki meatballs cook.
Or sometimes, we'll play outside and eat a gluten free dairy free cheesecake pudding pops. Or watch TV. Or bake my favorite gluten free sugar cookies together.
You guys, I get to play with my kids while dinner basically makes itself. It is amazing!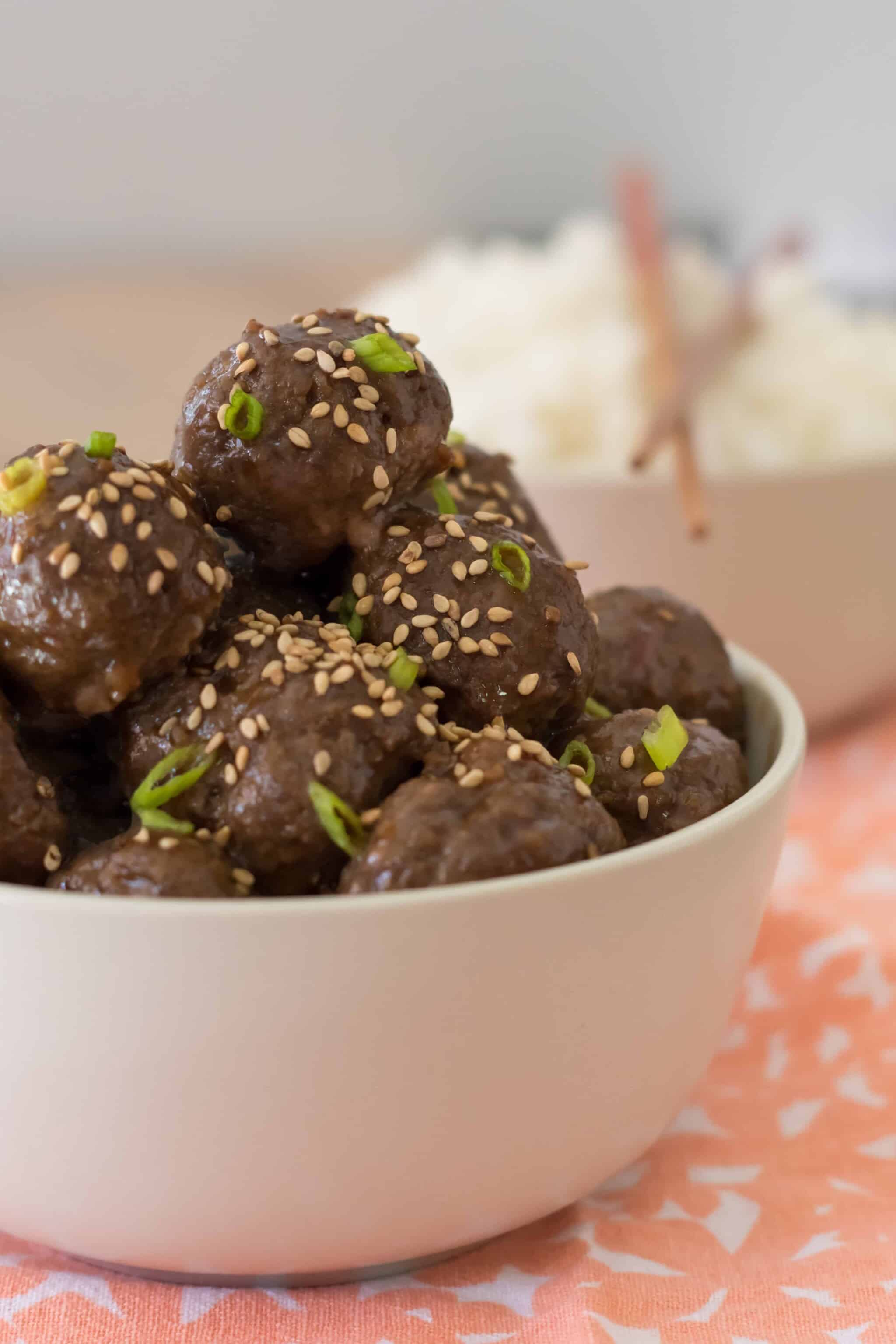 If you are a big teriyaki fan, you'll probably also like my gluten free teriyaki chicken.
Want to cook make these teriyaki meatballs in your instant pot? Here is my Instant Pot Teriyaki Meatballs recipe.
My Baked Gluten Free Teriyaki Meatballs were first shared on FoodFanatic.com.