Gluten Free Baked Turkey Meatballs are an easy part of a healthy meal. Cooking your turkey meatballs in the oven helps them brown, which means more flavor!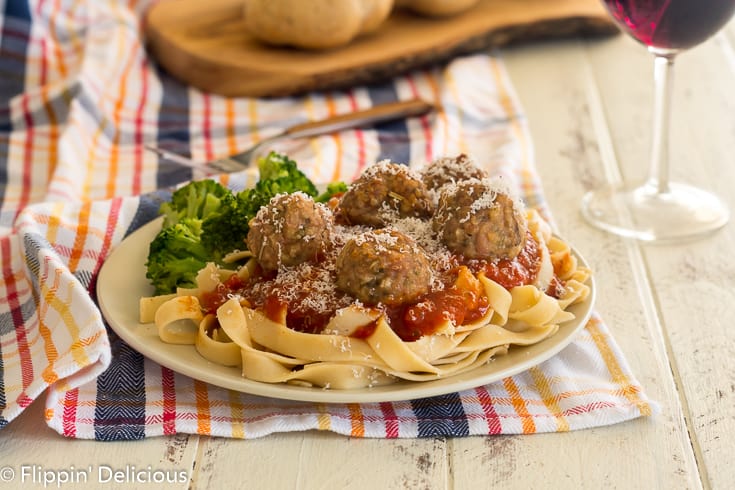 Gluten Free Baked Turkey Meatballs
Gluten free baked turkey meatballs will quickly become a favorite easy no-fuss weeknight meal!
There are many different reasons to make the switch to ground turkey. Maybe you are looking for ground turkey recipes because you want to eat healthier? Maybe you are looking for cheap ground turkey recipes?
Either way, ground turkey is a great protein that is readily available and is flavorful. Especially if you season it well, you will forget that you aren't eating beef.
One of my favorite ways to use ground turkey is to make gluten free turkey meatballs.
Mixing up gluten free turkey meatballs only requires 4 ingredients (plus spices, and salt and pepper) and one bowl. It is super easy!
Just add all the ingredients, and gently mix until combined. Scoop the turkey mixture (I use my 1 ½ tablespoon cookie scoop, it is spring loaded and scoops them so easily) and then gently roll into balls.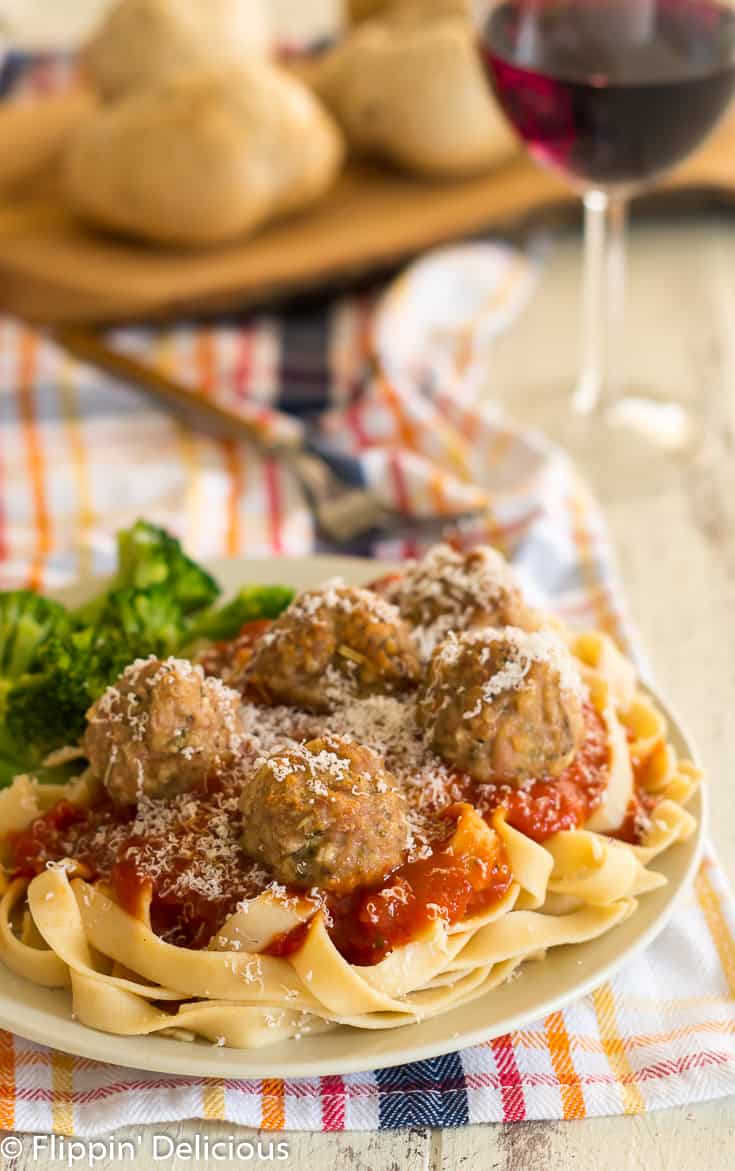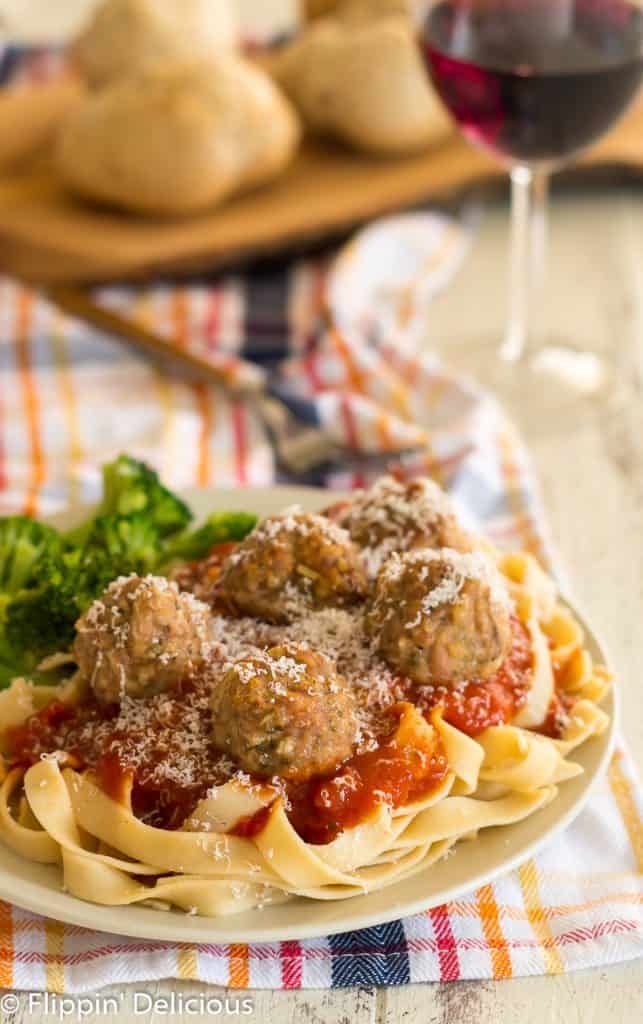 How do you season turkey meatballs?
You can flavor your gluten free turkey meatballs with your favorite herbs and spices.
I love using rosemary whenever I am cooking with ground turkey. I feel like rosemary really accentuates the flavors! I also add a little onion powder, dehydrated onion, garlic powder, and parsley as well as salt and pepper.
If you are out of onion powder or dehydrated onion, you can use a little extra of the one you do have. Don't feel like you have to take a special trip to the store.
You can absolutely add your favorite spices and herbs. Love basil? Add it! Try adding ginger and tamari soy sauce for gluten free teriyaki meatballs.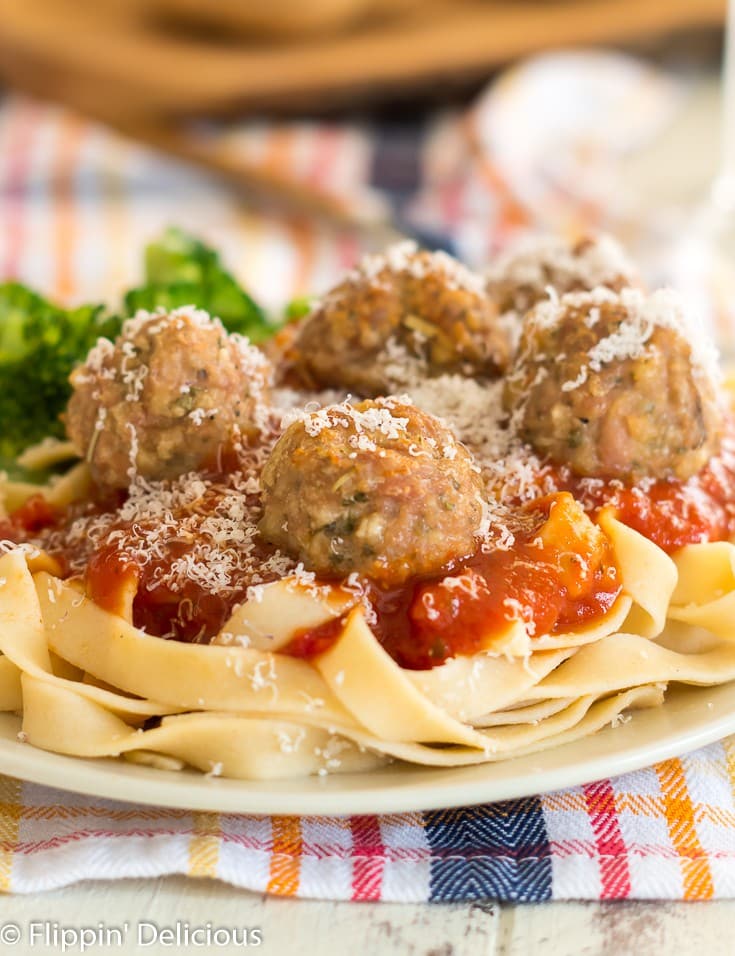 Why should you bake turkey meatballs?
Baking turkey meatballs is one of the easiest ways to cook turkey meatballs! You don't have to stand over them, and clean up is quite easy if you line your pans with parchment paper or aluminum foil.
Another reason why you should bake your turkey meatballs is that the oven will brown the meatballs. Browning equals flavor.
If you make gluten free turkey meatballs in an Instant Pot (which is one of my other favorite easy ways to cook gluten free meatballs) you miss out on the flavors from the caramelized turkey proteins.
To make sure your turkey meatballs brown evenly, plan to flip them over about halfway-through the baking time.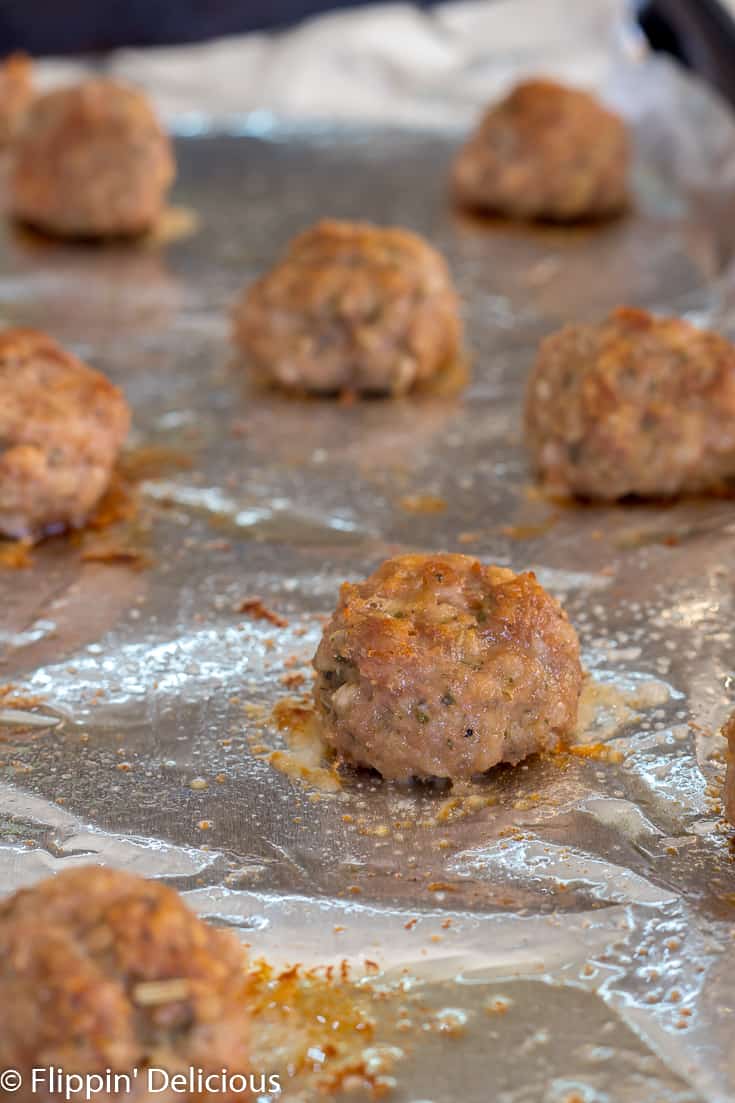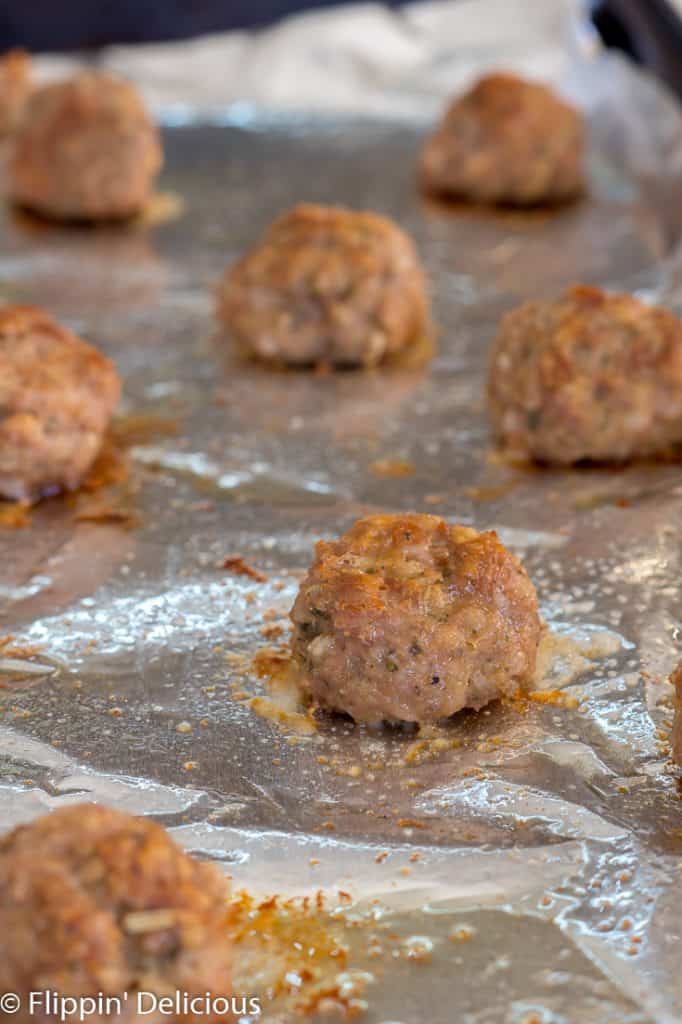 A little drizzle of healthy oil will help your turkey meatballs to brown, and maximizes the flavors. You don't need a lot, even a little drizzle of a healthy oil like olive oil, coconut oil, or avocado oil will make a huge difference!
For easy clean-up, I always line my baking sheet with aluminum foil. If you are using aluminum foil that little drizzle of oil will help to prevent your turkey meatballs from sticking.
If you use parchment paper instead, you may not need to use any oil because the parchment paper is nonstick.
If you prefer, you can sauté your gluten free turkey meatballs in a skillet, or cook them in a slow cooker or Instant Pot.
To bake turkey meatballs in the oven:
Preheat your oven to 375°f and line a baking pan with parchment paper or aluminum foil.
Place your turkey meatballs on the prepared baking sheet with an inch or so in between (they can be close, just not touching).
Bake for 10 minutes, flip, and then bake for another 6-10 minutes or until they are cooked through. They will reach an internal temperature of 165°f and be lightly golden.