With your Instant Pot, Gluten Free Turkey Meatballs are a quick and easy dinner! Prep and freeze raw meatballs to quickly cook in your favorite jar of tomato sauce on a busy weeknight.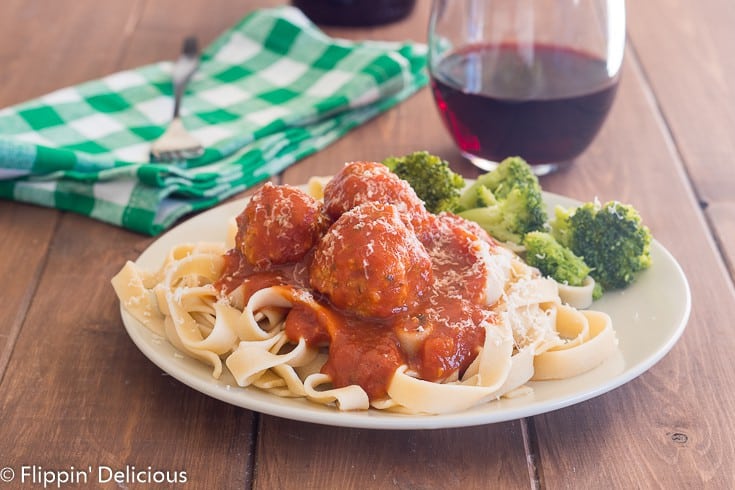 Gluten Free Turkey Meatballs cooked in an Instant Pot
Making turkey meatballs has never been easier than with an Instant Pot or electric pressure cooker! Or faster!
It takes just 10 minutes of pressure to perfectly cook these gluten free turkey meatballs, even if you freeze raw turkey meatballs and cook them from frozen.
Why should you use ground turkey to make your gluten free meatballs?
I usually use ground turkey because it is cheaper than ground beef.
Ground turkey also has less fat, which means I often don't have to drain off tons of grease when I cook with it.
This makes cooking ground turkey recipes much easier than ground beef.
I think this makes the biggest difference in Instant Pot cooking, because any fat that melts out of the ground meat goes straight into the sauce and isn't easily removed.
Using a lean ground turkey, I haven't had any problems with a greasy sauce.

Why do I love cooking meatballs in my Instant Pot?
The turkey meatballs add all of their meaty flavors to the sauce, and the sauce likewise seasons the turkey meatballs. You don't get any of the browning you get with baked turkey meatballs or when you sauté them in a skillet, but I think it is worth the trade-off.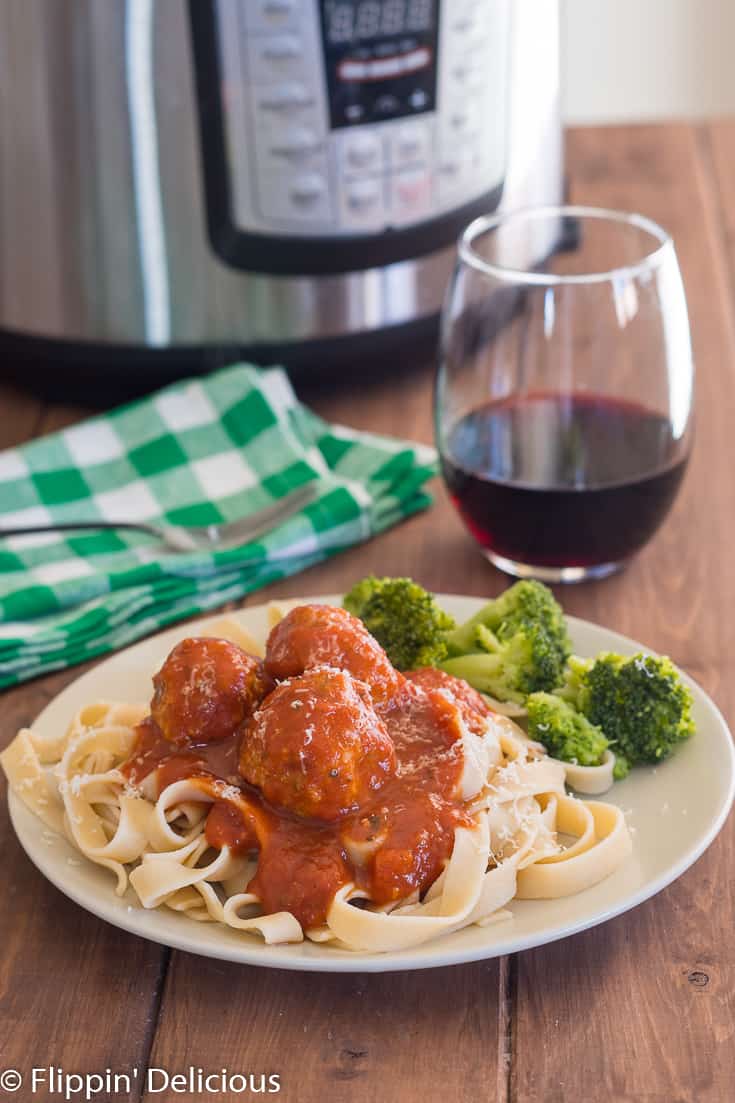 I've never had a juicier or more tender meatball than the ones that come out of my pressure cooker.
Clean up is super easy! You will only have to clean the insert of your Instant Pot.
What sauce should I cook my Instant Pot turkey meatballs in?
If I'm making spaghetti, I will pour one jar of pasta sauce into my Instant Pot over top of the gluten free turkey meatballs.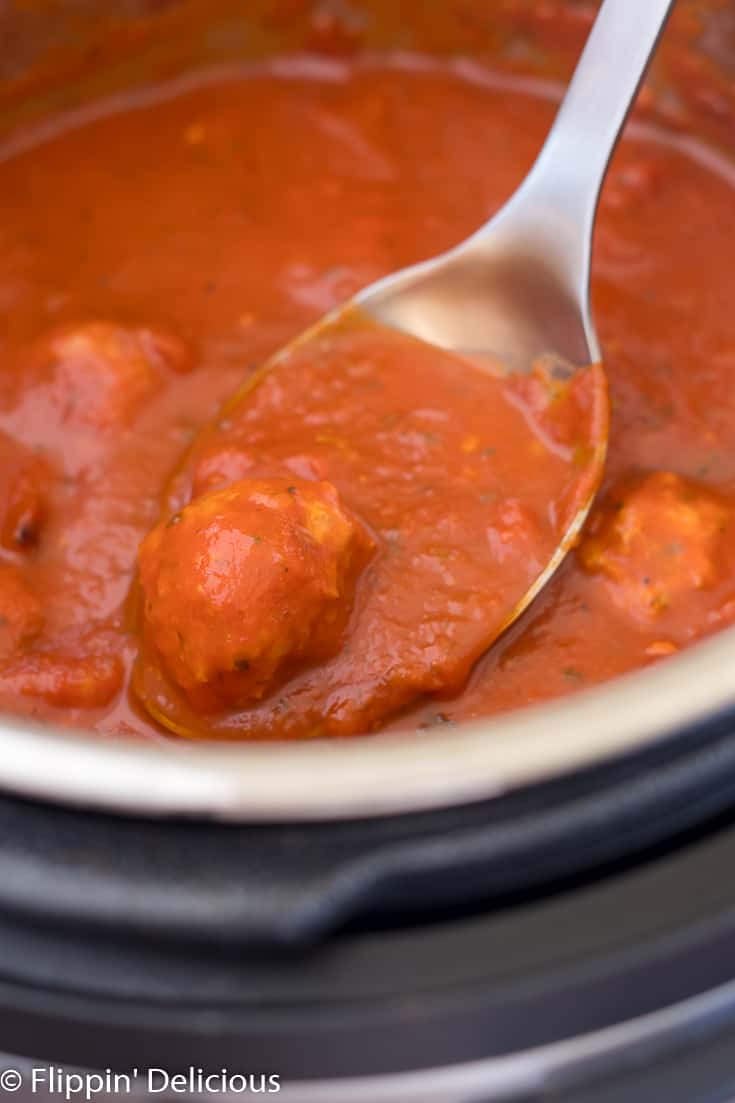 When making Teriyaki or Barbecue turkey meatballs, I'll do 1-2 cups of my favorite sauce.
If you want to go the extra mile when making Teriyaki meatballs, use my gluten free Teriyaki Instant Pot Meatball recipe (you can prepare it with beef or ground turkey) and your meatballs will taste like Teriyaki all the way through. (If you like teriyaki meatballs, you might want to try my gluten free teriyaki meatloaf, too. It is a winner!)
You need at least one cup of sauce or liquid for the pressure cooker to come up to pressure properly, and safely.
You can also make a meatball soup by cooking your meatballs in broth and then adding noodles to the hot soup after the pressure has released.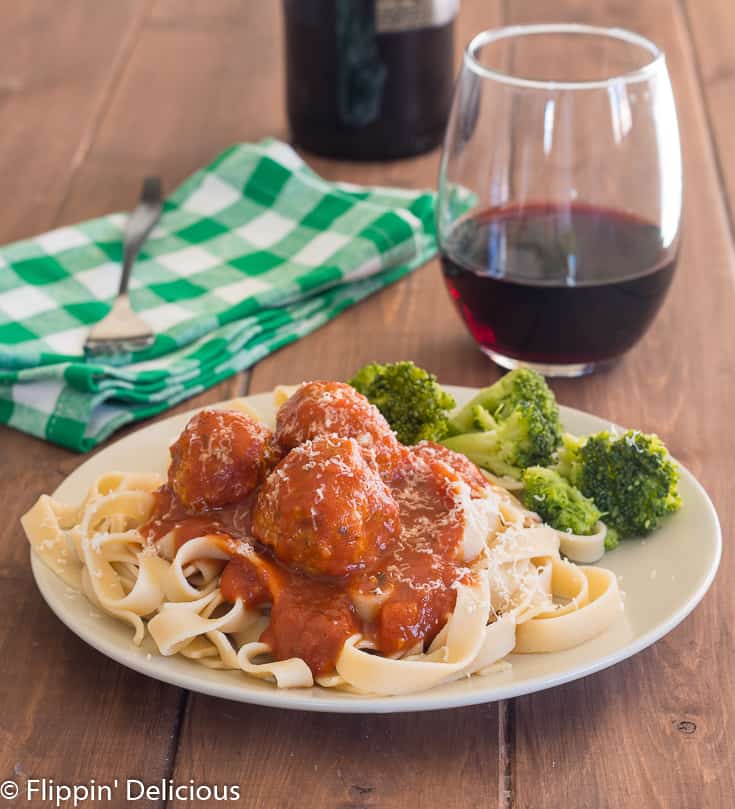 How to cook turkey meatballs in a pressure cooker or Instant Pot:
Pour at least one cup of your favorite sauce into your pressure cooker.
Add your turkey meatballs to the sauce and set your Instant pot or electric pressure cooker to manual 10 minutes on high pressure.
When finished, release pressure with either the natural or quick release method.
How to freeze gluten free turkey meatballs to cook in your Instant Pot:
Whenever I make gluten free turkey meatballs, I double the recipe and freeze all the turkey meatballs that aren't needed for dinner that night. All of the frozen meatballs find their way to my Instant Pot in the coming months whenever we have a busy night.
Scoop your gluten free turkey meatball mixture using a 1 ½ tablespoon cookie scoop and gently roll into balls.
Place your shaped turkey meatballs in a single layer in a gallon-size freezer bag.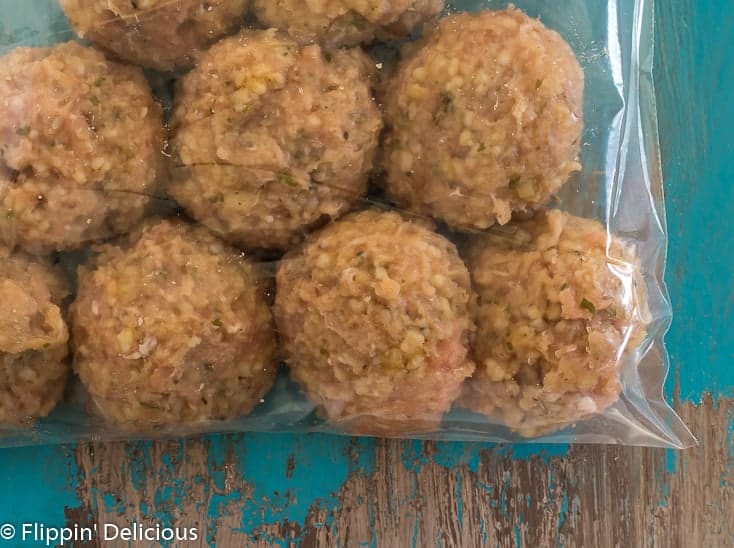 How to cook frozen gluten free turkey meatballs in your Instant Pot:
You don't have to make any adjustments to cook frozen turkey meatballs in you Instant Pot. Frozen gluten free turkey meatballs will cook in 10 minutes in your Instant Pot, just like fresh turkey meatballs.
The reason the frozen meatballs cook in the same time as the fresh meatballs is that your pressure cooker will just take a little longer to heat up and then everything quickly cooks under pressure.
What can I serve with my Instant Pot Turkey Meatballs?
I like to serve my turkey meatballs over pasta or rice.
You can also serve your Instant Pot meatballs over quinoa, or with mashed potatoes or rice cauliflower.
Pick your carb to go along with whichever sauce you cook your gluten free turkey meatballs in.
I use rice for teriyaki meatballs.
I serve pasta with Instant pot turkey meatballs cooked in marinara to make gluten free spaghetti and meatballs.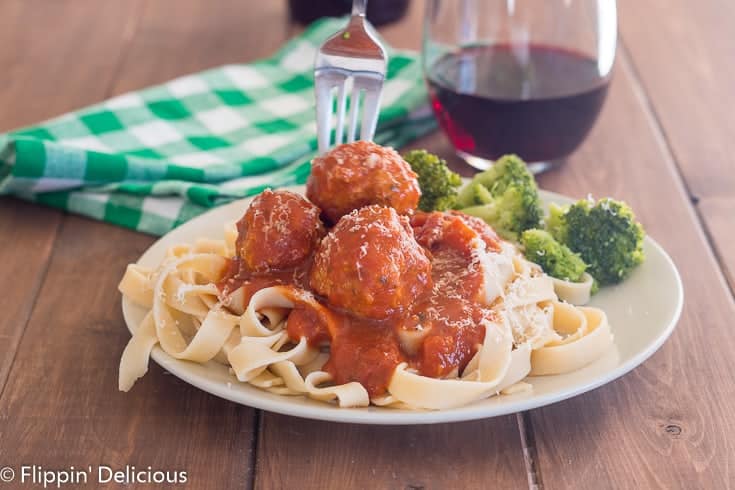 Depending on your starch, you may be able to cook it in your Instant Pot with your meatballs and sauce.
I often cook gluten free teriyaki meatballs and rice in my Instant Pot by placing the rice in the bottom of my Instant Pot, topping it with the meatballs and gluten free teriyaki sauce, and then adding water until it reaches the appropriate line on the side of my Instant Pot.
I usually use 2 cups of rice, and fill my Instant Pot with water to the #2 line.
I first shared this Instant Pot Gluten Free Turkey Meatballs Recipe on FoodFanatic.com where I'm the resident gluten-free dinner fanatic.