Gluten Free Candy stuffed brownies with chocolate frosting are a fun way to use up leftover candy bars. Gluten free brownies stuffed with candy bars are easy to make with your favorite candy bars.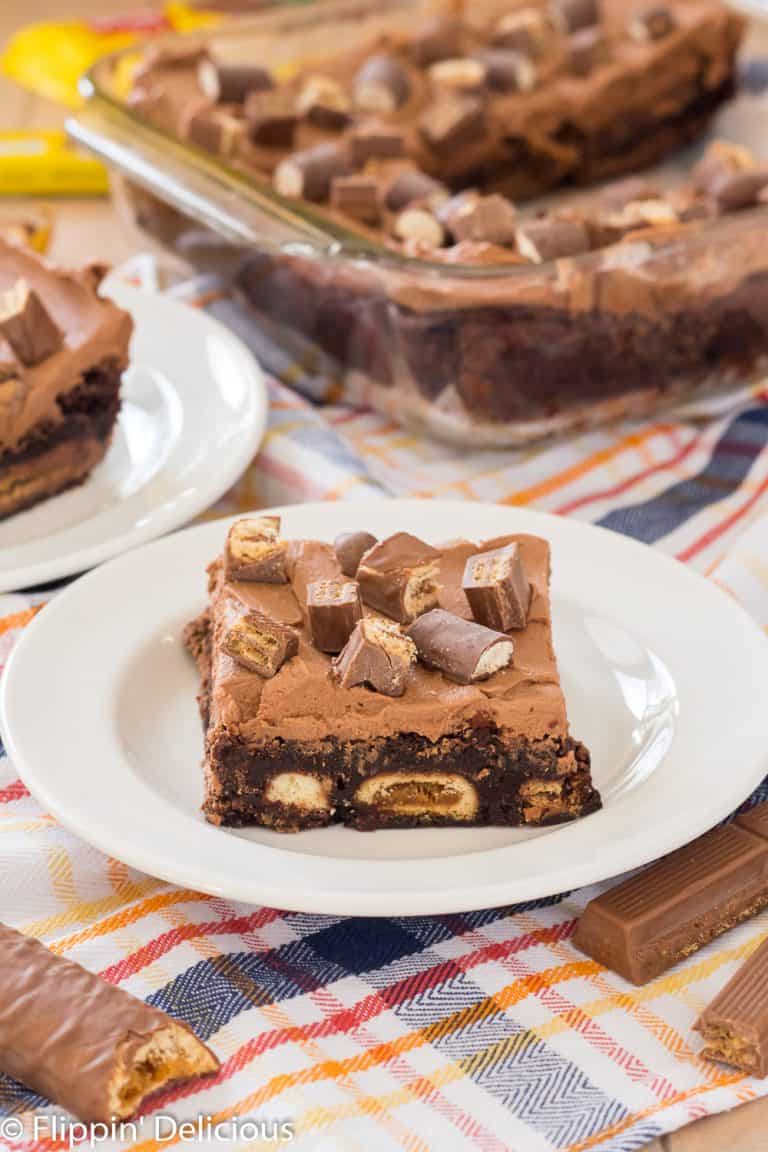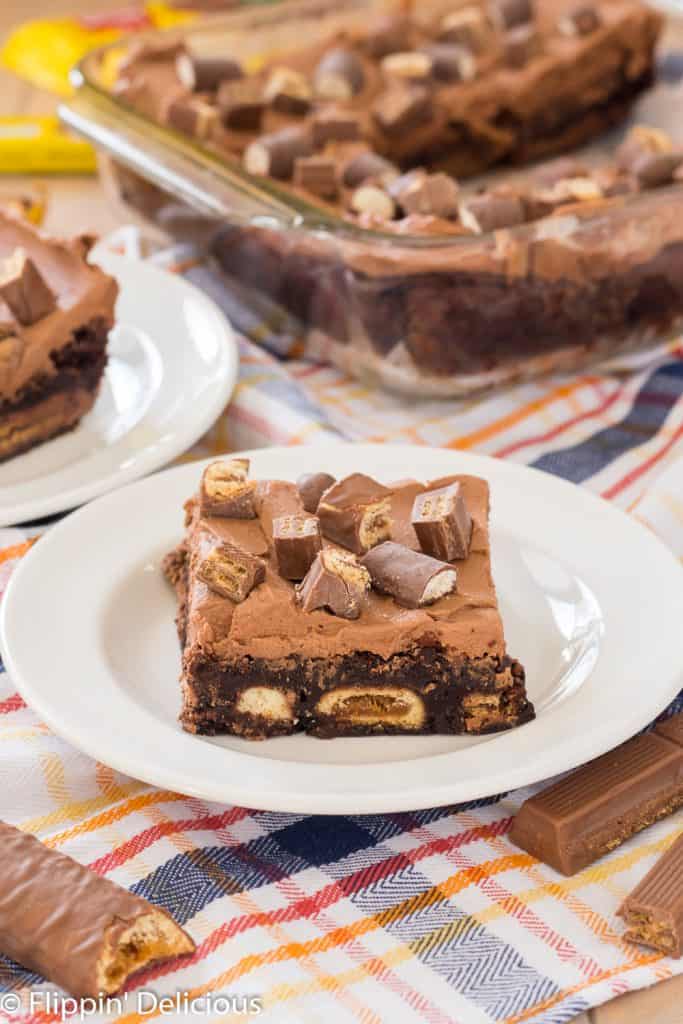 This post is sponsored by Schar. All opinions are my own, entirely. I work with Schar, because I really love their products and want to share more about them with you.
For years, I've seen recipes for brownies stuffed with leftover Halloween candy bars and wished I could make some! The problem is that many of the candy bars added to brownies have biscuits and cookies in them. They are not gluten-free.
This fall, I've seen those same brownies stuffed with candy bars on Pinterest, but something has changed…
Schar has created several candy bars this year and last year that are perfect for adding to your favorite gluten free brownie recipe.
How to add candy bars to brownies?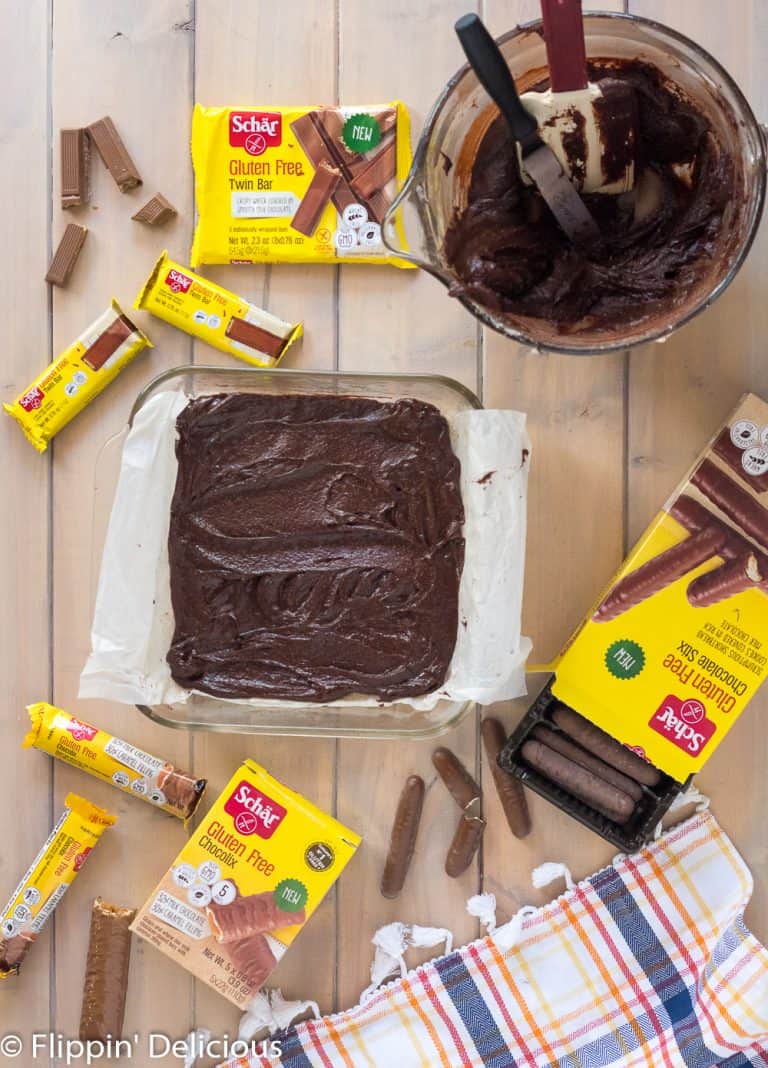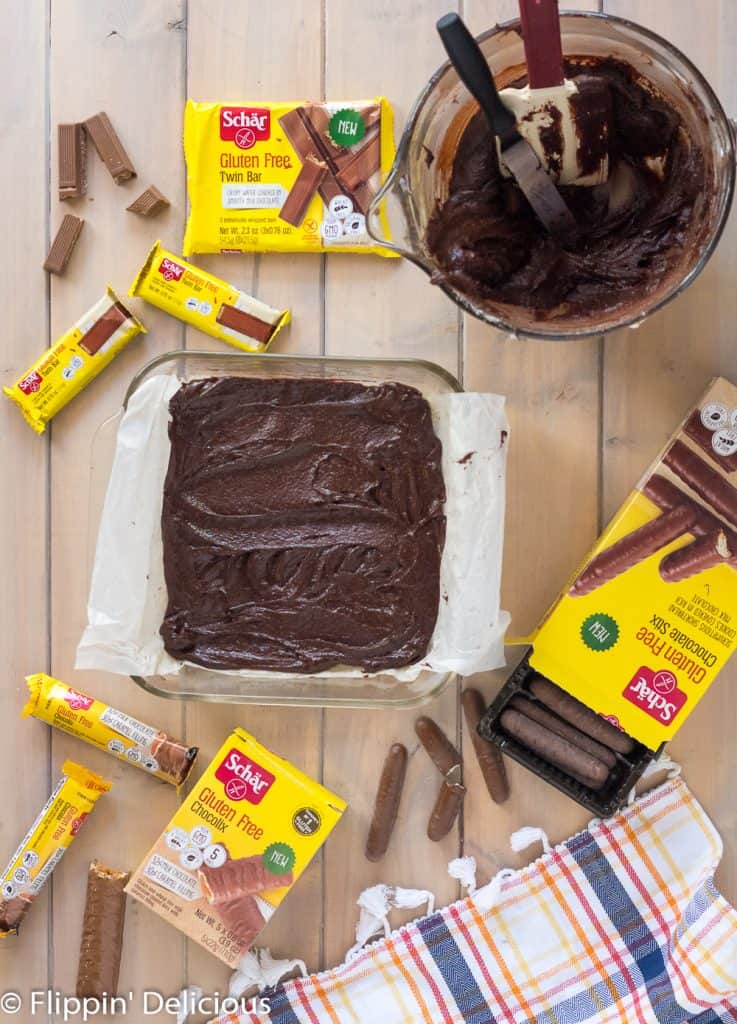 Add half your brownie batter to your greased pan. Gently press the candy bars in. Gently spread the remaining brownie batter on top.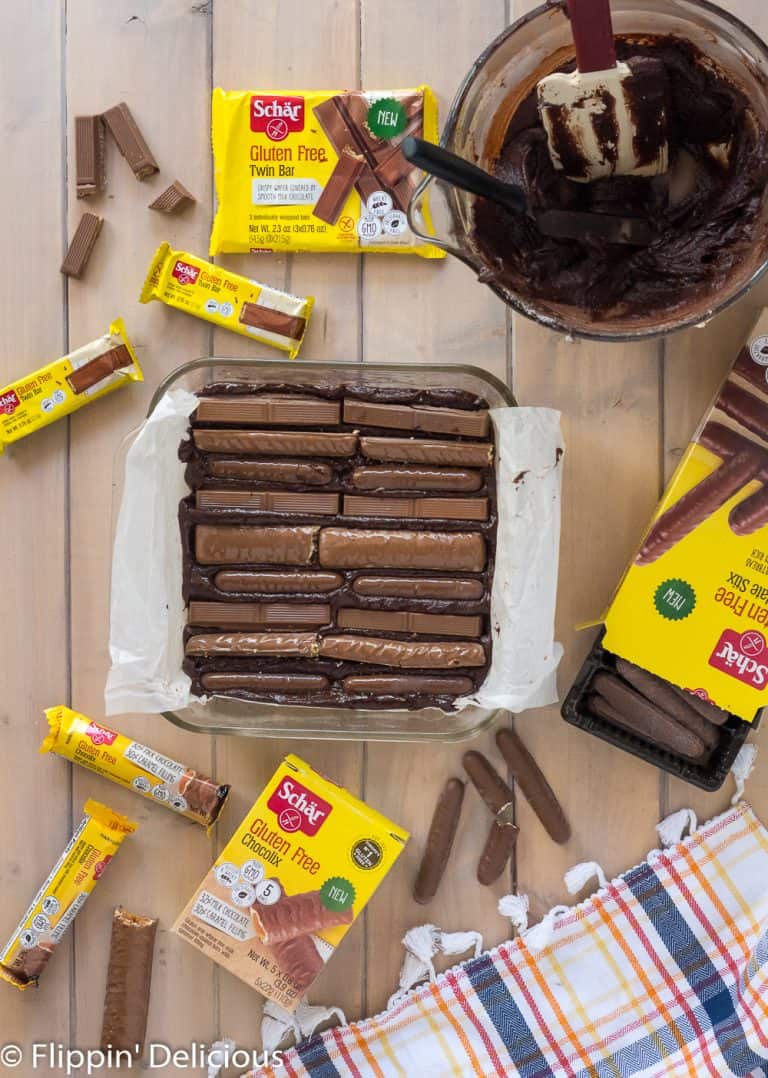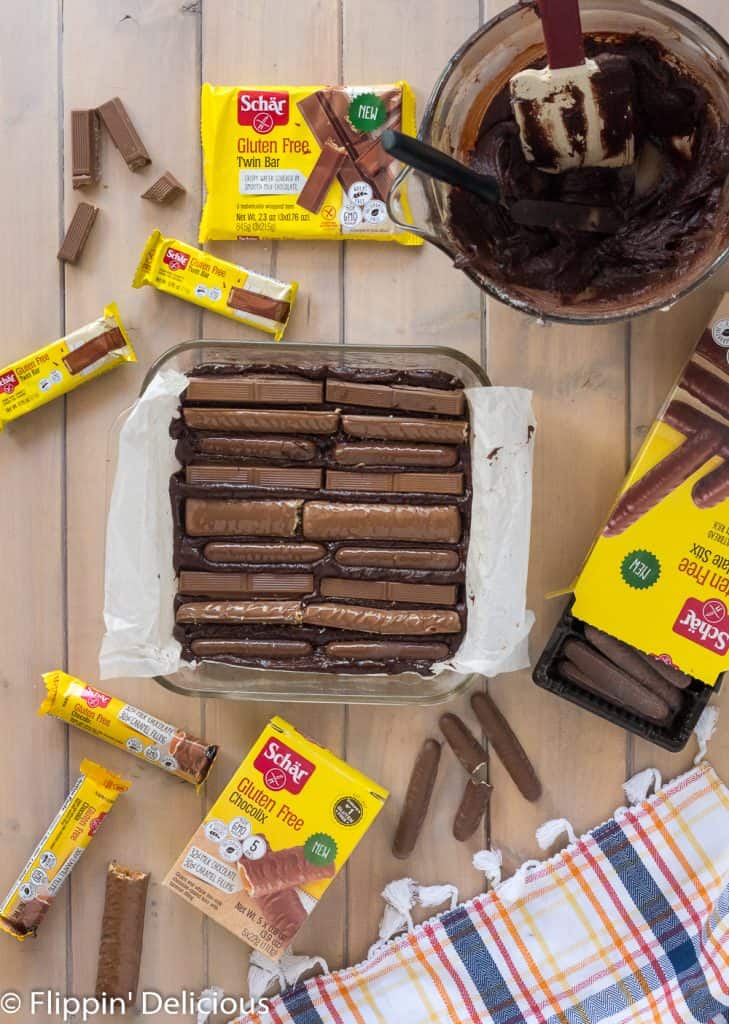 If you try to place the candy bars in before the brownie batter, they will move all over the place. They'll also melt all over the bottom of the pan as they bake.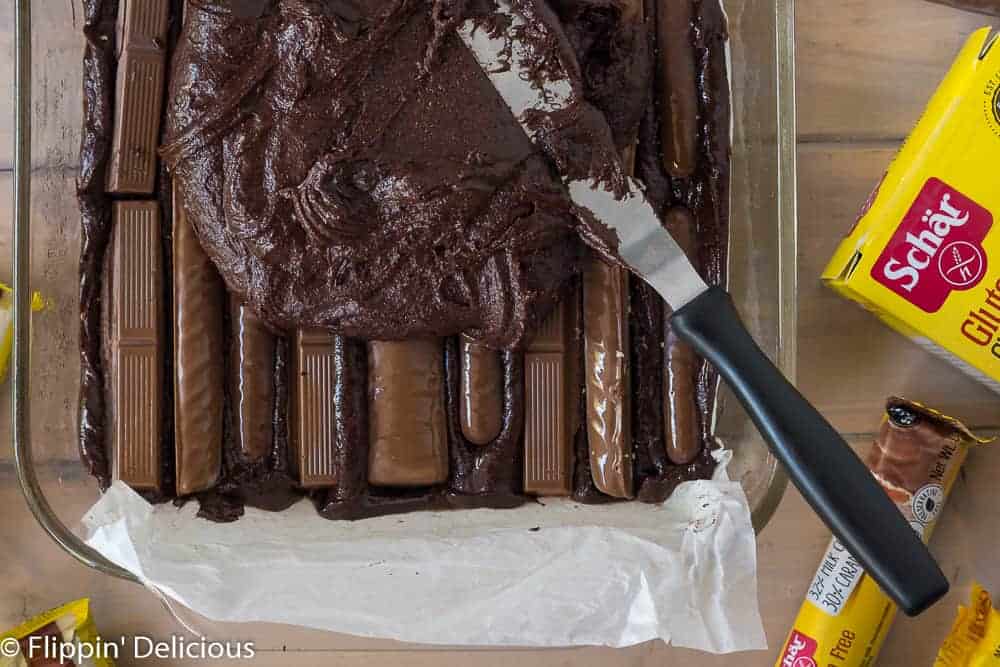 Alternatively, you can add the brownie batter to the pan, and gently press the candy bars into the brownie batter. Just smooth the batter over the top of the candy bars after you press them in.
Let your brownies cool completely before spreading with chocolate frosting. You can add chopped gluten free candy bars on top of the frosting, too!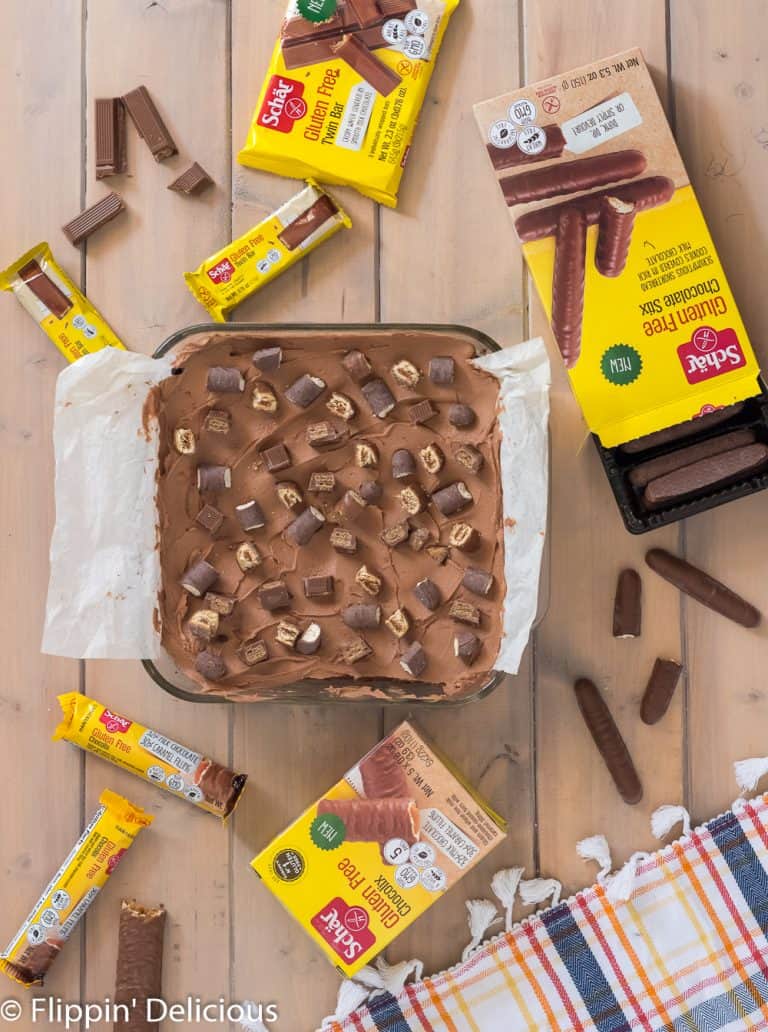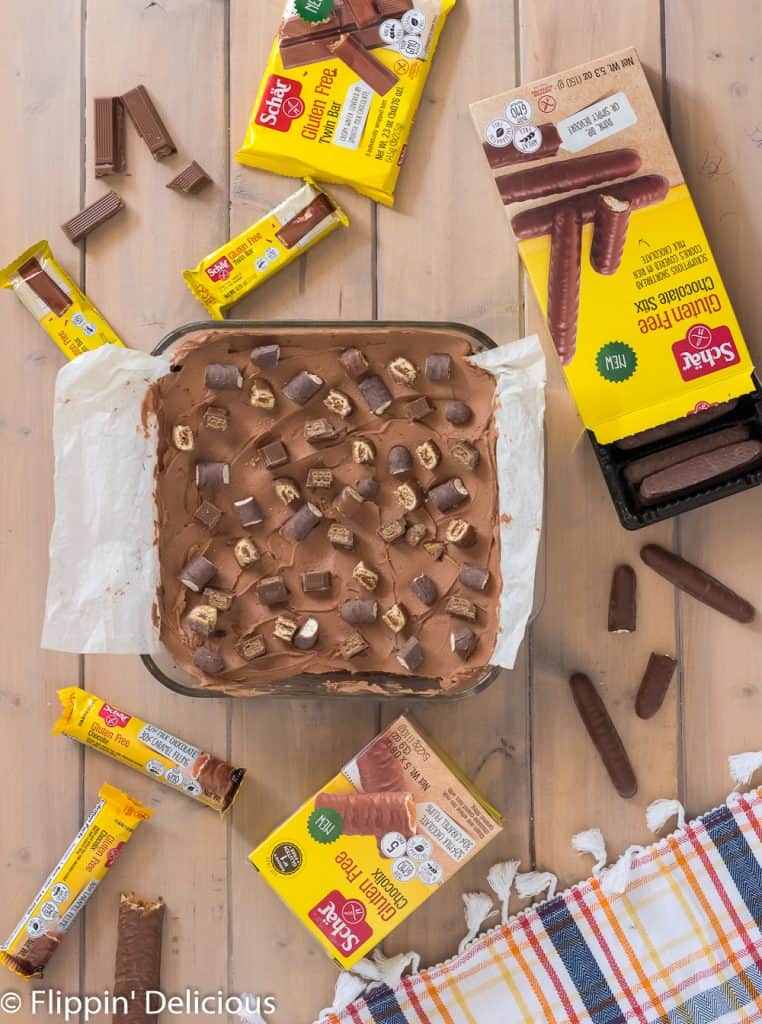 What candy bars can you add to brownies?
Really you can add any gluten free candy bar to your gluten free candy stuffed brownies. But the candy bars I picked are special.
Schar's Gluten Free Candy Bars
Enter Schar's Chocolix Bar. It is a crisp biscuit, filled with caramel, and coated in chocolate. Similar to, but not a, "Twix". I think it is actually better than a Twix because the cookie part is more tender, instead of being a hard biscuit. It is also filled with caramel instead of just having caramel on top.
Give me a break, give me a break, break me off a piece of that….Twin Bar! Schar's Twin Bars were released this past March. They are crisp wafers covered in chocolate that taste just like what I remember Kit Kat Bars tasting, but they are gluten-free.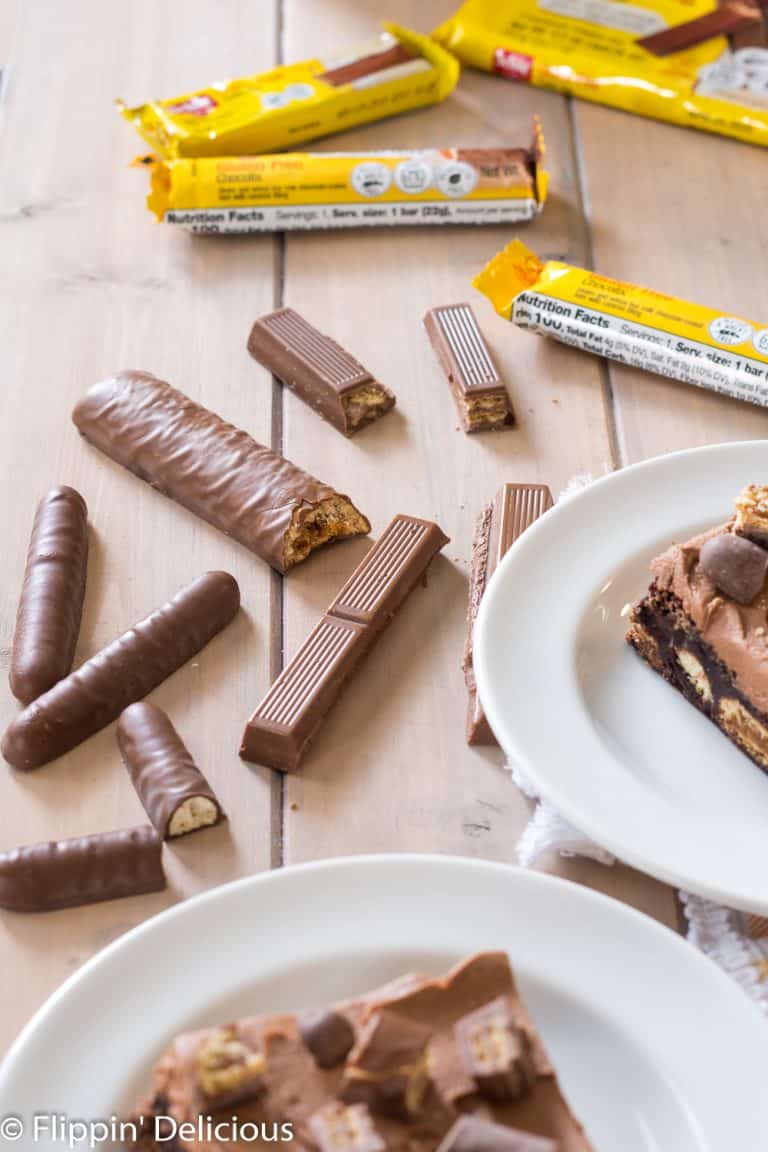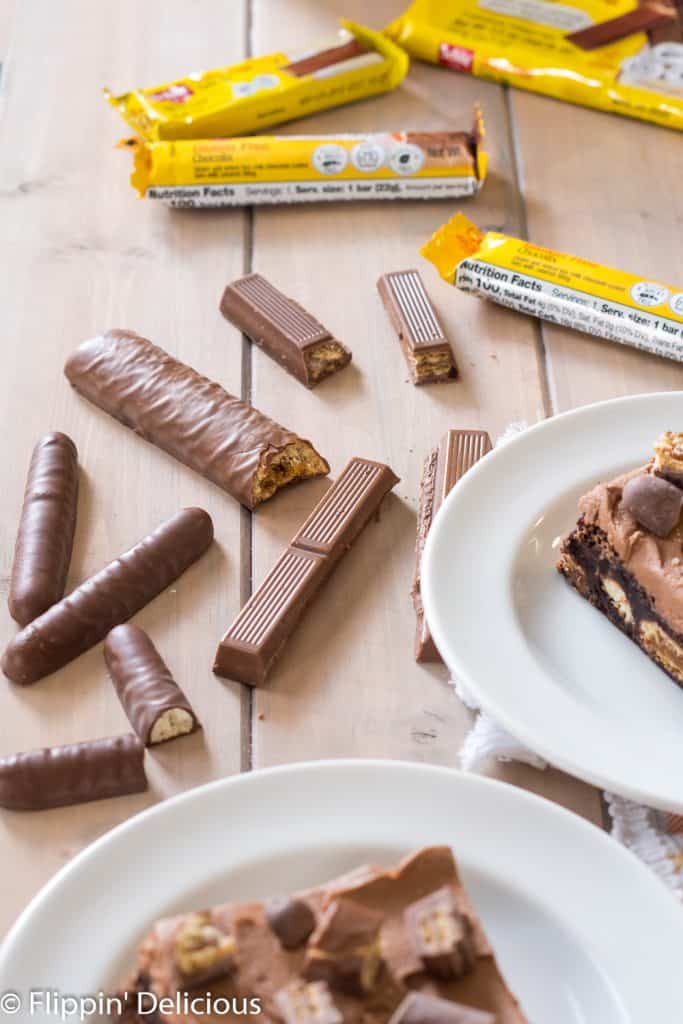 I made these candy stuffed brownies for my husband.
When Schar came out with the Chocolix Bar last year I was so excited! I was even more excited with the debut of their Twin Bars this year!
Both the Chocolix Bar and Twin Bars are similar to my husband's all-time favorite gluten-filled candy bars. I love that I can share them with him! Instead of just watching him eat.
I also used Schar's Chocolate Stix in these gluten free brownies stuffed with candy.
Chocolate Stix are crisp shortbread, covered in European chocolate. They add a great crunch, and hold up really well in the brownies while baking!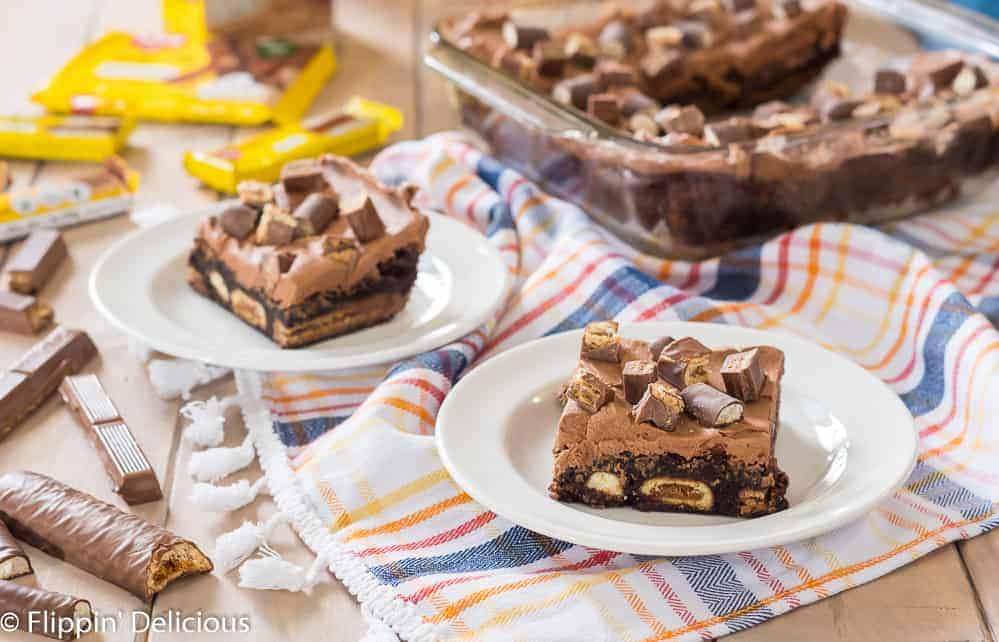 My husband lived in Germany for a few years. One of his favorite candy bars in Germany was European chocolate with a biscuit in it. Schar's Chocolate Stix are just that!
For years my husband has avoided mostly avoided his favorite candy bars, to help me avoid cross contact. And so that I didn't have to miss out.
He's only been able to indulge in them when I'm not around.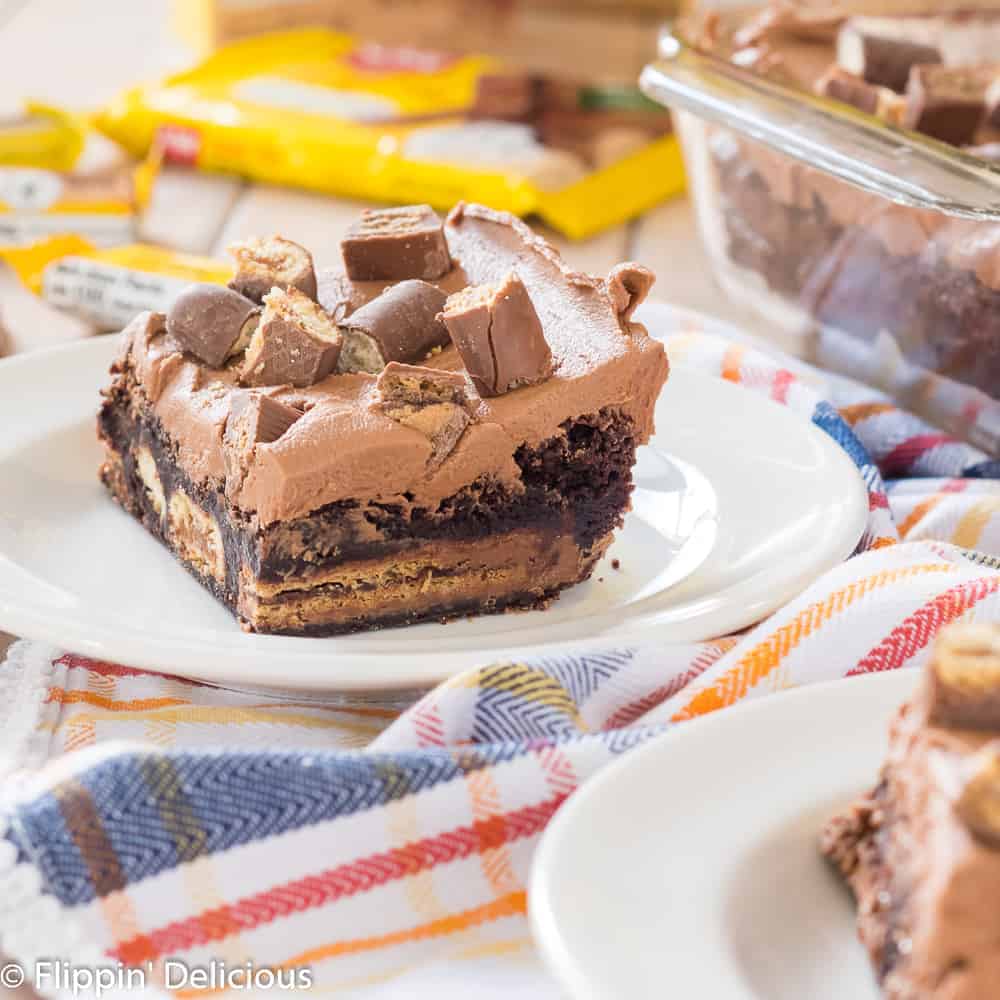 I can't tell you how excited I was to create these gluten free candy stuffed brownies filled with gluten-free versions of all of his favorite candy bars.
Where to find Schar's gluten free candy bars?
I've been able to find Schar's Chocolix near me, but I haven't seen their Twin Bars and Chocolate Stix at my local stores yet. But that isn't a problem, because Schar now has an online shop! You can easily pick your favorite Schar products, and have them shipped straight to your front porch!
Ordering online with Schar's shop was easy, I did it on my phone while drinking my coffee one Sunday morning.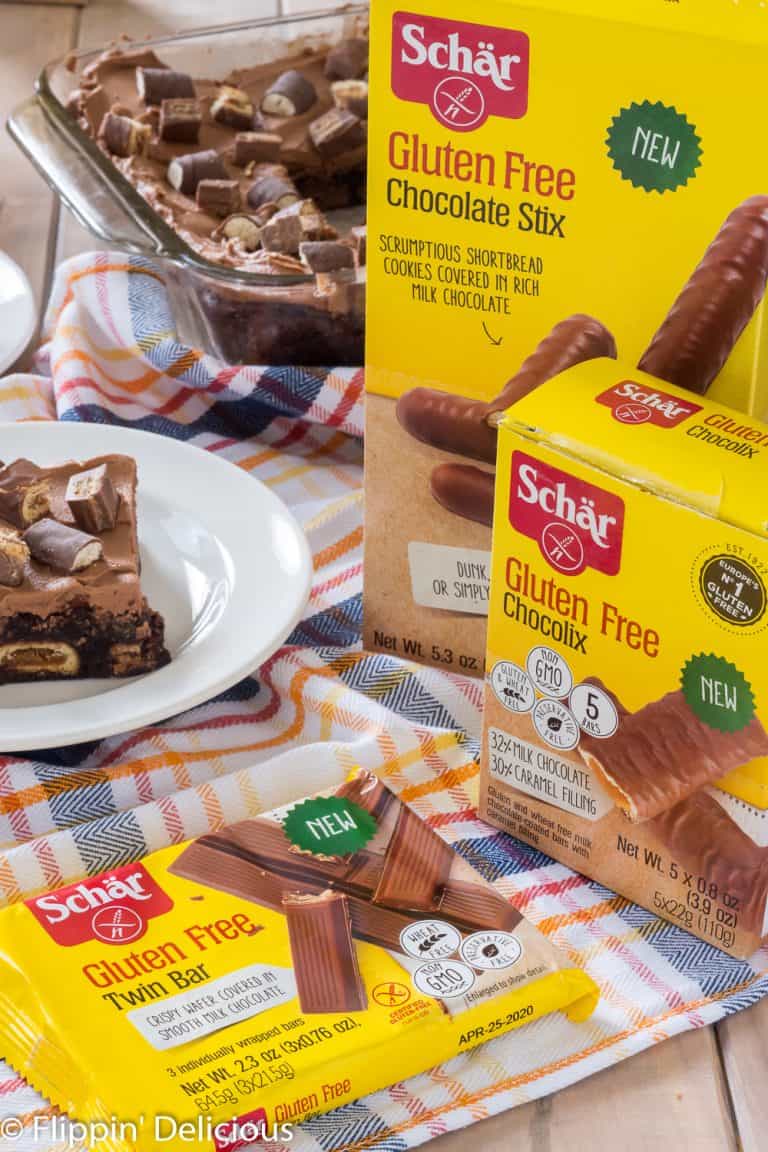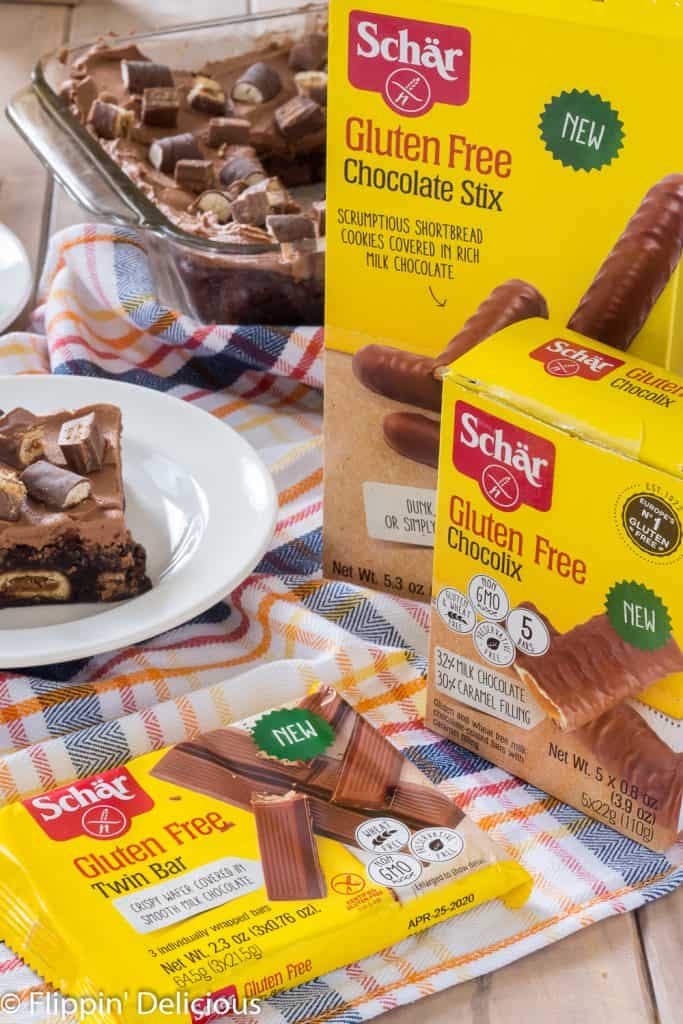 It takes 5-7 business days for your order to arrive, according to Schar's website, however my package came faster. I ordered it Sunday morning, and it arrived Thursday afternoon!
I appreciated that they wrapped the chocolate in a silver, reflective bubble-wrap bag and added a frozen gel pack, to keep them from melting. This was great attention to detail that so many companies overlook!
You can also use Schar's product locator to find stores near you that carry specific products.
Gluten Free Brownies with frosting and candy bars
It was really special for my husband and I both to share and enjoy these gluten free candy brownies. We are one step closer to being normal, by being able to enjoy gluten free candy bars like Chocolix and Twin Bars.
I hope that you also enjoy the decadent splurge that these gluten free candy brownies are.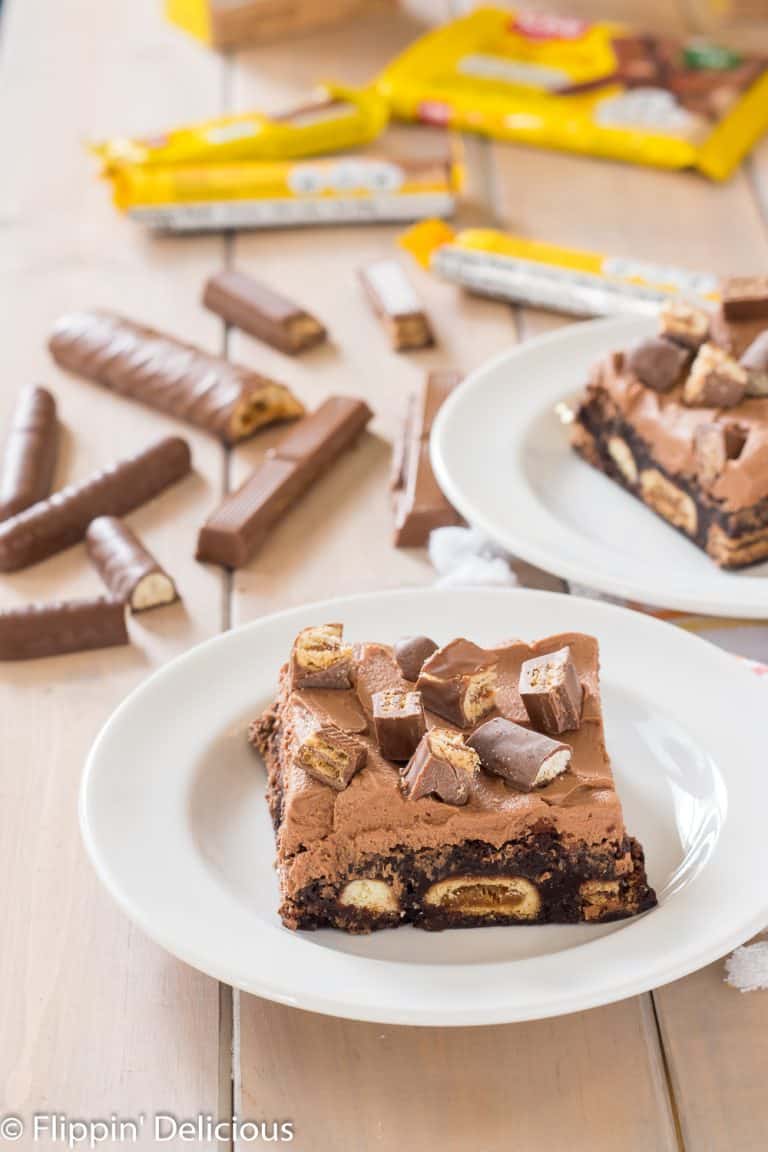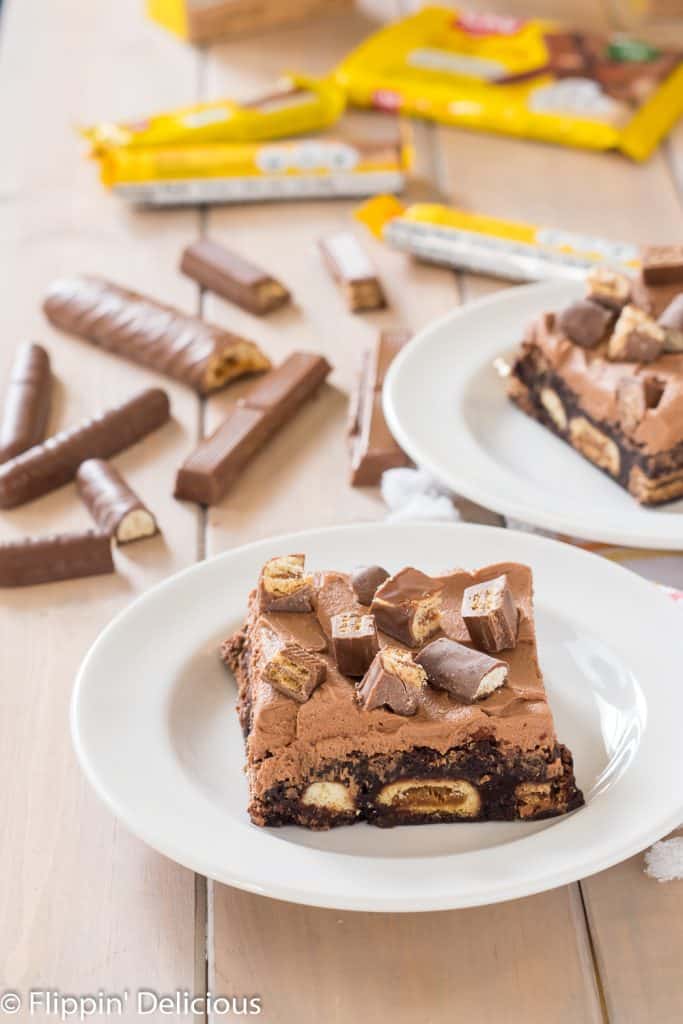 If you want another fun gluten free candy-stuffed treat, my friend Sharon just made a Chocolix No Bake Cheesecake that looks absolutely incredible! Make sure you pick up enough Chocolix to make it, too!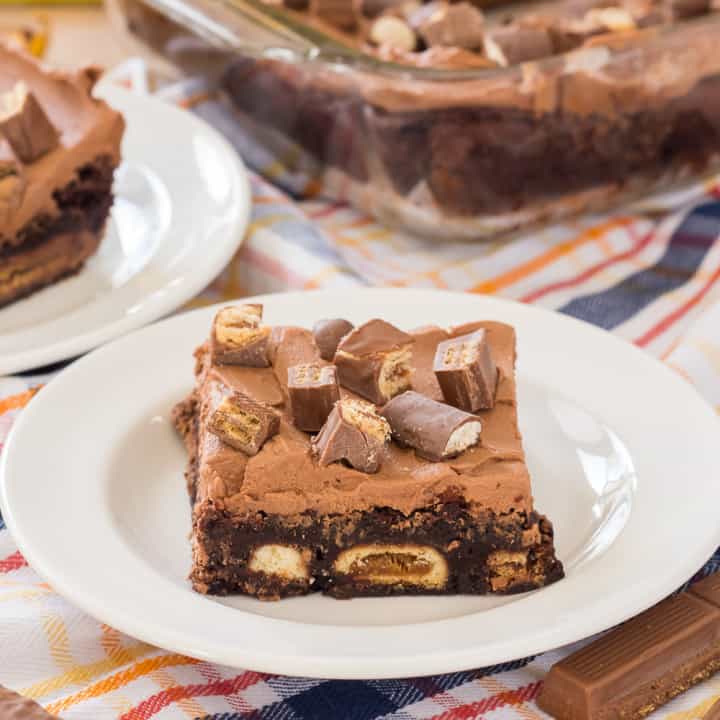 Gluten Free Candy Stuffed Brownies Recipe
Rich gluten free brownies stuffed with gluten free candy bars and topped with chocolate frosting. Indulgent, and fun way to use up any leftover gluten free halloween candy!
Ingredients
6 tablespoons melted butter
1 ¼ cup granulated sugar
¾ cup unsweetened cocoa powder
¼ teaspoon salt
1 teaspoon vanilla extract
2 eggs
¼ teaspoon xanthan gum (omit if your flour already has it)
Instructions
Preheat oven to 350 degrees.
Grease a 8x8 baking pan, or line it with parchment paper.
Pour the melted butter (or melted coconut oil, or canola or vegetable oil) into a medium bowl, or the bowl of your stand mixer.. Add the sugar and cocoa powder.
Beat the sugar butter, and cocoa powder until until smooth and almost creamy. You can do this with a stand mixer, electric hand mixer, or just using a whisk (which is my normal method.)
Add the salt and vanilla and mix to combine.
Add the eggs, one at a time, mixing in between each addition. You can also use egg substitute, equal to two eggs. *see note
Add the gluten free flour and mix well. The batter will be very thick, and will be smooth.
Use a sturdy spatula to spread half the batter in the prepared 8x8 pan.
Gently press the candy bars into the batter, lining them up in rows of three so that each brownie will have a little bit of each candy bar in it. I used 6 Chocolate Stix, 3 Twin bars, broken in half to make 6 bars, and 4 Chocolix Bars. I used one whole Chocolix bar in the center, and discovered if I used whole Chocolix bars on the sides, I would run out of space so I cut two Chocolix Bars in half lengthwise so that I wouldn't crowd the pan too much.
Gently spread the remaining gluten free brownie batter over the gluten free candy bars.
Bake for 30-35 minutes until toothpick inserted comes out with a few crumbs and no wet batter.
Let cool complete, and frost with chocolate frosting. Chop the remaining gluten free candy bars and sprinkle over the chocolate frosting..
After the frosting is set, cut into 3" squares for a rich and indulgent dessert. These brownies are so decadent, we actually cut them even smaller after taking photos, making 36 brownie bites that were about 1 inch square.
Notes
You can use melted butter, vegetable oil avocado oil, coconut oil, canola oil, or any other neutral flavored oil to bake these brownies. This has been our family's go-to recipe for more than 5 years, and we've tried them all.
Originally I used a stand mixer to make this recipe, but it is totally unnecessary. I usually use a whisk to mix the oil with the sugar and cocoa powder, and keep using it until after the eggs are added. Then I switch to a heavy-duty rubber spatula or a wooden spoon when I add the gluten free flour.
You can use egg substitute equal to 2 eggs to make these gluten free brownies vegan. I like using a flax egg or Bob's Red Mill's Egg Replacer in this recipe. To make a one flax egg, simply mix 1 tablespoon flax meal mixed with 3 tablespoons of hot water and let it sit for five minutes to gel. To use Bob's Red Mill's Egg Replace, mix one tablespoon of powdered egg replacer with 3 tablespoons water (instead of the 2 tablespoons the directions call for).
Recommended Products
As an Amazon Associate and member of other affiliate programs, I earn from qualifying purchases.
Nutrition Information
Yield

9
Serving Size

1
Amount Per Serving
Calories

496
Total Fat

21g
Saturated Fat

9g
Trans Fat

0g
Unsaturated Fat

10g
Cholesterol

63mg
Sodium

241mg
Carbohydrates

76g
Fiber

2g
Sugar

63g
Protein

5g
All nutrition info is a guestimate and will vary depending on the ingredients you use. Also, this is a calculation for the large 3 inch brownies, If you cut your brownies smaller, take this into account.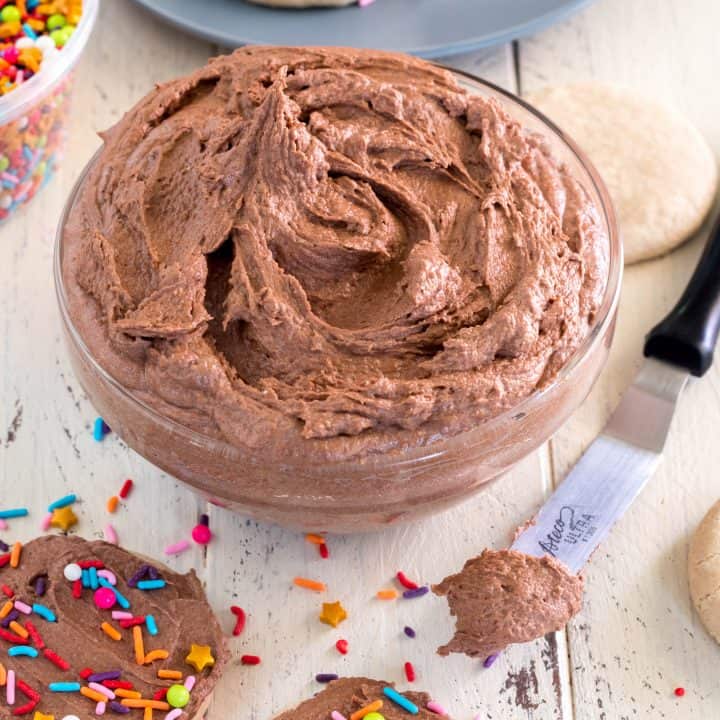 Vegan Chocolate Frosting
Yield:
enough to frost 2 dozen cupcakes
Vegan Chocolate Frosting- sweet, fluffy, and perfectly pipeable, this dairy free chocolate frosting is my go-to for topping cookies and cakes. It makes a mean cupcake, too. Make is as dark chocolate as you'd like!
Ingredients
2 tablespoons hot water or coffee
2 tablespoons dutch processed cocoa powder
1 cup palm shortening
1 cup vegan butter
1 (2 lbs) bag powdered sugar
2 teaspoon vanilla extract or vanilla paste
1-2 tablespoons dairy-free milk
¼ cup vegan chocolate, melted and cooled
Instructions
Mix the cocoa powder with hot water or coffee in a small bowl until it makes a smooth paste. Set aside to cool.
Whip the palm shortening and vegan butter using a stand mixer or heavy duty hand-held mixer for 5 minutes. Set a timer! It should be light in color, and very fluffy.
Add the powdered sugar, and vanilla extract. Beat at a low speed to combine.
Add the dairy-free milk a teaspoon at a time, while whipping, until the frosting comes together.
If the frosting is still too thick add a little dairy free milk.
Add a teaspoon of milk, and then add more ½ a teaspoon at a time until your frosting is smooth and spreadable. And add the milk after the vanilla, since that will add more moisture to your frosting. If you accidentally add too much milk (it happens to the best of us) and your frosting is sloppy, too loose, or weeping, try adding ¼- ½ cup more of powdered sugar. This can sometimes help to absorb the extra liquid and save the day.
Add the cooled cocoa paste, and cooled melted vegan chocolate and mix until combined.
Increase the speed and whip for another 2-3 minutes or until light and fluffy.
Notes
You can easily half this recipe, or even make only a quarter batch.
Be sure to follow the times for whipping the frosting. If you don't whip it long enough, it won't be fluffy.
I've used Earth Balance, Melt, Pure Blends Coconut Oil Spread, and Pure Blends Avocado Oil Spread with great results. I have also used Smart Balance, which makes a looser, softer frosting that may not need any milk.
You can use just cocoa powder, or just melted chocolate to make this vegan chocolate frosting to suit your tastes. You can increase the cocoa powder, up to ¼ cup with ¼ cup of hot water or coffee, and can increase the melted vegan chocolate up to 1 cup for a darker, richer chocolate vegan frosting.
Recommended Products
As an Amazon Associate and member of other affiliate programs, I earn from qualifying purchases.
Nutrition Information
Yield

24
Serving Size

enough for 1 cupcake or cookie ~ 3 tablespoons
Amount Per Serving
Calories

181
Total Fat

17g
Saturated Fat

11g
Trans Fat

0g
Unsaturated Fat

5g
Cholesterol

21mg
Sodium

63mg
Carbohydrates

6g
Fiber

0g
Sugar

6g
Protein

0g