Gluten-Free Cookies All Year Round has more than 60 recipes, with cookies for every season & occasion. All recipes are gluten free & allergy friendly!
Do you want to eat gluten-free holiday cookies all year round, instead of just in December?
I love eating Christmas cookies. But December shouldn't get all the cookies! We deserve to eat delicious cookies all year round!
Which is why I decided to write.... Gluten-Free Cookies All Year Round.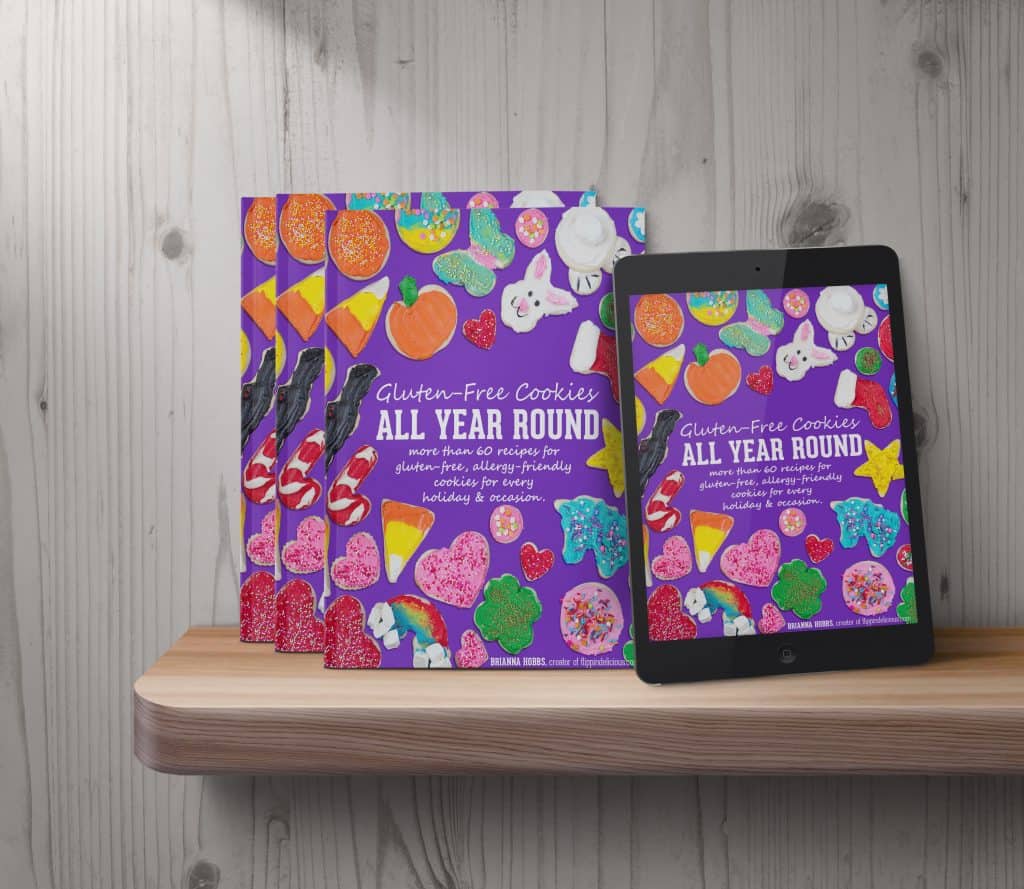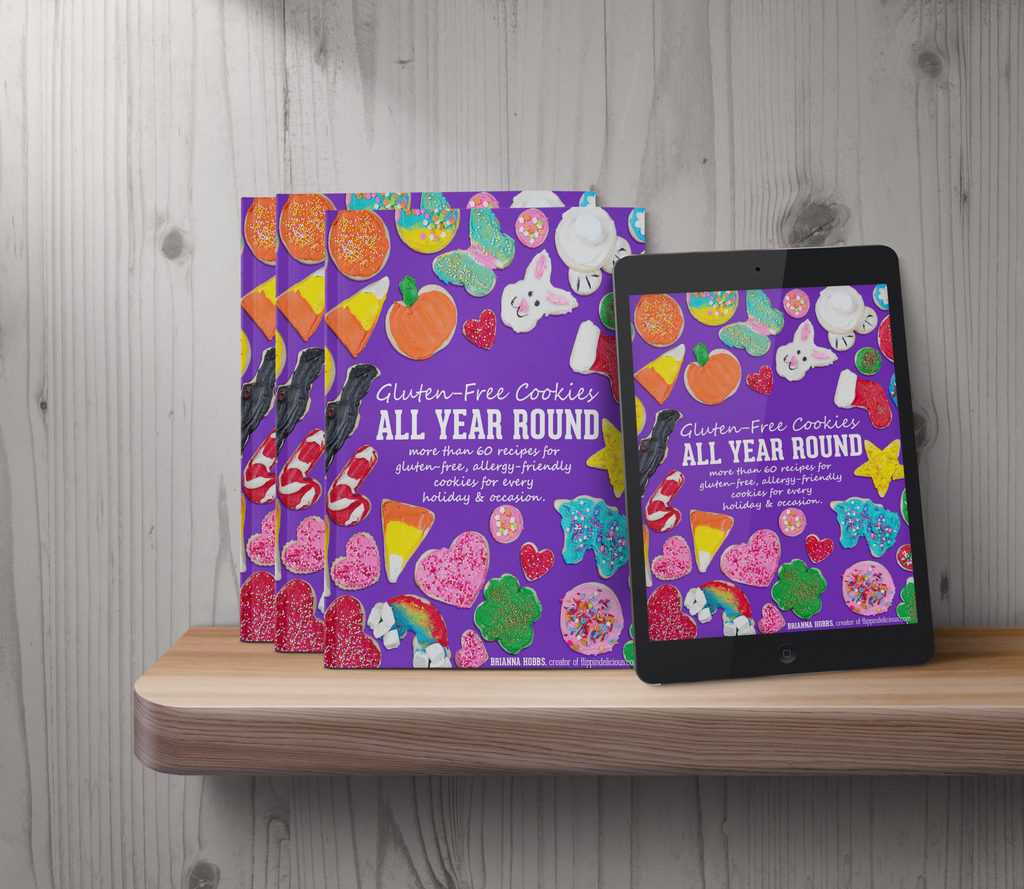 There are more than 60 gluten-free cookie recipes inside this cookbook! Plus frostings and fillings, for every cookie imaginable!
An incredible cookie cookbook with tips and substitutions for anyone who loves cookies! Brianna's recipes are simple to make and there's a cookie recipe for every type of cookie-lover ."

Chrystal Carver, author of Sweet & Simple Gluten-Free Baking and Gluten-Free Donuts and blogger behind glutenfreepalate.com.
Not only is Gluten-Free Cookies All Year Round perfect for your own recipe collection, it makes a great gift!
---
---
Your favorite gluten-free family or friends will think of you each time they bake cookies, all year long.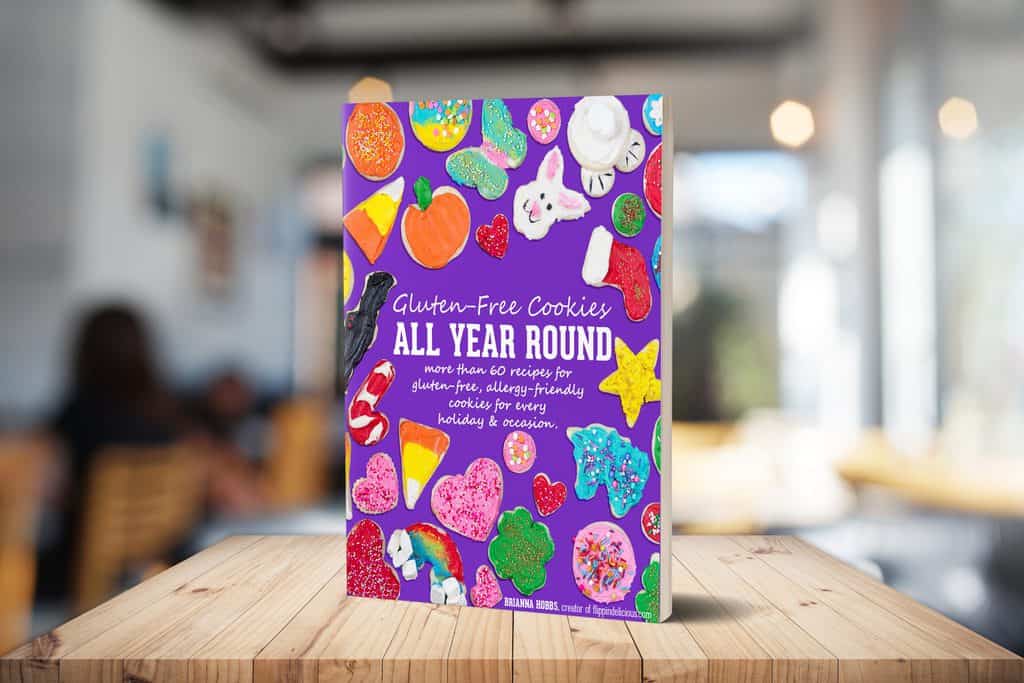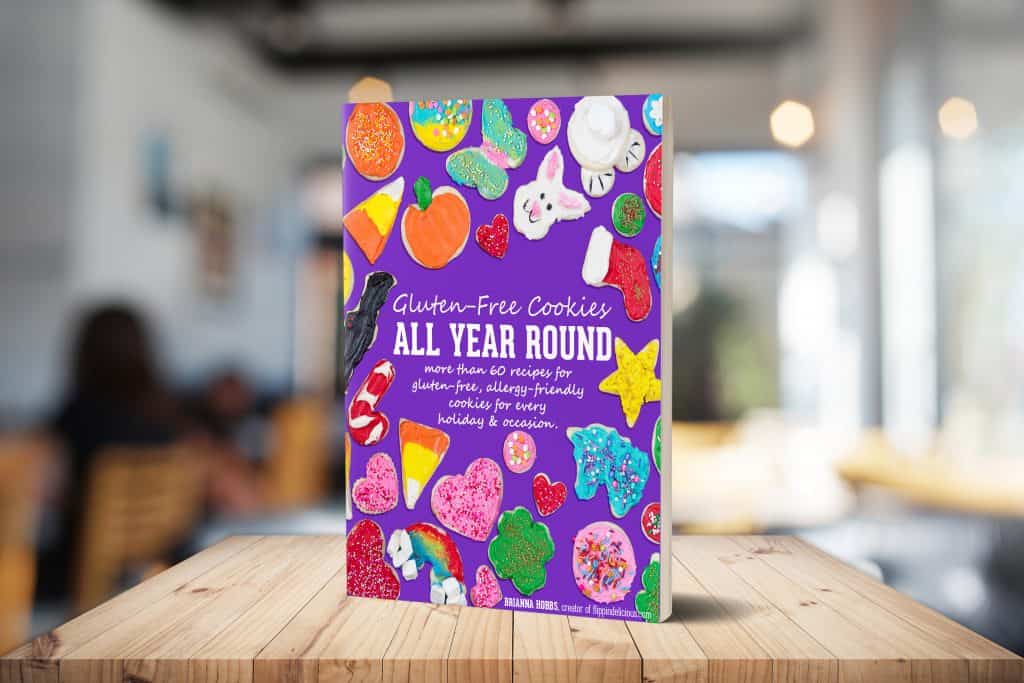 I don't know about you, but I love celebrating with cookies.
Happy New Year! Start of the year with some good fortunes inside gluten-free fortune cookies.
St. Patrick's Day? Make some shamrock and rainbow cookies for our Leprechaun trap!
Valentine's Day love notes on sugar cookies are pretty and tasty too.
First day of spring? Have a tea party with lemon iced shortbread!
Easter is here! Make some bunny cookies, or cute little birds nests!
First camping tip of the summer? Make s'mores on gluten-free "graham" crackers or better yet, make s'mores cookies!
It is too hot, but we want something sweet to eat after we go swimming? Make no-bake chocolate cookies or edible cookie dough!
You got 100% on your spelling test, have an oatmeal creme pie!
First day of fall? Warm up with spicy gingersnaps (aka FIRE cookies)!
There is a gluten free cookie for every holiday and occasion, all year round in this cookbook!
---
---
I've gathered up all of my favorite gluten-free cookie recipes, from my site and my previous gluten-free cookbooks, and also created new gluten-free cookie recipes EXCLUSIVE to Gluten-Free Cookies All Year Round.
Take a sneak peek at the table of contents to see just what you'll get.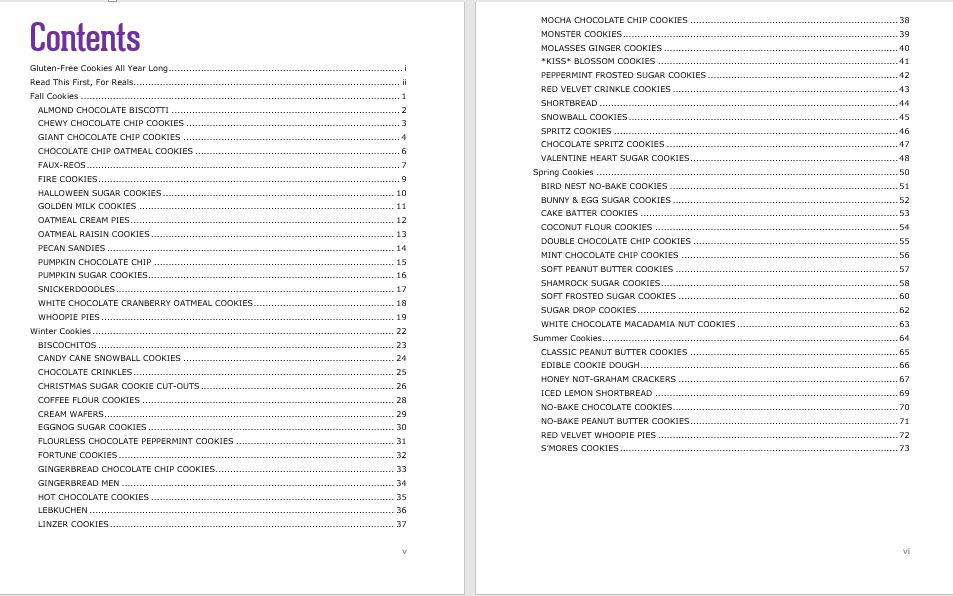 ---
---
Each recipe has a color photo, and tips so you can easily bake the best cookies you ever have. And they'll be gluten-free to boot.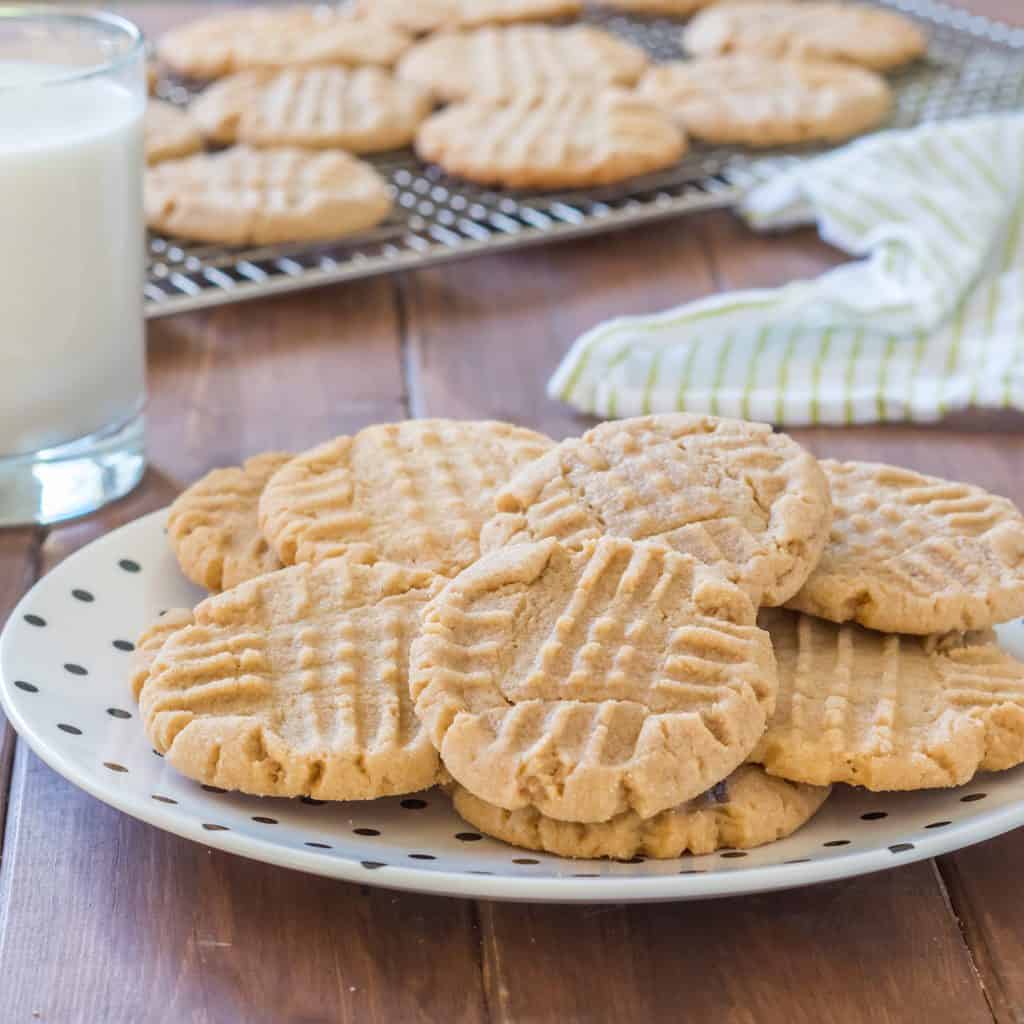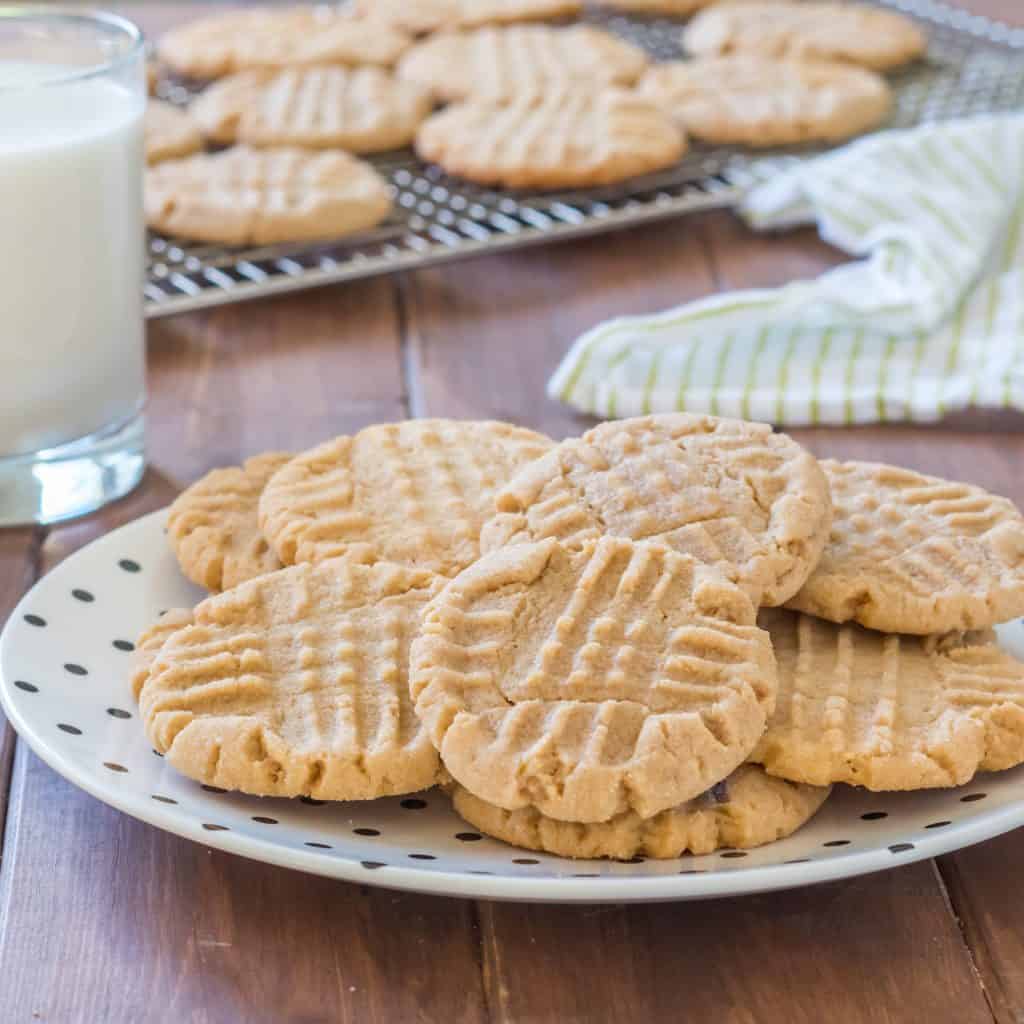 ---
---
You'll also notice that each recipe is labeled so you can see at a glance what it is "free-from". Dairy-free, Egg-free, Nut-free, and Vegan are all noted so you can easily see what allergens the recipe avoids, as written or with noted and tested substitutions.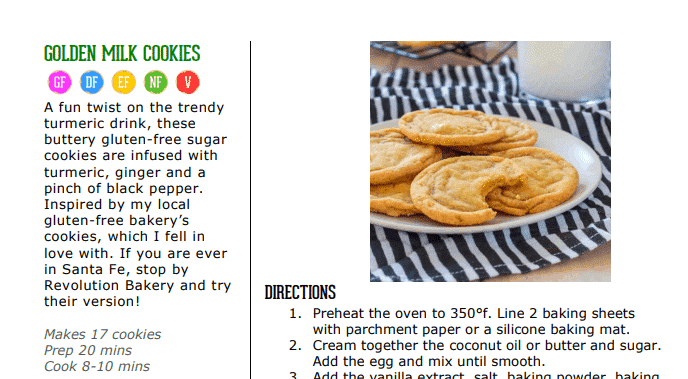 The cookbook is divided into 5 sections, one for each season. You can easily find cookie recipes for Spring, Summer, Fall, and Winter. Plus there is a bonus section filled with just frosting and filling recipes.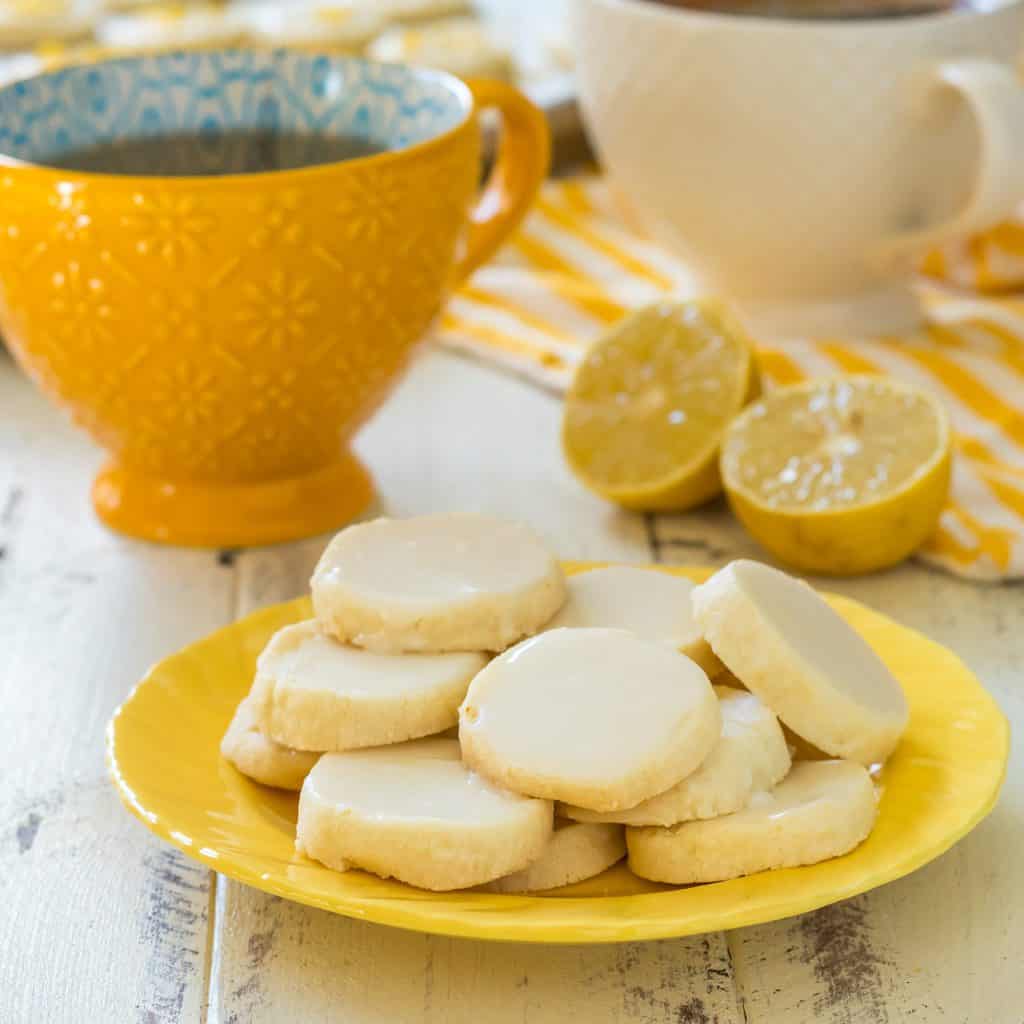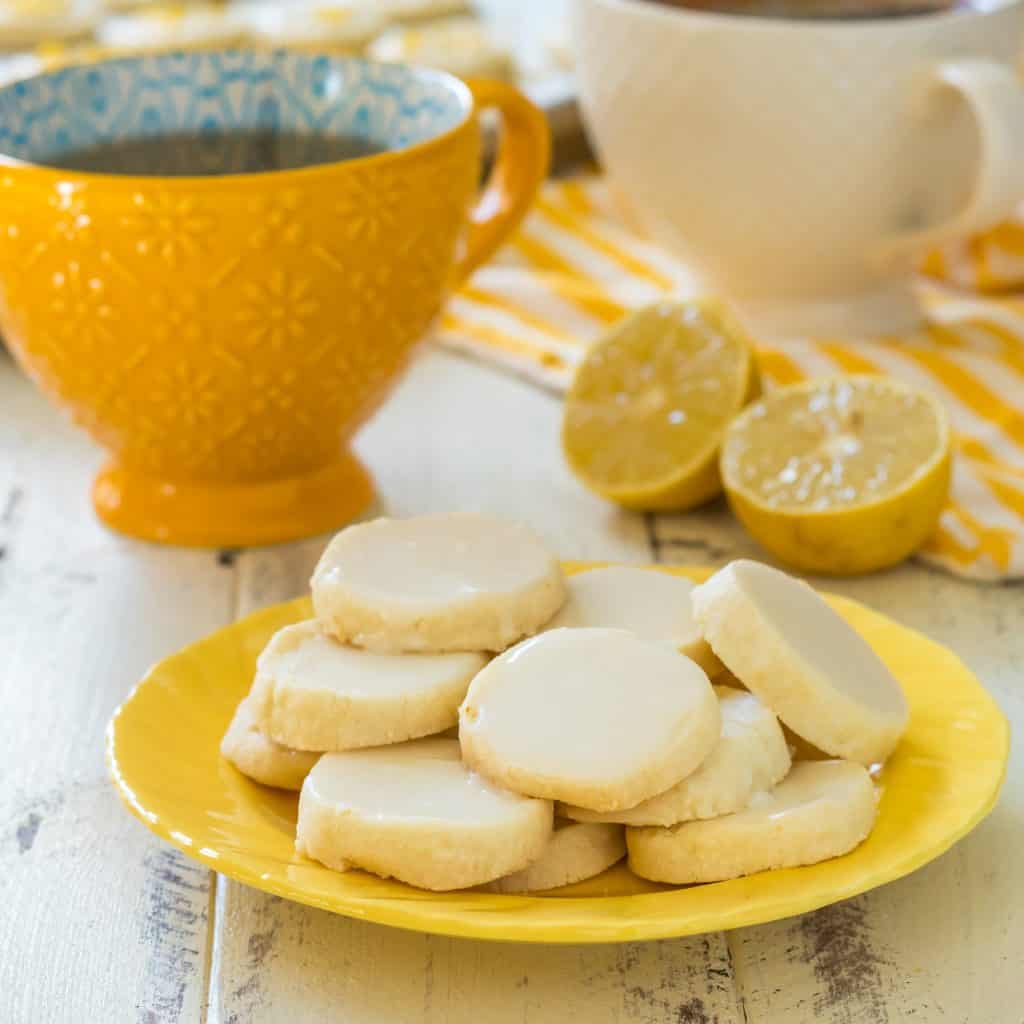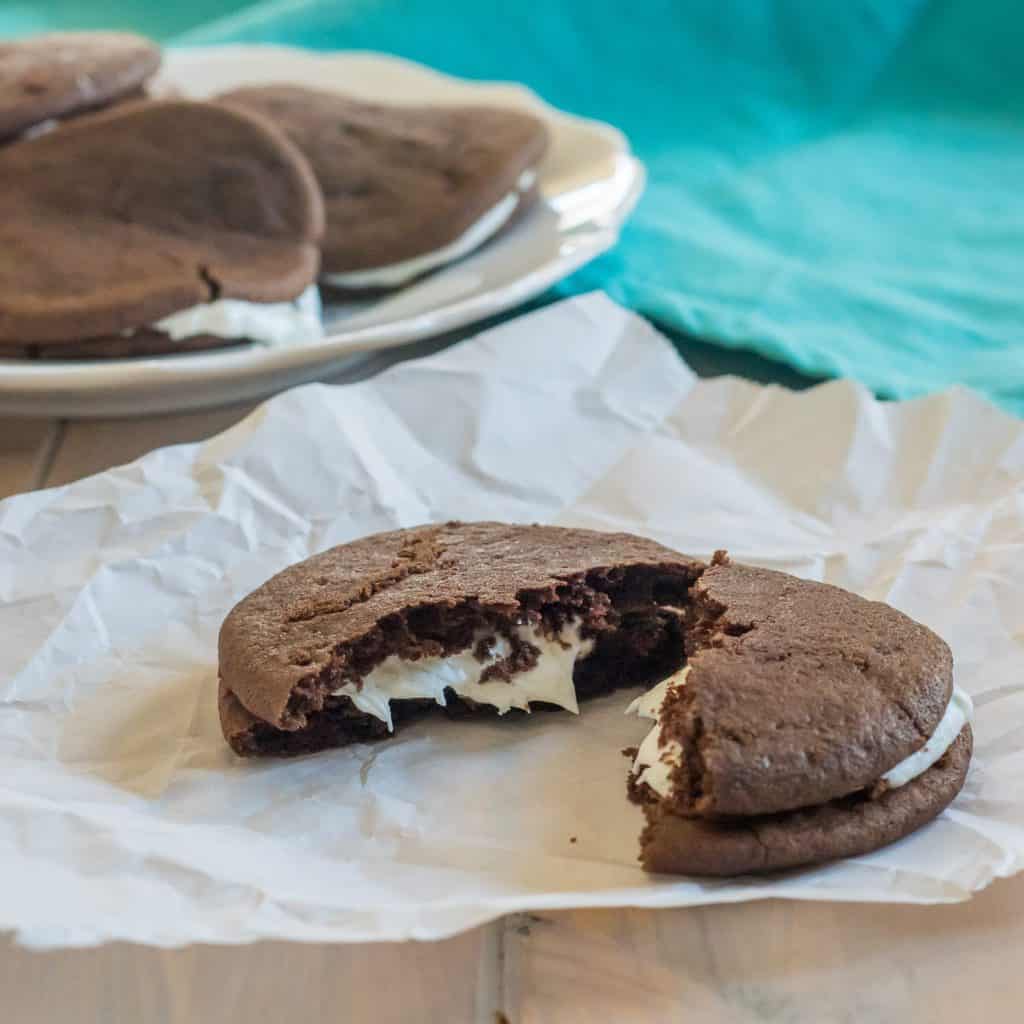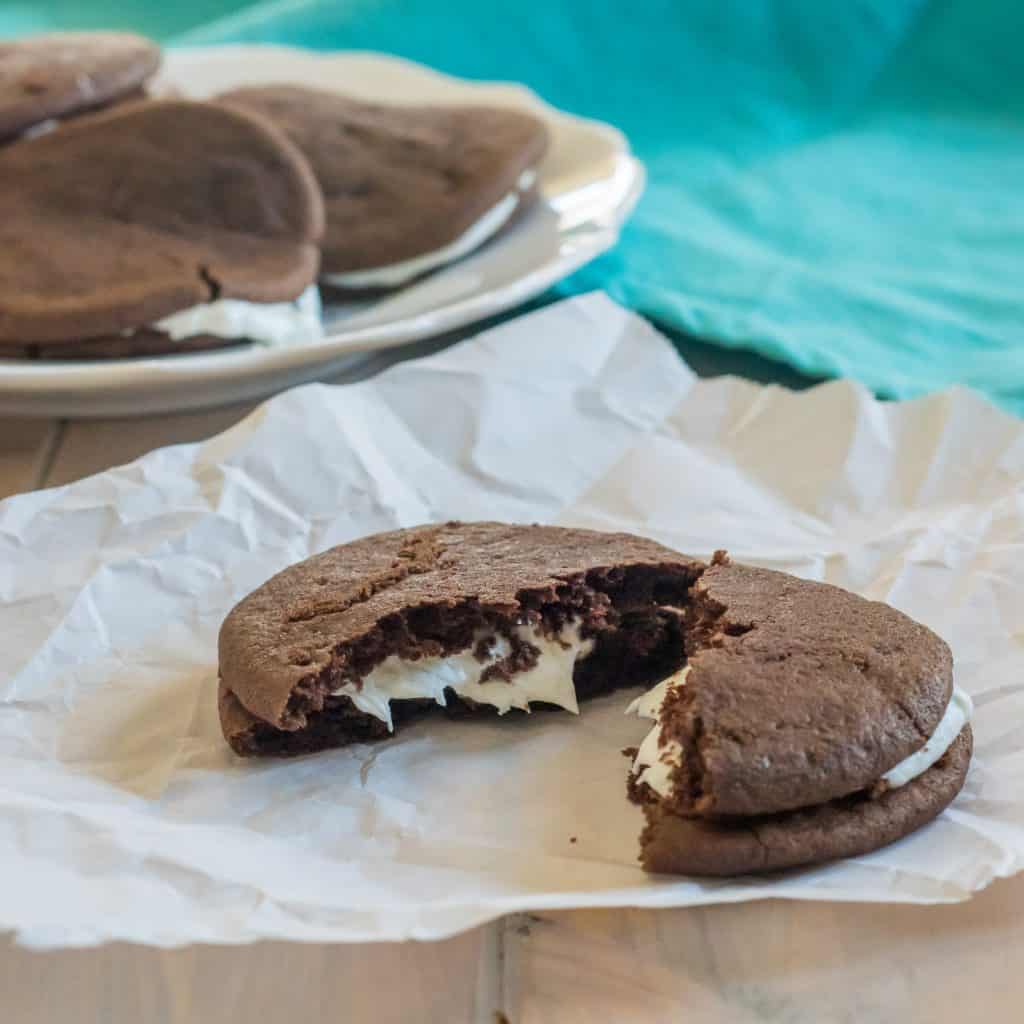 Frosting and filling recipes are also included on the same page as the recipes, so you don't have to go flipping to page 82 for the frosting, unless you want to use a different frosting or filling recipe. Hey, sometimes I want to fill my Gluten Free Whoopie Pies with marshmallow filling, and sometimes I want to use buttercream. You do you!
What are you waiting for? If you like tasty cookies that happen to be gluten-free, dairy-free, or egg-free you need Gluten-Free Cookies All Year Round on your bookshelf (whether virtual or physical).
Not only is each and every recipe gluten-free, many are dairy-free, egg-free, and nut-free. And the recipes that aren't, are easily adapted to accommodate your allergies with a guide in the front.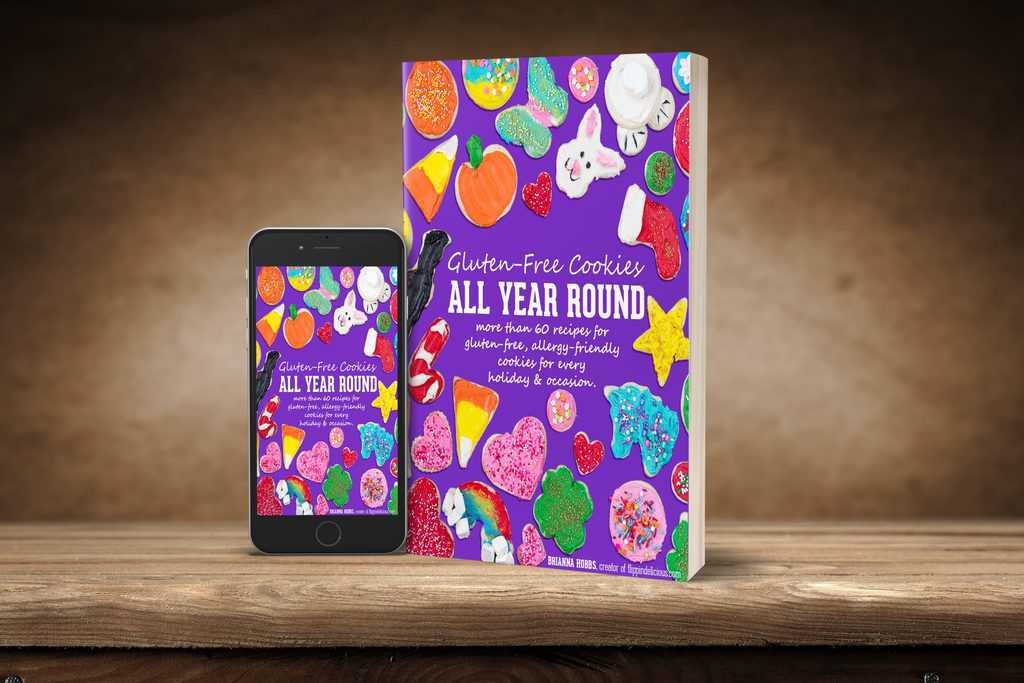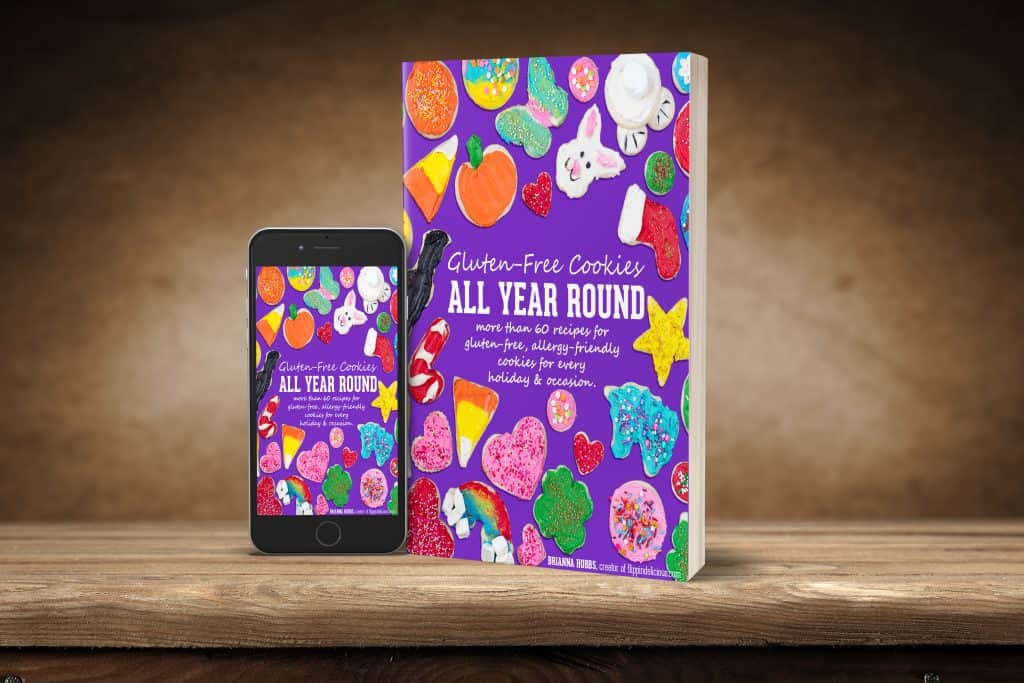 Over 60 Gluten Free Cookie recipes, for every holiday and occasion all year round!
Buy the e-cookbook for $15.99
Still not sure? I have a money-back guarantee! If you don't like Gluten-Free Cookies All Year Round, or change you mind, just email me at flippindeli[email protected] within 14 days and I'll give you a FULL REFUND!