This New Mexican Chopped Salad with Hatch Green Chile Vinaigrette makes the perfect weeknight meal when combined with gluten free green chile pepperoni pizza!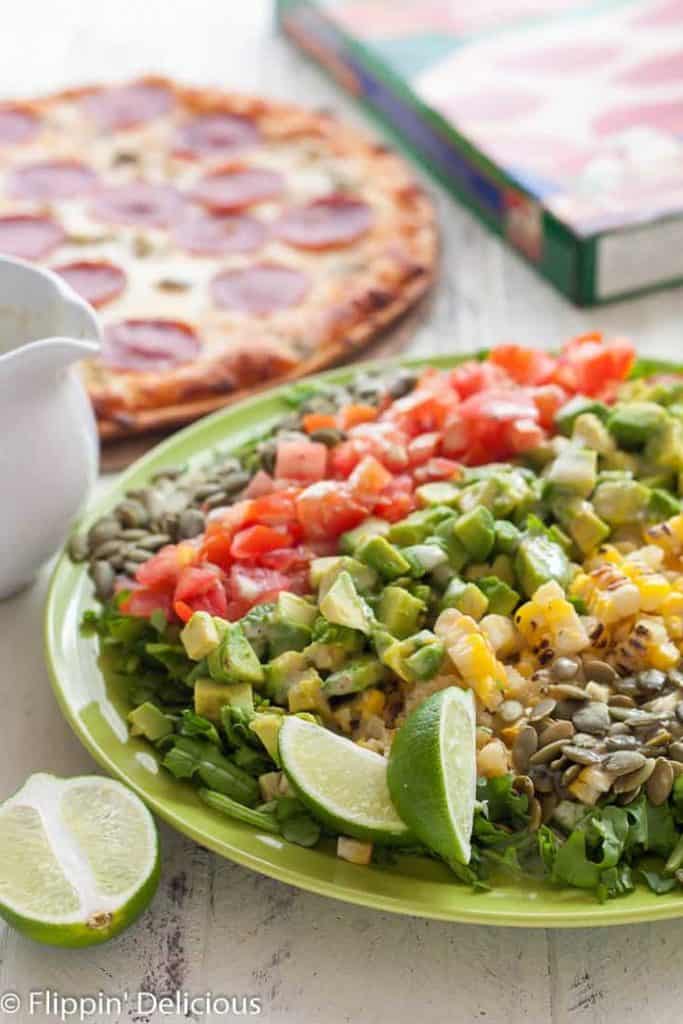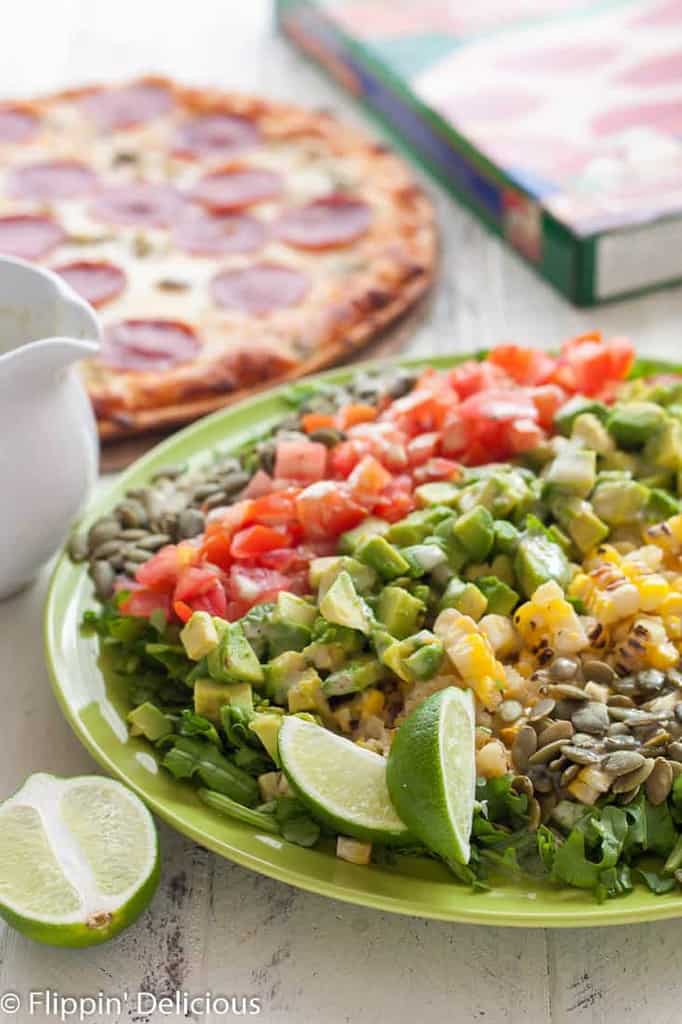 This post is sponsored by Freschetta. As always, all opinions are my own. Thanks for supporting the companies that support Flippin' Delicious ™.
Now that school is in full swing, I am always on the hunt for easy weeknight meals. In the afternoons I am always short on time (and patience) and I have hungry kids asking for snacks.
"No! No snacks right now! Dinner will be ready soon..."
When soon is, no one knows.
Except when I have a few Freschetta Gluten Free Pizzas in my freezer!
Once the oven is preheated it only takes 12-15 minutes to cook.
If it is still grilling season where you reside, you can read my 5 secrets for the best grilled gluten free pizza and then you don't even have to heat up your kitchen!
Living in New Mexico (not Mexico. I live in the USA still) hatch green chile is a big deal. I have loved seeing its growing popularity nationwide over the past few years. Real roasted green chile is the best and we love to put it on everything. A classic pizza topping here in the "Land of Enchantment" is green chile. And green chile pepperoni is one of my go-to faves!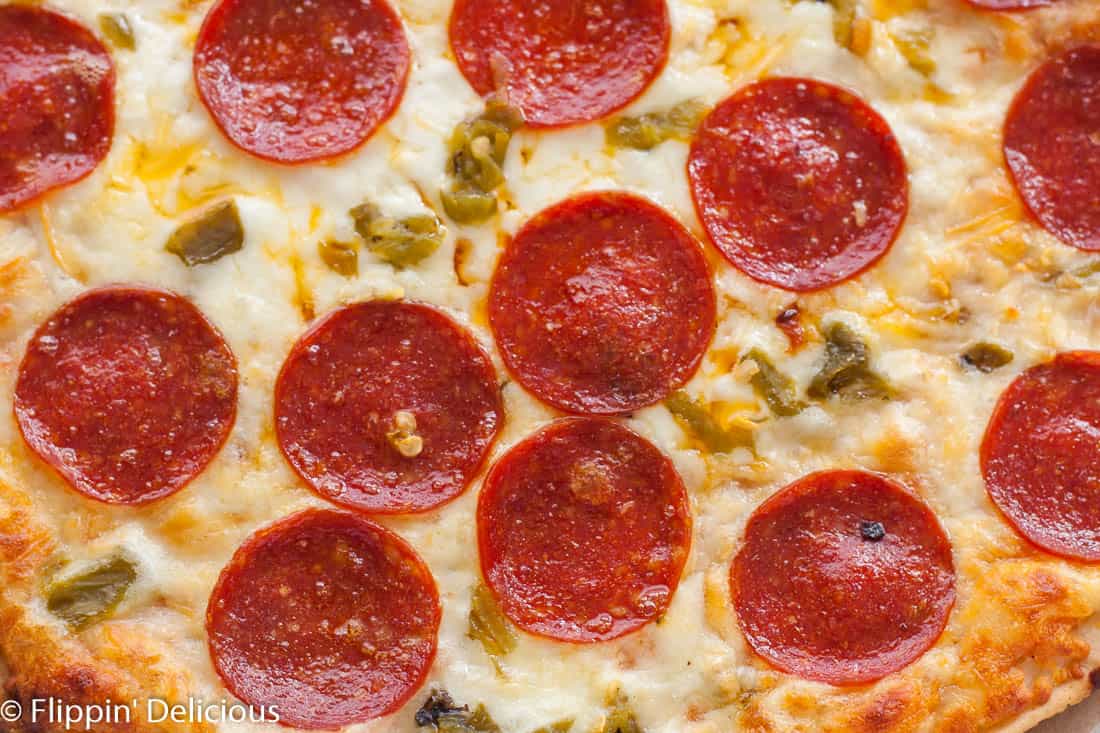 With Freschetta's Gluten Free Pepperoni Pizza it was super easy to make a gluten free "green chile pep" pizza in my own safe oven. I still enjoyed a crisp pizza crust, perfectly melted cheese, and the spice and heat of green chile and pepperoni, but without the worries of cross contamination. All I did was add 2-3 tablespoons of diced roasted hatch green chile to my pepperoni pizza before baking it.
To turn my Freschetta Gluten Free Pizza into a meal I made a chopped salad, inspired by the same hatch green chile.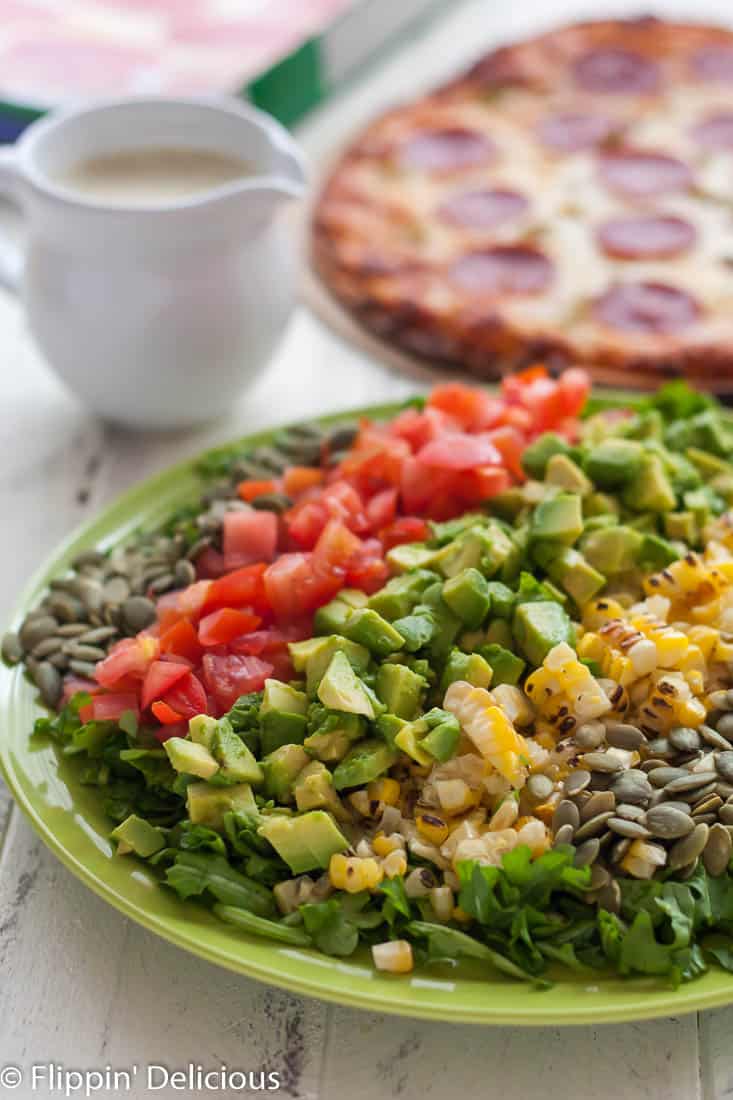 There is a local restaurant, Fork and Fig, that makes an amazing chopped salad. They spread each of the ingredients out in a row on a sheet pan (including the lettuce, it gets it's own little row) and drizzle dressing over the top. I love my salads with more "stuff" than lettuce so I fell in love with their chopped salad (as a note, their chopped salad is not GF unless you make some substitutions, which I did.)
So that is what I did in this chopped salad recipe. I coarsely chopped some arugula because I love it's peppery bite. It can really stand up to the vibrant flavors of the diced tomato, avocado, grilled corn, and pumpkin seeds that I lined up on top.
Side note: If you love grilled corn I think you'll flip for this grilled corn avocado tomato salad recipe that my friend Cindy (aka Vegetarian Mamma) created.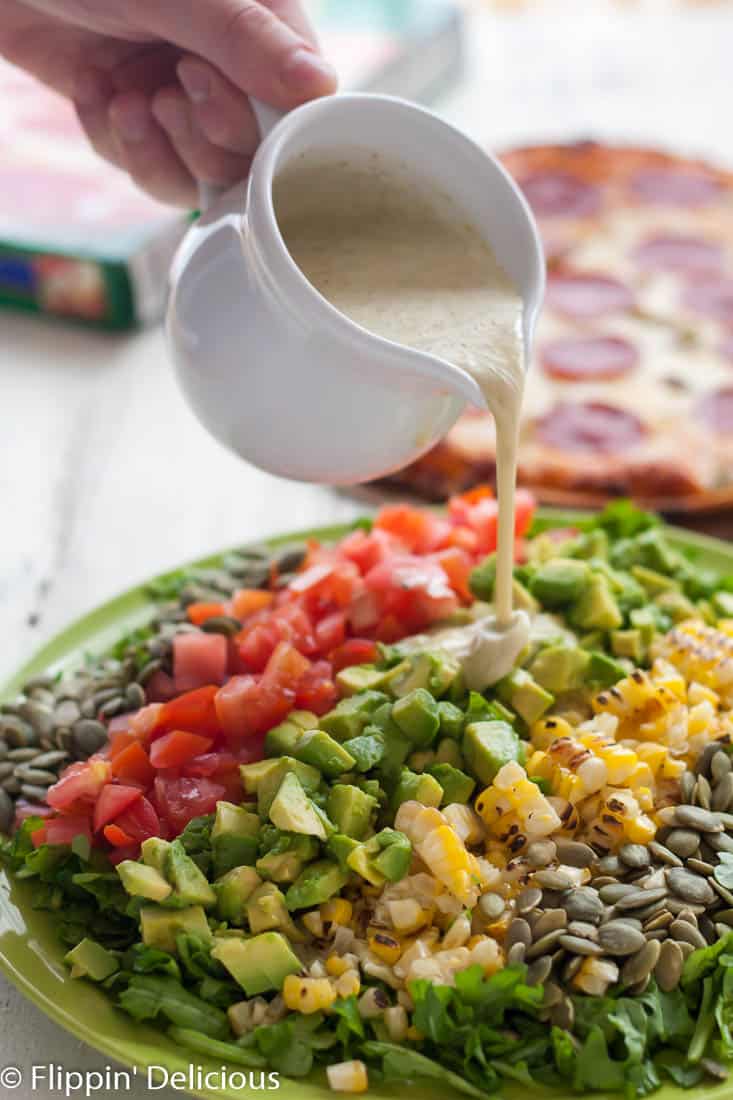 My favorite part of this salad is the hatch green chile vinaigrette dressing. It comes together in just a few minutes. Lime juice, green chile, honey, and cumin all go in a blender and then you slowly add the oil while blending at low speed. The result is a light and spicy dressing!
You'll notice the green chile in the dressing is a range (2-4 tablespoons) instead of an exact measurement. That is because green chile's heat can vary greatly. Even if it is labeled medium, it could be very mild or very hot. So add just enough green chile so that there is just enough heat for you, so that the flavors can come through.
With Freschetta Gluten Free Frozen Pizza and this chopped salad with hatch green chile dressing recipe, my family enjoyed a satisfying meal on a busy weeknight. My sister's family came over to eat with us and not a slice of pizza or bite of salad was left.
One of my mom's favorite salad toppings is pickled beets. Next time we have a pizza and salad night I want to make these pickled beets from Healthy Seasonal Recipes. My mom will love them!
What are your favorite sides to go with pizza? Let me know how you'll turn your pizza into a meal.

📖 Recipe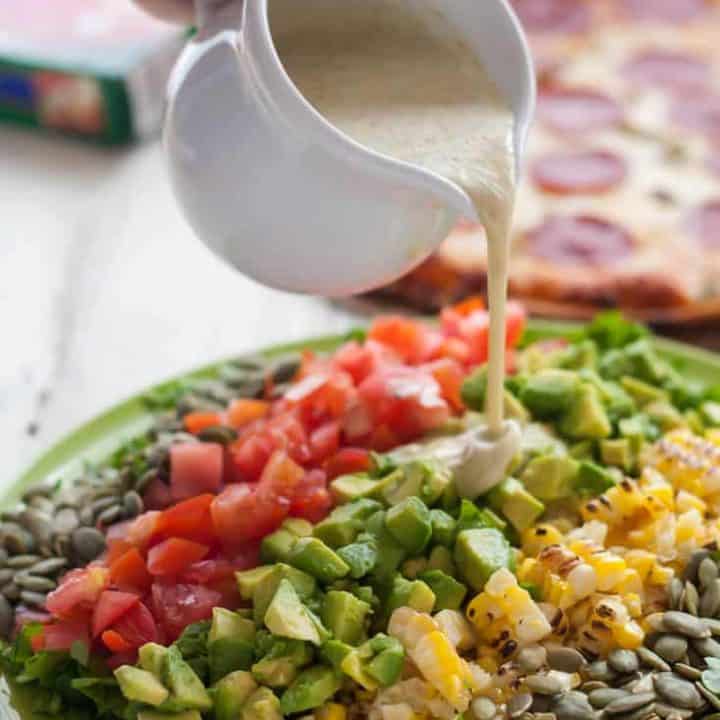 Chopped Salad with Hatch Green Chile Vinaigrette
This New Mexican Chopped Salad with Hatch Green Chile Vinaigrette makes the perfect weeknight meal when combined with gluten free green chile pepperoni pizza!
Ingredients
arugula (I used about half of a 5oz package)
1-2 ears sweet corn
4 roma tomatoes
2 avocados
½ cup pumpkin seeds or pepitas
For the Hatch Green Chile Vinaigrette Dressing
5 tablespoons lime juice (approx 2 limes)
2-3 tablespoons honey
2-4 tablespoons roasted hatch green chile* see note
¼ teaspoon dried oregano
½ teaspoon ground cumin
½ cup oil (I used a light flavored vegetable oil, but olive oil would be great too)
Instructions
Wash the arugula, if necessary (my package was already washed) and let dry. Coarsely chop it and spread it on your serving dish.
Shuck and remove the corn silk from the corn. Grill or broil it for 3-5 minutes or until is is slightly charred. Alternatively steam it for 3-5 minutes. Cool and then cut the kernels away from the cob.
Cut the roma tomatoes in half, remove the seeds, and then dice.
Remove the pit and peel from the avocados and dice.
Top the Arugula with the corn, tomatoes, avocado, and pumpkin seeds.
For the Hatch Green Chile Dressing
In a blender, pulse the lime juice, 2-3 tablespoons honey (depending on how sweet you like it), 2 tablespoons of hatch green chile, oregano, and cumin until smooth.
While blending on low speed, pour the oil in a steady stream. Continue to blend until smooth and emulsified.
Taste the dressing with a piece of arugula, and add more green chile as desired, pulsing until smooth.
Notes
Roasted hatch green chile is available in small cans, bigger bottles near the salsa, and in some areas frozen. In the fall some green chile is available fresh in the fall. Use whatever is available in your area. If you are using fresh roast the chile until the skin is blackened and then seal it in an airtight container for a minimum of 10 minutes (I usually do an hour!) WEAR GLOVES to remove the skin and then dice. IF YOU DON'T WEAR GLOVES YOU WILL REGRET IT. Green chile will burn your hands in a sensation similar to a sunburn. Also don't touch your eyes. If you wear contacts, take them out before you peel your chile.
Nutrition Information
Yield

6
Serving Size

1
Amount Per Serving
Calories

521
Total Fat

44g
Saturated Fat

5g
Trans Fat

0g
Unsaturated Fat

36g
Cholesterol

0mg
Sodium

16mg
Carbohydrates

29g
Fiber

8g
Sugar

12g
Protein

10g
All nutrition info is a guestimate and will vary depending on the ingredients you use.
Freschetta Gluten-Free Pizza