What is the Teal Pumpkin Project?
Updated 9/2020
Halloween 2020 is the 7th year that FARE has been promoting the Teal Pumpkin Project.
The concept is pretty simple.
If you have allergy friendly goodies for trick-or-treaters just put a Teal Pumpkin on your front porch to alert trick or treaters (or parents of trick or treaters) that you have NON-FOOD trick or treat options.
Halloween 2020 looks different with social distancing guidelines
And while Halloween looks different this year, you better bet I'm still participating in the Teal Pumpkin Project.
Instead of handing out non-food Halloween treats by hand, I'm going to be setting my treats up in my driveway for trick or treaters to safely pick up.
You can set up a table of treat bags for trick or treaters, filling party favor bags with non-food or allergy-friendly treats.
I've also seen some creative ways to send treats to a trick or treater using a tube made of PVC Pipe.
However you are handing out your allergy friendly treats, thank you for helping children with allergies be able to safely participate in Halloween!
Why Teal?
Teal is the allergy awareness ribbon color, and has come to be a symbol in our community to show support for those with food allergies (much like Pink for breast cancer awareness.)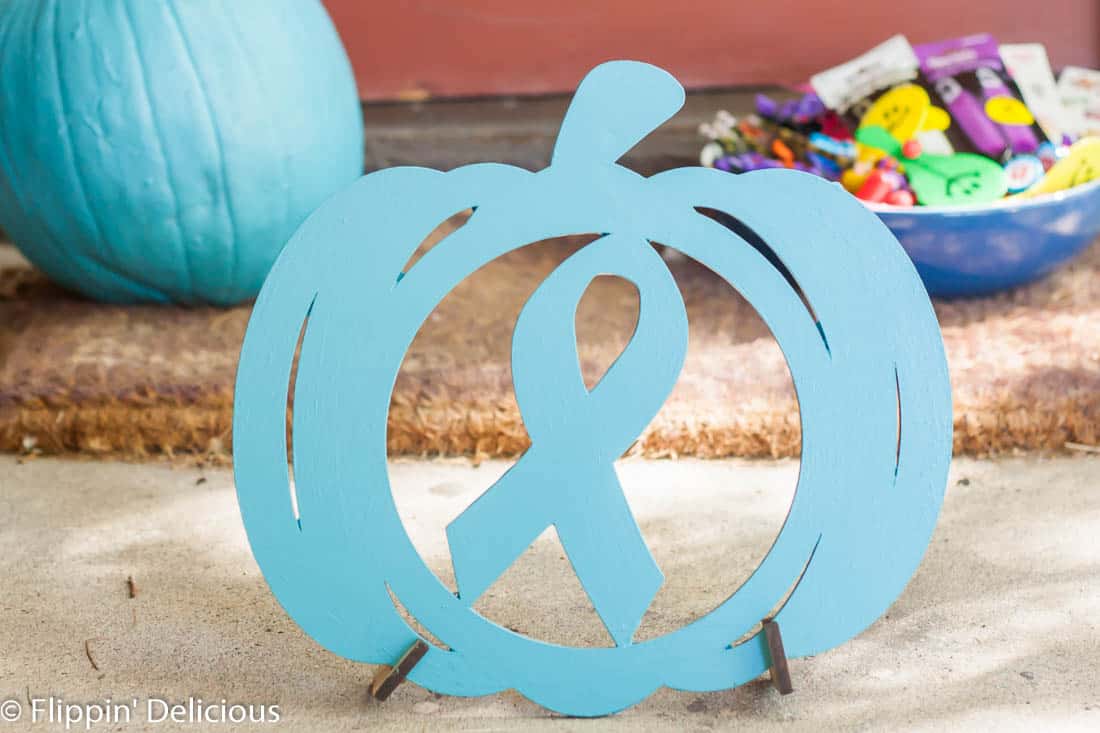 Not only do I have celiac disease, but the past year my toddler has developed a sensitivity to dairy.
This Halloween I am literally going to have to take candy from a baby! (and if you have a kid, you know that is actually a very daunting task.)
My now teen-aged sister has a peanut allergy. I remember when she was a little kid always having to sort through her candy after trick-or-treating to make sure that she didn't accidentally ingest what would have been a lethal candy bar.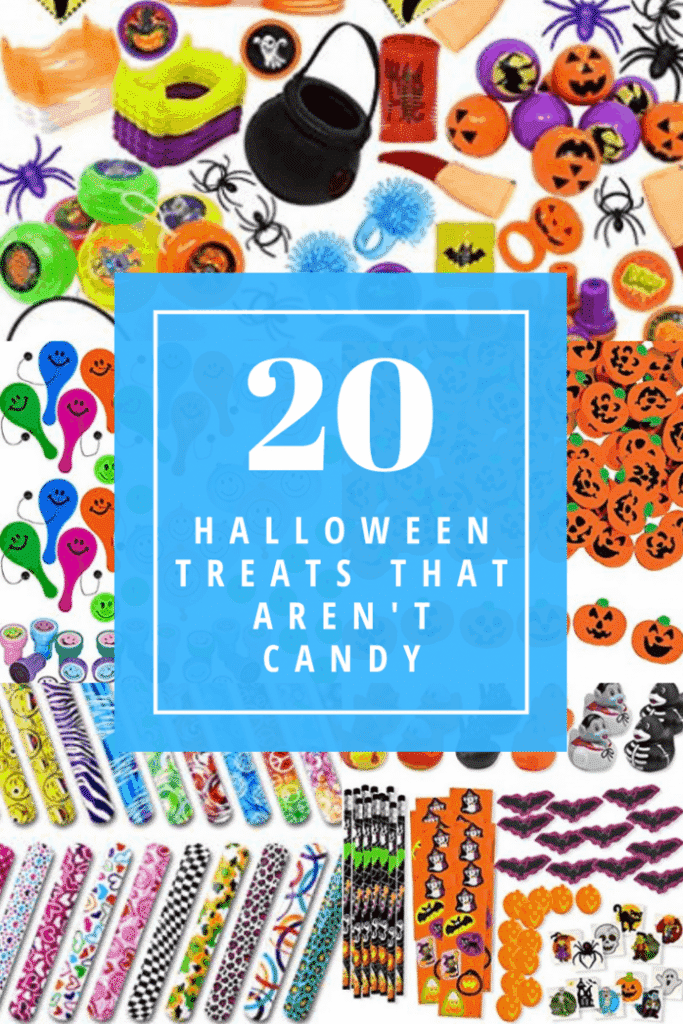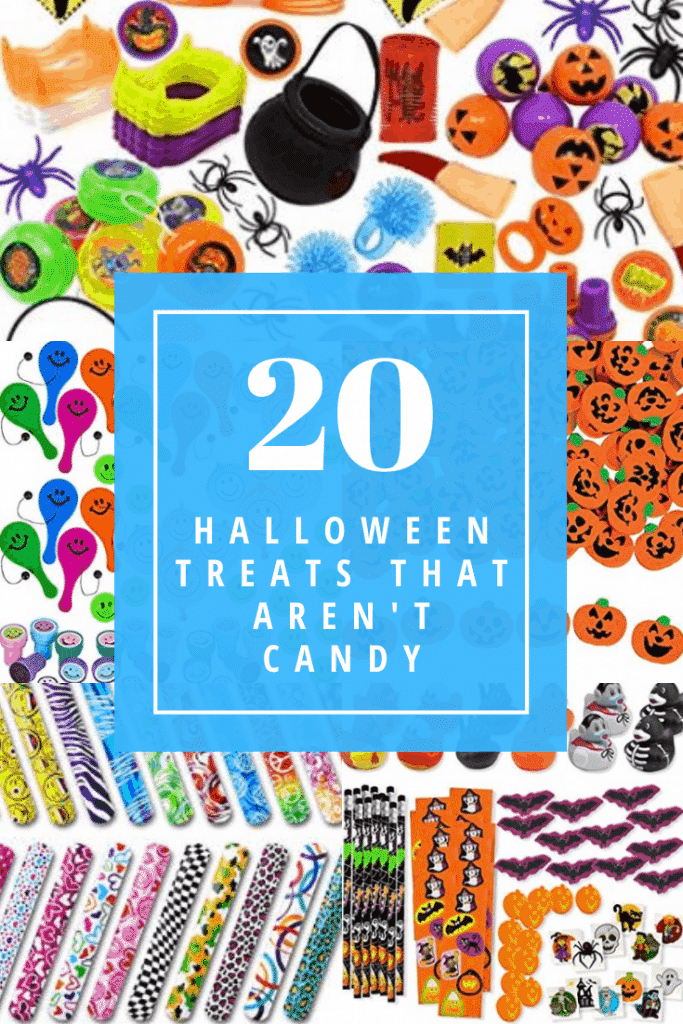 So for my sister, my daughter, and thousands of children with allergies and their parents, please join the Teal Pumpkin Project!
Put a teal pumpkin in from of your home and have some non-food and allergy friendly items available for trick-or-treaters.
This year, FARE isn't doing the Teal Pumpkin Map because of social distancing guidelines, so we aren't able to add our home to the interactive map if e are handing out allergy-friendly treats.
Plan to add your home to the map in 2021!
Where do you get a Teal Pumpkin?
My kids and I painted some pumpkin cut outs a few years ago. I look forward to pulling them out every year!
Painting them together created fun Halloween memories that I still cherish.
Because they are flat wood cut-outs they will take up much less storage space than a plastic teal pumpkin.
We got a monogrammed pumpkin for our door (I painted it with cream paint, then used a crackle I had leftover from painting some photography backdrops, and then painted it with teal paint.) and a pumpkin with an allergy awareness ribbon inside that I am going to put out by our sidewalk so that it is easier for allergy trick-or-treaters to locate us from afar.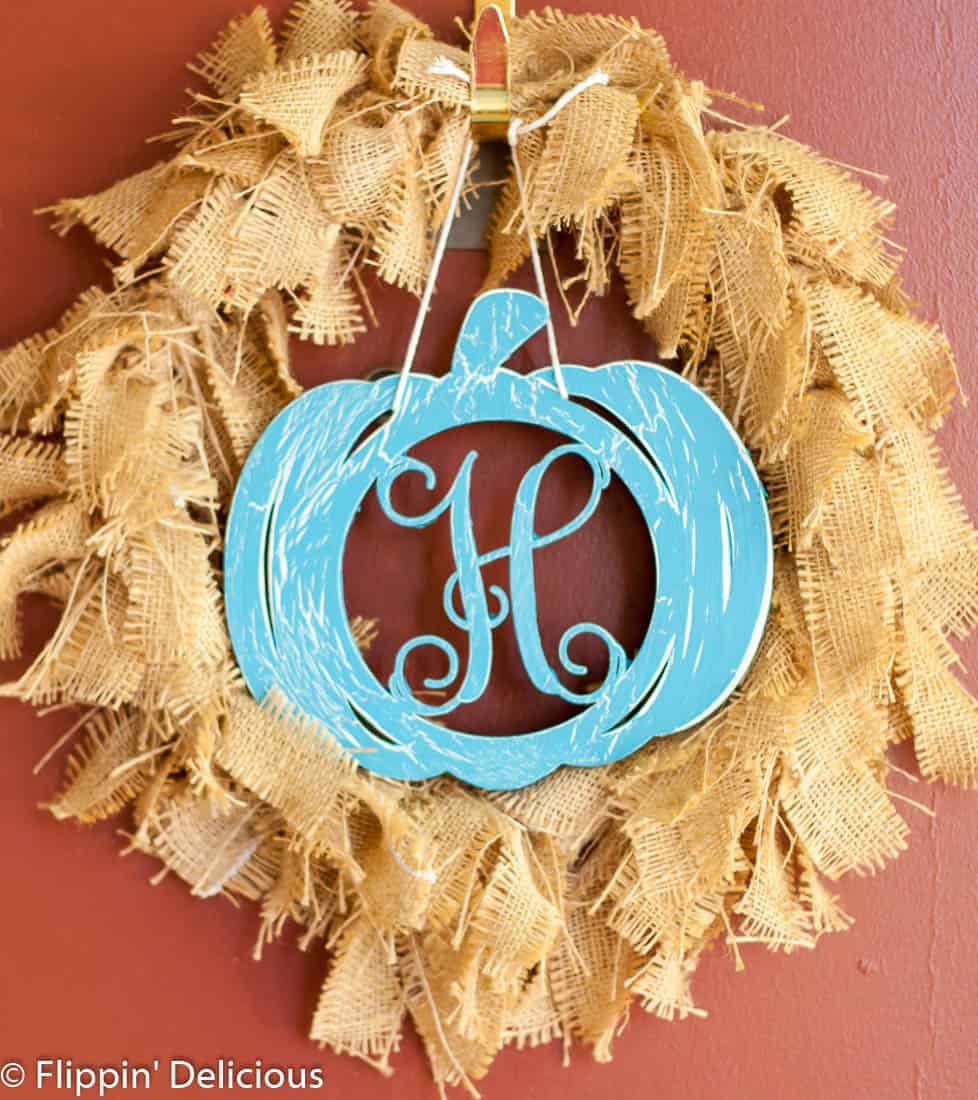 We also painted a pumpkin teal with the leftover teal paint we had.
Over the past few years Michaels and Target have had lots of ready made Teal Pumpkins you can purchase. Check out what your local store has!
I've also found some great Teal Pumpkin gear, and signs on Amazon.
Why do you need NON-Food Treats for Halloween?
Kids have allergies to more than just the top-8 allergens. Just because a kids has more obscure allergies, they shouldn't be left out.
What about kids with diabetes?
The only way to be able to have something everyone can enjoy is to have non-food treats for Halloween.
We have some friends whose kids could only eat 5 ingredients for awhile because of a severe reaction to fructans.
There were literally no store-bought foods they could eat!
Because there are kids who have a large spectrum of allergies it is important to have non-food treats.
Getting non-food treats really isn't any harder than buying candy for trick-or-treaters.
There are lots of good options!
I've also found non-food treats to be much less expensive than big bags of my favorite chocolate candies.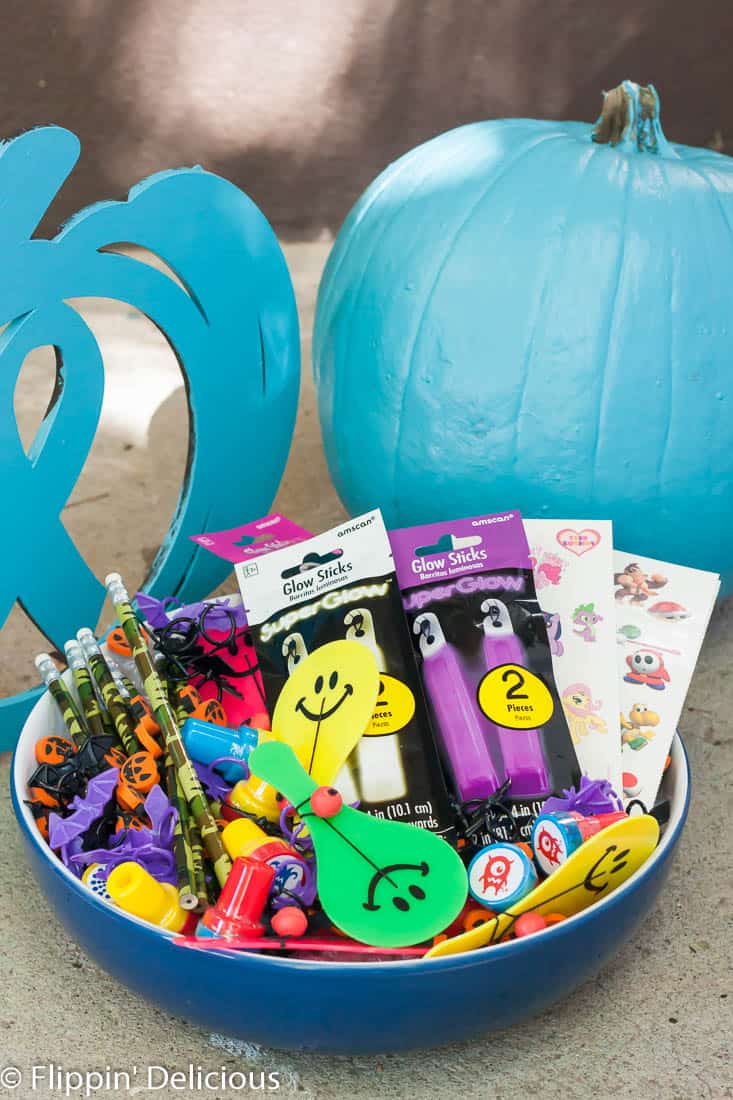 Easy Non-Food Trick Or Treat Ideas:
Glow sticks
Plastic bat and/or spider rings
Paddle balls
Pencils
Colored pencils
Smelly pencils or markers
Stamps
Erasers
Stickers
Temporary tattoos
Glow in the dark stars or stickers
Bouncy balls
Slime party favors
Flashing LED rings
Balloons
Small toys
Rubber ducks
Slap bracelets
Where to buy non-food trick or treat goodies for Halloween?
Amazon (gets points for being easy. Gotta love prime shipping!)
$1-$5 spot at Target
Dollar Tree (or your local Everything is Only One Dollar store)
Party City (look at favors)
The party aisle at Walmart or Target
Michaels or Hobby Lobby
Amazon is the easiest way to get everything you need while you are still drinking your coffee in your pj's.
There are lots of collections of non-food treats for great prices!
I created an influencer page full of non-food trick or treat goodies for Halloween.
What are allergy-friendly treats for Halloween?
The focus of the Teal Pumpkin Project is to have non-food treats for trick-or-treaters BUT I still like to have some allergy friendly treats on hand.
That being said, I know for me candy and treats was a highlight of Halloween.
If you have access to some top-8-free goodies that you can hand out in addition to non-food-treats you will be a hero!
[Disclaimer: Enjoy Life Foods sent me some of my favorite goodies to give to trick or treaters, and share with you and are sponsoring this post. As always, all opinions are my own. I am a big fan of Enjoy Life Foods and have been long before I started working with them!]
We love handing out Enjoy Life's Mini Cookies and Baking Chocolate Snack Packs.
Just like all of Enjoy Life Food's products they are free of the top 8 allergens (milk, wheat, soy, nuts, peanuts, etc) AND sesame and sulfites.
This year, Enjoy Life's Halloween Mini's have fun spooky characters on each individually-wrapped mini, which is even more fun!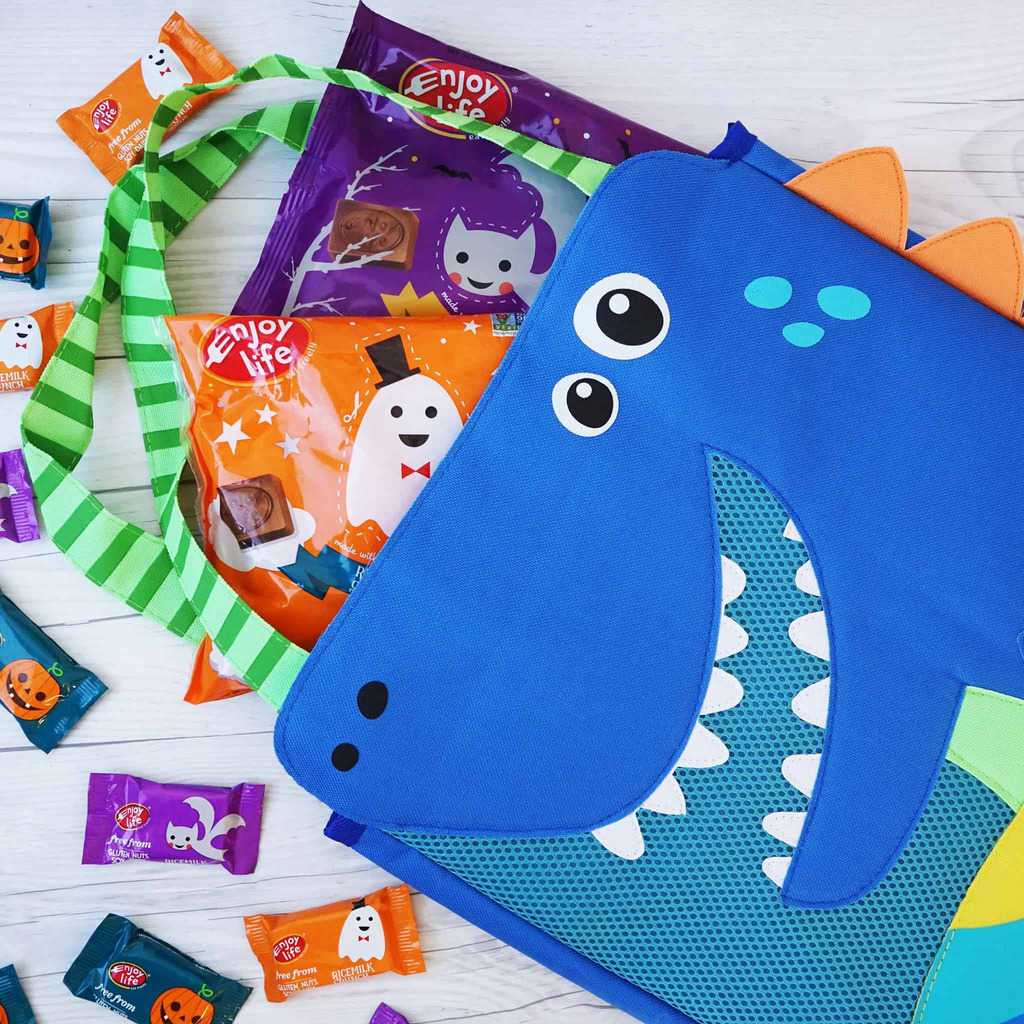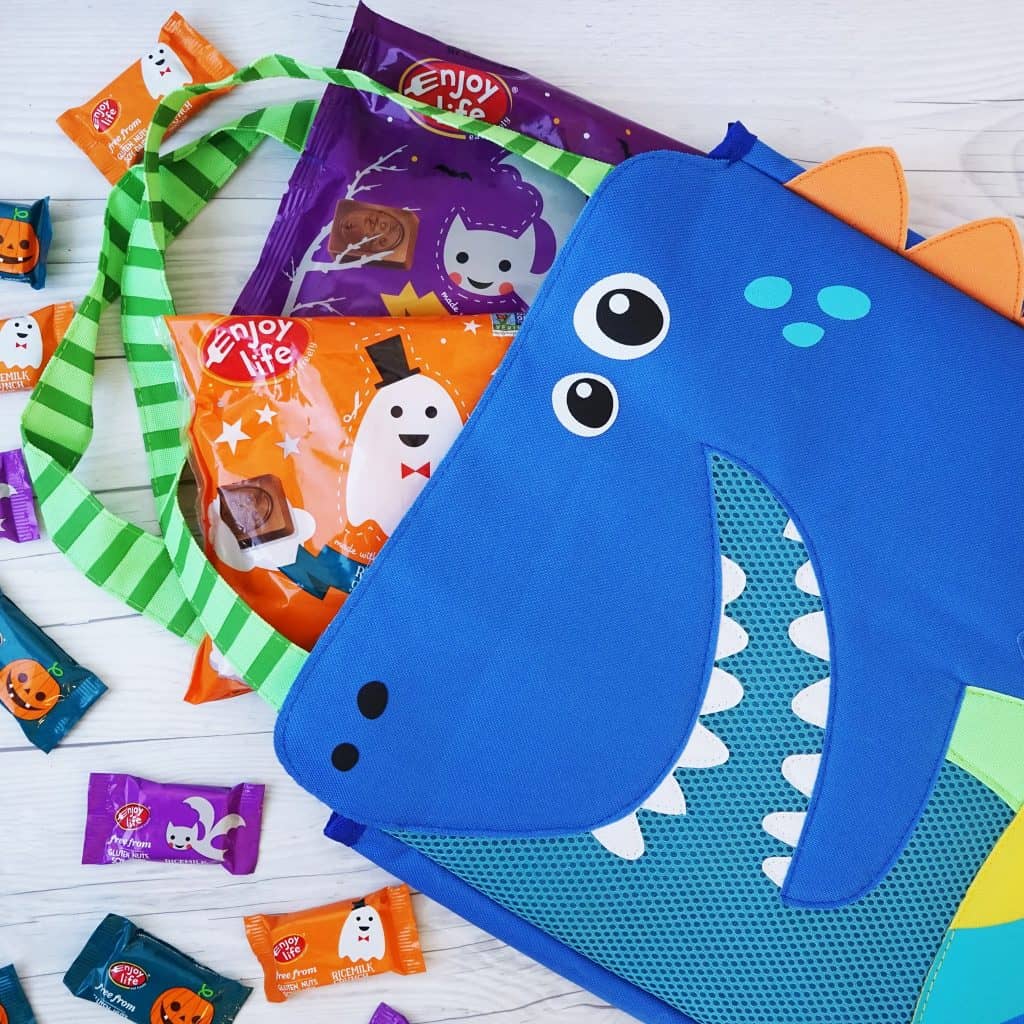 I always stock up on Enjoy Life Food's Halloween Chocolate Mini's.
The Ricemilk Crunch bar reminds me of one of my favorite candy bars from when I went trick-or-treating as a kid.
My kids also love YumEarth lollipops and gummies. They have some great allergy friendly options.
Another of our favorites is Free2B Sun Cups. They usually sell a Halloween pack online.


One of my friends, Megan from Allergy Awesomeness, recently wrote a list of Top 8 Free Candy that her kids can eat.
Her son has over 30 food allergies! I figure if these are candies that her kids can eat, maybe some other kids can enjoy them too.
Teal Pumpkin Allergy Friendly Trick or Treat Prizes and Candy
What are you doing for the Teal Pumpkin Project?