White chocolate bark with crunchy cacao nibs comes together in just five minutes.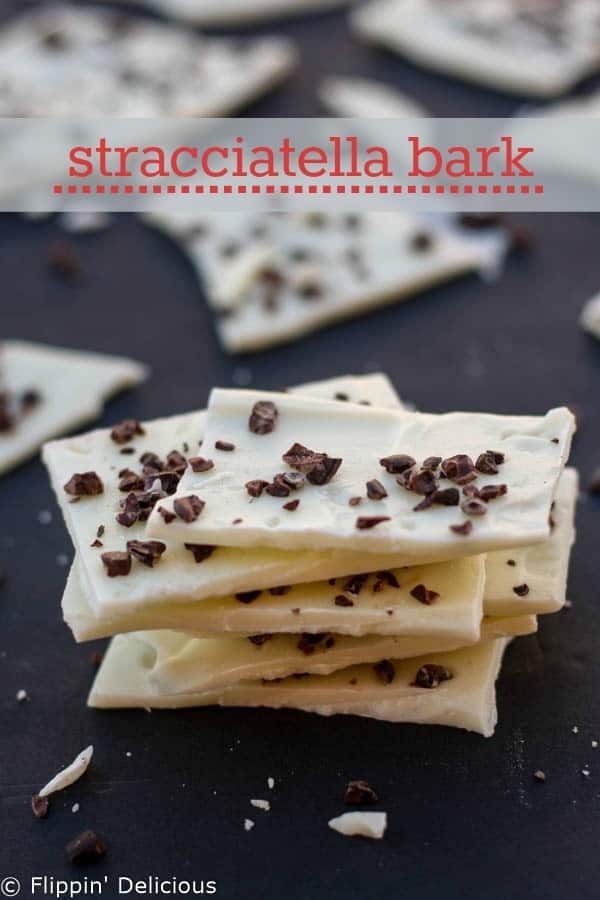 With all the flavors of stracciatella gelato, this white chocolate bark recipe is a crowd pleaser. The white chocolate and cacao nibs contrast and perfectly complement each other.
White chocolate bark is a simple, but easy treat that is perfect for gifting.
How do you make white chocolate bark?
White Chocolate Bark is an easy no bake treat, you don't even need a stove to make it.
Just melt your white chocolate and "temper" it in the microwave and scatter the top with cacao nibs or your preferred toppings.
Tempering is a process of cooling melted chocolate so that it sets up hard and shiny.
How to temper white chocolate?
To temper white chocolate in the microwave, heat your white chocolate in 30 second increments until it is almost melted, but still has unmelted bits in it.
The white chocolate should be warm, but not too hot to touch.
Add in a little more un-melted "seed" chocolate to help cool the chocolate down, and it will set up firm with a satisfying crack.
If you do not have a microwave, or if you prefer, you can melt your white chocolate in a double boiler on the stove top.
If you don't have a double boiler, you can create one using a saucepan and a heat-proof bowl.
Fill your saucepan with a few inches of water, and set the bowl in the top of the saucepan so that it does not touch the water below. Heat the water to a simmer, and then add the chocolate.
Be careful to not splash any water into your white chocolate, which will cause it to seize and become clumpy and crystalized, instead of smooth and creamy.
It is normally quite tricky to temper white chocolate, but I have a great hack that makes it super easy to get similar results.
What kind of white chocolate do you use to make white chocolate bark?
You could use white chocolate or vanilla flavored almond bark, it is made for candy making because it sets up firm without needing to temper it.
It takes just minutes to make white chocolate bark and for the white chocolate to set up if you temper it correctly.
What can you add to white chocolate bark?
You can add really any topping or mix-in to your white chocolate bark that your heart desires.
While I love the contrast of crunchy cacao nibs with the sweet and creamy white chocolate, there are a million different things you can add to your white chocolate bark.
Some of my favorite ideas are:
Crushed Candy Canes
Sprinkles (So many options here!)
Sparkling Sugar or sanding sugar (You could even use crushed rock candy)
Seasonal Candy (like Easter M & M's or Valentine Sweethearts)
Gluten-Free Pretzel Bits
Cacao Nibs
Colored Melting Chocolate (to create a swirled effect)
The sky really is the limit for different add-ins for white chocolate bark.
Because it is beautiful and easy, white chocolate bark makes for a perfect for a last-minute gift. Just like my red velvet fudge. Even with a newborn baby and a 2-year old I was able to make it because it is just that quick and easy!

📖 Recipe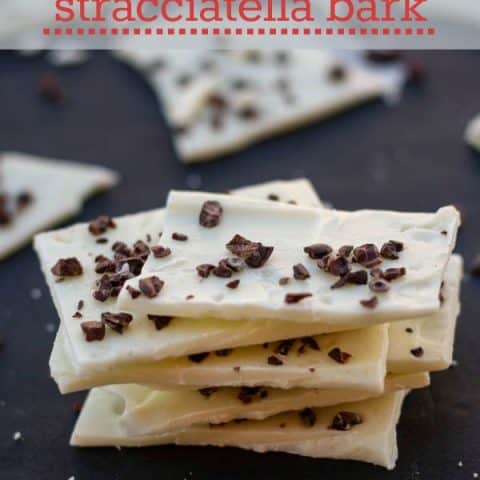 White Chocolate Bark with Cocoa Nibs
Yield:
1 sheet pan of stracciatella bark
Sweet and creamy white chocolate and dark crunchy cacao nibs come together into this Stracciatella bark recipe. The white chocolate and cacao nibs contrast and perfectly compliment each other.
Ingredients
2 cups white chocolate chips OR vanilla almond bark/candy coating
2-3 tablespoons cacao nibs
Instructions
Place 2 cups of the white chocolate chips into a microwave safe bowl. Heat for 30 seconds and stir. Heat in 15 second increments until it is melted. Let cool slightly and stir the remaining white chocolate chips until they melt. (this is my tempering "hack." adding part of the chocolate later helps to cool it to the correct temperature so that it will set up.)
Pour the melted white chocolate onto the baking sheet and working very quickly before it sets, spread it out evenly and sprinkle the cacao nibs on the top.
Break or cut into pieces once it has cooled.
Nutrition Information
Yield

6
Serving Size

1
Amount Per Serving
Calories

334
Total Fat

20g
Saturated Fat

12g
Trans Fat

0g
Unsaturated Fat

7g
Cholesterol

12mg
Sodium

53mg
Carbohydrates

35g
Fiber

1g
Sugar

33g
Protein

4g
All nutrition info is a guestimate and will vary depending on the ingredients you use.