These gluten free blondies with chocolate chips "blondies with roots" are sweet and cakey blondie bars studded with chocolate chips. Refined sugar free, dairy-free, and vegan too!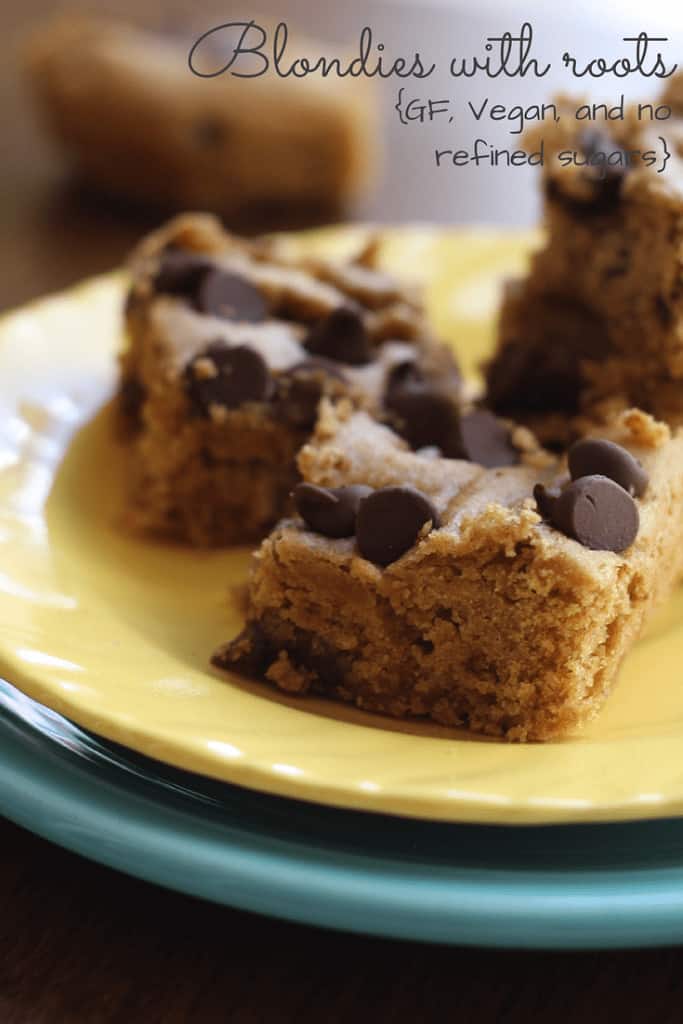 I have always loved blondies so when Debbie from Sweet Debbie's Organic Cupcakes asked me to review her cookbook, Sweet Debbie's Organic Treats: Allergy-Free and Vegan Recipes from the Famous Los Angeles Bakery it was the first recipes I tried.

I love the hint of mystery that the cardamom and coriander add. They really compliment the flavors of the blondie and add a depth of flavor that is subtle, but still present. I really loved using Debbie's flour blend, and am excited to use it in some of my own recipes. All of her ingredients are chosen considering their nutritional value, including the flour. None of her recipes use sugar either! Coconut nectar and stevia are the sweeteners used in this recipe and being low glycemic I felt better feeding Miss E a second blondie and taking a third for myself.

Because of the added moisture of the coconut nectar these blondies are definitely on the cakey side and although I'm normally a fudgy brownie girl I really loved the flavor of these bars.
Also, I find the name of these blondies so clever. I have never been a bottle blond and had to worry about exposed roots, but isn't everything better with just a little chocolate?
📖 Recipe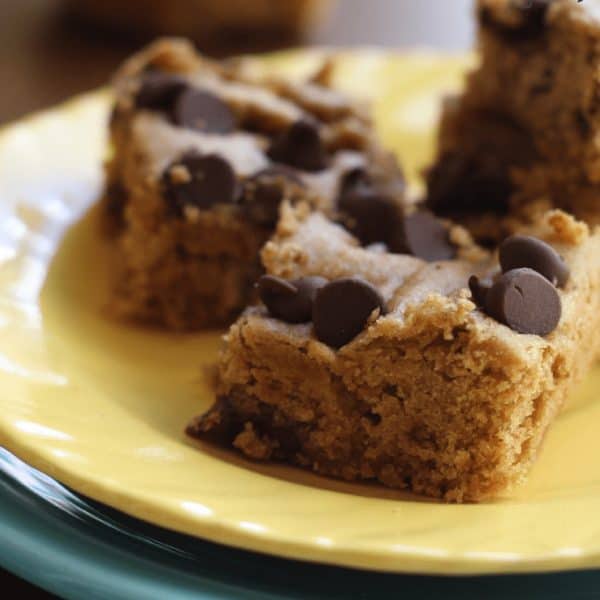 Gluten Free Blondies with chocolate chips
These gluten free blondies with chocolate chips are sweet and cakey blondie bars. Refined sugar free, dairy-free, and vegan too!
Ingredients
Grapeseed oil, for greasing the pan
1 ½ c. Sweet Debbie's ap gf flour (½c. tapioca flour, 6 Tbs sorghum flour, 6 Tbs millet flour, 2 Tbs ivory teff flour, and 2 Tbs quinoa flour)
¾ tsp. sodium-free baking powder
¼ tsp. coriander powder
¼ tsp. ground cardamom
¼ tsp. baking soda
¼ tsp. guar gum (or xanthan gum)
¼ tsp. fine sea salt
½ c. unsweetened plain rice milk
¼ c. grapeseed oil
¼ c. coconut nectar
2 tsp. vanilla extract
¼ tsp. stevia powder
1 c. chocolate chips (dairy-free)
Instructions
Preheat oven to 325F. Grease an 8x8 inch square baking pan with grapeseed oil.
Whisk together the flour, baking powder, coriander, cardamom, baking soda, guar gum, and salt in a large bowl. Make a well in the middle.
Add the rice milk, grapeseed oil, coconut nectar, vanilla, and stevia and stir to combine. Fold in ¾ c. of the chocolate chips
Spoon the batter into the prepared pan and smooth down with a wet baking spatula or the back of a wet spoon. Top with the remaining ¼ c. of chocolate chips.
Bake the blondies for 15-16 minutes or until the batter turns a light golden brown and starts to pull away from the sides of the pan. Rotate the pan halfway through baking.
Transfer the pan from the over to a wire rack and let sit for about 20 minutes before cutting the blondies into 16 squares.
Keep in an airtight container for up to 3 days or wrap and freeze for up to 3 months.
Powered by
Recipage
Nutrition Information
Yield

16
Serving Size

1
Amount Per Serving
Calories

136
Total Fat

8g
Saturated Fat

2g
Trans Fat

0g
Unsaturated Fat

5g
Cholesterol

0mg
Sodium

83mg
Carbohydrates

17g
Fiber

1g
Sugar

10g
Protein

1g
All nutrition info is a guestimate and will vary depending on the ingredients you use.