Moist gluten free banana bread with figs put a fun twist on the classic gluten free quick bread.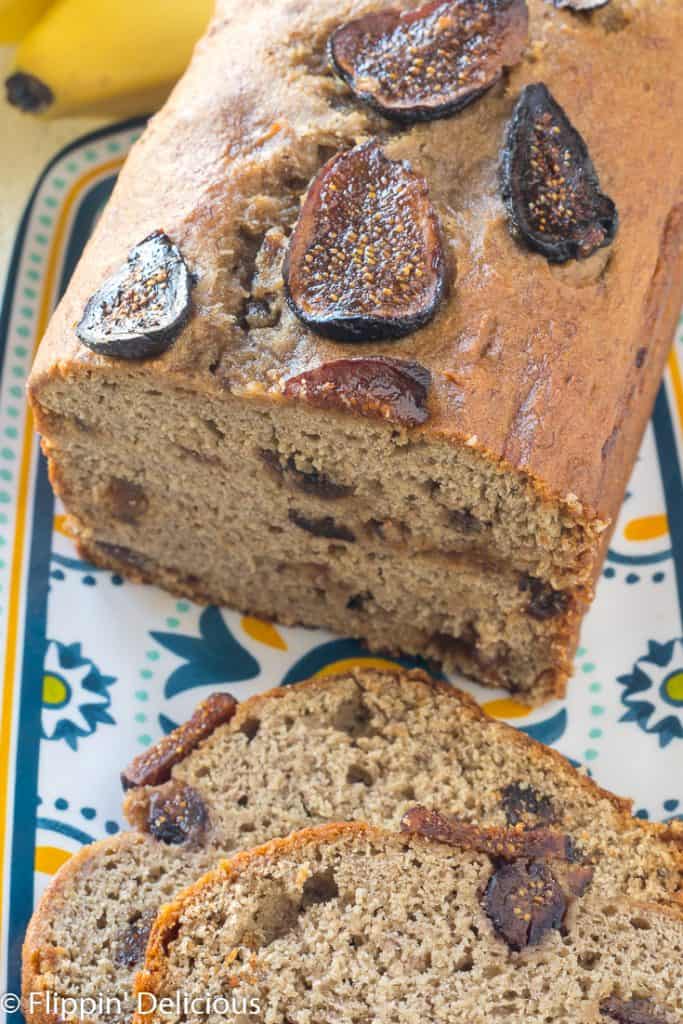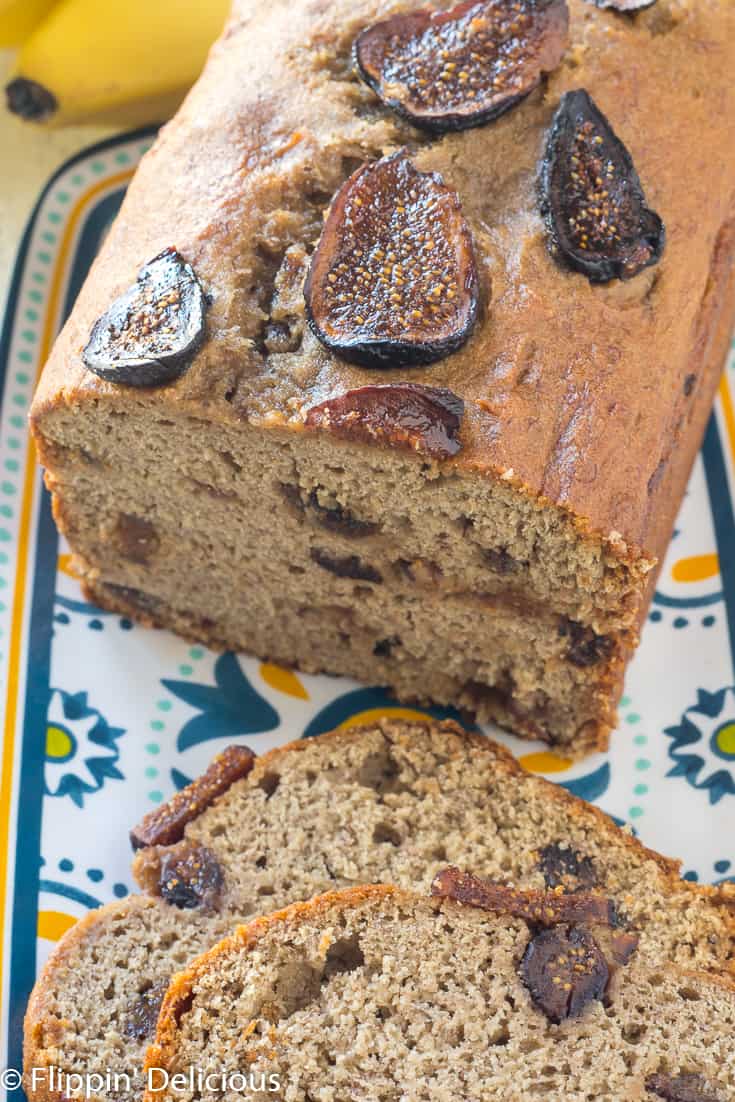 I'm a longtime gluten free banana bread fan, but before a last year, I hadn't tried figs.
I mean, I'd had Fig Newtons when I was a kid. But that isn't the same thing. (P.S. if you've got a gluten free fig newton craving, try A Clean Bake's Paleo Fig Newtons recipe or Buy Pamela's Figs & Jammies on Amazon.)
To me, figs looked wrinkly and un-appetizing. But then I actually tried them.
Much to my surprise, they were delicious!
Since then, they've made regular appearances in my cheese boards, snack bin, and in my cupboard.
And in my banana bread.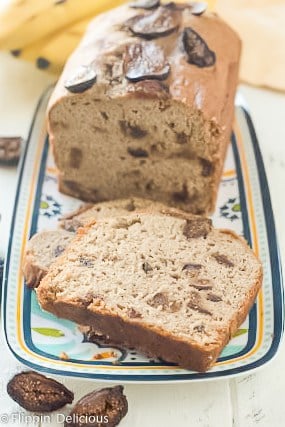 I can't take credit for the idea of fig banana bread, shortly after a food blogging conference last year I got an email from a friend of mine who works with Valley Fig Growers. She invited me to compete in a Fig Banana Bread Contest, putting my own spin on a banana bread with figs.
Of course, my spin was to make a gluten free fig banana loaf!
I think that the next time I make this, I'll use browned butter like in my gluten free browned butter banana bread.
I think the browned butter and fig would play really well together. Plus, the glaze on top is incredible!
Gluten free fig banana bread recipe
I just love the texture and bursts of jammy sweetness that chopped figs add to my favorite gluten free banana bread. They have a great chewy texture, and work really well with both the bananas and the cinnamon.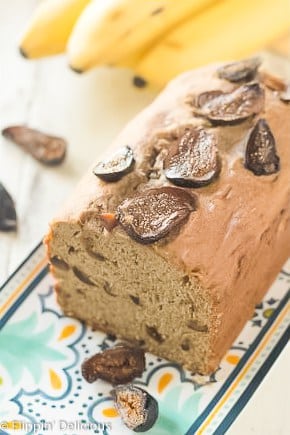 I like to add chopped figs to my gluten free banana bread batter, and also top my loaf with a sliced fig.
The fig slices on top immediately identify that something is different.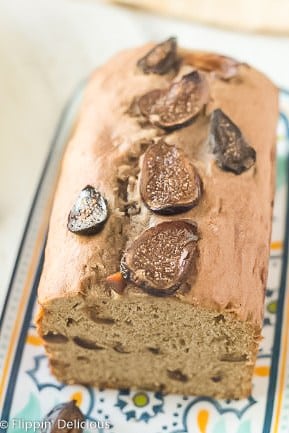 This isn't a normal gluten free banana bread. Something is special!
But I didn't want someone to think that it was banana bread with raisins in it!
Of course, if you love raisins you could add them instead of, or in addition to the figs. But raisins just aren't usually my thing. And my hubby doesn't like them.
How to make gluten free dairy free banana bread batter?
My gluten free banana bread batter is easier than most recipes you'll find. You only need one bowl!
I start by mashing the banana in my mixing bowl using a potato masher or fork. You can also mash it using beaters from an electric mixer, or even mush it with a whisk.
If your banana is very ripe, it will quickly liquify.
Add the liquid ingredients, mix it up.
Add the dry ingredients, mix it up.
At this point you should have a nice thick, but spoon able and smooth batter.
Fold in your figs, and then pour your fig banana bread batter into a greased loaf pan.
I use a 9x4 loaf pan instead of the traditional 9x5 loaf pan, because it helps the gluten free bread to rise without the structure gluten would normally provide.
Plus, it makes a cute square loaf, instead of a flat one.
Before baking, top your loaf with a few sliced figs. Make it pretty.
If the top (or the figs on top) starts to brown too much during baking, wrap it with aluminum foil.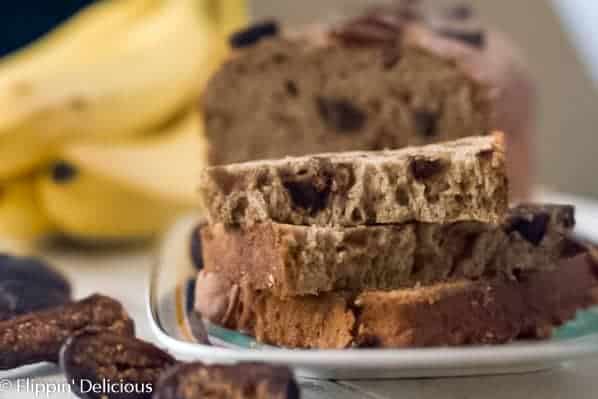 Can I make my this vegan?
Yes, making this gluten free banana bread with figs vegan is a cinch. Just use your favorite egg replacer for the eggs in the recipe.
My go to is a flax egg, or Bob's Red Mill's Egg Replacer.
How do I keep my figs from sinking to the bottom of my banana bread?
I didn't have issues with my chopped figs sinking to the bottom of my banana bread because my gluten free banana bread recipe has no milk. (It is naturally dairy free!) All of the liquid comes from the mashed banana, oil, and eggs in the recipe.
The batter is thick, and makes a moist, tender, and dense gluten free banana bread. It is thick enough to easily suspend the chopped figs in the batter until it starts to bake.
If you have problems with your figs sinking, try chopping them in slightly smaller pieces or tossing them with a tablespoon of gluten free flour before adding to the gluten free banana bread batter.
Can I add nuts to my fig banana bread?
If you want a banana, fig and walnut loaf, add some chopped walnuts to your batter with the chopped figs.
I love making (and snacking on) sugared walnuts and sugared pecans, which would work great in this recipe. Go ahead and sprinkle some on top, too!
📖 Recipe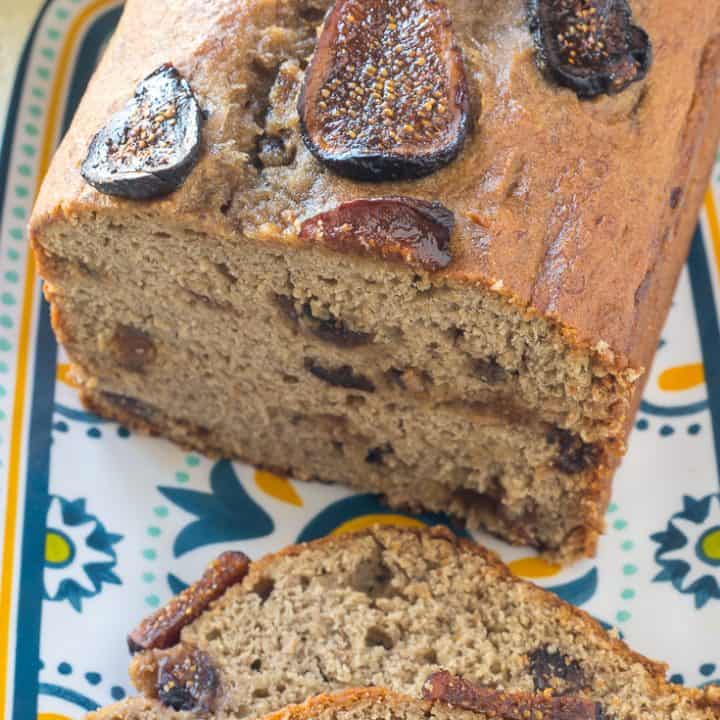 Gluten Free Banana Bread with Figs
Yield:
1 loaf gluten free fig banana bread
Total Time:
1 hour
15 minutes
This Gluten Free Banana Bread with figs has a tight and tender, moist crumb and is studded with juicy dried figs. Naturally dairy free, with a vegan option.
Ingredients
For the Gluten-Free Banana Bread
Instructions
Preheat the oven to 350F. Lightly grease 9x4 loaf pan and line with parchment paper if desired.
Mix together the mashed banana, brown sugar, white sugar,oil, eggs, and vanilla until smooth.
Add the baking soda, baking powder, salt, cinnamon, and xanthan gum and mix until evenly combined.
Add the gluten free flour and mix until combined.
Add the chopped figs, and stir to evenly distribute.
Pour the batter into the prepared loaf pan and garnish with a few sliced fig pieces.
Bake for 50-60 minutes or until the bread springs back when lightly touched and a toothpick inserted in the center comes out mostly clean. (If you use a wider 9x5 loaf pan it will bake for 45-55 minutes.)
Let cool in the pan for at least 10 minutes before removing from the pan.


Notes
If you use a gluten free flour other than my blend, please don't add it all at once. Reserve ¼ cup and only add if the batter is still too thin. Many different gluten free flours absorb differently. I tested this recipe using the same amount of Bob's 1 to 1 gluten free flour by volume and it worked great. Please spoon your flour into you measuring cup, and then level it off. If you scoop directly with the measuring cup you'll get too much flour and your gluten free banana bread will be dry.
If the top starts to brown too much, gently cover your loaf with aluminim foil to prevent it from browning.
To make vegan, use an egg substitute for the eggs. I like Bob's Red Mill Egg Replacer or using a Flax Egg (which is 1 tablespoon flax meal mixed with 3 tablespoons hot water, then sit to gel for 5 minutes before using.)
Recommended Products
As an Amazon Associate and member of other affiliate programs, I earn from qualifying purchases.
Nutrition Information
Yield

16
Serving Size

1 slice of gluten free banana bread
Amount Per Serving
Calories

158
Total Fat

4g
Saturated Fat

0g
Trans Fat

0g
Unsaturated Fat

4g
Cholesterol

23mg
Sodium

162mg
Carbohydrates

28g
Fiber

1g
Sugar

13g
Protein

3g
All nutrition info is a guestimate and will vary depending on the ingredients you use.