Welcome to gluten-free baking!
Here is everything you need to know about individual gluten free flours and the best gluten free all purpose flours for all your gluten-free baking.
If you are looking for My Gluten-Free Flour Blend (or my gluten free cake flour blend or my gluten free cookie flour blend) keep scrolling, my recipe is at the end of this page.
I wish you all the success, chewy cookies, and light cakes possible.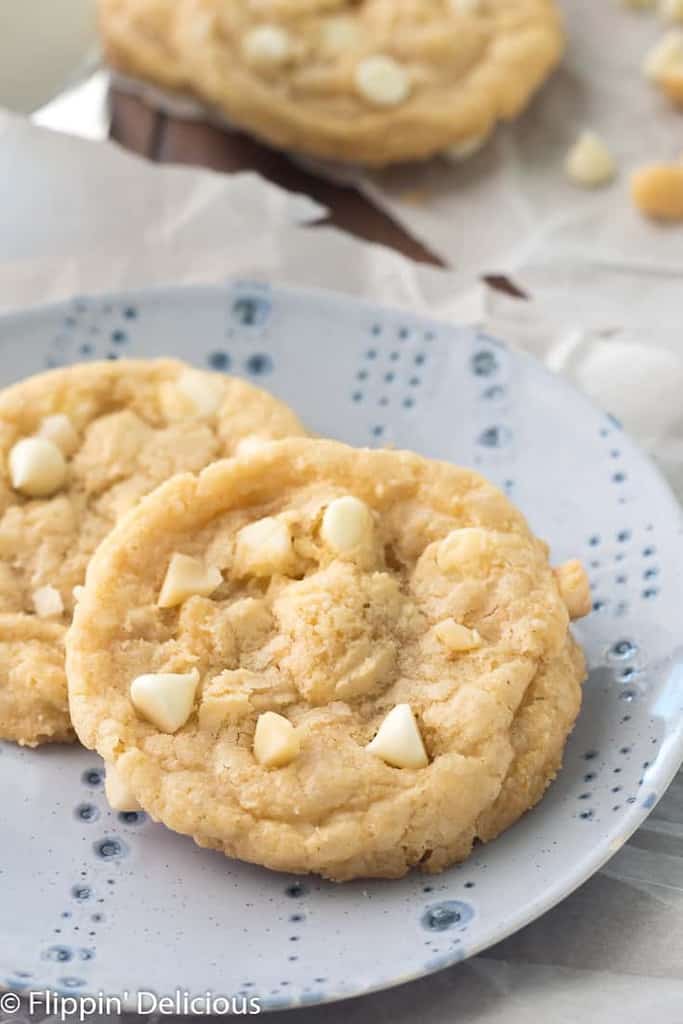 What flours are essential to your gluten-free pantry?
Rice Flour
Rice flour is a gluten-free flour staple! I use brown rice and white rice flours together in my gluten free flour blend because I like the color of the finished baked goods. The finished product is not as pale or white and browns very nicely. I buy both my brown rice flour and white rice flour from Bob's Red Mill.
Tapioca Starch or Flour
Tapioca starch and flour are the same product, starch and flour are used interchangeably. I use tapioca flour in my gluten free flour blend. It lightens up the rice flour and help to bind and glue everything together. Tapioca Flour/Starch is also a stand-alone ingredient in several of my favorite recipes. I use it in my dairy free brazilian cheese breads (they are a family favorite I've been making for years) and gluten free blue corn muffins. I usually use Bob's Red Mill's Tapioca Flour.
Potato Starch (NOT FLOUR)
Potato starch is the starch from potato water that has been dried. Potato FLOUR is dried potatoes ground up. They are very different things and are not interchangeable. I use potato starch in my gluten free flour blend. If you can't use potatoes (I've had many readers message me because they have to avoid nightshades) I would recommend using either more tapioca starch or using arrowroot starch or even cornstarch. I usually use Bob's Red Mill Potato Starch.
Xanthan Gum
Xanthan gum is not a flour but it really is essential. In traditional bread and baked goods gluten provides the structure that keeps things together and also give the finished product a nice bit.
Without the structure, things are flat, crumbly messes. Or hockey pucks. Xanthan gum gives your baked goods the structure that they need, without any gluten. I don't know how I'd live without it.
I almost exclusively use Bob's Red Mill Xanthan Gum. It is readily available in my local natural grocery stores and I've also purchased it online.
Some people don't tolerate xanthan gum well and will use guar gum instead. Pamela's has a Not Xanthan Not Guar replacement that I've used interchangeably in my recipes with the same results.
Gluten Free Oats
Another not-exactly-a-flour, but still an essential gluten-free pantry item. Not all oats are gluten-free, due to the high level of cross contamination with wheat, barely and rye during harvest and processing.
I also wouldn't eat a lot of oats that say they are gluten-free. I only feel comfortable eating purity protocol oats. Purity protocol means that they are oats grown on dedicated gluten-free fields and harvested and processed with only dedicated gluten free machinery.
The brand I trust is GF Harvest. I always have their gluten free old rolled fashioned oats (or organic gluten free old fashioned rolled oats)  and gluten free quick oats (or organic gluten free quick oats) in my pantry for baking, as well as making oatmeal for breakfast.
Almond Flour
Almond flour is definitely a pantry essential for me, but that doesn't mean you need to have it in your pantry. I love using almond flour to bake muffins. Because of Almond Flour's higher protein and fiber it makes great breakfast muffins. You'll find it as the ONLY flour in my gluten free chocolate hazelnut muffins and grain free lemon poppyseed muffins.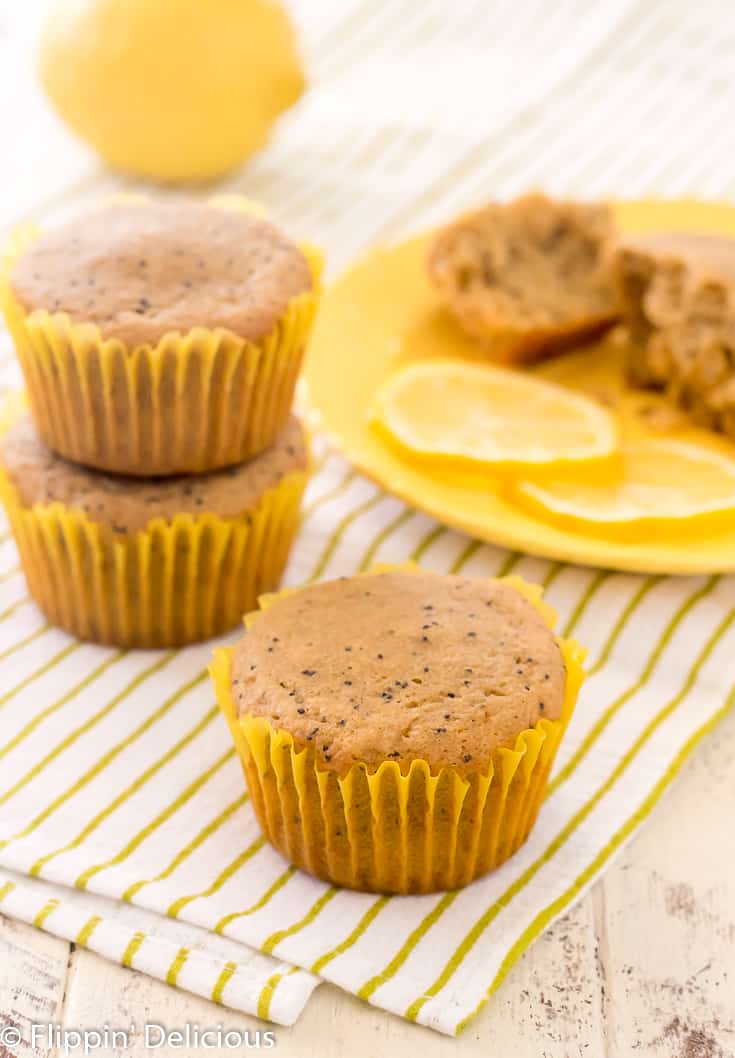 You cannot substitute almond flour in either a gluten free recipe or conventional recipe without making many recipe adjustments. Almond flour requires more eggs and moisture and can't be swapped out willy nilly.
I usually purchase my almond flour from costco, or will buy Honeyville Almond Flour or Bob's Red Mill Almond Flour.
Coconut Flour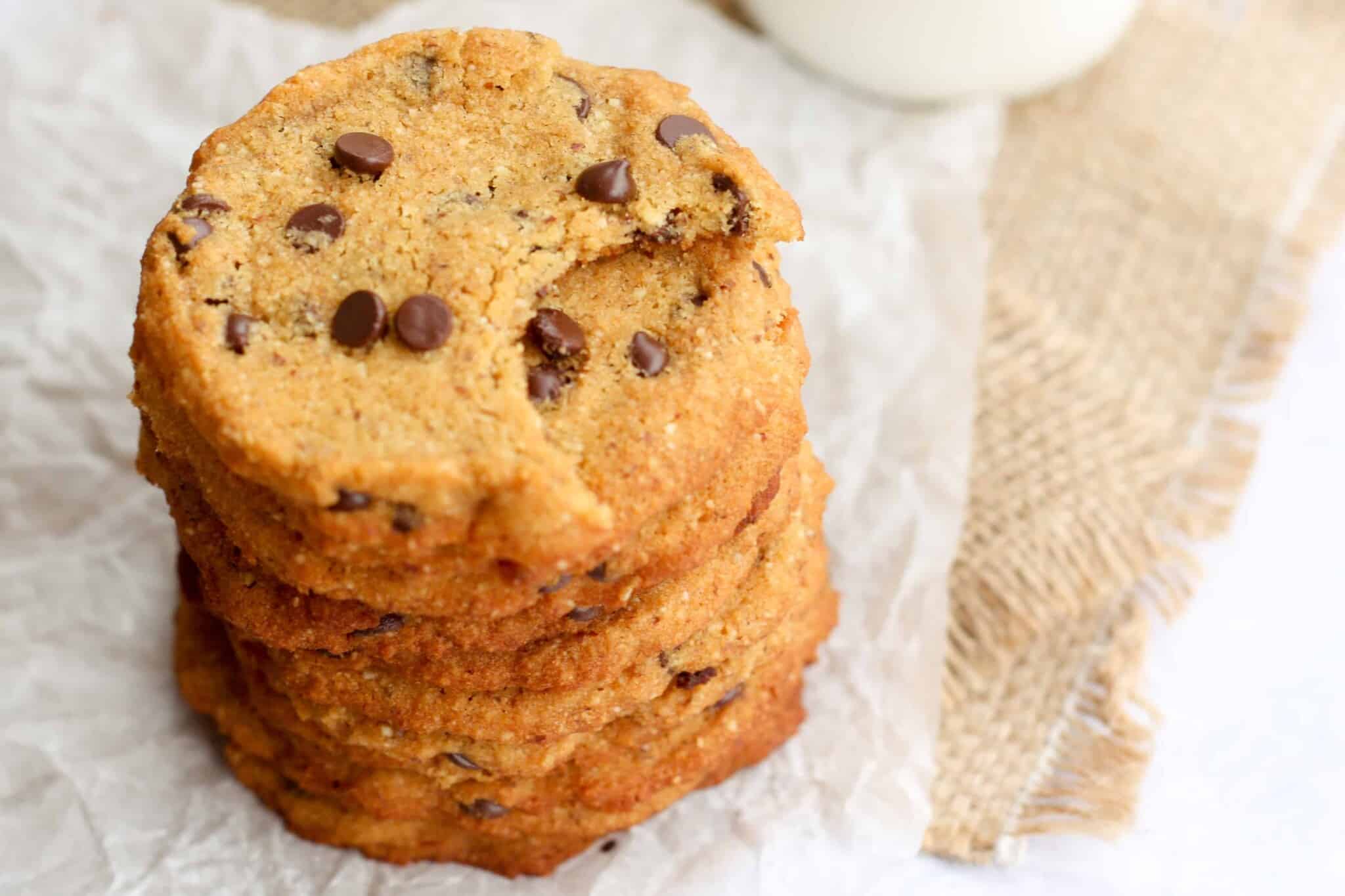 I've used coconut flour in a handful of recipes. It is a great grain-free lower carb flour. You cannot substitute coconut flour in either a gluten free recipe or conventional recipe without making many recipe adjustments.
I've also found that different brands have different absorption rates so use your best judgment when baking with it. I recently adjusted my coconut flour cookies for just this reason, many people baking my cookies had a wet or oily dough because the coconut flour I originally tested the recipe with had a greater absorption.
If you think your recipe is too wet, let the batter sit for 10 minutes so that it can absorb. If your dough still seems too wet (according to the what the recipe says it should look like) add another tablespoon or two.
The coconut flour currently in my pantry is the Simple Truth brand from Kroger. I've also bought the coconut flour from Trader Joes.
Sorghum Flour
I use Sorghum flour in my all-butter flaky gluten free pie crust. The higher ratio of protein makes a great flaky pie crust.
When mixing your own gluten free flour blend you can often use sorghum instead of some or all of the rice flour if you want to use more whole grains. This will effect the taste and texture slightly, kind of like using a whole wheat flour versus a white flour in conventional baking.
I also like using sorghum flour when I'm baking gluten free graham crackers. It gives them a more traditional taste and texture.
I normally buy Bob's Red Mill Sorghum Flour.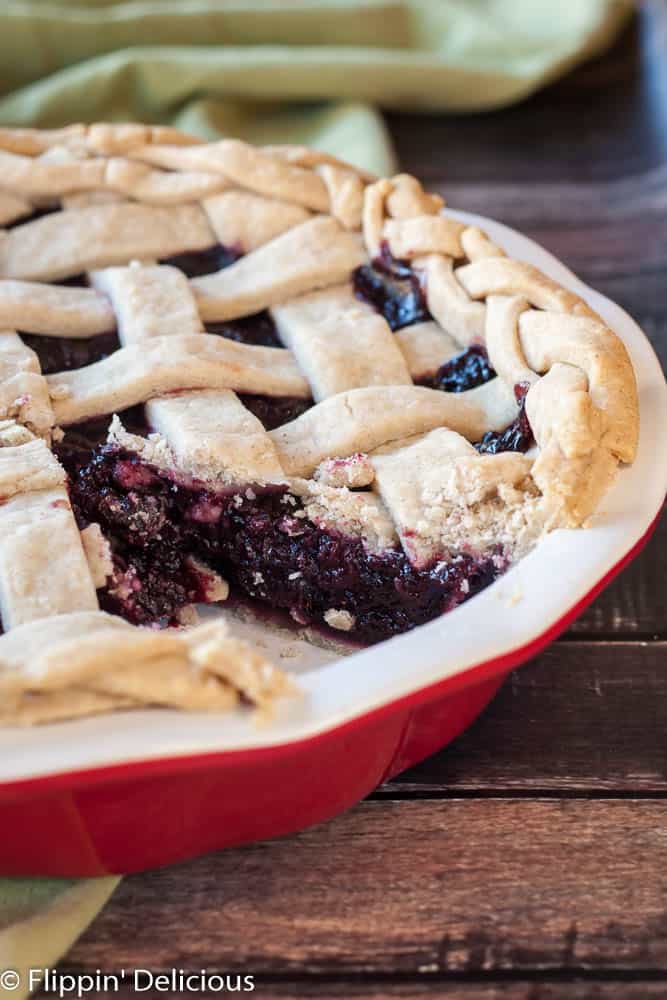 Millet Flour
Millet flour is another great alternative to rice flour when mixing your own gluten-free flour blend. It has higher protein than rice and can help add a delicate and tender crumb, while having a flavor that is much milder than sorghum. I also use millet flour in my flaky gluten free pie crust. I usually use Bob's Red Mill Millet Flour.
Coffee Flour
Coffee flour is a fun and sustainable way to add extra fiber. It has a distinct flavor that reminds me a bit of cherries and almonds. Don't be worried about getting a crazy caffeine buzz from it, it has about the same amount of caffeine as dark chocolate because is the ground pulp of the coffee fruit, not the coffee bean.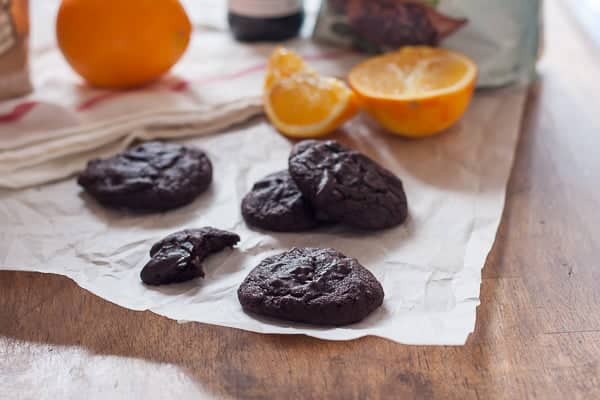 I wouldn't use it as the only flour in a recipe, unless it is used with cocoa powder like I used coffee flour in my coffee flour cookies. It is a lot of fun to play with, and I plan to create more recipes using coffee flour in the future.
I buy my coffee flour from Trader Joes.
To easily shop all my favorite gluten free flours check out my Amazon Influencer Page.
The Best Gluten-Free Flour Blends
We live in  a magical time when there are many gluten-free flour blends available commercially! The trick is that not all gluten-free flours work interchangeably. I use different flour blends for different recipes, depending on the results I am looking for.
I've worked with some of these gluten-free flour companies before in some capacity. AND all of the following flours are often found in my pantry, purchased with money from my wallet so you know I love them! None of the follwing is sponsored in any way.
GF Jules
First, I want to say that Jules is one of my favorite people ever! She is kind and loving, selflessly giving to the gluten-free community and advocating for safer gluten-free food for everyone.
I always have some GF Jules flour in my pantry, it is my go-to for all gluten-free bread. It makes THE BEST GLUTEN FREE CINNAMON ROLLS!!! Making gluten free bread in a bread machine is a cinch with her flour blend!
If you are converting a family recipe to gluten-free, GF Jules is a great flour to use! Her flour already has xanthan gum in it, and the ratio of starches bake beautifully in many conventional recipes. I have several friends who use nothing else in their kitchen for this very reason! They continue to bake their favorite family recipes with very few other changes.
GF Jules flour works very differently than the gluten-free flour that I typically use, which means you may not get the same results if you use Jules flour in, say, one of my cookie recipes.
I also love many of GF Jules' gluten free mixes. Her graham cracker/ gingerbread cookie mix is the bomb, it makes the best gingerbread houses. I also rave about GF Jules Pizza Crust mix. I don't only use it for pizza crust, it also makes amazing gluten free baguettes.
Jules also has a comprehensive collection of recipes on her website, GF Jules.
Ryze
I'm a big fan of Ryze's flour because it is made with only rice flour. I was hesitant to try it at first because I associated all rice flour with a sandy and gritty texture, but that is not at all the case with Ryze.
They have two different blends of gluten free flour, both are made with different rations of finer and courser grinds.
One reason I love Ryze is that it is incredibly allergy friendly because it is all rice. It is perfect for those who can't eat nightshades (potato starch).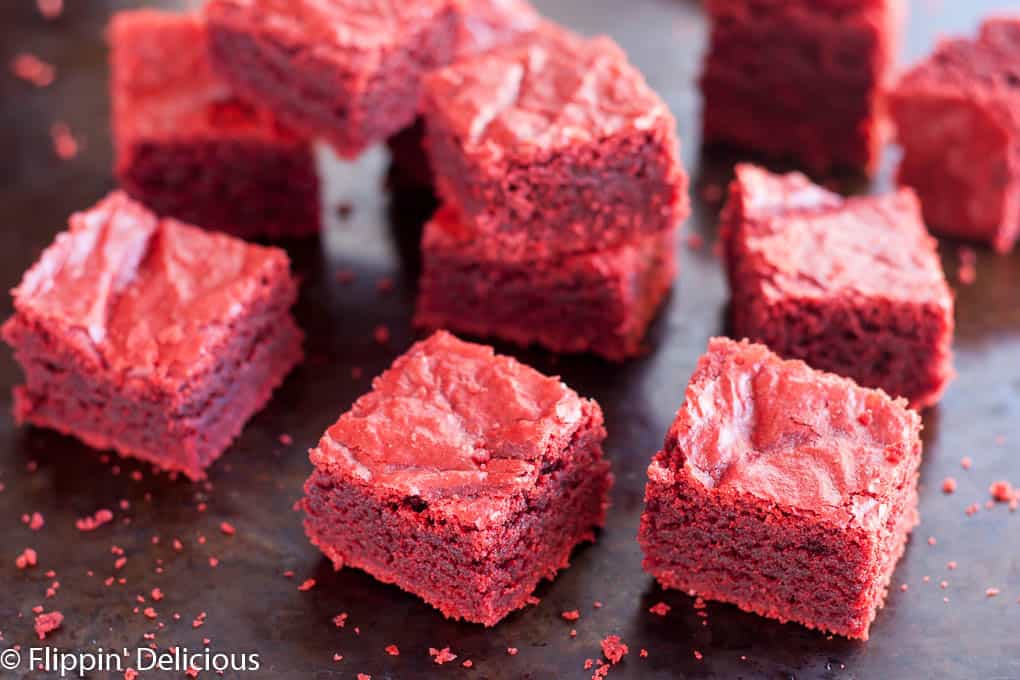 Ryze's Blue Bag is great for recipes where you want a little more structure, things like breads and chewy cookies. I LOVE using the blue bag for brownies because it gives them a great chewy texture (like my gluten free red velvet brownies).
Ryze's Yellow Bag is perfect for baked goods that need a lighter texture, like cakes, quick breads, and pancakes. I used the yellow bag in both my Gluten Free Rainbow Cupcakes and Gluten Free Irish Cream Cupcakes.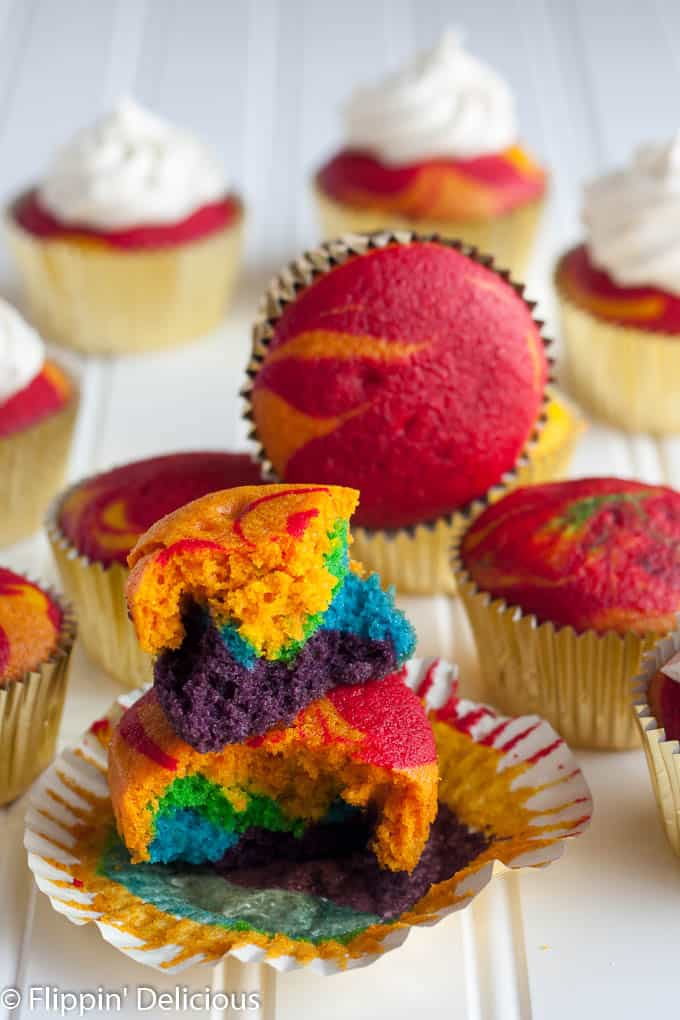 I have no idea what Ryze's secret ratios are, but they have mastered the gluten-free flour blend! I've tried using Ryze in several of my recipes and they have all turned out beautifully! In some of my recipes, I actually like the results with Ryze better than my own flour blend.
Gluten-Free Mama's Almond Blend
I find that gluten-free mama's almond blend makes the best cakes ever! I tested it in my gluten free yellow cake that was published in Cake Central Magazine, and it made a much better cake than when I made it with my gluten free flour blend. It created the perfect tender crumb with a great "bouncy" texture. It really had the perfect bite!
While I love using gluten-free mama's almond flour blend in my cakes, the entire reason I keep it in my pantry is to make these super easy and absolutely amazing gluten free pull apart dinner rolls from my friend Michelle (My Gluten-Free Kitchen.) They are one of the most popular recipes on her website, for good reason. They make an appearance at every holiday meal at our home.
To easily shop all my favorite gluten free flours check out my Amazon Influencer Page.
My Gluten-Free Flour Blend:
Also referred to as gluten-free cake flour blend, gluten-free cookie flour blend. This is NOT an all-purpose gluten-free flour blend. It works best in gluten-free cakes, cupcakes, quick breads, muffins, pancakes, waffles and cookies.
I absolutely love my gluten-free cake flour blend! You will probably notice that it has different proportions of flours than most other gluten-free flour blends. It is a much lower protein and higher starch than a gluten-free all purpose flour, making it the perfect gluten-free substitute for cake flour.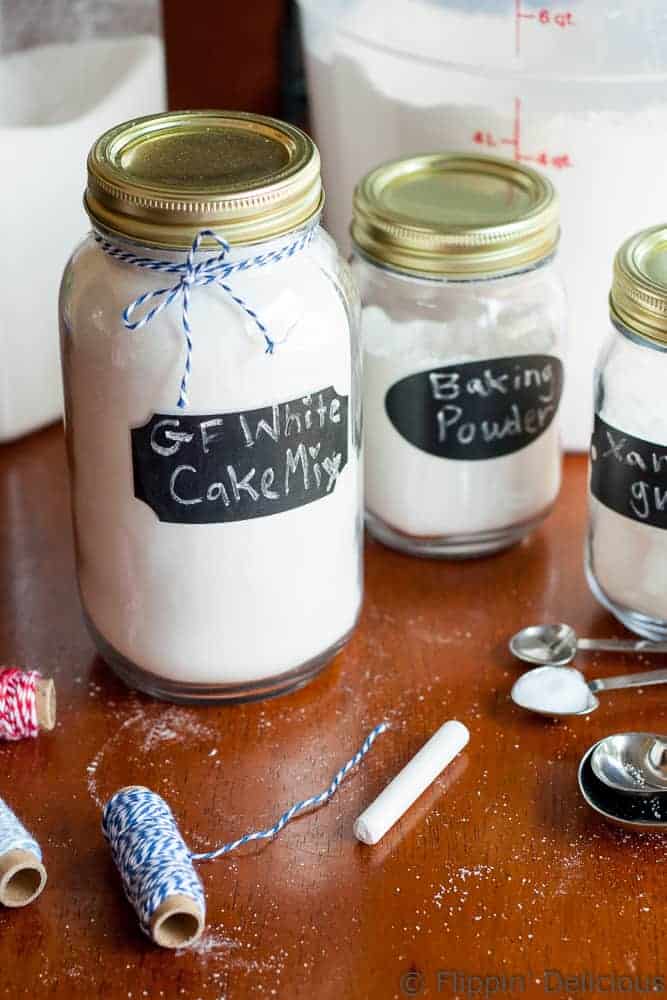 This flour blend gives your cakes, muffins, and quick breads a beautiful fine crumb. And you know those gorgeous soft-batch cookies that are all the rage on pinterest… this cake flour blend makes them perfectly without adding extra starch. I use my gluten free cake flour blend in most of my cookie recipes in The Essential Gluten-Free Cookie Guide.
Another reason my gluten free cake flour blend has such a high starch content is that I first made my gluten-free cake flour blend when many of the rice flours that were available were very grainy and gave baked goods a very sandy texture. The extra starch in my gluten free cake flour blend helped to prevent my gluten free baked goods from having a sandy texture.
One thing you'll notice is that I don't have any xanthan gum in my gluten free cake flour blend. I did this on purpose, it isn't a mistake. I often get comments, emails, and messages asking about whether or not there is xanthan gum in my gluten free cake flour blend so I wanted to make sure that I address that here.
I prefer to add xanthan gum to each recipe as an individual ingredient because each recipe has different binding and structure needs. I add anywhere from 1/4 teaspoon to 1 teaspoon of xanthan gum for every cup of my gluten-free flour blend. Cakes need only about 1/4 teaspoon of xanthan gum, with other recipes needing more. When I'm experimenting I normally use 1/2 teaspoon of xanthan gum for every cup of my flour blend, and then adjust it later based on the results. If is crumbles and falls apart it needs a little more, if it is gummy it needs less.
My Gluten-Free Flour Blends
I use this gluten-free flour blend in most of the recipes on Flippin' Delicious. It is referred to as "my gluten free flour blend", "my cake flour blend" and "my cookie flour blend"
Instructions
Mix all ingredients together until combined.
Notes
The reason I use parts for my rice flour blend instead of exact measurements it that then you can easily make as much or as little of my rice flour blend as you want. For example: If you only wanted 2 cups of blend for a recipe then each part would be ½ cup. If you are like me and want to keep a huge canister in the pantry you can make a much larger batch.

When I use Bob's Red Mill flours I'll just dump 1 bag each of brown rice flour, white rice flour, tapioca starch, and potato starch into a bowl and whisk them together. The bags are all approximately the same size so I don't even have to worry about measuring.