Classic Dairy Free Gluten Free Yellow Cupcakes are tender with a velvety crumb with this gluten free yellow cupcake recipe making a perfect dozen! Just add a swirl of your favorite frosting!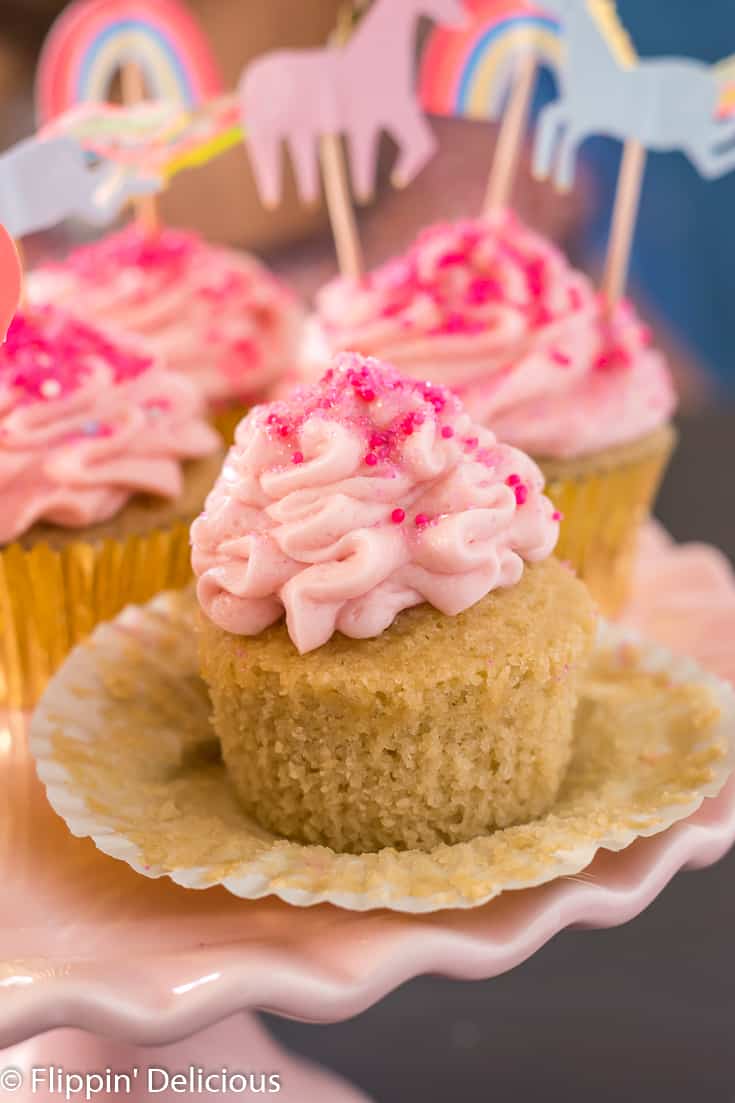 Gluten Free Yellow Cupcake Recipe
Nothing beats a classic gluten free yellow cupcake, if done well.
It needs to be moist and tender with a delicate crumb.
The tricky thing with gluten free cupcakes is that a moist and tender cupcake will easily turn into a pile of crumbs.
But who wants that?
Definitely not me!
I spent hours working on my gluten free yellow cake recipe to make it just perfect.
I've baked my gluten free yellow cake batter into cupcakes before with delicious results.
Hands down, my gluten free yellow cake is one of my very favorite gluten free cake recipes!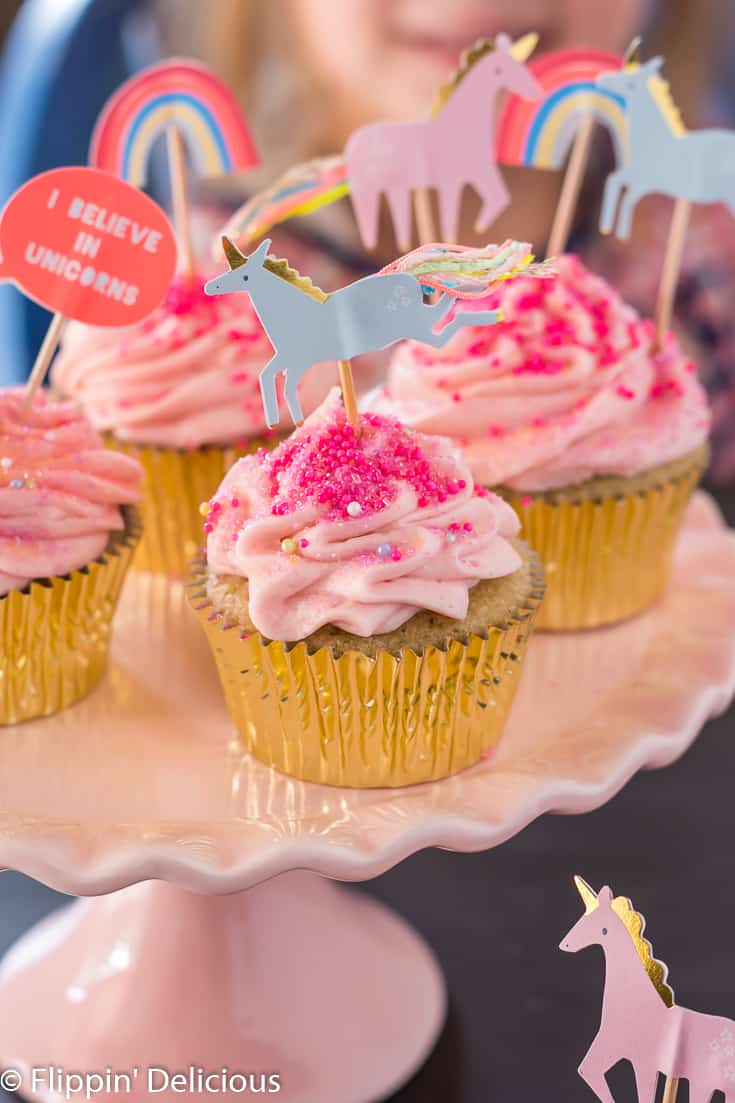 For my birthday a few months ago, my friend Chrystal from Gluten Free Palate sent me the cutest cupcake decorating set with unicorn and rainbow cupcake toppers.
As soon as we opened Chrystal's package, my kids were begging me to make cupcakes with them.
I frosted the gluten free cupcakes, and let the kids decorate them!
We added some strawberry jam to the frosting and these gluten free yellow cupcakes gave me some serious strawberry shortcake vibes!
How perfect would they be with a scoop of Strawberry Shortcake Ice Cream?
I'm sure you can imagine the mess the made. I think they used an entire bottle of sanding sugar.
It took days to vacuum up the pink non pareils!
I made a few changes to my gluten free yellow cake recipe so this gluten free yellow cupcake recipe makes a perfect dozen cupcakes!
I didn't want to make cupcakes for a huge crowd, just enough for our family and a few friends.
How to make gluten free moist yellow cupcakes from scratch?
What makes a yellow cake a yellow cake is the addition of extra egg yolks.
The egg yolks add a richness and tenderness to the cake without making it oily. I feel that the extra egg yolks make a huge difference in the final texture and perfect crumb.
The egg yolks gently bind the flour, sugar, and fat together without making it eggy, like a lot of whole eggs would.
Another secret to a tender gluten free yellow cupcake is to use buttermilk.
I made these gluten free yellow cupcakes dairy free, so I used some dairy free milk and added a little white vinegar to it to achieve the same effect.
It is really important to use either buttermilk or the dairy free buttermilk hack above or your cake won't rise right. This is because the buttermilk (or vinegar) reacts with the baking soda in the recipe to help your cake rise.
What is the best method to mix a cake?
Did you know what order you mix the ingredients in makes a big difference? I made one technique change and was really happy with the result.
There are three traditional methods or techniques for mixing cake batter.
"Muffin Method"- dry and wet ingredients are mixed separately, and then combined.
"Creaming Method"- fat and sugar are creamed together first. Then the eggs are added followed by the flour and milk.
"Two-Step Method/ modified biscuit method"- flour and sugar and mixed together, then the fat is added and mixed until there is an even sandy texture. The milk, eggs, and oil are then added.
There isn't one method that is inherently the best method to mix a cake. It depending on your priorities and desired result.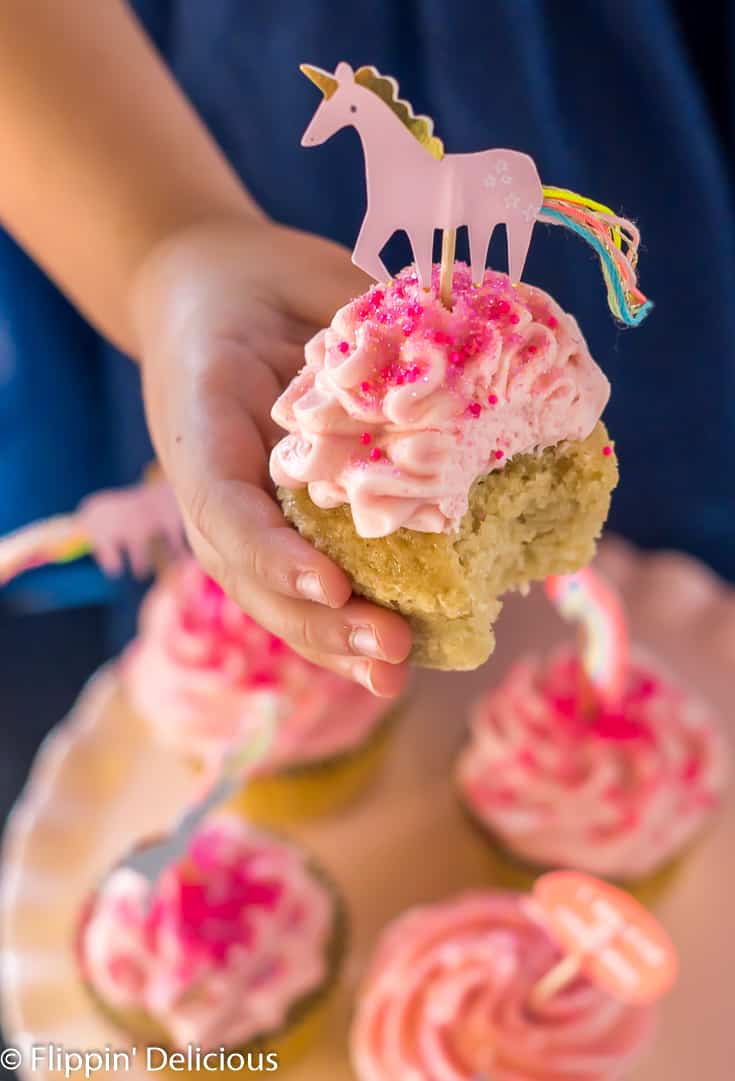 Which mixing method is best for gluten free yellow cupcakes?
My go-to is the muffin method just because it is so easy!
I try to avoid using the creaming method for gluten free cakes and gluten free cupcake recipes because I feel like it makes more of a dry cake, though it works really well for gluten free pound cake.
Whenever you need a cake with great structure, like if you are stacking several tiers, the creaming method will help you achieve that.
When baking these cupcakes, I tried the two-step method and I loved the results! This is also called the high-ratio method, however usually the high-ratio also refers to a high ration of sugar to flour, at least as much sugar as flour if not more!
You can also think of it as being similar to the "biscuit method" where fat is cut into the flour and other dry ingredients. The only difference is we are using a liquid fat.
The fat coats all of the flour granules, helping to ensure it is evenly distributed.
In traditional baking, this also prevents the development of gluten which makes a more tender finished product. However, we don't have to worry about gluten development since this recipe is gluten free.
The two-step method gave the cupcakes a very tender and velvety texture, and gave them an even rise.
Just look at those perfectly domed gluten free cupcakes!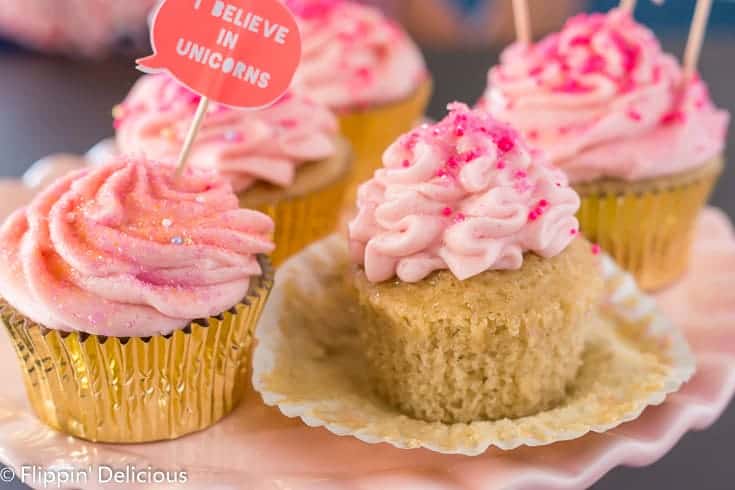 The two-step method does mean you'll probably want to pull out a hand-held or stand electric mixer.
Since you are using oil and not softened butter you could use a whisk, just know that it will take a bit more elbow grease.
When you are using the muffin method you can get away with a whisk and bowl more easily.
It does take a little more effort to use the two-step method, so if you are baking in a rush, you can revert to the muffin method and will still have great results.
If you are looking for a lower-carb cupcake, my friend Lindsay has a great Keto Cupcakes recipe for you.
If you want the same cupcake wrappers and toppers that Chrystal gave me, I found them on Amazon.

Bake Some Gluten Free Yellow Cupcakes!
📖 Recipe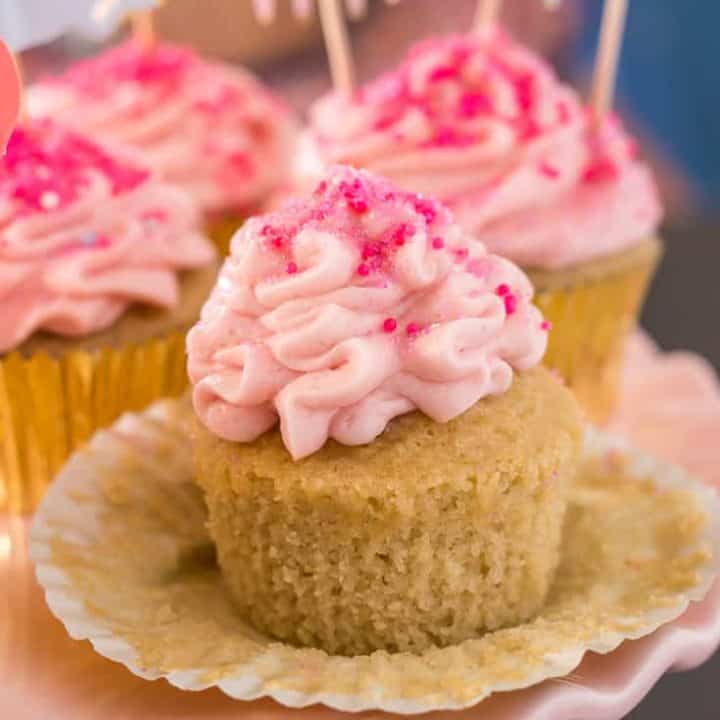 Gluten Free Yellow Cupcake Recipe
Yield:
12 gluten free yellow cupcakes
Classic Dairy Free Gluten Free Yellow Cupcakes are tender with a velvety crumb with this gluten free yellow cupcake recipe making a perfect dozen! Just add a swirl of your favorite frosting!
Instructions
Preheat the oven to 350°f and line a cupcake pan with paper liners, or lightly grease and flour with gluten free flour.
In a stand mixer, or a medium mixing bowl whisk together the gluten free flour, sugar, xanthan gum, baking powder, baking soda, and salt.
Add the oil and whisk until the fat evenly coats all the dry ingredients and they have an even, almost sandy texture.
Whisk in the egg, egg yolks, and vanilla extract.
Add the buttermilk (or dairy free milk with vinegar that has set at least 5 minutes) and whisk until smooth.
Divide the batter evenly between 12 cupcake liners, they will be ¾ to nearly full.
Bake until a toothpick inserted near the center of a cupcake comes out clean and when lightly touched a cupcake bounces back, about 18-22 minutes. My cupcakes were perfect at 21 minutes.
Let cool completely before frosting and decorating as desired.
Nutrition Information
Yield

12
Serving Size

1
Amount Per Serving
Calories

292
Total Fat

8g
Saturated Fat

2g
Trans Fat

0g
Unsaturated Fat

6g
Cholesterol

50mg
Sodium

186mg
Carbohydrates

49g
Fiber

1g
Sugar

19g
Protein

5g
All nutrition info is a guestimate and will vary depending on the ingredients you use.