Using up your leftover rotisserie chicken has never been easier than this Instant Pot Gluten Free Chicken Noodle Soup! Good chicken noodle soup doesn't have to be an all-day affair, put it on your dinner table in less than an hour.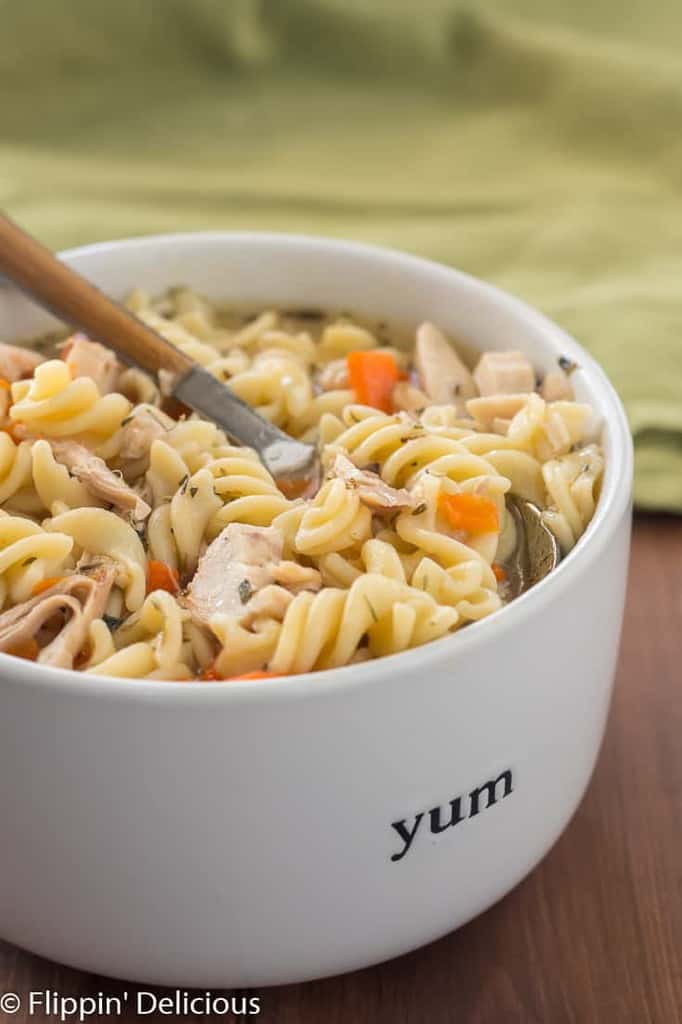 If you are like me, when you first walk into Costco you make a beeline for the back of the store between the butcher and bakery. The smell of the golden rotisserie chickens wafts up my nostrils as I peruse the shelves to pick the rotisserie chicken with the crispiest skin.
Maybe I am a bit obsessed, but the rotisserie chickens at Costco are delicious, plus they are a great deal and (at least right now) they are gluten free.
Whenever I make a Costco run a rotisserie chicken is almost the first thing in my cart. I always find something we can make for dinner with it.
What to make with rotisserie chicken?
Maybe we eat it as soon as we get home, while it is still warm, with a side of olive oil mashed potatoes and green beans.
Often times my rotisserie chicken ends up as the filling in my gluten free enchiladas or my kids favorite quesadillas.
Rotisserie chicken also make a great addition to lunches. I love making a buffalo chicken grilled cheese sandwich, complete with blue cheese!
Leftover chicken breasts also make a great addition to chopped salad.
After a meal or two, the best parts of the rotisserie chicken are gone. The best parts (in my opinion) are the breasts and the drumsticks. That is usually all my family will eat without some coaxing.
However, it would be a crime to waist the rest of the rotisserie chicken!
This is where this Instant Pot Gluten Free chicken noodle soup recipe comes in.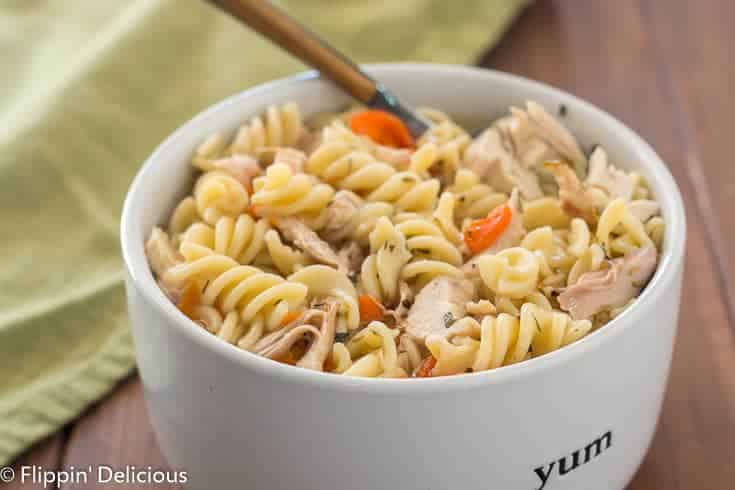 Instant Pot Gluten Free Chicken Noodle Soup
After you are finished with your chicken, place everything left in your Instant Pot. Especially the bones, they are what really makes the broth flavorful.
Cover the chicken with water. I believe I filled mine up to the 6qt line in my 8 qt Instant Pot.
Bring everything to pressure, and let the Instant Pot do the work.
Remove the rotisserie chicken and pour the broth through a sieve to remove any small bones that sunk to the bottom.
Put the broth back in your Instant Pot and add some Herbs de Provence, carrots, onions, celery, and pasta. I used a gluten-free rotini, but you can use your favorite gluten free noodle.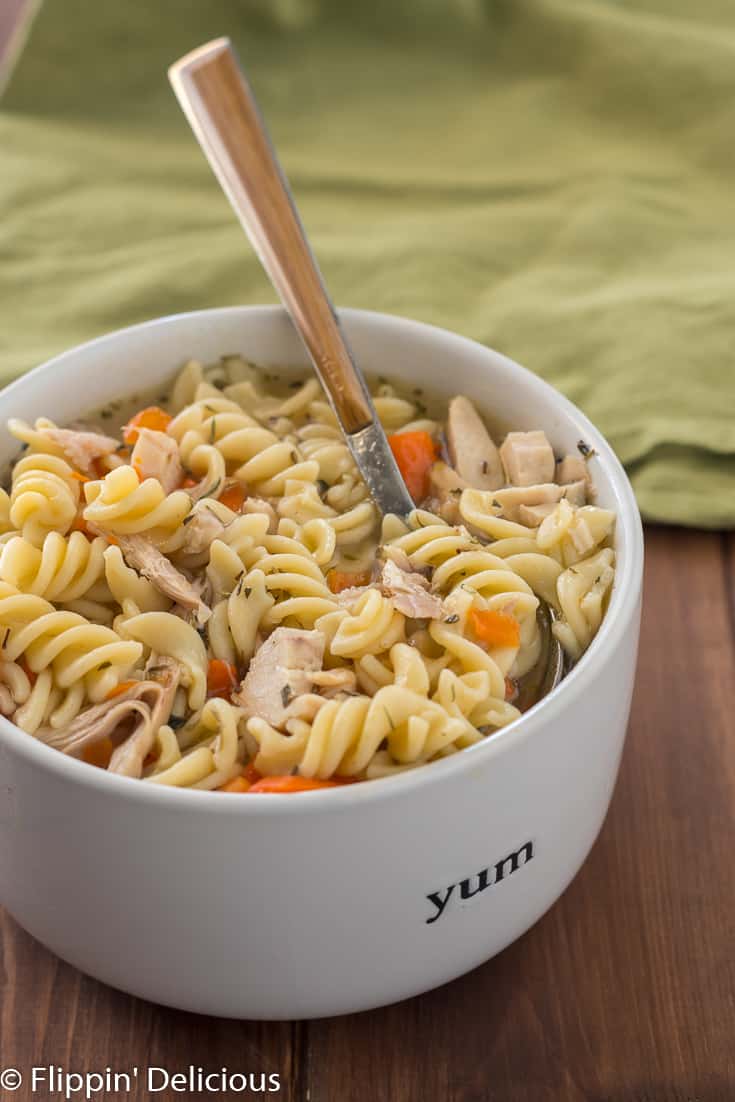 Two ways to finish cooking your gluten free chicken noodle soup
Press "sauté" and let it simmer until the veggies are tender and the pasta is al dente. This method allows you to cut your veggies in larger chunks if you prefer.
Bring it back up to pressure! If you want to pressure cook your pasta and veggies, make sure your carrots, onion, and celery are all sliced or chopped very finely. If they aren't in small enough pieces they won't be fork tender when the pasta is finished (or in an attempt to soften your large chunks of carrot your pasta will turn to mush)!
I pressure cooked my Instant Pot Chicken Noodle Soup for 5 minutes and did the quick release (very carefully because there is so much liquid). You can do the natural release if you prefer, but I'd suggest only pressure cooking it for 4 minutes so that your pasta is still al dente.
While the pasta and veggies are cooking, remove the bones and skin from the chicken and shred any large pieces. Once the pasta is finished, stir in the chicken and season your gluten free chicken noodle soup with salt and pepper, to taste.
This Instant Pot chicken noodle soup is basic and easy to adapt. Add your favorite veggies, or whatever you have in your fridge. Just be sure your veggies are all thinly sliced so they don't take longer to cook than the pasta.