Chicken posole is a spicy, savory comfort food stew you'll love all winter long. Make it in the instant pot in just 30 minutes!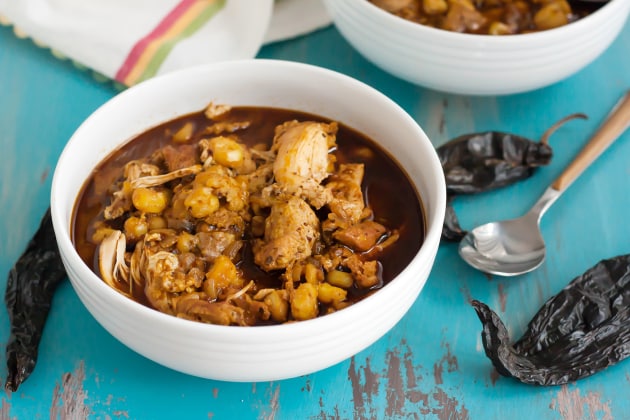 Before moving to New Mexico as a teen I had never heard of posole. We were already big fans of gluten free enchiladas, but had never had posole before. In case you are wondering, posole is a stew made with hominy, meat, and some sort of chile.
Hominy is dried corn that has been treated with something very alkaline so each kernel puffs up and is very starchy. It has a delightful bite to it and adds great texture to the stew.
I still remember the very first time that I had posole. My dad took my sister and I on a short road trip to Santa Fe when I was 13. We camped in the mountains during a storm, saw the Georgia O'Keeffe museum, the Governor's palace, and had lunch at a small restaurant by the historic rail yards.
When we were at the Santa Fe restaurant, I ordered a combination plate, because I couldn't pick what to order. One of the items on my plate was posole. Before that I had never had hominy. I loved its unique firm, spongy texture that soaked up all of the flavors of the stew.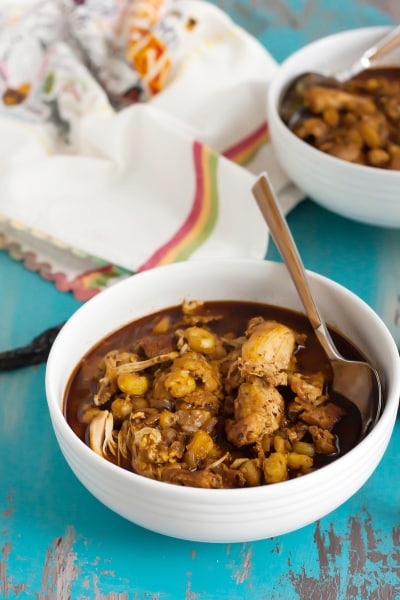 That posole was very different than this chicken posole since it contained green chile instead of red, and had pork instead of chicken. But it awakened something inside of me that has made the work "posole" synonymous with "comfort food."
Shortly after we arrived home, when it was my turn to help with lunch, I found a recipe for posole and added all of the ingredients that I needed to the grocery list. I made a HUGE pot of posole that lasted us for several meals.
My love of this stew has continued ever since, and has further evolved since I attended a dinner made by Chef Caitlin from Cooking with Caitlin last fall. She served chicken thighs that had been braised in a homemade chile broth with hominy.
I was hooked from the first bite! Luckily Chef Caitlin sent me home the recipe which quickly got added to my dinner menu.
The revolutionary part (for me) of Caitlin's recipe was that she toasted several whole dried guajillo chiles and then blended them with steaming chicken broth to make the rich and flavorful braising liquid.
Since trying her recipe I always have some guajillo chiles on hand for whenever I made stew, soup, or beans (they make plain soaked beans absolutely AMAZING!)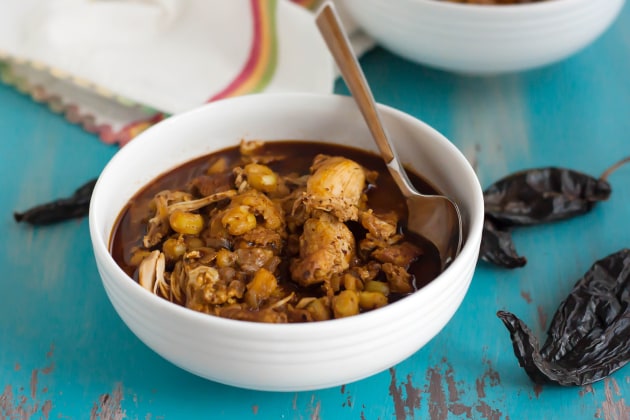 I switched up Caitlin's chicken posole recipe to make it in my instant pot, since it is my go-to dinner maker. It is seriously so easy!
I toasted the guajillo chiles in my Instant Pot on "Saute" and then I blended them up with some chicken broth and added it back to the pot with some sauteed veggies, boneless skinless chicken thighs, and hominy.
Then I sealed it up, walked away, and dinner was done!
This recipe serves a crowd! We had my father-in-law, plus my sister and her two kids over for dinner and still had a little leftover for lunch the next day.
You can serve it your chicken posole as a stew in a bowl, over rice on a plate, with a slice of gluten free honey cornbread, or however you fancy. If you can enjoy cheese I highly recommend a generous sprinkle of cotija on top. It is fantastic!