Easy Greek vegetarian chickpea tacos with crispy roasted chickpeas, feta, tomatoes, and cucumbers is an easy dinner that is honestly one of my kid's favorites! It is simple and easy to prepare, and makes a delicious filling meatless meal.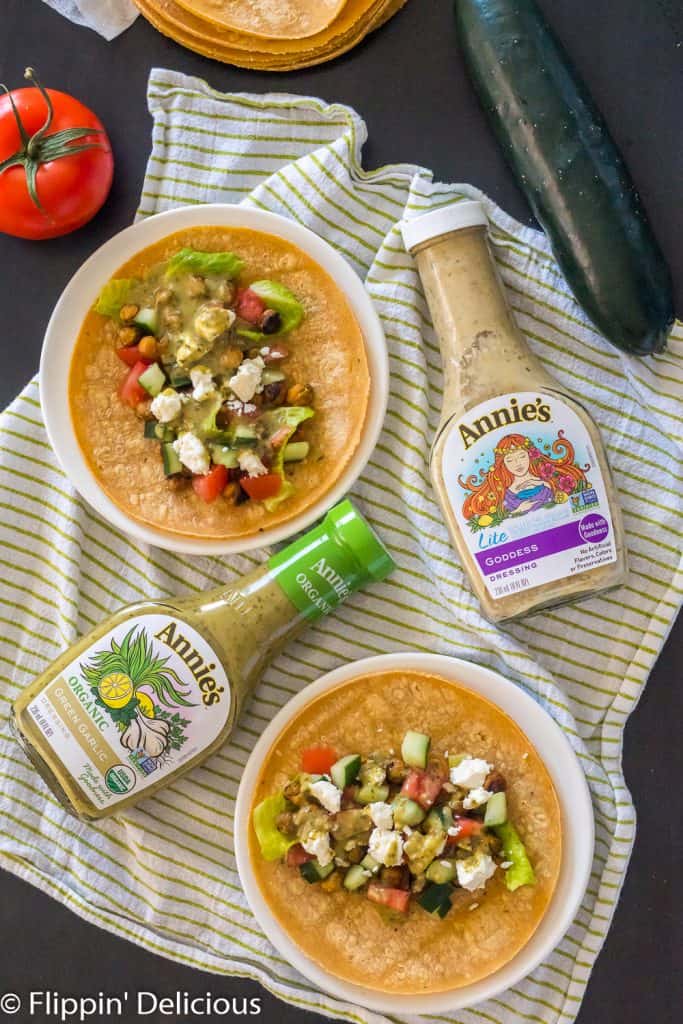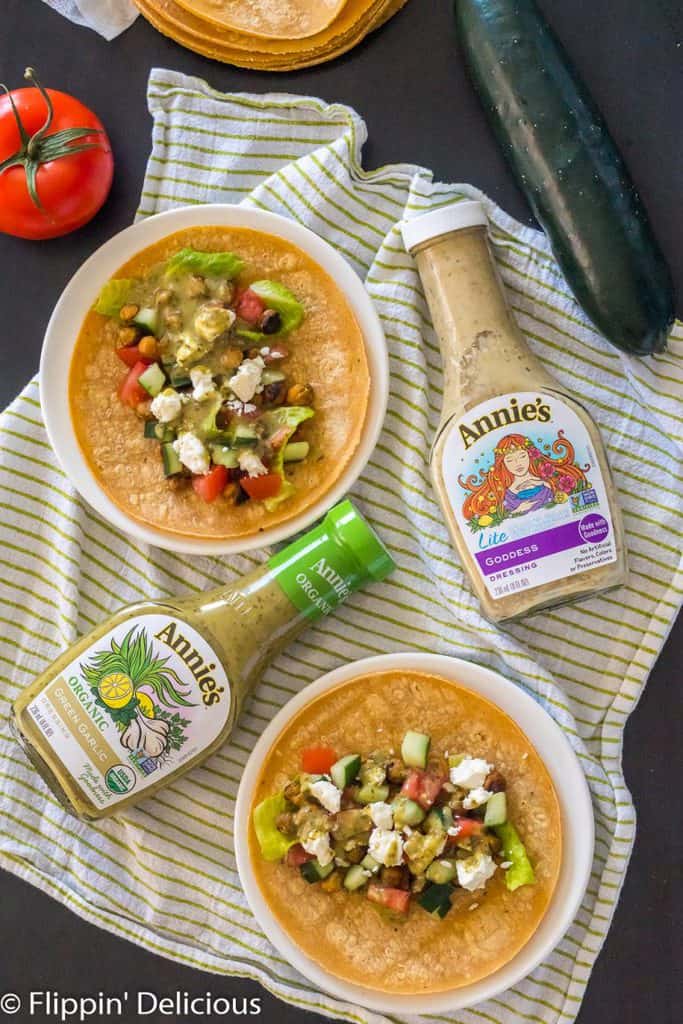 This post is sponsored by Annie's Dressing, The Feed Feed, and Natural Grocers. As always, all opinions are entirely my own. I'm so excited to share this veggie-filled recipe that my kids request!
Veggie-filled Greek Vegetarian garbanzo bean tacos that everyone loves!
Making a quick & healthy dinner the kids will eat seems like an impossible feat!
My kids love these crispy chickpea tacos with feta, cucumbers, and tomatoes.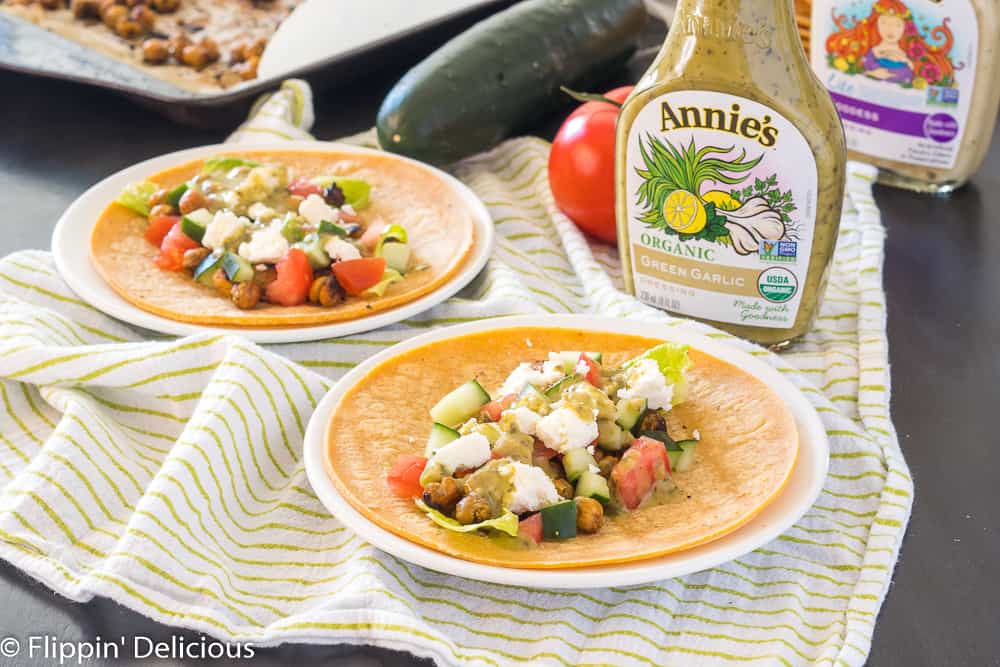 I used to always make my own dressing to go with them, but using Annie's Organic Green Garlic Dressing is a huge time saver, and I feel good serving it to my kids! Annie's Green Garlic Dressing is certified organic, and even has some hidden spinach in it. I also really like Annie's Lite Goddess Dressing, which is gluten-free. Not only did I drizzle Green Garlic dressing on our tacos, I also tossed the chickpeas in it before roasting them to give them another yummy layer of garlic flavor.
The best part, I was able to get everything for dinner at Natural Grocers. Stop by your local co-op to purchase Annie's Dressings or find a Natural Grocers near you.
How do you get kids to eat vegetables?
Now my kids generally don't like veggies a lot, and protest when I serve them, but here is why I think they love these tacos even though they are filled with veggies:
My kids help me cut the cucumber and dice the tomato! Getting my kids involved in the kitchen makes them much more likely to eat dinner without complaints because they helped make it!
Serve all the components separately. That way, your kids can pick the parts they like, and skip any that they really don't. One of my daughters didn't want any lettuce in her taco, and the other was sneaking lettuce from the cutting board.
Pretend to be bunnies. I don't know if this will work for your kids or not, but my daughters pretended to be bunnies while we were chopping veggies and nibbled on pieces of cucumber and ate several whole leaves of lettuce. Is this guaranteed to work on your kids? No. But it sure is fun!
How to make vegetarian chickpea greek tacos?
The #1 reason I love this recipe: It is easy.
How do you roast chickpeas for tacos?
It takes 3 minutes to toss the chickpeas in some dressing and toss them in the oven to get crispy.
I like to line my baking sheet with parchment paper, for easy cleanup. But that is totally optional.
Then, drain and rinse a can or two of chickpeas/garbanzo beans.
You can toss your chickpeas in olive oil and season with garlic salt, or for an extra boost of flavor, you can toss them in Annie's Green Garlic dressing. I usually toss them right on my parchment-paper-lined baking sheet.
Toss them in the oven and give them a stir every 10-15 minutes, so they don't burn in any oven hot-spots.
Cut your veggies
While I roast the chickpeas, I quickly chop the other ingredients, and set the table, and everything is ready well before the chickpeas come out of the oven.
We usually dice the cucumber, tomatoes, and feta cheese, and wash and tear some lettuce. If I'm making it how I like it, I'll also thinly slice some red onion, or pull out my favorite jar of kalamata olives.
Don't forget your dressing!
This is a really easy recipe to customize, add whatever you and your family love!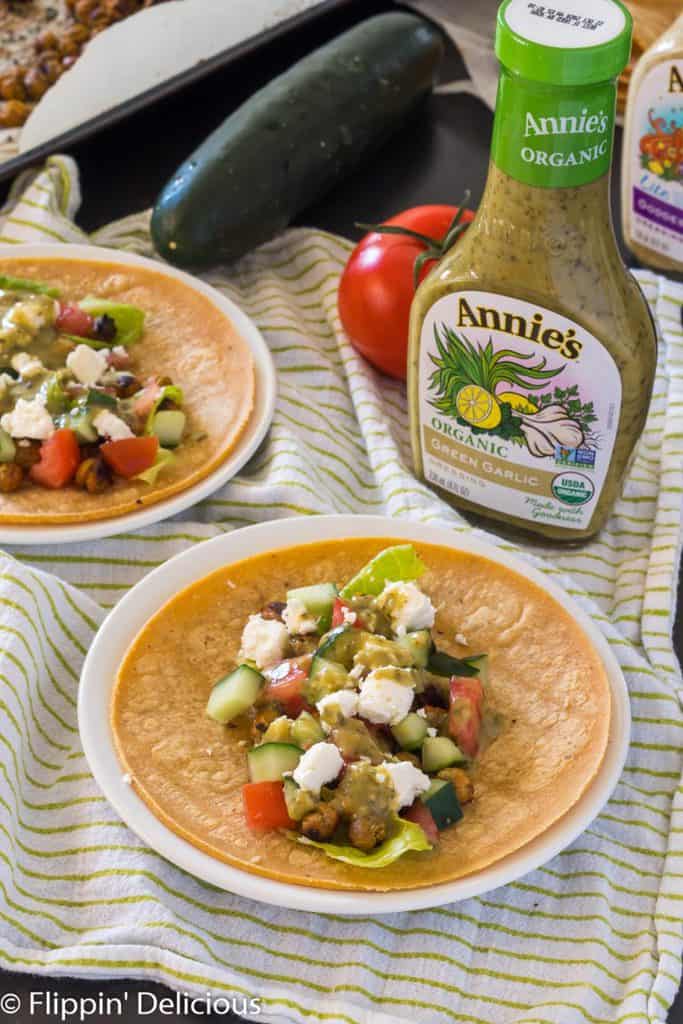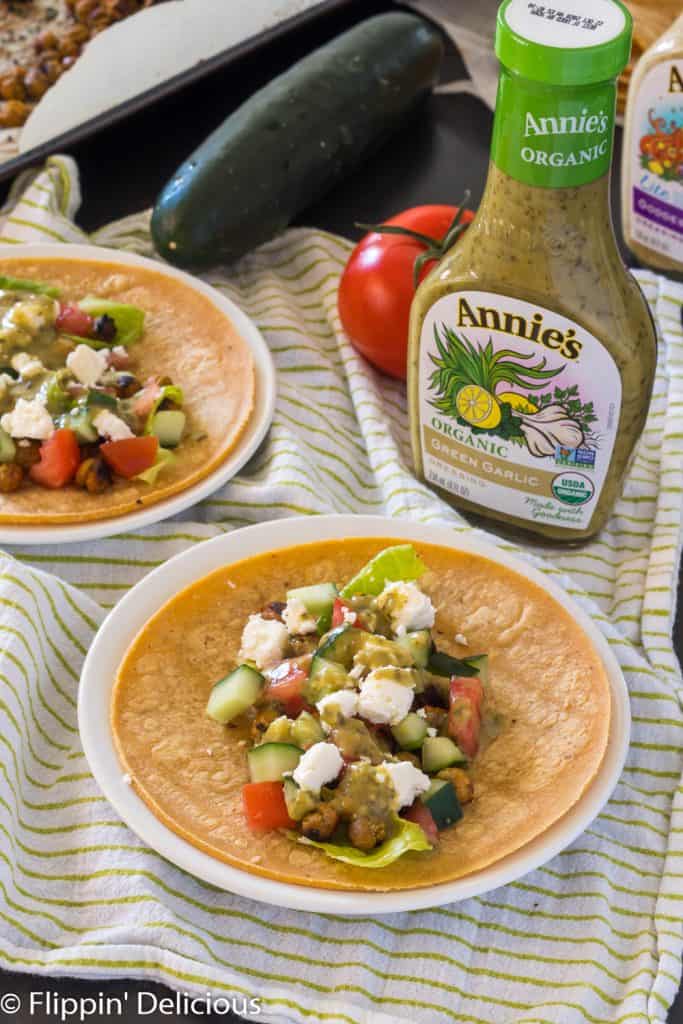 We've also added hummus or tzatziki. Or have added some browned ground turkey, which of course isn't vegetarian but is what my kids like.
📖 Recipe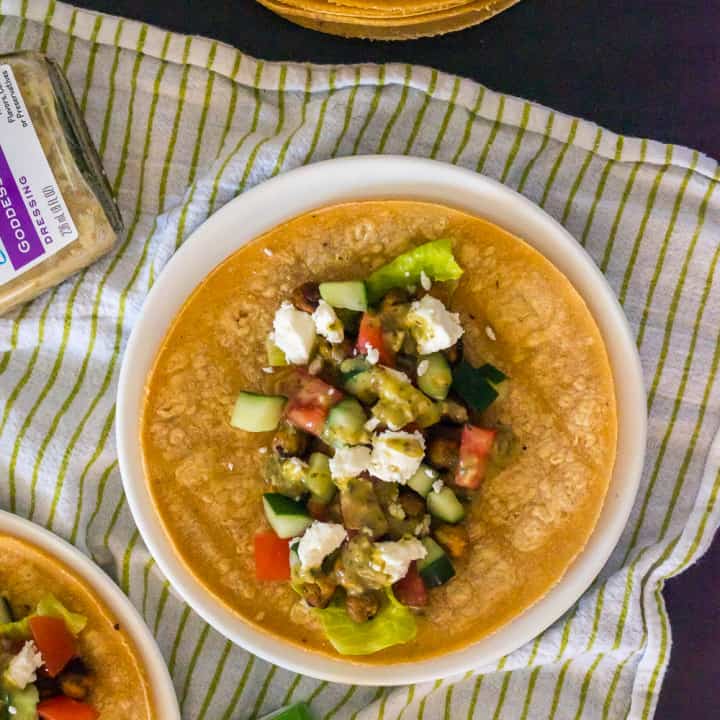 Greek Vegetarian Chickpea Tacos
Easy vegetarian tacos with roasted chickpeas, tomatoes, cucumbers, lettuce, and feta cheese.
Ingredients
1 (15oz) can chickpeas, rinsed
2-3 tablespoons Annie's Green Garlic Dressing (or 1 tablespoon of olive oil)
½ teaspoon garlic salt
12 corn tortillas
1 tomato, diced
1 cucumber, diced
1 small head of lettuce, washed and torn into bite size pieces
½ cup crumbled feta cheese
Annie's Green Garlic and Lite Goddess dressing, to serve
Instructions
Preheat oven to 450°F and line baking sheet with parchment paper.
Toss chickpeas with Annie's Green Garlic Dressing (or olive oil) and sprinkle with garlic salt.
Spread evenly on parchment-lined baking sheet and bake for 30 minutes, or until crispy and golden.
Wrap corn tortillas in damp paper towel and microwave in 30-second increments until warm.
Serve crispy chickpeas in corn tortillas with tomatoes, lettuce, cucumbers, feta cheese, and Annie's Green Garlic or Lite Goddess dressing.

Notes
Annie's Goddess Dressing is made with soy sauce and is not gluten-free (though I'm sure it is delicious.) Annie's Goddess Lite Dressing is made with Tamari and is gluten-free.
Add your favorite toppings, like pepperoncini peppers, bell peppers, sliced red onion, kalamata olives, or your other favorite veggies.
Recommended Products
As an Amazon Associate and member of other affiliate programs, I earn from qualifying purchases.
Nutrition Information
Yield

12
Serving Size

1
Amount Per Serving
Calories

121
Total Fat

5g
Saturated Fat

1g
Trans Fat

0g
Unsaturated Fat

3g
Cholesterol

7mg
Sodium

181mg
Carbohydrates

17g
Fiber

3g
Sugar

2g
Protein

4g
All nutrition info is a guestimate and will vary depending on the ingredients you use.